Office of Research, Development, and Technology Fiscal Year 2004/2005 Performance Plan
The Strategic Framework
The FHWA research approach emphasizes cooperation, information sharing, and research agenda development with State and local governments, academia, and the private sector. Research conducted at TFHRC is aligned with FHWA's vision, mission, and goals.
Vision and Mission
In the new FHWA mission statement, "Enhancing Mobility through Innovation, Leadership, and Public Service," the Agency affirms that research and innovation are integral to its mission. In fact, one of FHWA's three primary roles is to be "innovators for a better future." The rewording of the mission statement reflects R&T's important contribution to enhancing mobility, and it underscores FHWA's commitment to organizationally "raise the bar" on T&I development and deployment.
FHWA Roles
Leaders for National Mobility
Stewards for National Highway Programs
Innovators for a Better Future
To support the role of being "innovators for a better future," RD&T management commits to coordinating R&D with and for our stakeholders and partners; supporting an environment that encourages innovation deployment; and creating improved T&I deployment processes. In light of these guiding principles, RD&T provides the world highway community with the most advanced R&D related to new highway technologies, focusing on solutions to complex technical problems.
DOT Vision

Safer, simpler, smarter transportation solutions.

FHWA Vision

Improving transportation for a strong America.

RD&T Vision

An RD&T organization that is essential, indispensable, and connected to our partners in advancing R&T.

DOT Mission

Develop and administer policies and programs that contribute to providing fast, safe, efficient, and convenient transportation at the lowest cost consistent with the national objectives of general welfare, economic growth and stability, the security of the United States, and the efficient use and conservation of the resources of the United States.

FHWA Mission

Enhancing mobility through innovation, leadership, and public service.

RD&T Mission

Leads in developing a nationally coordinated R&T Program; champions the advancement of highway technological innovation in support of FHWA strategic goals and performance objectives; advances knowledge through research, development, testing, and evaluation services; and provides support and assistance throughout FHWA in matters relating to RD&T.
FHWA Goals for FY 2004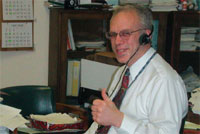 Safety—Continually improve highway safety.
Mobility and Productivity—Preserve, improve, and expand the Nation's highway transportation system while, at the same time, enhancing the operation of the existing highway system and intermodal connectors.
Global Connectivity—Promote and facilitate a more efficient domestic and global transportation system that enables economic growth.
Environment—Protect and enhance the natural environment and communities affected by highway transportation.
National Homeland Security—Improve highway security and support national defense mobility.
Organizational Excellence—Advance FHWA's ability to manage for results and innovation.
FHWA "Vital Few"
The "Vital Few" are the key areas with performance gaps that must be addressed in the short term. Achieving performance improvements in the following priority areas will require greater emphasis during FY 2004/2005:
Safety
Congestion Mitigation
Environmental Stewardship and Streamlining