Previous | Table of Contents | Next
Appendix A. Database of Reference Materials
An extensive amount of research was initially performed to form a baseline for the current study. An online database of references was created so that all members of the research team could add or extract information as necessary. The database includes the article titles, authors, reference information, and abstracts when attainable. There are 198 references in the database, including 89 with abstracts.
Search capability is also provided, with options to search by key word, author, source, and date. The search page is shown in figure 27, and a search results page is shown in figure 28. A full listing of the references in this database is included at the end of this appendix.
Figure 27. Photo. Reference database search page.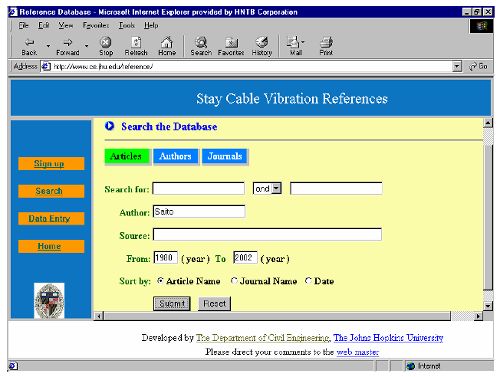 Figure 28. Photo. Reference database search results page.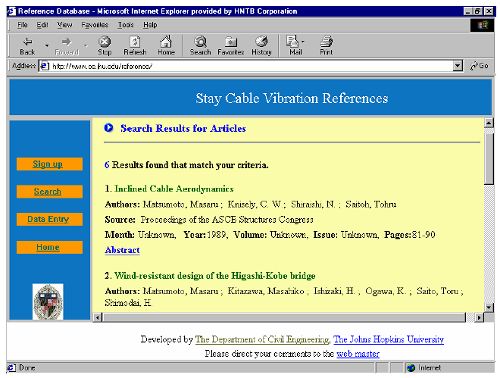 LIST OF REFERENCES INCLUDED IN DATABASE
On the Parametric Excitation of a Dynamic System Having Multiple Degrees of Freedom Authors: Fang, J. Source: Journal of Applied Mechanics Month: Sep, Year:1963, Volume: N/A, Issue: N/A, Pages: N/A Abstract: N/A
On the Parametric Excitation of a Dynamics System Having Multiple Degrees of Freedom Authors: Hsu., C. S. Source: Journal of Applied Mechanics Month: Sep, Year:1963, Volume: N/A, Issue: N/A, Pages: N/A Abstract: N/A
Classic Normal Modes in Damped Linear Dynamic Systems Authors: McConnell, Kenneth G.; Uhrig, A. Source: Journal of Applied Mechanics Month: Sep, Year:1965, Volume: N/A, Issue: N/A, Pages: N/A Abstract: N/A
Mathematical analysis of transmission line vibration Authors: Claren, R. ; Diana, G. Source: IEEE Trans. on Power Apparatus and Systems Month: N/A, Year:1969, Volume:Pas-88, Issue:12, Pages:1741-71 Abstract: N/A
Mechanisms and Alleviation of Wind-Induced Structural Vibrations Authors: Cooper, K. R.; Wardlaw, R. L. Source: Proceedings of Second Symposium on Applications of Solid Mechanics Month: N/A, Year:1974, Volume: N/A, Issue: N/A, Pages:369-99 Abstract: N/A
Steady State Response of a Dynamical System Under Combined Parametric and Forcing Excitations Authors: Fang, J. ; Lyons, G. J. Source: Journal of Applied Mechanics Month: Jun, Year:1974, Volume: N/A, Issue: N/A, Pages: N/A Abstract: N/A
Steady-State Response of a Dynamical System Under Combined Parametric and Forcing Excitations Authors: Hsu., C. S.; Cheng, W. H.Source: Journal of Applied Mechanics Month: Jun, Year:1974, Volume: N/A, Issue: N/A, Pages: N/A Abstract: N/A
The vortex induced oscillation of elastic structural elements Authors: Iwan, W. D. Source: Journal of Applied Mechanics Month: N/A, Year:1975, Volume: N/A, Issue: N/A, Pages:1378-82 Abstract: N/A
Flow-induced vibration Authors: Blevins, R. D.Source: Van Nostrand Reinhold Company, New York Month: N/A, Year:1977, Volume: N/A, Issue:N/A, Pages: N/A Abstract: N/A
Harmonically Forced, Finite Amplitude Vibration of a String Authors: Tgata, G.Source: Journal of Sound and Vibration Month: N/A, Year:1977, Volume:51, Issue:4, Pages:N/A Abstract: N/A
The Generalized Harmonic Balance Method For Determining the Combination Resonance in the Parametric Dynamic Systems Authors: Szemplinska-Stupnicka, W.Source: Journal of Sound and Vibration Month: N/A, Year:1978, Volume:58, Issue:3, Pages: N/A Abstract: N/A
Cables wind excited vibrations of cable-stayed bridge Authors: Wianecki, J.Source: Proceedings of 5th International Conference of Wind Engineering, Colorado Month: N/A, Year:1979, Volume: N/A, Issue:N/A, Pages:1381-93 Abstract: Available
Cable Structures Authors: Irvine, H. Max Source: MIT Press, Cambridge, Massachusetts Month: N/A, Year:1981, Volume: N/A, Issue:N/A, Pages: N/A Abstract: N/A
The Natural Frequencies and Mode Shapes of Cables with Attached Masses Authors: Sergev, S. S.; Iwan, W. D.Source: Journal of Energy Resources Technology - Transactions of the ASME Month: Sep, Year:1981, Volume:103, Issue: N/A, Pages: N/A Abstract: N/A
Modal damping of flexural oscillation in suspended cables Authors: Yamaguchi, H. ; Fujino, Yozo Source: Transactions. JSCE Month: N/A, Year:1982, Volume: N/A, Issue:N/A, Pages: N/A Abstract: N/A
Control of wind-induced vibrations of cablestayed bridges Authors: Aschrafi, M. ; Hirsch, Gerhard Source: Proceedings of the 6th International Conference on Wind Engineering Gold Coast, Australia Month: N/A, Year:1983, Volume: N/A, Issue:N/A, Pages: N/A Abstract: N/A
The fatigue performance of socketed terminations to structural strands Authors: Hobbs, R. E.; Smith, H. Allison Source: Proceedings of ICE, Part 2 Month: N/A, Year:1983, Volume:25, Issue: N/A, Pages:35-48 Abstract: N/A
Weak wind-induced vibration of transmission lines Authors: Working-Group on Weak Wind-Induced Vibration, Source: Technical Report of Electrical Society (in Japanese)Month: N/A, Year:1983, Volume:129, Issue: N/A, Pages: N/A Abstract: N/A
Dynamic and aeroelastic action of guy cables Authors: Karna, T.Source: Publication 18 Espoo, Finland Month: N/A, Year:1984, Volume: N/A, Issue:N/A, Pages: N/A Abstract: N/A
Hysteresis in bridge strand Authors: Hobbs, R. E.; Raoof, Mohammed Source: Proceedings of ICE, Part 2 Month: N/A, Year:1984, Volume:77, Issue: N/A, Pages:445-64 Abstract: Available
The dynamics of taut inclined cables Authors: Triantafyllou, M. S. Source: Quarterly Journal of Mechanics and Applied Mathematics Month: N/A, Year:1984, Volume:37, Issue: N/A, Pages:421-440 Abstract: Available
The nonlinear dynamics of long, slender cylinders Authors: Kim, Y. C.; Triantafyllou, M. S. Source: Journal of Energy Resources Technology - Transactions of the ASME Month: N/A, Year:1984, Volume:106, Issue:2, Pages:250-256 Abstract: N/A
The bending of spiral strand and armoured cables close to terminations Authors: Raoof, Mohammed ; Hobbs, R. E. Source: Journal of Energy Resources Technology - Transactions of the ASME Month: N/A, Year:1984, Volume:106, Issue: N/A, Pages:394-355? Abstract: N/A
Rain vibration of cables on cable-stayed bridge Authors: Hikami, Y. Source: Journal of Japan Association of Wind Engineering No. 27 Month: N/A, Year:1986, Volume:27, Issue: N/A, Pages: N/A Abstract: N/A
Natural frequencies and modes of inclined cables Authors: Triantafyllou, M. S.; Grinfogel, L. Source: Journal of Structural Engineering Month: N/A, Year:1986, Volume:112, Issue:1, Pages:139-148 Abstract: Available
Condition of Steel Cable after Period of Service Authors: Phoenix, S. L.; Johnson, H. H.; McGuire, W. Source: Journal of Structural Engineering Month: Jun, Year:1986, Volume:112, Issue:6, Pages: N/A Abstract: N/A
Cable-stayed bridges Authors: Kanok-Nukulchai, W. Source: Proceedings of the International Conference on Cable-Stayed Bridges, Bangkok Month: N/A, Year:1987, Volume: N/A, Issue:N/A, Pages: N/A Abstract: N/A
Experimental study on Ajikawa Bridge cable vibration Authors: Miyasaka, K. ; Ohshima, K. ; Nakabayashi, S.Source: Hanshin Express-way Public Corp. Eng. Report no. 7 Month: N/A, Year:1987, Volume: N/A, Issue: N/A, Pages: N/A Abstract: N/A
Generating mechanisms for cable-stay oscillations at the Far0 Bridges Authors: Langso, H. E.; Larsen, O. D. Source: Proceedings of the International Conference on Cable-Stayed Bridges, Bangkok Month: N/A, Year:1987, Volume: N/A, Issue: N/A, Pages:1023-1033 Abstract: N/A
Tuned mass damper for supressing wind effects on cable-stayed bridges Authors: Malhorta, P. K.; Wieland, M. Source: Proceedings Conference Bangkok Thailand Month: N/A, Year:1987, Volume: N/A, Issue: N/A, Pages: N/A Abstract: N/A
Vibrations and vibration control of stay cables in cable-stayed bridge Authors: Wieland, M. ; Shrestha, P. Source: AIT Publ. Month: N/A, Year:1987, Volume: N/A, Issue: N/A, Pages: N/A Abstract: N/A
Aerodynamic stability of the cables of a cablestayed bridge subject to rain (A case study of the Aji River Bridge) Authors: Ohshima, K. ; Nanjo, M. Source: Proceedings of the 3rd U.S.--Japan Bridge workshop Month: N/A, Year:1987, Volume: N/A, Issue: N/A, Pages:324-335 Abstract: Available
On the Vortex-Induced Oscillation of Long Structural Elements Authors: Jones, Nicholas P. Source: Journal of Energy Resources Technology - Transactions of the ASME Month: Dec, Year:1987, Volume:109, Issue: N/A, Pages: N/A Abstract: N/A
On the Vortex-Induced Oscillation of Long Structural Elemets Authors: Iwan, W. D.; Jones, Nicholas P. Source: Journal of Energy Resources Technology - Transactions of the ASME Month: Dec, Year:1987, Volume:109, Issue: N/A, Pages: N/A Abstract: N/A
Full dynamic testing of the Annacis bridge Authors: Stiemer, S. F.; Taylor, P. ; Vincent, D. Source: IABSE Proc. Month: N/A, Year:1988, Volume: N/A, Issue: N/A, Pages: N/A Abstract: N/A
Performance of bridge cables Authors: Tilly, G. P. Source: 1st Oleg Kerensky Memorial Conference Session 4, London, Institution of Structural Engineers Month: N/A, Year:1988, Volume: N/A, Issue: N/A, Pages: N/A Abstract: N/A
Properties of wire rope under various fatigue loadings Authors: Strzemiecki, J. ; Hobbs, R. E. Source: CESLC Report SC6, Department of Civil Engineering, Imperial College, London, U.K. Month: N/A, Year:1988, Volume: N/A, Issue: N/A, Pages: N/A Abstract: N/A
Rain/wind-induced vibration of the cables of the Aratsu Bridge Authors: Yoshimura, T. ; Tanaka, T. ; Sasaki, N. ; Nakatani, S. Source: Proceedings of the 10th National Conference on Wind Engineering, Tokyo Month: N/A, Year:1988, Volume: N/A, Issue: N/A, Pages:127-132 Abstract: N/A
Unstable Aerodynamic Vibrations and Prevention Methods for Cables in Cable-stayed Bridges Authors: Miyazaki, Miyazaki Source: Proceedings of the 10th Wind Engineering Symposium Month: N/A, Year:1988, Volume: N/A, Issue: N/A, Pages: N/A Abstract: N/A
Analytical study on Growth Mechanism of Rain Vibration of Cables Authors: Yamaguchi, H. Source: Journal of Wind Engineering Month: N/A, Year:1988, Volume:33, Issue: N/A, Pages:73-80 Abstract: Available
Rain/wind-induced vibrations of cables in cablestayed bridges Authors: Hikami, Y. ; Shiraishi, N. Source: Journal of Wind Engineering and Industrial Aerodynamics Month: N/A, Year:1988, Volume:29, Issue: N/A, Pages:409-418 Abstract: Available
The elastic frequencies of cables Authors: Burgess, J. J.; Triantafyllou, M. S. Source: Journal of Sound and Vibration Month: N/A, Year:1988, Volume:120, Issue:1, Pages:153-165 Abstract: Available
Active structural control in civil engineering(State-of-the-art) Authors: Soong, T. T. Source: Engineering Structures Month: N/A, Year:1988, Volume: N/A, Issue: N/A, Pages: N/A Abstract: Available
Cables in trouble Authors: Watson, S. C.; Stafford, D. Source: Civil Engineering ASCE Month: N/A, Year:1988, Volume:58, Issue: N/A, Pages:38 Abstract: Available
Rain/wind-induced vibrations of cables in cablestayed bridges Authors: Hirsch, Gerhard ; Shiraishi, N. Source: Journal of Wind Engineering and Industrial Aerodynamics Month: N/A, Year:1988, Volume:29, Issue: N/A, Pages:409-418 Abstract: Available
Torsion Tests on large spiral strands Authors: Raoof, Mohammed ; Hobbs, R. E. Source: Journal of Strain Analysis Month: N/A, Year:1988, Volume:23, Issue:2, Pages:97-104 Abstract: N/A
Cable-stayed bridges Authors: Walther, R. ; Houriet, B. ; Isler, W. ; Moia, P. Source: T. Telford, London Month: N/A, Year:1988, Volume: N/A, Issue: N/A, Pages: N/A Abstract: N/A
Free bending tests on large spiral strands Authors: Raoof, Mohammed Source: Proceedings of ICE, Part 2 Month: N/A, Year:1989, Volume:87, Issue: N/A, Pages:605-626 Abstract: Available
Wind-induced cable vibration of cable-stayed bridges in JapanAuthors: Matsumoto, Masaru ; Yokoyama, K. ; Miyata, Toshio Source: Proceedings of Canada-Japan Workshop on Bridge Aerodynamics, Ottawa Month: N/A, Year:1989, Volume: N/A, Issue: N/A, Pages:101-110 Abstract: N/A
A study on the aerodynamic stability of the Aratsu Bridge Authors: Yoshimura, T. ; Inoue, A. ; Kaji, K., K. ; Savage, M. S. Source: Proceedings of Canada-Japan Workshop on Bridge Aerodynamics, Ottawa Month: N/A, Year:1989, Volume: N/A, Issue: N/A, Pages:41-50 Abstract: Available
Damping stay cables with ties Authors: Ehsan, Fazl ; Scanlan, Robert H. Source: Proceedings of the 5th U.S. Japan Workshop on Bridge Engineering Month: N/A, Year:1989, Volume: N/A, Issue: N/A, Pages:203-217 Abstract: Available
Inclined Cable Aerodynamics Authors: Matsumoto, Masaru ; Knisely, C. W.; Shiraishi, N. ; Saitoh, Tohru Source: Proceedings of the ASCE Structures Congress Month: N/A, Year:1989, Volume: N/A, Issue: N/A, Pages:81-90 Abstract: Available
Wind analysis questioned. Authors: Reina, Peter Source: ENR Month: N/A, Year:1989, Volume:223, Issue: N/A, Pages:21 Abstract: N/A
Approximate Explicit Formulas for Complex Modes of Two Degree-of-Freedom (2DOF) System Authors: Pacheco, Benito M. Source: Structural Engineering/Earthquake Engineering, JSCE Month: Apr, Year:1989, Volume:6, Issue:1, Pages: N/A Abstract: N/A
Perturbation Technique to Approximate the Effect of Damping Nonproportionality in Modal Damping Analysis Authors: Pacheco, Benito M. Source: Structural Engineering/Earthquake Engineering, JSCE Month: Apr, Year:1989, Volume:6, Issue:1, Pages: N/A Abstract: N/A
Damping Effects of Viscous Shearing Damper Newly Developed for Suppression of Vibration Authors: Yoneda, M. ; Maeda, K. Source: Proceedings of the 11th Wind Engineering Symposium Month: N/A, Year:1990, Volume: N/A, Issue: N/A, Pages: N/A Abstract: N/A
Dynamic strain measurements in cables of a cable-stayed bridge in Bangkok Authors: Wieland, M. ; Lukkunaprasit, P. Source: Report (unpublished) of Chulalongkorn University Bangkok Month: N/A, Year:1990, Volume: N/A, Issue: N/A, Pages: N/A Abstract: N/A
Aerodynamic behavior of inclined circular cylinders - cable aerodynamics Authors: Matsumoto, Masaru ; Shiraishi, N. ; Bearman, P. W.; Knisely, C. Source: Journal of Wind Engineering Month: N/A, Year:1990, Volume:33, Issue: N/A, Pages:63-72 Abstract: Available
Non-linear cable response and model testing in water Authors: Papazoglou, V. J.; Mavrakos, S.A. ; Triantafyllou, M. S. Source: Journal of Sound and Vibration Month: N/A, Year:1990, Volume:140, Issue:1, Pages:103-115Abstract: Available
Aeroelastic analysis of cable-stayed bridges. Authors: Scanlan, Robert H.; Jones, Nicholas P. Source: Journal of Structural Engineering Month: N/A, Year:1990, Volume:116, Issue: N/A, Pages:279-97 Abstract: Available
Free bending of spiral strands Authors: Raoof, Mohammed Source: Journal of Engineering Mechanics Month: N/A, Year:1990, Volume:116, Issue:3, Pages:512-30 Abstract: Available
Chaotic dynamics Authors: Baker, G. L.; Gollub, J. P. Source: Cambridge University press Month: N/A, Year:1990, Volume: N/A, Issue: N/A, Pages: N/A Abstract: N/A
A simple method of designing cable vibration dampers of cable-stayed bridges Authors: Uno, K. ; Kitagawa, S. ; Tsutsumi, H. ; Inoue, A. Source: J. Struct. Engrg., Japan Society of Civil Engineering, Tokyo, Japan Month: N/A, Year:1991, Volume:37A, Issue: N/A, Pages:789-798 Abstract: N/A
Analytical estimation of structural damping in cable structures Authors: Yamaguchi, H. ; Jayawardena, L. Source: Proceedings of the 8th International conference on Wind Engineering London, Ontario Month: N/A, Year:1991, Volume: N/A, Issue: N/A, Pages: N/A Abstract: Available
Dynamic Response and structural health monitoring of long-span cable-supported bridges Authors: Abdel-Ghaffar, Ahmed M.; Masri, S. F. Source: Workshop Infrastructure '91Hong-Kong Month: N/A, Year:1991, Volume: N/A, Issue: N/A, Pages: N/A Abstract: N/A
Progress in Wind Engineering Authors: Davenport, A. G. Source: Proceedings of the 8th International conference on Wind Engineering London, Ontario Month: N/A, Year:1991, Volume: N/A, Issue: N/A, Pages: N/A Abstract: N/A
Recent advances in control of wind-induced vibrations of guyed masts Authors: Hirsch, Gerhard Source: Proceedings of the 8th International conference on Wind Engineering London, Ontario Month: N/A, Year:1991, Volume: N/A, Issue: N/A, Pages: N/A Abstract: N/A
Importance of cable vibration in dynamics of cable-stayed bridges Authors: Abdel-Ghaffar, Ahmed M.; Khalifa, M. A. Source: Journal of Engineering Mechanics Month: N/A, Year:1991, Volume:117 No. 11, Issue: N/A, Pages:2571 Abstract: Available
Ambient vibration measurements on a cablestayed bridge. Authors: Wilson, John C.; Liu, Tao Source: Earthquake Engineering and Structural Dynamics Month: N/A, Year:1991, Volume:20, Issue: N/A, Pages:423-47 Abstract: Available
Dynamic structural properties of cable-stayed Tampico bridge. Authors: Muria-Vila, D. ; Gomez, R. ; King, C. Source: Journal of Structural Engineering Month: N/A, Year:1991, Volume:117, Issue: N/A, Pages:3396-416 Abstract: Available
Modelling of a cable-stayed bridge for dynamic analysis. Authors: Wilson, John C.; Gravelle, Wayne Source: Earthquake Engineering and Structural Dynamics Month: N/A, Year:1991, Volume:20, Issue: N/A, Pages:707-21 Abstract: Available
Wind-resistant design of the Higashi-Kobe bridge Authors: Matsumoto, Masaru ; Kitazawa, Masahiko ; Ishizaki, H. ; Ogawa, K. ; Saito, Toru ; Shimodai, H. Source: Bridge and Foundation Engineering Month: N/A, Year:1991, Volume: N/A, Issue: N/A, Pages: N/A Abstract: N/A
Upper-Bound Prediction of Cable Damping Under Cyclic Bending Authors: Huang, Y. P. Source: Journal of Engineering Mechanics Month: Dec, Year:1991, Volume:117, Issue:12, Pages: N/A Abstract: N/A
Dynamic Stiffness Matrix of Sagging Cable Authors: Starossek, Uwe Source: Journal of Engineering Mechanics Month: Dec, Year:1991, Volume:117, Issue:12, Pages: N/A Abstract: N/A
Dynamic Stability of Cables Subjected to an Axial Periodic Load Authors: Takahashi, K. Source: Journal of Sound and Vibration Month: N/A, Year:1991, Volume:144, Issue:2, Pages: N/A Abstract: N/A
Rain-wind aeroelastic instability of the inclined hangers of a suspension bridge Authors: Zasso, A. ; Bocciolone, M. ; Brownjohn, J. Source: Preprints of Inaugural Conference of the Wind Engineering Society UK Month: N/A, Year:1992, Volume: N/A, Issue: N/A, Pages: N/A Abstract: N/A
The effects of three-dimensional imposed disturbances on bluff body near wake flow Authors: Bearman, P. W.; Tombazis, N. Source: Preprints of the Second BBAA Month: N/A, Year:1992, Volume: N/A, Issue: N/A, Pages: N/A Abstract: N/A
Discussion of Dynamic stability of cables subjected to an axial periodic load Authors: Perkins, N. C. Source: Journal of Sound and Vibration Month: N/A, Year:1992, Volume:156, Iss 2, Issue: N/A, Pages:361-65 Abstract: Available
Modal interactions in the nonlinear response of elastic cables under parametric external excitation Authors: Perkins, N. C. Source: International Journal of Non-Linear Mechanics Month: N/A, Year:1992, Volume:27, Iss 2, Issue: N/A, Pages:233-50 Abstract: Available
Rain/wind-induced vibration of cables of cablestayed bridges Authors: Matsumoto, Masaru ; Shiraishi, N. ; Shirato, H. Source: Proceedings of the 8th International conference on Wind Engineering London, Ontario Month: N/A, Year:1992, Volume:44, Issue: N/A, Pages:2011-22 Abstract: Available
Dynamic characteristics of the Sunshine Skyway Bridge Authors: Jones, Nicholas P.; Thompson, J. M. Source: Proceedings of U.S.--Japan Bridge Workshop Month: N/A, Year:1992, Volume: N/A, Issue: N/A, Pages: N/A Abstract: N/A
Aerodynamic stability of a cable-stayed bridge with girder, tower and cables Authors: Ogawa, K. ; Shimodai, H. ; Ishizaki, H. Source: Proceedings of the 10th International Conference on Wind Engineering, Copenhagen, 1999 Month: N/A, Year:1992, Volume:42, Issue:1, Pages:1227-38 Abstract: Available
Analytical Aerodynamic Investigation of Cablestayed Helgeland Bridge Authors: Kovacs, I. ; Svensson, H. S.; Jordet, E. Source: Journal of Structural Engineering Month: N/A, Year:1992, Volume:110, Issue:1, Pages:147-60 Abstract: N/A
Bridge engineering and aerodynamics Authors: Ostenfield, K. H.; Larsen, A. Source: Proceedings of the1st International Symposium Large Bridges, Balkema Month: N/A, Year:1992, Volume: N/A, Issue: N/A, Pages: N/A Abstract: N/A
Cable-stayed bridge vibration due to road surface roughness. Authors: Wang, Ton-Lo ; Huang, Dongzhou Source: Journal of Structural Engineering Month: N/A, Year:1992, Volume:118, Issue: N/A, Pages:1354-74 Abstract: Available
Closed form vibration analysis of sagged cable mass suspensions Authors: Chang, S. P.; Perkins, N. C. Source: Journal of Applied Mechanics Transactions of the ASME Month: N/A, Year:1992, Volume:57, Issue:4, Pages:923-28 Abstract: N/A
Damping Phenomena in a wire rope vibration isolation system Authors: Tinker, M. L.; Cutchins, M. A. Source: Journal of Sound and Vibration Month: N/A, Year:1992, Volume:157, Issue:1, Pages: 7-10 Abstract: Available
Dynamic stability of cables subjected to an axial periodic load Authors: Perkins, N. C. Source: Journal of Sound and Vibration Month: N/A, Year:1992, Volume:156, Issue:2, Pages:361-65 Abstract: N/A
Experimental investigation of dynamics of transverse impoulse wave propagation and dispersion in steel wire ropes Authors: Kwun, H, ; Durkhardt, S. L. Source: Journal of the Acoustical Society of America Month: N/A, Year:1992, Volume:92, Issue:4, Pages:1973-80 Abstract: N/A
Experimental Study on Cable Response to Vortex-induced Vibrations Authors: Yokoyama, K. ; Kusakabe, ; Fujiwara, T. ; Hojo, Tetsuo Source: Proceedings of the 12th Wind Engineering Symposium Month: N/A, Year:1992, Volume: N/A, Issue: N/A, Pages: N/A Abstract: N/A
Fatigue resistance of large diameter cable for cable-stayed bridges Authors: Takena, K. ; Miki, C. ; Shimokawa, H. ; Sakamoto, K. Source: Journal of Structural Engineering Month: N/A, Year:1992, Volume:110, Issue:3, Pages:701-15 Abstract: Available
Free bending fatigue life estimation for cables close to points of fixity Authors: Raoof, Mohammed Source: Journal of Engineering Mechanics Month: N/A, Year:1992, Volume:118, Issue:9, Pages:1747-64 Abstract: Available
Free bending fatigue of axially preloaded spiral strands Authors: Raoof, Mohammed Source: Journal of Strain Analysis Month: N/A, Year:1992, Volume:27, Issue:3, Pages:127-36 Abstract: N/A
Free vibration of a sagged cable supporting a discrete mass Authors: Cheng, S. P.; Perkins, N. C. Source: Journal of the Acoustical Society of America Month: N/A, Year:1992, Volume:91, Issue:5, Pages:2654-62 Abstract: N/A
Wire stress calculations in helical strands undergoing bending Authors: Raoof, Mohammed ; Huang, Y. P.Source: Journal of Offshore Mechanics and Arctic Engineering Month: N/A, Year:1992, Volume:114, Issue:3, Pages:212-19 Abstract: Available
Development of viscous damper to control the wind-induced vibration of cables Authors: Yoneda, M. ; Maeda, K. ; Izaki, H. ; Shimoda, I. Source: Journal of JSME (in Japanese) Month: N/A, Year:1992, Volume:58, Issue:555, Pages: N/A Abstract: N/A
Lateral vibrations of steel cables including structural damping Authors: Raoof, Mohammed ; Huang, Y. P. Source: Proceedings of Inst. Civ. Engrs Structs of Bldgs Month: N/A, Year:1993, Volume:99, Issue: N/A, Pages:123-33 Abstract: Available
Structural Control Authors: Housner, G. W.; Masri, S. F. Source: Workshop Honolulu 1993 Month: N/A, Year:1993, Volume: N/A, Issue: N/A, Pages: N/A Abstract: N/A
Active stiffness control of cable vibration Authors: Fujino, Yozo ; Warnitchai, P. ; Pacheco, D. M. Source: Journal of Applied Mechanics Transactions of the ASME Month: N/A, Year:1993, Volume:60, Iss 4, Issue: N/A, Pages:948-950 Abstract: Available
Estimation curve for modal damping in stay cables with viscous damper Authors: Pacheco, Benito M.; Fujino, Yozo ; Sulekh, Ajai Source: Journal of Structural Engineering Month: N/A, Year:1993, Volume:119, Iss 6, Issue: N/A, Pages:1961-79 Abstract: Available
Vortex induced vibrations of a long flexible circular cylinder Authors: Brika, D. ; Laneville, A. Source: Journal of Fluid Mechanics Month: N/A, Year:1993, Volume:250, Issue: N/A, Pages:481-508 Abstract: Available
Ambient Vibration Survey: Sunshine Skyway Bridge Authors: Jones, Nicholas P.; Thompson, J. M. Source: Proceedings of Structures Congress Month: N/A, Year:1993, Volume: N/A, Issue:N/A, Pages: N/A Abstract: Available
A device for suppressing wake galloping of stay cables for cable-stayed bridges Authors: Yoshimura, T. ; Savage, M. S.; Tanaka,, H. ; Wakasa, T. Source: Journal of Wind Engineering and Industrial Aerodynamics Month: N/A, Year:1993, Volume:49, Issue:3-Jan, Pages:497-505 Abstract: Available
Active modal control of vortex-induced vibrations of a flexible cylinder Authors: Daz, A. ; Kim, M. Source: Journal of Sound and Vibration Month: N/A, Year:1993, Volume:165, Issue:1, Pages:69-84 Abstract: Available
An experimental study on active tendon control of cable-stayed bridges Authors: Warnitchai, P. ; Fujino, Yozo ; Pacheco, D. M.; Agret, R. Source: Earthquake Engineering and Structural Dynamics Month: N/A, Year:1993, Volume:22, Issue:2, Pages:93-111 Abstract: Available
Damping and response measurement on a smallscale model of a cable-stayed bridge. Authors: Garevski, Mihail A.; Severn, Roy T. Source: Earthquake Engineering and Structural DynamicsMonth: N/A, Year:1993, Volume:22, Issue: N/A, Pages:13-29 Abstract: Available
Design of steel cables against free-bending fatigue at terminations Authors: Raoof, Mohammed Source: The Structural Engineer Month: N/A, Year:1993, Volume:71, Issue: N/A, Pages:171-78 Abstract: N/A
Effects of partial streamlining on aerodynamic response of bridge decks. Authors: Bienkiewicz, B. ; Kobayashi, H. Source: Journal of Structural Engineering Month: N/A, Year:1993, Volume:119, Issue: N/A, Pages:342-8 Abstract: Available
Experimental study on aerodynamic characteristics of cables with surface roughness Authors: Miyasaka, K. ; Yamada, Hitoshi ; Holmhansen, D. Source: Bridge and Foundation Engineering Month: N/A, Year:1993, Volume:27, Issue:9, Pages: N/A Abstract: N/A
Modal identification of cable-stayed pedestrian bridge. Authors: Gardner-Morse, ; Huston, Dryver R. Source: Journal of Structural Engineering Month: N/A, Year:1993, Volume:119, Issue: N/A, Pages:3384-404 Abstract: Available
The aerodynamic design of the Messina Straits Bridge Authors: Drancaleoni, F. ; Diana, G. Source: Journal of Wind Engineering and Industrial Aerodynamics Month: N/A, Year:1993, Volume:48, Issue:2,3, Pages:395-409 Abstract: Available
An Experimental and Analytical Study of Autoparametric Resonance in a 3DOF Model of Cable-Stayed-Beam Authors: Pacheco, Benito M. Source: Nonlinear Dynamics Month: N/A, Year:1993, Volume:4, Issue: N/A, Pages: N/A Abstract: N/A
Keeping Cables Calm Authors: Pacheco, Benito M. Source: Civil Engineering ASCE Month: Oct, Year:1993, Volume: N/A, Issue: N/A, Pages: N/A Abstract: N/A
Effect of Non-Linear Structural Damping on Cable Lateral Vibrations Authors: Huang, Y. P. Source: Proceedngs of the Third International Offshore and Polar Engineering Conference Month: Jun, Year:1993, Volume: N/A, Issue: N/A, Pages: N/A Abstract: N/A
Dynamics of elastic cable under parametric and external resonances Authors: Cai, Y. ; Chen, S. S. Source: Journal of Engineering Mechanics Month: N/A, Year:1994, Volume:120, Iss 8, Issue: N/A, Pages:1786-1802 Abstract: Available
Rain-wind excitation of cables on cable-stayed Higashi-Kobe bridge and cable vibration control Authors: Saito, Toru ; Matsumoto, Masaru ; Kitazawa, Masahiko Source: Proceedings of Conference on Cable-Stayed and Suspension Bridges Month: N/A, Year:1994, Volume: N/A, Issue: N/A, Pages:507-514 Abstract: Available
An experimental-study on active control of inplane cable vibration by axial support motion Authors: Fujino, Yozo ; Susumpow, T. Source: Earthquake Engineering and Structural Dynamics Month: N/A, Year:1994, Volume:23, Issue:12, Pages:1283-97 Abstract: Available
Experimental study on aerodynamic characteristics of cables with patterned surfaces Authors: Miyata, Toshio ; Yamada, Hitoshi ; Hojo, Tetsuo Source: Journal of Structural Engineering Month: N/A, Year:1994, Volume:40A, Issue: N/A, Pages: N/A Abstract: N/A
Vibration amplitudes caused by parametric excitation of cable-stayed structures Authors: Lilien, J. L.; Dacosta, A. P. Source: Journal of Sound and Vibration Month: N/A, Year:1994, Volume:174, Issue:1, Pages:69-90 Abstract: Available
Wind-induced nonlinear lateral-torsional buckling of cable-stayed bridges. Authors: Boonyapinyo, Virote ; Yamada, Hitoshi ; Miyata, Toshio Source: Journal of Structural Engineering Month: N/A, Year:1994, Volume:120, Issue: N/A, Pages:486-506 Abstract: Available
Optimum Dancing of Vibrations of Stay Cables in Cable-Stayed Bridges Authors: Premachandran, R. ; Wieland, Martin Source: Australian Structural Engineering Conference Month: Sep, Year:1994, Volume: N/A, Issue: N/A, Pages: N/A Abstract: N/A
Active control of cable and cable structure system Authors: Susumpow, T. ; Warnitchai, P. Source: JSME International Journal Series C Dynamics Control Robotics Design and Manufacturing Month: N/A, Year:1995, Volume:38, Issue:2, Pages:260-66 Abstract: N/A
Cable Aerodynamics and its stabilization Authors: Matsumoto, Masaru Source: Int. Symposium on Cable Dynamics, Proceedings, Liege (Belgium) Month: N/A, Year:1995, Volume: N/A, Issue: N/A, Pages:289-96 Abstract: N/A
Control of cable vibrations with secondary cables Authors: Yamaguchi, H. Source: Int. Symposium on Cable Dynamics, Proceedings, Liege (Belgium) Month: N/A, Year:1995, Volume: N/A, Issue: N/A, Pages:445-452 Abstract: N/A
Design of Cables for Cable-Stayed Bridges: the example of the Normandie Bridge Authors: Virlogeux, Source: Proceedings of the International Symposium on Cable Dynamics Month: N/A, Year:1995, Volume: N/A, Issue: N/A, Pages: N/A Abstract: N/A
Rain-wind-induced vibrations of steel bars Authors: Ruscheweyh, H. P.; Verwiebe, C. Source: Int. Symposium on Cable Dynamics, Proceedings, Liege (Belgium) Month: N/A, Year:1995, Volume: N/A, Issue: N/A, Pages:469-472 Abstract: N/A
The Dynamics of Cables in Wind Authors: Davenport, A. G. Source: Proceedings of the International Symposium on Cable Dynamics Month: N/A, Year:1995, Volume: N/A, Issue: N/A, Pages: N/A Abstract: N/A
Wind tunnel tests on rain-induced vibration on the stay-cable Authors: Honda, A. ; Yamanaka, T. ; Fujiwara, T. ; Saitoh, Tohru Source: Int. Symposium on Cable Dynamics, Proceedings, Liege (Belgium) Month: N/A, Year:1995, Volume: N/A, Issue: N/A, Pages:255-262 Abstract: N/A
Wind-induced vibrations of bridge stay-cables Authors: Yoshimura, T. ; Tanaka,, H. ; Savage, M. S.; Nakatani, S. ; Hikami, Y. Source: Int. Symposium on Cable Dynamics, Proceedings, Liege (Belgium) Month: N/A, Year:1995, Volume: N/A, Issue: N/A, Pages:437-444 Abstract: N/A
Rain/wind-induced vibration of cables Authors: Flamand, Oliver A. Source: Proceedings of the 1st IAWE European and African Regional Conference, Thomas Telford 1993 Month: N/A, Year:1995, Volume:57, Iss. 2-3, Issue: N/A, Pages:353-362 Abstract: Available
Response characteristics of rain/wind-induced vibration of stay-cables of cable-stayed bridges Authors: Matsumoto, Masaru ; Saitoh, Tohru ; Kitazawa, Masahiko ; Shirato, H. ; Nishizaki, T. Source: Journal of Wind Engineering and Industrial Aerodynamics Month: N/A, Year:1995, Volume:57, Issue: N/A, Pages:323-33 Abstract: N/A
Various mechanism of inclined cable aerodynamics Authors: Matsumoto, Masaru ; Yamagishi, M. ; Aoki, J. ; Shiraishi, N. Source: Proceedings of the 9th International Conference on Wind Engineering, New Delhi, India Month: N/A, Year:1995, Volume: N/A, Issue: N/A, Pages:759-770 Abstract: Available
Vortex shedding and wake induced vibrations in single and bundle cables Authors: Cigada, A. ; Diana, G. ; Falco, M. ; Fossati, F. ; Manenti, A. Source: Proceedings of the 9th International Conference on Wind Engineering, New Delhi, India Month: N/A, Year:1995, Volume: N/A, Issue: N/A, Pages:771-782 Abstract: Available
A nonlinear dynamic model for cables and its application to a cable structure system Authors: Warnitchai, P.; Fujino, Yozo ; Susumpow, T. Source: Journal of Sound and Vibration Month: N/A, Year:1995, Volume:107, Issue:4, Pages:675-710 Abstract: Available
Active control of multimodal cable vibrations by axial support motion Authors: Susumpow, T. ; Fujino, Yozo Source: Journal of Engineering Mechanics Month: N/A, Year:1995, Volume:121, Issue:9, Pages:964-972 Abstract: Available
Aerodynamic stability analysis of cable-stayed bridges. Authors: Pfeil, M. S.; Batista, R. C. Source: Journal of Structural Engineering Month: N/A, Year:1995, Volume:121, Issue: N/A, Pages:1784-8 Abstract: Available
Design considerations for delayed resonator vibration absorbers Authors: Olgac, N. ; Holmhansen, D. Source: Journal of Engineering Mechanics Month: N/A, Year:1995, Volume:121, Issue:1, Pages:80-89 Abstract: Available
Full-scale dynamic testing of the Alamillo cable-stayed bridge in Sevilla (Spain). Authors: Casas, Juan R. Source: Journal of Structural Engineering Month: N/A, Year:1995, Volume:24, Issue: N/A, Pages:35-51 Abstract: Available
Influence of cable vibration on seismic response of cable-stayed bridges Authors: Tuladhar, R.; Dilger, W. H.; Elbadry, M. M. Source: Canadian Journal of Civil Engineering Month: N/A, Year:1995, Volume:22, Issue:5, Pages:1001-20 Abstract: Available
Nonlinear oscillations of a 4 degree of freedom model of a suspended cable under multiple internal resonance conditions Authors: Denedettini, F. ; Rega, C. ; Alaggiao, R Source: Journal of Sound and Vibration Month: N/A, Year:1995, Volume:102, Issue:5, Pages:775-97 Abstract: Available
Prediction control of Sdof system Authors: Hoshiya, M. Source: Journal of Engineering Mechanics Month: N/A, Year:1995, Volume:121, Issue:10, Pages:1049-55 Abstract: Available
Damping analysis of cable-stayed bridges Authors: Loredo-Souza, A. M.; Davenport, A. G. Source: Proc. of the International Conference on Urban Engr. in Asian Cities in the 21st Century, Bangkok Month: N/A, Year:1996, Volume: N/A, Issue: N/A, Pages: N/A Abstract: N/A
Oscillations of bridge stay cables induced by periodic motions of deck and/or towers Authors: Pinto da Costa, A. ; Martins, J. A. C.; Branco, F. Source: Journal of Engineering Mechanics Month: N/A, Year:1996, Volume:122, Issue: N/A, Pages:613-22 Abstract: Available
Active Tendon Control of Cable-Stayed Bridges Authors: Preumon, A. ; Achkire, Y. Source: Earthquake Engineering and Structural Dynamics Month: N/A, Year:1996, Volume:25, Issue: N/A, Pages:585-597 Abstract: N/A
Active Boundary Control of Elastic Cables: Theory and Experiment Authors: Baicu, C. F.; Rahn, C. D.; Nibali, B. D. Source: Journal of Sound and Vibration Month: N/A, Year:1996, Volume:1, Issue:198, Pages: N/A Abstract: N/A
Structural Damping of Tensioned Pipes with Reference to Cables Authors: McConnell, Kenneth G.; Uhrig, A. Source: Journal of Sound and Vibration Month: N/A, Year:1996, Volume: N/A, Issue:193, Pages: N/A Abstract: N/A
Structural Damping of Tensioned Pipes with Reference to Cables Authors: Fang, J. ; Lyons, G. J. Source: Journal of Sound and Vibration Month: N/A, Year:1996, Volume:193, Issue:4, Pages: N/A Abstract: N/A
Energy-based damping evaluation of cablestayed bridges and application to Tsurumi Tsubasa Bridge Authors: Yamaguchi, H. ; Takano, H. ; Ogasawara, M. ; Shimosato, T. ; Kato, M. ; Kato, H. Source: Journal of Structural Engineering and Earthquake Engineering, JSCE (translated from Japanese) Month: N/A, Year:1997, Volume:14, Issue:2, Pages:201s-213s Abstract: N/A
Identification of dynamic characteristics of the Tsurumi Tsubasa Bridge by field vibration tests Authors: Yamaguchi, H. ; Takano, H. ; Ogasawara, M. ; Shimosato, T.; Kato, M. ; Okada, J. Source: Journal of Structural Engineering and Earthquake Engineering, JSCE (translated from Japanese) Month: N/A, Year:1997, Volume:14, Issue:2, Pages:215s-228s Abstract: N/A
Measurement of stay-cable vibration Authors: Jones, Nicholas P.; Porterfield, Michelle Source: Proceedings of the Structures Congress, ASCE, Portland, 1997 Month: N/A, Year:1997, Volume: N/A, Issue: N/A, Pages:1290-1294 Abstract: Available
Modal analysis of tower-cable system of Tsing Ma long suspension bridge Authors: Xu, Y. L.; Ko, J. M.; Yu, Z. Source: Engineering Structures Month: N/A, Year:1997, Volume:19, Issue: N/A, Pages:857-867 Abstract: Available
Modal Damping Estimation of Cable-Damper Systems Authors: Xu, Y. L.; Ko, J. M.; Yu, Z. Source: Proc. 2nd International symposioum on structures and foundations in civil engineering, Hong Kong Month: N/A, Year:1997, Volume: N/A, Issue: N/A, Pages:96-102 Abstract: Available
Mode-dependence of structural damping in cable-stayed bridges Authors: Yamaguchi, H. ; Ito, Manabu Source: Journal of Wind Engineering and Industrial Aerodynamics Month: N/A, Year:1997, Volume:72, Issue: N/A, Pages:289-300 Abstract: N/A
Recent research results concerning the exciting mechanisms of rain-wind-induced vibrations Authors: Verwiebe, C. ; Ruscheweyh, H. P. Source: Proc. 2nd European and African Conference on Wind Engineering, Geneva, Italy Month: N/A, Year:1997, Volume: N/A, Issue: N/A, Pages:1783-1789 Abstract: Available
The cable stabilization at the wind and moving load effect Authors: Kazakevitch, M. ; Zakora, A. Source: Proc. 2nd European and African Conference on Wind Engineering, Geneva, Italy Month: N/A, Year:1997, Volume: N/A, Issue: N/A, Pages:1775-1781 Abstract: Available
Vortex-induced oscillations in inclined cables Authors: Hover, F. X.; Miller, S.N. ; Triantafyllou, M. S. Source: Journal of Wind Engineering and Industrial Aerodynamics Month: N/A, Year:1997, Volume:71, Issue: N/A, Pages:203-211 Abstract: Available
Wind-induced vibration of cables of cablestayed bridges Authors: Matsumoto, Masaru ; Dayto, Y. ; Kanamura, T. ; Shigemura, Y. ; Sakuma, S. ; Ishizaki, H. Source: Proceedings of the 2 EACWE, Genova, Italy, 1997Month: N/A, Year:1997, Volume: N/A, Issue: N/A, Pages:1791-1798 Abstract: Available
Parametric Excitation of Cable Authors: Hsu., C. S.; Cheng, W. H. Source: Seismic Engineering Month: N/A, Year:1997, Volume: N/A, Issue: N/A, Pages: N/A Abstract: N/A
Complex Analysis of Modal Damping in Inclined Sag Cables with Oil Dampers Authors: Xu, Y. L.; Ko, J. M. Source: Structures in the New Millenium Month: N/A, Year:1997, Volume: N/A, Issue: N/A, Pages: N/A Abstract: N/A
Analysis of Resonant Tangential Response in Submerged Cables Resulting from 1-to-1 Internal Resonance Authors: Newberry, B. L.; Perkins, N. C. Source: Proceedings of the Seventh International Offshore and Polar Engineering Conference Month: May, Year:1997, Volume: N/A, Issue: N/A, Pages: N/A Abstract: N/A
Vibration Damper for Cables of the Tsunami Tsubasa Bridge Authors: Ito, Noboru Source: Journal of Wind Engineering and Industrial Aerodynamics Month: N/A, Year:1997, Volume: N/A, Issue: N/A, Pages: N/A Abstract: N/A
Basic study on simultaneous identification of cable tension and flexural rigidity by extended Kalman filter Authors: Zui, Hiroshi ; Nishikawa, Tohuru ; Higa, S.; Yoshihiro, ; Shinki, ; Saito, Toru Source: Structural Engineering/Earthquake Engineering, JSCE Month: N/A, Year:1998, Volume:15, Issue:1, Pages:97-106 Abstract: Available
Bridge stay cable condition assessment using vibration measurement techniques Authors: Takano, H.; Mehrabi, A.B. ; Yen, W. P. Source: SPIE Month: N/A, Year:1998, Volume:3400, Issue: N/A, Pages:194-204 Abstract: Available
Dynamic response of cable-stayed bridge under moving loads Authors: Yang, Fuheng ; Fonder, Ghislain A. Source: Journal of Engineering Mechanics Month: N/A, Year:1998, Volume:124, Issue:7, Pages:741-747 Abstract: Available
Exciiting mechanisms of rain/wind-induced vibrations Authors: Verwiebe, C. Source: Journal of the International Association for Bridge and Structural Engineering (IABSE) Month: N/A, Year:1998, Volume:8, Issue:2, Pages: N/A Abstract: Available
Parametric identification of vortex-induced vibration of a circular cylinder from measured data Authors: Christensen, C. F.; Roberts, U. B. Source: Journal of Sound and Vibration Month: N/A, Year:1998, Volume:211, Issue:4, Pages:617 Abstract: Available
Stayed cable dynamics and its vibration control Authors: Yamaguchi, H. ; Fujino, Yozo Source: Proc. of the International Symposium on Advances in Bridge Aerodynamics, Copenhagen, 1999 Month: N/A, Year:1998, Volume: N/A, Issue: N/A, Pages:235-253 Abstract: N/A
United Finite difference formulation for free vibration of cables Authors: Mehrabi, A.B. ; Tabatabai, H. Source: Journal of Structural Engineering Month: N/A, Year:1998, Volume:124, Issue:11, Pages:1313-1322 Abstract: Available
Vibration control of cable-stayed bridges--Part 1: Modeling Issues Authors: Schemmann, A. G.; Smith, H. Allison Source: Earthquake Engineering and Structural Dynamics Month: N/A, Year:1998, Volume:27, Issue:8, Pages:811-824 Abstract: Available
Vibration of Inclined Sag Cables with Oil Dampers in Cable-Stayed Bridges Authors: Xu, Y. L.; Yu, Z. Source: Journal of Bridge Engineering Month: N/A, Year:1998, Volume:3, Issue:4, Pages:194-203 Abstract: Available
Discussion of Cable-stayed bridges--Parametric Study. T.P. Agrawal Authors: Housner, G. W.; Singh, P. K. Source: Journal of Bridge Engineering Month: N/A, Year:1998, Volume:3, Issue:3, Pages:148 Abstract: N/A
Traveling wave dynamics in a translating string coupled to stationary constraints: energy transfer and mode localization Authors: Lee., S. Y.; Mote, C. D. Source: Journal of Sound and Vibration Month: N/A, Year:1998, Volume:212, Issue:1, Pages:1 Abstract: Available
Vibration control of cable-stayed bridges--Part 2: Control Analyses Authors: Schemmann, A. G.; Smith, H. Allison Source: Earthquake Engineering and Structural Dynamics Month: N/A, Year:1998, Volume:27, Issue:8, Pages:825-844 Abstract: Available
Forced Vibration Studies of Sagged Cables with Oil Damper Using a Hybrid Method Authors: Xu, Y. L.; Ko, J. M. Source: Engineering Structures Month: N/A, Year:1998, Volume:20, Issue:8, Pages: N/A Abstract: N/A
Mitigation of Three-Dimensional Vibration of Inclined Sag Cable Using Discrete Oil Dampers - I. Formulation Authors: Xu, Y. L. Source: Journal of Sound and Vibration Month: N/A, Year:1998, Volume:4, Issue:214, Pages: N/A Abstract: N/A
The Effects of Mechanical Dampers on Stay Cables with High Damping Rubber Authors: Nakamura, A. ; Kasuga, A. ; Arai, H. Source: Construction and Building Materials Month: N/A, Year:1998, Volume:12, Issue:2-3, Pages: N/A Abstract: N/A
A novel approach for aeroelastic wind tunnel modeling of cables Authors: Loredo-Souza, A. M.; Davenport, A. G. Source: Proceedings of the 10th International Conference on Wind Engineering, Copenhagen, 1999 Month: N/A, Year:1999, Volume:2, Issue: N/A, Pages:955-962 Abstract: Available
A study on wake-galloping for stay cables of extradosed bridges employing full aeroelastic cable model Authors: Tokoro, S. ; Komatsu, H. ; Nakasu, M. ; Mizuguchi, K. ; Kasuga, A. Source: Proceedings of the 10th International Conference on Wind Engineering, Copenhagen, 1999 Month: N/A, Year:1999, Volume:2, Issue: N/A, Pages:1055-1062 Abstract: Available
Dynamics of SDOF systems with nonlinear viscous damping Authors: Terenzi, G. Source: Journal of Engineering Mechanics Month: N/A, Year:1999, Volume: N/A, Issue: N/A, Pages:956-963 Abstract: N/A
Energy balanced double oscillator model for vortex-induced vibrations Authors: Krenk, S. ; Nielsen, S. R.K. Source: Journal of Engineering Mechanics Month: N/A, Year:1999, Volume:125, Issue:3, Pages:263-271 Abstract: Available
Estimation of the effects of rain/wind-induced vibration in the desing stage of inclined stay cables Authors: Geurts, C. P.W.; van Staalduinen, P. C. Source: Proceedings of the 10th International Conference on Wind Engineering, Copenhagen, 1999 Month: N/A, Year:1999, Volume:2, Issue: N/A, Pages:885-892 Abstract: Available
Experimental study of vibration mitigation of bridge stay cables Authors: Xu, Y. L.; Zhan, S. ; Ko, J. M.; Yu, Z. Source: Journal of Structural Engineering Month: N/A, Year:1999, Volume:125, Issue:9, Pages:977-986 Abstract: Available
Full-scale measurements of stay cable vibration Authors: Main, Joseph A.; Jones, Nicholas P. Source: Proceedings of the 10th International Conference on Wind Engineering, Copenhagen, 1999 Month: N/A, Year:1999, Volume:2, Issue: N/A, Pages:963-970 Abstract: Available
Full-scale measurements on the Erasmus bridge after rain/wind-induced cable vibrations Authors: Persoon, A. J.; Noorlander, K. Source: Proceedings of the 10th International Conference on Wind Engineering, Copenhagen, 1999 Month: N/A, Year:1999, Volume:2, Issue: N/A, Pages:1019-1026 Abstract: Available
Mode localization in multispan cable systems Authors: Poovarodom,, N. ; Yamaguchi, H. Source: Engineering StructuresMonth: N/A, Year:1999, Volume:21, Issue:1, Pages:45-54 Abstract: N/A
Modeling and semiactive damping of stay cables Authors: Baker, G. A.; Johnson, E. A.; Spencer, BF,, B. F.; Fujino, Yozo Source: Proceedings of the 13th ASCE Engineering Mechanics Division Specialty Conference, JHU, USA Month: N/A, Year:1999, Volume: N/A, Issue: N/A, Pages: N/A Abstract: N/A
Modeling of stay cables and its effect on free vibration analysis of cable-stayed bridges Authors: Cheung, Y. K.; Au, F. T.K.; Cheng, Y. S.; Zheng, D. Y. Source: Proceedings of the 13th ASCE Engineering Mechanics Division Specialty Conference, JHU, USA Month: N/A, Year:1999, Volume: N/A, Issue: N/A, Pages: N/A Abstract: Available
Nonlinear feedback control for the stabilization of cable oscillations: analytical and experimental model Authors: Gattulli, V. ; Benedettini, F. Source: Proceedings of the 13th ASCE Engineering Mechanics Division Specialty Conference, JHU, USA Month: N/A, Year:1999, Volume: N/A, Issue: N/A, Pages: N/A Abstract: Available
Seismic behaviour of cable-stayed bridges under multi-component random ground motion Authors: Allam, S. M.; Datta, T. K. Source: Engineering Structures Month: N/A, Year:1999, Volume:21, Issue:1, Pages:62-74 Abstract: N/A
The mechanism of rain/wind-induced vibration Authors: Ruscheweyh, H. P. Source: Proceedings of the 10th International Conference on Wind Engineering, Copenhagen, 1999 Month: N/A, Year:1999, Volume:2, Issue: N/A, Pages:1041-1048 Abstract: N/A
Vortex-induced vibration of inclined cables at high wind velocity Authors: Matsumoto, Masaru ; Yagi, T. ; Shigemura, Y. ; Tsushima, D. Source: Proceedings of the 10th International Conference on Wind Engineering, Copenhagen, 1999 Month: N/A, Year:1999, Volume:2, Issue: N/A, Pages:979-986 Abstract: Available
Semiactive Damping of Stay Cables: A Preliminary Study Authors: Johnson, E. A.; Spencer, BF,, B. F. Source: Proceedings of 17th International Modal Analysis Conference: February 8-11, 1999 Month: Feb, Year:1999, Volume: N/A, Issue:1, Pages: N/A Abstract: N/A
Non-linear Vibration of Cable-Damper Systems Part I: Formulation Authors: Xu, Y. L. Source: Journal of Sound and Vibration Month: N/A, Year:1999, Volume:225, Issue:3, Pages: N/A Abstract: N/A
Non-linear Vibration of Cable-Damper Systems Part II: Application and Verification Authors: Xu, Y. L. Source: Journal of Sound and Vibration Month: N/A, Year:1999, Volume:225, Issue:3, Pages: N/A Abstract: N/A
Analysis and Implications of Low Damping for Seismic Response of Cable-Stayed Bridges Authors: Wilson, John C.; Atkins, Jodie C. Source: Earthquake Engineering and Structural Dynamics Month: N/A, Year:2000, Volume: N/A, Issue: N/A, Pages: N/A Abstract: N/A
Investigation of Dynamic Cable-Deck Interaction in a Physical Model of a Cable-Stayed Bridge. Part II: Seismic Response Authors: Caetano, E. ; Cunha, A. ; Taylor, C. A. Source: Earthquake Engineering and Structural Dynamics Month: N/A, Year:2000, Volume: N/A, Issue:29, Pages: N/A Abstract: N/A
Investigation of Dynamic Cable-Deck Interaction in a Physical Model of a Cable-Stayed Bridge. Part I: Modal Analysis Authors: Caetano, E. ; Cunha, A. ; Taylor, C. A. Source: Earthquake Engineering and Structural Dynamics Month: N/A, Year:2000, Volume: N/A, Issue:29, Pages: N/A Abstract: N/A