U.S. Department of Transportation
Federal Highway Administration
1200 New Jersey Avenue, SE
Washington, DC 20590
202-366-4000
---
Federal Highway Administration Research and Technology
Coordinating, Developing, and Delivering Highway Transportation Innovations
Report
This report is an archived publication and may contain dated technical, contact, and link information
Publication Number: FHWA-RD-01-095 Date: July 2001
Publication Number: FHWA-RD-01-095
Date: July 2001

Hydraulics of Dale Boulevard Culverts, Performance Curve for A Prototype of Two Large Culverts in Series Dale Boulevard, Dale City, Virginia
PDF Version (1.43 MB)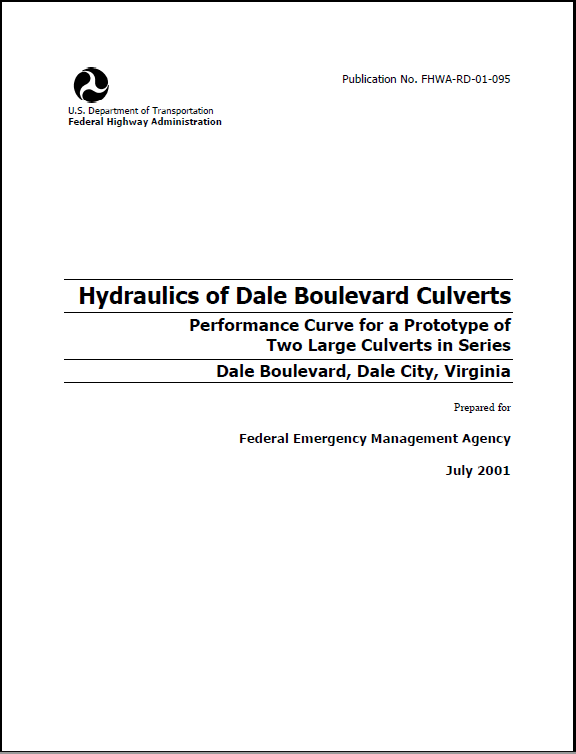 Technical Report Documentation Page
1. Report No.
FHWA-RD-01-095
2. Government Accession No.
3. Recipient's Catalog No.
4. Title and Subtitle
Hydraulics of Dale Boulevard Culverts, Performance Curve for a Prototype of Two Large Culverts in Series Dale Boulevard, Dale City, Virginia
5. Report Date
July 2001
6. Performing Organization Code
7. Author(s)
Edward Umbrell, Ken Young, Christine Estes, Stuart M. Stein, David R. Pearson
8. Performing Organization Report No.

9. Performing Organization Name and Address
GKY and Associates, Inc.
5411-E Backlick Road
Springfield, VA 22151
10. Work Unit No. (TRAIS)
11. Contract or Grant No.
12. Sponsoring Agency Name and Address
Office of Infrastructure Research and Development
Federal Highway Administration
6300 Georgetown Pike
McLean, VA 22101-2296
13. Type of Report and Period Covered
14. Sponsoring Agency Code
15. Supplementary Notes
Contracting Officer's Technical Representative (COTR): J. Sterling Jones, HRDI
Contributors: Moe Khine, Jeff Smith, and Jeff Gangai, Dewberry, Davis, and Associates, Inc.; John F. Magnotti, Federal
Emergency Management Agency
16. Abstract


Dewberry, Davis, and Associates, Inc. were performing the Neabsco Creek Flood Insurance Study at the Dale Boulevard culvert for FEMA, but had no guidelines for modeling the two culverts in series. A laboratory study was developed to support the FEMA study and evaluate the hydraulics of culverts in series.
This report summarizes model testing performed on a prototype culvert for the purpose of addressing the objective of the FEMA study, which is to determine the base flood elevation upstream of the culvert. A performance curve was developed for the culvert to increase the accuracy of the FEMA study.

17. Key Words
Culverts, culvert design coefficients, culverts in series, inlet control, outlet control, hydraulic design.
18. Distribution Statement
No restrictions. This document is available to the public through the National Technical Information Service, Springfield, VA 22161.
http://www.ntis.gov
19. Security Classif. (of this report)
Unclassified
20. Security Classif. (of this page)
Unclassified
21. No. of Pages
53
22. Price
Form DOT F 1700.7 (8-72)
Reproduction of completed pages authorized.