Analysis of Construction Quality Assurance Procedures on Federally Funded Local Public Agency Projects
APPENDIX F. VDOT LPA RISK FACTOR AND LEVEL OF OVERSIGHT ASSIGNMENT
VDOT's project risk and oversight assessment method requires the VDOT Project Coordinator to identify applicable project elements from figure 18, which affect the level of risk. By summing the weighted values for each selected element, a risk factor is determined. That risk factor correlates to an anticipated level of oversight found in figure 19.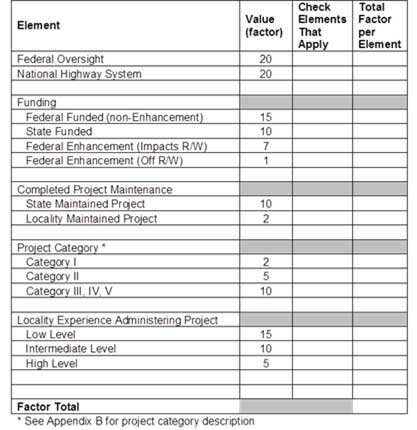 Source: VDOT
Figure 18. Screenshot. Project risk assessment.


Source: VDOT
Figure 19. Screenshot. Anticipated level of oversight.
In general terms, figure 20 illustrates the characteristics of projects at the three levels of oversight.


Source: VDOT
Figure 20. Screenshot. Project characteristics at three levels of oversight.
Actual activities associated with each oversight level vary with the unique characteristics of each project. These can include such considerations as unusually complex project features, sensitive environmental or socio-economic issues, and the LPA project manager's experience with similar transportation projects.
Figure 21 is an example of oversight activities for Federal-aid projects; many of these may not be applicable to State-aid projects. The VDOT Project Coordinator and the LPAs Project manager should develop more specific oversight activities and their frequency based on specific project needs and conditions.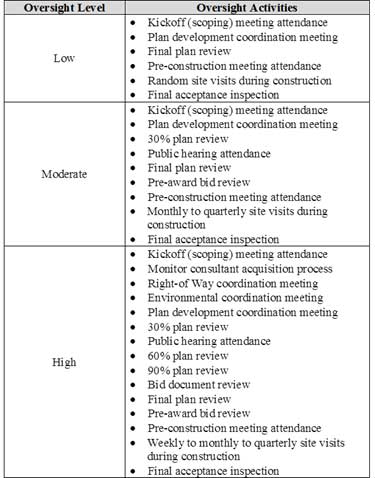 Source: VDOT
Figure 21. Screenshot. Examples of oversight activities associated with oversight levels.
The LPA and VDOT's Project Coordinator may increase or decrease the level of oversight for a particular project based on the LPA's performance on previous projects and results of VDOT compliance reviews. As VDOT's confidence in the LPA's ability to administer projects increases, the level of oversight may be reduced. However, oversight may be increased based on any number of factors, including the LPA assuming responsibility for more complex projects. LPA experience becomes an important factor in oversight and risk—the more experience the LPA gains, the more VDOT will typically reduce its level of oversight.