U.S. Department of Transportation
Federal Highway Administration
1200 New Jersey Avenue, SE
Washington, DC 20590
202-366-4000
---
Federal Highway Administration Research and Technology
Coordinating, Developing, and Delivering Highway Transportation Innovations
Fact Sheet
This techbrief is an archived publication and may contain dated technical, contact, and link information
E:
Inetpub
Wwwroot
Fhwaroot
19030 >
Index
Publication Number: FHWA-HRT-19-030 Date: April 2019
Publication Number: FHWA-HRT-19-030
Date: April 2019

Formation Factor Demystified and Its Relationship to Durability
PDF Version (1 MB)
FHWA Publication No.: FHWA-HRT-19-030
Jussara Tanesi, PhD., FACI, (i) Luca Montanari,(ii) and Ahmad Ardani, P.E.(iii)
WHAT IS ELECTRICAL RESISTIVITY AND WHY IS IT MEASURED?
Electrical resistivity is a property that indicates the material's resistance to the passage of electrical charges at a defined temperature. Concrete is a porous material and the porosity in concrete consists of a system of nano- and microscopic pores, interconnected at different degrees. In concrete, resistivity is directly proportional to the resistivity of the pore solution, and inversely proportional to the volume and connectivity of the pores.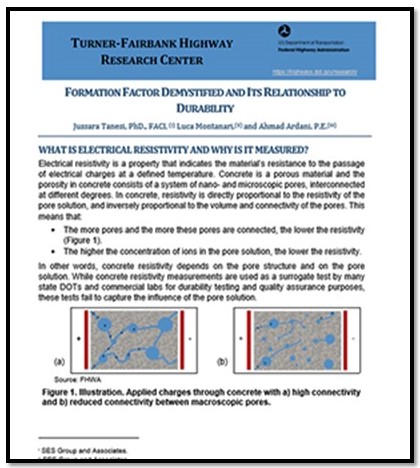 i SES Group and Associates.
ii SES Group and Associates.
iii FHWA contact: Ahmad.Ardani@dot.gov, 202–493–3422.