U.S. Department of Transportation
Federal Highway Administration
1200 New Jersey Avenue, SE
Washington, DC 20590
202-366-4000
---
Federal Highway Administration Research and Technology
Coordinating, Developing, and Delivering Highway Transportation Innovations
Report
This report is an archived publication and may contain dated technical, contact, and link information
Publication Number: FHWA-HRT-20-038 Date: November 2020
Publication Number: FHWA-HRT-20-038
Date: November 2020

Leveraging Augmented Reality for Highway Construction
PDF Version (6.02 MB)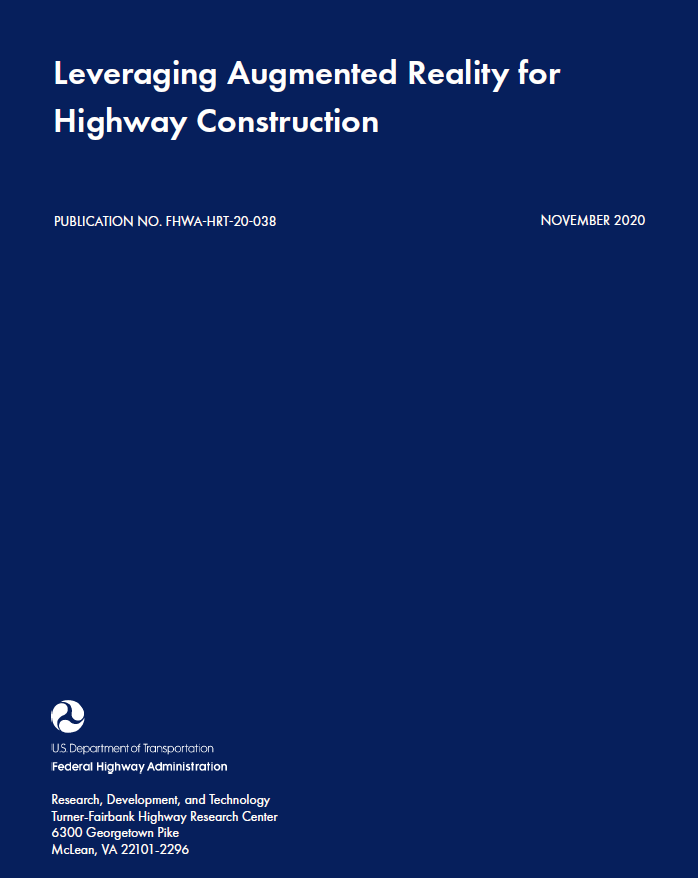 Technical Report Documentation Page
1. Report No.
FHWA-HRT-20-038
2. Government Accession No.
3. Recipient's Catalog No.
4. Title and Subtitle
Leveraging Augmented Reality for Highway Construction
5. Report Date
November 2020
6. Performing Organization Code
7. Author(s)
Jaganath Mallela, Kevin Gilson, Paul Goodrum (ORCID: 0000-0002-5656-1240), and Jennifer Steen
8. Performing Organization Report No.

9. Performing Organization Name and Address
WSP USA Inc.
1015 Half Street SE, Suite 650
Washington, DC 20003
10. Work Unit No. (TRAIS)
11. Contract or Grant No.
DTFH6117C00027
12. Sponsoring Agency Name and Address
Office of Infrastructure Research and Development
Federal Highway Administration
6300 Georgetown Pike
McLean, VA 22101
13. Type of Report and Period Covered
Final Report; October 2017–April 2020
14. Sponsoring Agency Code
HRDI-20
15. Supplementary Notes
Hoda Azari (HRDI-20; ORCID: 0000-0002-7340-0035) was the Contracting Officer's Representative.
16. Abstract


Challenges in highway construction management and field operations include the lack of real-time and integrated information, gaps between planned solutions and practical implementations, quality assurance, and effective project communications. Three-dimensional (3D) model-based design and construction workflows are becoming more common on highway projects, and the Federal Highway Administration (FHWA) is promoting these and other innovations through its Every Day Counts program and Building Information Modeling efforts. This increased use of 3D model-based workflows and rapid advancement in computer interface design and hardware make augmented reality a tool for overcoming these challenges.

17. Key Words
Construction, augmented reality, AR, virtual reality, VR, building information modeling, BIM, Every Day Counts, EDC
18. Distribution Statement
No restrictions. This document is available to the public through the National Technical Information Service, Springfield, VA 22161.
http://www.ntis.gov
19. Security Classif. (of this report)
Unclassified
20. Security Classif. (of this page)
Unclassified
21. No. of Pages
100
22. Price
N/A
Form DOT F 1700.7 (8-72)
Reproduction of completed pages authorized.