U.S. Department of Transportation
Federal Highway Administration
1200 New Jersey Avenue, SE
Washington, DC 20590
202-366-4000
---
Federal Highway Administration Research and Technology
Coordinating, Developing, and Delivering Highway Transportation Innovations
Report
This report is an archived publication and may contain dated technical, contact, and link information
Publication Number: FHWA-HRT-21-038 Date: May 2021
Publication Number: FHWA-HRT-21-038
Date: May 2021

Long-Term Pavement Performance Information Management System User Guide
PDF Version (2.51 MB)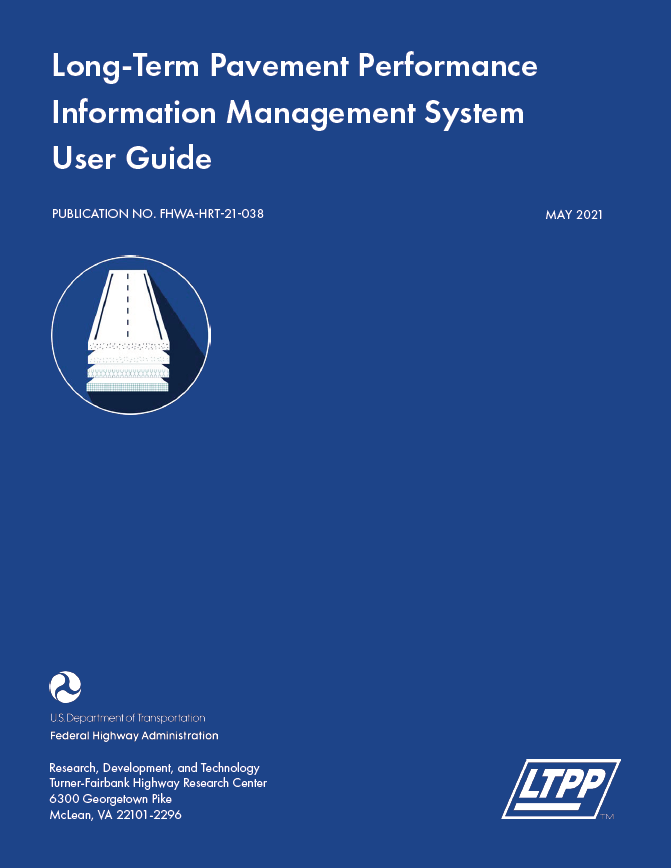 Technical Report Documentation Page
1. Report No.
FHWA-HRT-21-038
2. Government Accession No.
3. Recipient's Catalog No.
4. Title and Subtitle
Long-Term Pavement Performance Information Management System User Guide
5. Report Date
May 2021
6. Performing Organization Code
7. Author(s)
Gary E. Elkins (ORCID 0000-0002-2509-3341) and Barbara Ostrom (ORCID 0000-0002-5603-8839)
8. Performing Organization Report No.

9. Performing Organization Name and Address
Wood Environment & Infrastructure Solutions, Inc.
12000 Indian Creek Court, Suite F
Beltsville, MD 20705
10. Work Unit No.
11. Contract or Grant No.
DTFH61-15-D-00004
12. Sponsoring Agency Name and Address
Office of Infrastructure Research and Development
Federal Highway Administration
6300 Georgetown Pike
McLean, VA 22101
13. Type of Report and Period Covered
Final Report; August 2002–June 2019
14. Sponsoring Agency Code
HRDI-30
15. Supplementary Notes
Yan (Jane) Jiang (HRDI-30; ORCID: 0000-0003-3982-2530) served as the Contracting Officer's Representative.
16. Abstract


This document provides information to aid in understanding and using the Long-Term Pavement Performance (LTPP) program's Pavement Performance Database (PPDB), LTPP Traffic Analysis Software (LTAS) database, and contents of the Ancillary Information Management System (AIMS) and LTPP InfoPaveTM. This report describes the structure of the LTPP program, the relational structure of the LTPP PPDB, the location of various data elements, contents of data tables, tips on efficient means of manipulating data for specific types of investigations, and information on how to obtain data. This is the final updated version of this report. The LTPP InfoPave website is now the official public data dissemination mechanism for LTPP data. Over the years of updates to this report, contributing authors included Travis Thompson, Amy Simpson, Beth Visintine, and Peter Schmalzer.

17. Key Words
Long-term pavement performance, LTPP, SDR, asphalt concrete, ancillary information, continuously reinforced concrete pavement, database, deflection measurements, dynamic load measurement, ESAL, general pavement studies, jointed plain concrete pavement, jointed reinforced concrete pavement, LTPP Traffic Analysis Software, LTAS, pavement distress, pavement data, pavement profile, portland cement concrete, specific pavement studies, trafficdata, traffic load, traffic pooled fund study, WIM, MEPDG, AIMS, InfoPave, warm-mix asphalt, NALS, RPPIF
18. Distribution Statement
No restrictions. This document is available to the public through the National Technical Information Service, Springfield, VA 22161.
http://www.ntis.gov
19. Security Classif. (of this report)
Unclassified
20. Security Classif. (of this page)
Unclassified
21. No. of Pages
220
22. Price
N/A
Form DOT F 1700.7 (8-72)
Reproduction of completed pages authorized.