U.S. Department of Transportation
Federal Highway Administration
1200 New Jersey Avenue, SE
Washington, DC 20590
202-366-4000
---
Federal Highway Administration Research and Technology
Coordinating, Developing, and Delivering Highway Transportation Innovations
Report
This report is an archived publication and may contain dated technical, contact, and link information
Publication Number: FHWA-HRT-21-057 Date: May 2021
Publication Number: FHWA-HRT-21-057
Date: May 2021

Ruggedness and Interlaboratory Studies for Asphalt Mixture Performance Tester (AMPT) Cyclic Fatigue Test: Phase I Report
PDF Version (3.88 MB)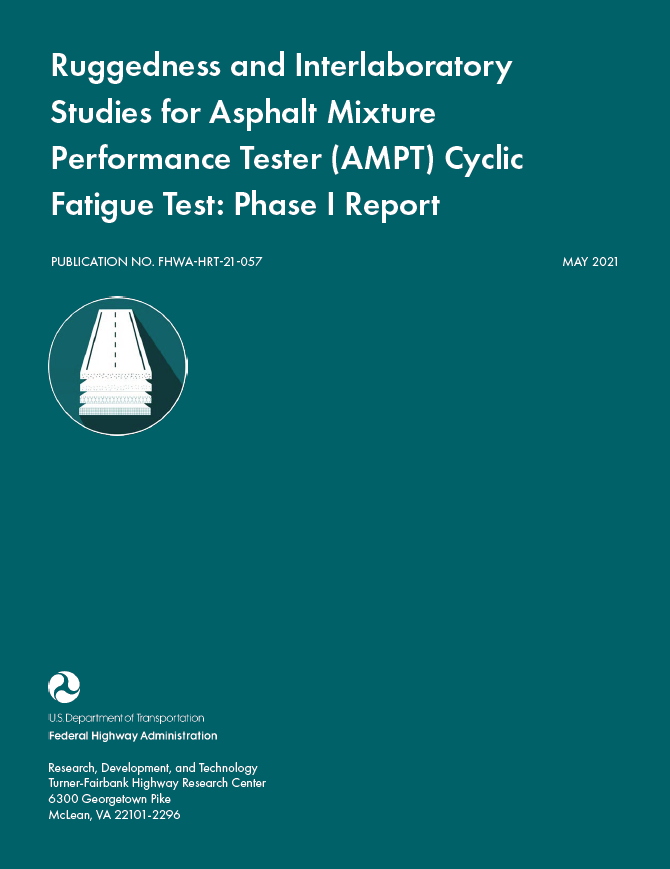 Technical Report Documentation Page
1. Report No.
FHWA-HRT-21-057
2. Government Accession No.
3. Recipient's Catalog No.
4. Title and Subtitle
Ruggedness and Interlaboratory Studies for Asphalt Mixture Performance Tester (AMPT) Cyclic Fatigue Test: Phase I Report
5. Report Date
May 2021
6. Performing Organization Code
7. Author(s)
Cassie Castorena (ORCID: 0000-0002-5915-0084), B. Shane Underwood (ORCID: 0000-0002-7223-3968), Y. Richard Kim (ORCID: 0000-0003-3295-977X), Kangjin Lee (ORCID: 0000-0003-3458-0747), Nam Tran (ORCID: 0000-0001-8183-4741), and Adam Taylor
8. Performing Organization Report No.

9. Performing Organization Name and Address
Weris, Inc.
North Carolina State University
Department of Civil, Construction, and Environmental Engineering
Campus Box 7908
Raleigh, NC 27695
10. Work Unit No.
11. Contract or Grant No.
DTFH6117C00037
12. Sponsoring Agency Name and Address
Office of Infrastructure Research and Development
Federal Highway Administration
6300 Georgetown Pike
McLean, VA 22101
13. Type of Report and Period Covered
Phase Ⅰ Report;
September 2017–April 2020
14. Sponsoring Agency Code
HRDI-10
15. Supplementary Notes
The Contracting Officer's Representative is David J. Mensching, Ph.D., P.E. (HRDI-10).
16. Abstract


This report highlights findings from Phase I of a project designed to evaluate the ruggedness of the standards for cyclic fatigue testing using an Asphalt Mixture Performance Tester (AMPT). These standards include AASHTO TP 107-18 and 133-19, which are applicable to 100-mm diameter and 38-mm diameter test specimens, respectively. The ruggedness evaluation conducted adheres to the requirements of ASTM E1169-14 and integrates ASTM C1067-12 recommendations, which are specifically for construction materials. The experimental factors evaluated included air-void content, specimen height, diameter difference between loading platen and specimen, loading-platen parallelism, rest period between the dynamic modulus fingerprint and cyclic fatigue test, strain level, and temperature. Based on the outcomes of this experiment and several supplementary studies, changes to the AASHTO TP 107-18 and TP 133-19 protocols were proposed.

17. Key Words
Cyclic fatigue testing, Asphalt Mixture Performance Tester, AMPT, asphalt mixture, ruggedness evaluation, asphalt mixture performance testing standards.
18. Distribution Statement
No restrictions. This document is available to the public through the National Technical Information Service, Springfield, VA 22161.
http://www.ntis.gov
19. Security Classif. (of this report)
Unclassified
20. Security Classif. (of this page)
Unclassified
21. No. of Pages
130
22. Price
N/A
Form DOT F 1700.7 (8-72)
Reproduction of completed pages authorized.