U.S. Department of Transportation
Federal Highway Administration
1200 New Jersey Avenue, SE
Washington, DC 20590
202-366-4000
---
Federal Highway Administration Research and Technology
Coordinating, Developing, and Delivering Highway Transportation Innovations
Report
This report is an archived publication and may contain dated technical, contact, and link information
Publication Number: FHWA-HRT-21-059 Date: June 2021
Publication Number: FHWA-HRT-21-059
Date: June 2021

Determination of Improved Pavement Smoothness When Using 3D Modeling and Automatic Machine Guidance
PDF Version (7.32 MB)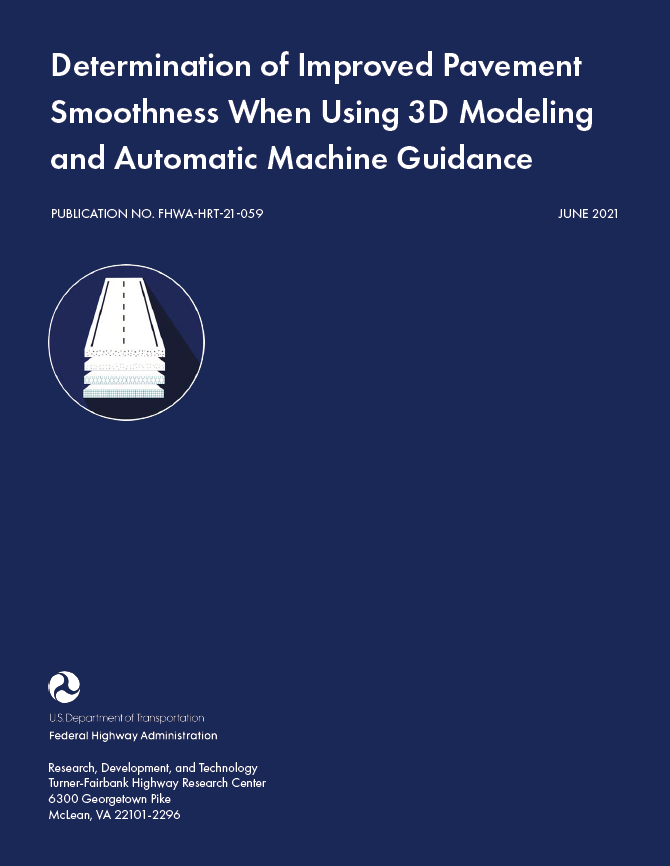 Technical Report Documentation Page
1. Report No.
FHWA-HRT-21-059
2. Government Accession No.
3. Recipient's Catalog No.
4. Title and Subtitle
Determination of Improved Pavement Smoothness When Using 3D Modeling and Automatic Machine Guidance
5. Report Date
June 2021
6. Performing Organization Code
7. Author(s)
Alexa Mitchell, Sadasivam Suriyanarayanan, George K. Chang (https://orcid.org/0000-0002-4945-8827), Jagannath Mallela (https://orcid.org/0000-0001-9464-7937), and Katharina McLaughlin.
8. Performing Organization Report No.

9. Performing Organization Name and Address
Weris, Inc.
21355 Ridgetop Circle, Suite 160
Sterling, VA 20166
10. Work Unit No.
11. Contract or Grant No.
DTFH6114D00009 TO 0003
12. Sponsoring Agency Name and Address
Office of Infrastructure Research and Development
Federal Highway Administration
6300 Georgetown Pike
McLean, VA 22101
13. Type of Report and Period Covered
Final Report; 09/28/2015–09/27/2017
14. Sponsoring Agency Code
HRDI-20
15. Supplementary Notes
The Contracting Officer's Representative is Matthew Corrigan (HRDI-20).
16. Abstract


Benefits such as faster construction, more consistent material depths, and savings by better control of material yields have already been noted when automatic machine guidance (AMG) is used in successive pavement-construction activities. Now, the question is whether projects using AMG result in improved smoothness compared with those using conventional construction, with all other factors that affect smoothness being equal. This research attempted to test the null hypothesis that AMG for grade control can also improve smoothness outcomes by comparing projects constructed using AMG on successive pavement layers to projects that did not make use of AMG for grade control, with all other factors influencing smoothness for a given project being equal. The research also documented the survey equipment used by contractors to control the positioning of the AMG systems and attempted to gather data in real time during paving to improve smoothness. The results of the documentation were used to develop general guidance for leveraging AMG technology to optimize smoothness outcomes.

17. Key Words
Pavement smoothness, automated machine guidance, AMG, 3D models, 3D modeling, 3D engineered models.
18. Distribution Statement
No restrictions. This document is available to the public through the National Technical Information Service, Springfield, VA 22161.
http://www.ntis.gov
19. Security Classif. (of this report)
Unclassified
20. Security Classif. (of this page)
Unclassified
21. No. of Pages
113
22. Price
N/A
Form DOT F 1700.7 (8-72)
Reproduction of completed pages authorized.