Study of Long-Term Pavement Performance (LTPP): Pavement Deflections
Chapter 4. Other Load-Deflection Data Errors
Data Screening
In the process of performing additional data screening procedures, a number of other categories of data errors or anomalies associated with specific (individual) records in the load-deflection database were discovered. These were subdivided into three categories, as follows:
Systematic load-deflection errors.
Section identification errors (tested at wrong test section).
Double data (time stamp) errors.
Systematic Sensor Errors
Only one complete systematic error example was found: in one day file, the center (#1) sensor consistently read between 0 and 4 mm, while the deflection levels for neighboring sensor #2 were in the several hundred micrometers range. This was section 83–1801, tested on May 13, 1994. This data error was reported in a September 1999 Feedback Report designated RNS–5 (see appendix A). Evidently, the erroneous section 83–1801 data have been removed from the level E load-deflection database. There were also other relatively infrequent occurrences of systematic and incorrect sensor #1 readings. Feedback Report RNS–5 recommended that all erroneous data records be culled from the level E database. To date, some of these records appear to have been corrected while others have not.
The one day file, already culled, plus the handful of minor examples correspond to about 0.015 percent of the total volume of FWD data in the entire pre-autumn 1998 database.
Test Section ID Errors
Five section errors were also found, where the FWD operator evidently tested the wrong test section. These particular day files did not bear much, if any, resemblance to the other dates of test, reportedly along the same test section and at the same test points. In fact, there were several other instances in which it was unclear whether the correct test sections were recorded. Only those cases where it is virtually certain that the wrong section was visited were recommended for culling in Feedback Report RNS–5 shown in appendix A. In total, these anomalies correspond to less than 0.1 percent of the total volume of pre-autumn 1998 data in the database.
A sample section error is shown in figure 2, where the deflections of sensor #5 (mainly corresponding to the response of the subgrade) are plotted as a function of station number and date of test. The tests conducted on August 1, 1996, bear little resemblance to the tests conducted on that section on any previous dates, even those as recent as 6 months earlier. This erroneous dataset was deleted from the database, as recommended.
After Feedback Report RNS–5 was submitted in September 1998, two of these five section error datasets were evidently deleted from the database, as recommended. The other three were not deleted due to a differing opinion from the appropriate Regional Coordinating Office (RCO).
After careful re-examination, we still recommend deleting two of the remaining three day file data record sets, due to the overwhelming evidence that the incorrect sections were in fact tested as previously reported. These record sets are from the test sections incorrectly identified as 04–0213 tested on March 6, 1995, and 08–0216 tested on August 5, 1998.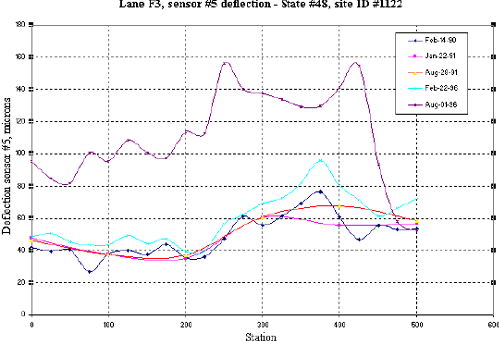 Figure 2. Graph. Sensor 5 deflection readings for one LTPP section.
The third unresolved section (identified as section 08–0213) has by now been tested four times, with the last test occurring well after Feedback Report RNS–5 was originally submitted in 1998. The data now appear to be grouped into two pairs: two of the four datasets appear to be from the same section, as does the other pair. But all four datasets, in all likelihood, are not from the same test section. We recommend that these four datasets be further investigated, to determine which pair is correct and which pair is (most likely) incorrect. If the RCO can verify that all four deflection sets are actually from the same test section, it would be very important to study this section in more detail, since the changes in deflection would mean that the stiffnesses of the pavement materials have changed more than considered possible based on our current knowledge of pavement materials and their potential changes over time. If such changes really did occur, either in the material properties or pavement system properties, it is essential that the pavement community understand what and why this occurred. In this possible (but unlikely) event, the mechanistic design methods currently under development should be able to account for such behavior.
Double Data and Incorrect Time Stamp Errors
In many instances, double data were found in a series of day files, generally with a 1-hour difference (exactly) in the time stamps, all other data items being identical. Other examples of double data included incorrect lanes and incorrect station numbers, although these were relatively infrequent occurrences. In the majority of these cases, evidently the FWD operator had his/her computer set for the wrong time zone, missed a daylight savings shift, or entered the wrong set of lanes or station numbers. These discrepancies were most likely discovered later, probably during the execution of routine QA procedures at the regional offices. Presumably, someone in the office then edited the data by changing the time input by 1 hour (for example, to correspond to the pavement temperature measurements made at the same section and times), and then refiltered the deflection data into the regional database. In the process, however, the (incorrect) data lines were inadvertently left in the database, and all of these data were eventually transferred as level E data to the LTPP database. Therefore, all lines of double data (i.e., the lines with incorrect time stamps, lanes, or stations) were recommended for culling in Feedback Report RNS–5 (shown in appendix A).
Double data records only corresponded to approximately 0.03 percent of the total volume of the pre-autumn 1998 data in the database. However, at this time only some of these records have been corrected. It has been re-recommended that the remaining double data records in the load-deflection database be culled. Most of these records are in one of the four regions that have not yet responded to Feedback Report RNS–5.