U.S. Department of Transportation
Federal Highway Administration
1200 New Jersey Avenue, SE
Washington, DC 20590
202-366-4000
---
Federal Highway Administration Research and Technology
Coordinating, Developing, and Delivering Highway Transportation Innovations

This report is an archived publication and may contain dated technical, contact, and link information
08057 >
Appendixb.Cfm
Long-Term Pavement Performance Computed Parameter: Frost Penetration
Publication Number: FHWA-HRT-08-057
Date: November 2008

Long-Term Pavement Performance Computed Parameter: Frost Penetration
APPENDIX B. EICM MODELING INPUTS
Table 12. EICM inputs.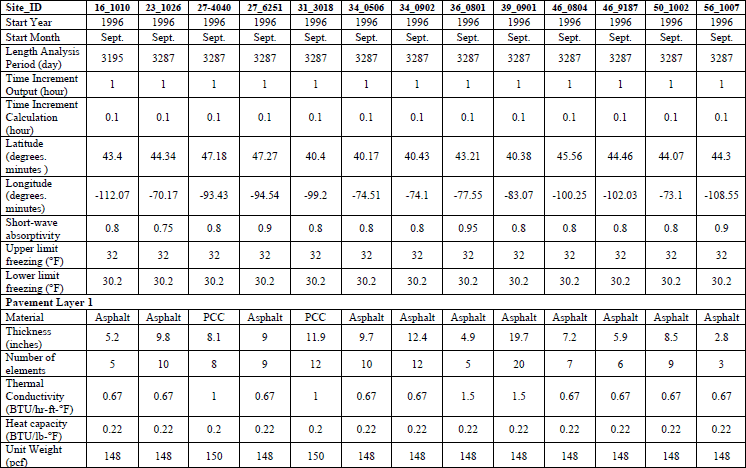 Table 13. EICM inputs.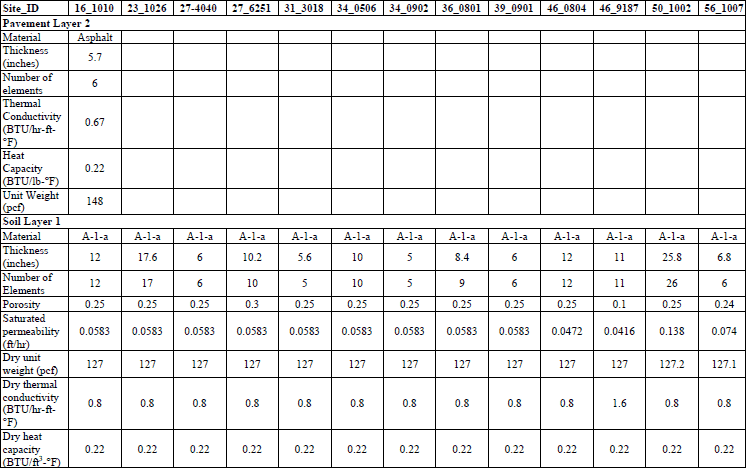 1 inch = 25.4 mm
32 °F = 0 °C (Deduct 32, then multiply by 5, then divide by 9).
Note: For soil layers, The Fredlund Soil Water Characteristic Curve model is used to relate soil suction to water content. Fredlund parameters af and hr have units of psi. Parameters of bf and cf are unitless. Parameter af is a measure of air entry, the soil suction at which the soil becomes less than 100-percent saturated. Parameters bf and cf determine the rate of change of moisture content versus suction as it transitions from saturated to unsaturated (no free water). hr defines the slope of the curve after free water is removed.