Long-Term Plan for Concrete Pavement Research and Technology - The Concrete Pavement Road Map: Volume I, Background and Summary
CHAPTER 2. CP ROAD MAP DEVELOPMENT PROCESS
The team charged with developing the CP Road Map conducted the following activities:
Completed a literature search and developed a research database.
Solicited input from the broad concrete pavement community.
Identified and organized research needs and objectives into a cohesive, strategic research plan.
LITERATURE SEARCH/RESEARCH DATABASE
The literature search consisted of two parts. First, information about all recently completed and ongoing research projects was entered into a research database. This database later was used as a filter to ensure that the new research plan does not duplicate existing research.
Second, several research and technology plans developed by other organizations were reviewed to identify concepts that should be included in the CP Road Map. These plans included:
FHWA: Building for the Future-A Technology Program for Portland Cement Concrete Pavements.(2)
Innovative Pavement Research Foundation (IPRF): "Creating a New Generation of Pavements."(3)
Vision 2030: A Vision for the U.S. Concrete Industry.(4)
National Academies of Science Report NMAB-484: Nonconventional Concrete Technologies.(5)
National Highway Research and Technology Partnership Forum Infrastructure Renewal Working Group: Infrastructure Renewal Research Agenda.(6)
Center for Portland Cement Concrete Pavement Technology (PCC Center) Research Committee research plans.
TRB Committee A2FO1 research plans.
ACPA research plans.
Although each of these plans was uniquely valuable, none contained a fully integrated, sequential, cohesive series of research statements that would dramatically change the way concrete pavements are designed and built. Many of the plans, however, did include individual research statements that, on their own merit, were incorporated into the CP Road Map planning process and research database. The CP Road Map development process is illustrated in figure 1.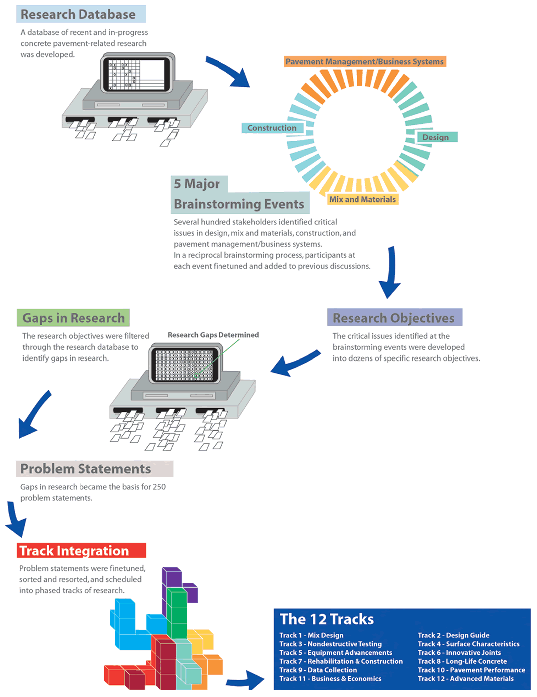 Figure 1. Diagram. CP Road Map development process.
BRAINSTORMING EVENTS
Five major brainstorming and feedback sessions were conducted at the following events: the October 2003 meeting of the MC2 in Ames, IA; a special November 2003 regional workshop for Eastern and Southern stakeholders in Syracuse, NY; the May 2004 meeting of the ACPA in Kansas City, MO; a special January 2004 regional teleconference for Western stakeholders; and, in October 2004, a final meeting of national stakeholders hosted by FHWA at the Turner-Fairbank Highway Research Center.
Stakeholders
Through these events, in addition to more than 20 presentations at workshops around the country (see appendix A for a detailed list of events), more than 400 engineers and managers representing every stakeholder group provided direct input into the CP Road Map.
Participating stakeholders included:
State and local DOTs.
FHWA.
ACPA, including several State chapters.
PCA.
AASHTO.
NRMCA.
TRB/NCHRP Committees.
APWA.
NACE.
Contractors.
Materials suppliers.
Research universities, especially departments conducting applied research.
Private concrete testing laboratories.
Brainstorming Strategies
It is easy to talk about soliciting input from stakeholders. But in a project of this size and complexity, it was critical to have a system to help focus stakeholders' brainstorming process. In addition, stakeholders came to the brainstorming events with specific goals or projects already in mind. It was important to help participants look beyond their own pet projects.
Two brainstorming strategies were used. First, participants responded to draft, big-picture vision statements identifying research needed to provide the concrete pavement characteristics that will meet the needs of end users and owners well into the future. Through guided activities, participants evaluated, revised, added to, subtracted from, and prioritized the vision statements. This process helped participants dream big.
Then, in small groups, participants identified specific critical issues in each of the following areas that must be resolved through research to achieve desired pavement characteristics:
Materials and mixtures.
Design.
Construction.
Pavement management/business systems.
Participants discussed new tools they need and existing ones that need to be improved. They discussed systems that must be in place, including financing and bidding systems. They identified obstacles that must be overcome.
Again and again, stakeholders who participated in the brainstorming events said they needed more and better analysis tools for measuring the hows and whys of pavement failures and successes-that is, for measuring pavement performance. Better quality assurance and quality control methods and tools are needed for every stage of the pavement system, from design through maintenance and rehabilitation. Because variables in each stage affect the other stages, the methods and tools must be integrated across stages.
From these central concepts of pavement performance and systems integration, the following overall vision for the CP Road Map was developed:
By 2015, the highway community will have a comprehensive, integrated, and fully functional system of concrete pavement technologies that provides innovative solutions for customer-driven performance requirements.
Based on this goal and stakeholder input at the brainstorming sessions, dozens of specific research objectives were identified. See appendix B for a complete list of objectives and the corresponding research tracks into which the objectives were eventually categorized. In general, they can be categorized as:
Maximize public convenience.
Improve the driving experience.
Integrate design, mixtures and materials, and construction with pavement performance predictions.
Improve pavement reliability.
Identify new and innovative business relationships to focus on performance requirements.
Constrain costs while improving pavement performance.
Protect and improve the environment.
Expand opportunities to use concrete pavement.
The objectives were filtered through the database of existing research to determine gaps in research. These gaps became the basis for problem statements. Approximately 250 problem statements were written, reviewed, and fine tuned. Final versions of the problem statements were added to the research database as work to be accomplished via the CP Road Map.
Identifying critical research issues and objectives was an ongoing, reciprocal process. Participants at successive brainstorming events responded to, refined, and prioritized critical issues and objectives identified at previous events. For the duration of this project, participants at the brainstorming events and stakeholders unable to attend were invited to submit additional feedback and ideas through the project Web site.
PUTTING IT ALL TOGETHER IN THE CP ROAD MAP
FHWA requested a strategic research plan outlining up to a decade of integrated activities, including research, technology development and implementation, and technology transfer, with ample details to guide technical panels that will implement the plan. Therefore, the CP Road Map is a synopsis of research needs outlined in problem statements and organized in tracks of research.
Between brainstorming events, the problem statements were revised and improved constantly. Some were culled completely; others were fine tuned; some closely related concepts were combined, all with feedback from stakeholders. The problem statements were sorted and resorted in a variety of ways to integrate and organize the statements into the most appropriate tracks for facilitating ownership by various stakeholder groups. This ownership will be critical for successful conduct of the research.
The integration process resulted in identifying and developing 12 research tracks. This manageable number of tracks is in line with recommendations from the FHWA panel and encourages the community to focus on research with the highest potential payback. Some tracks closely mimic the trends identified in chapter 1 of this report as driving the need for the CP Road Map.
Each research track was organized into subtracks of research problem statements that, as research is conducted, will lead to the achievement of a major objective or development of a major product. This organizational strategy lends itself to scheduling and strategically integrating related research.
Specific goals, expected outcomes, and estimated budgets were defined for each research track and subtrack. Nine of the 12 tracks were developed with time-sensitive problem statements, carefully phased into a 7- to 10-year sequence of research. These nine tracks actually identify complete research programs in themselves. The three remaining tracks contain problem statements that are not time sensitive and not sequenced; these tracks include several independent, long-range research problem statements.
Several research problem statements were coordinated, or linked, with research in other tracks to ensure an integrated approach to quality control for desired pavement performance. For example, pavement design models are linked to mix design and construction control; the linkages were built into the research database.
At a terminal event in October 2004, stakeholders provided final feedback on the CP Road Map. This event ensured that the CP Road Map's objectives are clear and its goals attainable; the research is a blend of the practical, incremental, and innovative; work priorities are clear; and the implementation strategy is innovative and doable.