Job Site Evaluation of Corrosion Resistant Alloys
APPENDIX B FHWA Project Number FL-00-01, Part 1
TEA-21 INNOVATIVE BRIDGE CONSTRUCTION PROGRAM
Evaluation Report
State: Florida.
State DOT Contact: Mr. Randall Scott [(772) 225-1888].
Bridge Number: 890146 (East Relief Bridge).
Project Type: Replacement.
Location: Bridge crossing the St. Lucie River at Jensen Beach, FL.
Innovative Material: MMFX-II Reinforcing Steel.
Bridge Description: This bridge is the eastern of two four-lane structures4 in a causeway between Jensen Beach and Stuart in southeast Florida. It replaces a 50-year-old, low-profile, two-lane bridge that has badly deteriorated because of the combined effects of brackish water, near-ocean exposure, and age; it is now functionally obsolete. Figure 13 shows a perspective of what will be the two northern lanes (westbound). Construction of the southern (eastbound) lanes will start once the northern is completed. The project is scheduled for completion in March 2004. Each bent consists of four 0.6-m (24-inch) square prestressed pilings, conventionally reinforced pile caps, and 16 deck spans. These components, plus barrier and parapet walls, are reinforced with conventional steel except for eight deck spans (numbers 9–16), reinforced with MMFX-II. The deck spans are formed cap-to-cap using an assembly of plywood on transverse and then on longitudinal I-beams. The framing is pulled subsequent to concrete setting and is reused.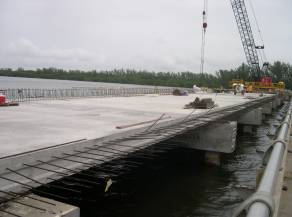 Figure 13. Perspective view of replacement Bridge Number 890146.
Innovation Justification: The bridge is subject to a marine exposure in a semitropical south Florida coastal environment. It is anticipated that MMFX-II reinforcement will provide improved corrosion resistance and thereby facilitate achieving a 100-year design life.
Construction Sequence: The contractor's construction sequence involves the following steps:
Driving of conventional prestressed piles.
Forming, steel placement, and pouring of pile caps. Figure 14 shows a view of piles and pile cap for a specific bent.
Deck forming, steel placement and pouring of the deck. The deck is being placed from west to east with each span being formed and poured as a separate unit.
Figures 15 and 16 show photographs of the MMFX-II steel in place on the deck.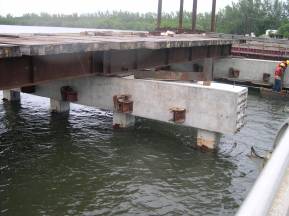 Figure 14. Photograph of substructure components prior to decking.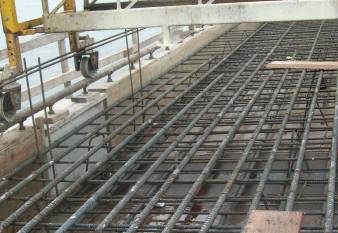 Figure 15. Photograph of MMFX-II deck steel in place.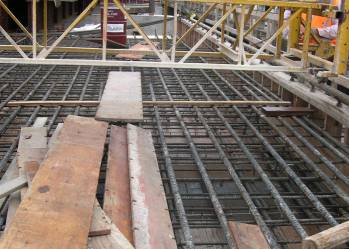 Figure 16. Second view of MMFX-II deck steel in place.
Reinforcement Specification: At the time of construction, no national standard existed for MMFX-II reinforcing steel. In lieu of this, the manufacturer's "Product Bulletin" dated September, 2001 was employed. The eight MMFX-II deck spans require a total of 145,004 kg (319,734 pounds) of reinforcement. All longitudinal bars for both mats are #32 (metric designation) and are spaced at 165 mm in the top mat and 200 mm in the bottom. All transverse bars are #16 (metric designation) and are spaced at 300 mm in the top and 255 mm in the bottom mat.
Concrete Specification: The concrete was specified as conforming to Class IV of Section 346 of the FDOT State Specifications Office. Table 7 provides a listing of required properties.
Min. Cementitious Content (Type II + pozzolans), kg/m3

390

Maximum Water-Cement Ratio

0.41

Target Slump, mm

75

Air Content Range, percent

1–6

Minimum Compressive Strength (28d), MPa* (ksi)

38 (5.5)

Water-Cement Ratio

0.41
*MPa = megapascal; 1 MPa = 20.885 ksi
Job Contractor:
Archer Western, Inc.
Jacksonville, FL
Steel Supplier: MMFX Steel Corporation of America, Inc.
Material Cost: The contractor indicated the in-place cost for MMFX-II as $0.80/kg ($0.36/pound). This is an abnormally low figure, particularly in view of the fact that the corresponding cost for black steel was $1.00/kg ($0.45/pound).
Job Site Storage: The bars were stored wrapped with polyethylene and elevated. Figure 17 shows a photograph of this. This specific measure was considered important because there was a single delivery of all reinforcement. Consequently, bars for the southern (eastbound) bridge for which construction has not yet commenced will be on site for a number of months prior to placement.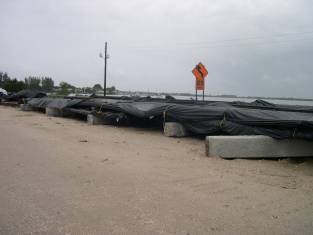 Figure 17. Photograph of stored MMFX-II reinforcing steel at the job site.
Construction Difficulties: No construction difficulties have been encountered.
---
4 The description for this bridge utilizes English and not metric units since the project documents and specifications were so based.