China Earthquake Reconnaissance Report: Performance of Transportation Structures During the May 12, 2008, M7.9 Wenchuan Earthquake
INTRODUCTION
A team of U.S. engineers was invited by the Ministry of Communication of China to study bridge damage from the M7.9 (M8.0 according to China Earthquake Administration (CEA)) Wenchuan earthquake of May 12, 2008. As shown in figure 1, the team included Dr. Phillip W. Yen (team leader) from the Turner-Fairbank Highway Research Center of the Federal Highway Administration (FWHA); Mr. Mark Yashinsky from the California Department of Transportation (Caltrans), representing the Earthquake Engineering Research Institute (EERI); Dr. Genda Chen from the Center for Transportation Infrastructure and Safety (CTIS), a national University Transportation Center at Missouri University of Science and Technology; Dr. Youssef Hashash from Geo-Engineering Earthquake Reconnaissance (GEER), and Mr. Curtis Holub from the Mid-America Earthquake (MAE) Center. The reconnaissance team was hosted by Dr. Kehai Wang of the Research Institute of Highway (RIOH) from the Ministry of Communication of China and Mr. Xiaodong Guo of the Sichuan Province Highway Planning, Survey, Design, and Research Institute.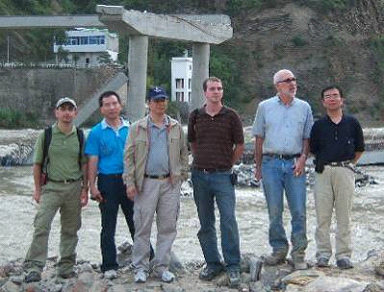 Figure 1. Photo. Members (from left to right) of the Wenchuan Earthquake Reconnaissance Team: Y. Hashash, G. Chen, P. Yen, C. Holub, M. Yashinsky, and K. Wang.
The reconnaissance team visited the earthquake-struck areas from July 21 to 24, 2008. Figure 2 illustrates the travel path taken by the team in the first three days. During the last day of the visit, the team had a short briefing with local transportation agencies on the May 12 earthquake and the postearthquake response and recovery. Figure 3 shows the locations of the bridge structures investigated.
Figure 2. Map. Travel Path of Reconnaissance Team.
Figure 3. Map. Bridge Sites Investigated by Reconnaissance Team.