Lead Abatement On Bridges And Steel Structures
Table of Contents
HEALTH EFFECTS
---
TRAINEE OBJECTIVES
---
After completing Section 2, you will be able to:

Define the following terms:

Acute health effects

Chronic health effects

Chelation

Inhalation

Ingestion

Identify the main routes of entry for lead entering into the body.


Understand where lead goes once in the body.


Know the short and long term symptoms associated with lead exposure.


Understand the organ systems that can be damaged by lead.


Understand the special hazards that lead poses for young children.


Know the types of medical tests used for detecting lead exposure.
INTRODUCTION
Lead has been shown to cause a wide variety of health effects. Many of the effects have been known since ancient times, although some of the more subtle effects have been discovered only recently. It is important to have a good understanding of the toxic effects of lead, so the hazards will be described in some detail.
HOW LEAD CAN ENTER THE BODY
---
It is important to understand the ways that lead can get into the body. This is referred to as routes of exposure. With lead, there are three possible routes of exposure.
Inhalation
Ingestion
Absorption
Inhalation
This is by far the most important exposure route. Lead may be in the air if dust is created by grinding or similar procedures, or if fumes are created by welding torches. In most situations, high levels may be present yet not be visible to the naked eye. This airborne material is easily breathed in by any workers in the vicinity. Once inhaled, air follows a pathway from the nose to the windpipe (or trachea), which then forms two air passages (called bronchi), one to each lung (Figure 2-1).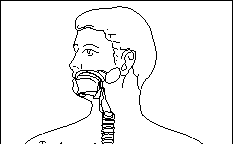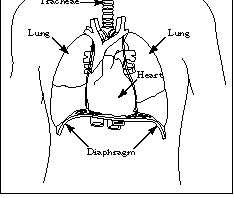 Figure 2-1. Air passage to the lungs.
Figure 2-2. Bronichioli and aveoli.

The bronchi branch extensively and end in clusters of tiny air sacs called alveoli (Figure 2-2). There are millions of these tiny air sacs, so that the lung actually provides an enormous surface area. This surface area, combined with the delicate cells of the alveoli, allows oxygen to pass readily into the blood stream. Unfortunately, it also gives any contaminant an easy access as well. The body does have some defenses to protect the delicate lung tissues. These defenses include nose hairs to filter out large particles, and a mucous system in the bronchi to trap medium size particles. These defenses do not work very well for very small particles. This is why lead fumes, which are very small particles of lead, are so much more hazardous than lead dust as far as inhalation exposures are concerned.
Ingestion
This route of exposure is the one that has been of concern for small children. Interior paint chips are sometimes swallowed by children, a problem made worse by the fact that lead paints sometimes have a slightly sweet taste. Kids also like to mouth toys and objects. The digestive system will absorb much of the lead into the bloodstream, and the resulting exposure can cause severe lead poisoning. Because of this, lead paint for use on interior surfaces and toys has been banned for many years.




Figure 2-3. The digestive system.
Although adult workers are not exposed this way, ingestion exposures can happen on the job in surprising ways. There have been documented cases where workers consumed significant amounts of lead via contact of dusty unwashed hands with food and even cigarettes. Figure 2-3 illustrates the digestive system.
Ingestion exposure can also occur indirectly due to inhalation. Remember that inhaled medium-sized particles can get trapped in the mucous lining the major breathing passages. The mucous is eventually swallowed, and some of the lead is then absorbed by the digestive system. In the past, the practice of having lead-exposed workers drink milk was an effort to "coat" the stomach so as to minimize the absorption of lead. You can see that it would only be partially effective if at all, especially because it does not affect the primary exposure route-inhalation.
Absorption
Absorption is when a substance enters the body through the skin. Certain lead compounds will be absorbed through the skin. These are mainly organic lead compounds such as tetraethyl lead (commonly found in leaded gasoline). The lead compounds construction workers are exposed to are inorganic. Inorganic lead compounds are added to paint such as lead oxide or lead carbonate. Inorganic lead compounds are believed to not be readily absorbed through the skin although this route of exposure needs further study.
WHERE DOES LEAD GO IN THE BODY?
---
Once in the bloodstream, lead is circulated throughout the body and stored in various organs and body tissues. One such organ is the kidney. It is the job of the kidney to purify the blood before it is distributed for use by the rest of the body. However, the kidney is not effective in removing much of the lead. Furthermore, studies show that the lead can damage the kidney. Much of the lead is carried by the bloodstream to other organs of the body, where some of it is stored. Lead is also stored in long bones (such as the thigh, or forearm), in organs, such as the liver and kidney, and in fatty tissue (including the fat surrounding nerve cells). The lead stored in the long bones can be kept for a long time. The total amount of lead stored in the body is called the "body burden." Lead stored in the body is slowly released over time. This is a very significant aspect of the lead hazard for Laborers. It means that the body can continue to be exposed to lead months or years after the actual on-the-job exposure is finished!
THE EFFECTS OF LEAD EXPOSURE
Toxic effects are typically broken down into two categories:
Acute (short-term) effects.
Chronic (long-term) effects.
Some substances, such as asbestos, do not have short-term effects. Diseases from asbestos take many years to develop. Lead does have short-term effects, although there is not a sharp dividing line between the short-term effects and the longer term effects.
Acute Effects
These effects show up relatively soon after exposure occurs. Lead is a potent, systemic poison that serves no known useful function once in the body. Very low lead exposures do not cause any short-term effects. On the other hand, excessive exposures (very high doses) can lead to a variety of symptoms. These include:
Metallic taste in the mouth
Stomach pain and vomiting
Diarrhea
Black stools
Severe exposure can cause nervous system damage, with symptoms, such as intoxication, coma, respiratory arrest, and even death.
Chronic Effects
These types of effects take some time before they begin to develop. For example, the chronic cancer effects from asbestos take 20 years or more to show up. For lead, a wide variety of chronic effects can be set in motion by continued exposure. Keep in mind that the problem is made worse because the lead can accumulate in the body. The immediate symptoms often seen with significant long-term exposure include:
Loss of appetite
Constipation, nausea
Stomach pain (called lead colic)
Pallor (a yellowing of the skin)
Excessive tiredness
Weakness
Weight loss
Insomnia
Headache
Nervous irritability
Fine tremors
Numbness
Dizziness
Anxiety
Hyperactivity.
Because these symptoms are common to a variety of health problems, they are often over looked by exposed workers. For some, these symptoms may disappear when exposures stop. For others, symptoms can progress to problems associated with classic lead poisoning. These problems are more noticeable and unusual. They include:
Severe stomach pain
Extreme weakness
Tremors
Gum discoloration (a blue line on the gums)
Wrist drop, foot drop
Convulsions
Kidney failure.
Doctors call these "clinical signs" as they are readily observed by doctors during a physical exam. On the other hand, at low doses lead can cause health damage without any noticeable symptoms. To better understand chronic effects, lets take a look at the body systems affected by lead.
Effects on the Blood (Circulatory) System
Red blood cells serve to carry oxygen to the body's tissues. It is actually a blood protein called hemoglobin which does this work and which gives the blood its red color. Lead interferes with the body's ability to make hemoglobin. This disrupts the flow of oxygen to all tissues, causing anemia. Anemia, which is a general term describing an oxygen shortage, is linked with symptoms, such as tiredness, weakness, headache, and irritability. Severe anemia can lead to heart failure.
Effects on the Nervous System
While the exact mechanism is not understood, chronic lead exposure can cause important nervous system problems. It can affect the central nervous system which includes the brain. This may show up as fatigue, nervousness, anxiety, and sleeplessness, and lead to behavioral problems, such as poor memory, visual disturbances, and confusion. In very severe cases, encephalopathy (pronounced, en-sef-a lop-a-th', a degenerative brain disease) and serious psychological problems can occur. In addition to the brain, lead can affect the part of the nervous system that controls the movements of hands, fingers, and feet. It is called the peripheral nervous system. For example, severe lead poisoning can cause "wrist drop" or "foot drop" where the damaged peripheral nerves cause weakness and/or paralysis of the hands or legs. Doctors call this condition "peripheral neuropathy." Other more subtle problems, such as a decrease in hand-eye coordination, can also occur. These nervous system problems can sometimes clear up if they are mild, but they can also be irreversible in other cases.
Effects on the Kidneys (Renal System)
Lead is linked with serious kidney damage. There have been cases where lead-exposed workers lost 30-50% of their kidney function. One of the problems with kidney damage is that few symptoms show up. Lab tests typically reveal this type of kidney disease only after two thirds of kidney function is gone. While the kidneys have "excess capacity," it is also true that by the time serious damage is noticed, it is sometimes too late to correct or prevent worsening conditions. Kidney dialysis or death can be the end result. Some studies also link toxic effects on the kidneys with hypertension and blood pressure problems. There is some evidence from animal studies that lead can cause kidney cancer as well.
Effects on the Reproductive System
Lead is linked with reproductive effects in both men and women. In women, lead exposure is associated with:
Abnormal reproductive cycles
Menstrual disorders
Sterility
Spontaneous miscarriages
Stillbirths, and premature births.
Infants of mothers with lead poisoning have suffered from slower growth and nervous system problems. Also, death was more likely in the first year of life.
For men, lead affects are equally as severe, and include:
Decreased sexual drive
Impotence
Inability to produce healthy sperm.
This symptoms can lead to a failure to conceive. Furthermore, genetic damage to sperm can result in miscarriages, stillbirths, or birth defects.
Effects of Lead Exposure on Children
It is very easy to bring home small amounts of lead from the job on clothes. This may seem like a trivial amount, but you need to know that children are especially vulnerable to the effects of lead exposure. This is because their nervous system is still developing and lead damage at this early stage can cause serious health consequences. As researchers study the situation more, they find that important health effects are caused by even very low exposure levels-levels once thought to be safe. Studies show that even small amounts of lead delay mental development, lower IQ scores, impair hearing, and even affect balance. This nervous system damage may be irreversible. Other effects include toxic effects on the kidney, impaired Vitamin D balance, and red blood cell problems. Figure 2-4 compares the health effects of different blood lead levels of adults and children.
THE ROLE OF MEDICAL TESTING IN CONTROLLING LEAD HAZARDS
---
Lead is unique compared to many other toxins in that there are short-term blood tests that can detect its presence.
While the tests have limitations, together they can help doctors to learn about a person's "body burden" of lead. The tests are described below.
Blood Lead Level Test (BLL)
This test gives a picture of the amount of lead circulating in the blood (or blood lead level). Results are given in either micrograms of lead per deciliter (µg/dl) of whole blood, or micrograms of lead per 100 milliliters (ml) of whole blood (µg/100 ml). Because lead is so common in the environment, the average urban dweller has a blood lead level from 12-15 µg/dl. The average level is going down over time as leaded gas usage declines. Lead can cause health damage at around 40 µg/dl, although many workers will not experience symptoms at this level. At 40 µg/dl children experience symptoms much greater than adults due to their size. At levels of 60 µg/dl and up, symptoms begin to develop in most workers. Levels above 80 µg/dl are likely to cause serious lead poisoning. The OSHA Permissible Exposure Limit (PEL) was established to keep blood lead levels below 40 µg/dl.


Figure 2-4. Health effects of lead for children and adults.
The blood lead level test is very valuable. It requires a tube of blood taken from the arm. It provides proof that exposure has occurred, and it gives an estimate as to how serious the exposure has been. To appreciate the availability of such a test, you have to compare the situation with asbestos, where there is no short-term test of any kind to indicate that a person has been exposed.
The test must be interpreted carefully. It tends to reflect recent exposure (within a week) to lead. It does not measure body burden directly, nor does it measure health damage. Simply stated the blood lead level test identifies the amount of lead in your blood at the present time.
Zinc Protoporphyrin Test (ZPP)
The zinc protoporphyrin (ZPP) test is used in conjunction with the BLL test. The ZPP test measures how much the blood-forming process has been interfered with by lead. Unlike the BLL test, the ZPP test does measure the actual harmful effect lead has had on the body. It is easy to perform, as it requires only a drop of blood from a pinprick. The analysis is done by a machine. It reflects the lead exposure over the preceding 3 to 4 month period.
These are the two most common tests. They are required to be provided to lead-exposed workers along with physical exams and other lab tests. In fact, the OSHA Lead Standard for construction requires that employees who are regularly exposed to lead be provided medical tests by the employer. OSHA uses a cut off of 30 days a year at about one-half the exposure limit to trigger this requirement.
The medical surveillance portions of the OSHA Lead Standard are very extensive. They address issues, such as:
The frequency of regular testing.
The frequency of testing when elevated blood lead levels are found.
The notification of results due the employee.
The content of the testing.
The rights of employees to receive fertility or pregnancy testing if planning a family.
The rights of employees to have a second physician review the initial physicians findings.
The practice of using a third physician to resolve any differences of opinion between the first two physicians.
The information that the employer must provide the examining physician.
The form of the physician's written opinion.
The prohibition against the physician communicating any information to the employer about non-lead questions (i.e., drug or other health problems).
The conditions under which an elevated blood lead requires that an employee be temporarily removed from lead exposure.
The conditions for returning such an employee to lead exposure.
The maintenance of earnings of employees who must be removed from exposure.
It is important to properly understand the role of medical testing in an overall approach to protecting workers from lead. Prevention of exposure is the first line of defense. It serves as an important quality control check to tell you if the preventive measures are working. It can help alert workers and doctors to potential problems even when symptoms are general or unclear. It can allow intervention and treatment to reduce the chances of lasting damage. As part of an overall program, it allows true confidence that work around lead can be done safely.
MEDICAL TREATMENT OF LEAD POISONING
---
Medical treatment of workers with lead poisoning involves removal from further exposure and sometimes involves administration of special drugs called chelating agents.
Chelate is a Latin word for claw and these drugs work by latching on to lead in the body. The most widely used chelating agents are:
Calcium Disodium EDTA (Ca Na2 EDTA)
Calcium Disodium Versenate (Versenate)
d-Penicillamine (penicillamine or Cupramine)
Once administered (orally or by injection), the chelating agent binds to the lead and is then excreted from the body (through urination) carrying the lead along with it. The problem is that chelating agents also latch on to other mineral nutrients, such as copper, calcium, manganese, iron, and zinc, causing the body to become run down.
Because of this potential problem, chelating agents must only be given under the strict supervision of a doctor. Years ago, some employers would use a procedure know as "prophylactic chelation" where heavily exposed workers would be routinely given these drugs instead of reducing the exposures. This is not an accepted medical practice and it is forbidden by the OSHA standard.
Chelation is an important tool for ridding the body of excess lead. It does not protect or cure lead-inflicted damage to tissues. It does limit the lead available to cause such damage. Exposed workers should consult with an occupational physician about the suitability of such treatment. Keep in mind that chelation is a last resort. Chelation can be a very painful process.
HEALTH EFFECTS STUDIES ON THE IRONWORKER TRADE
---
You can see that lead hazards have been studied quite a bit. You should also know that several studies have actually been done on construction trades performing work on steel structures.
These studies show that lead poisoning is a serious problem for this trade. A few studies are described below.
Case Study #1
Local union members in New York City participated in a 1974 study with the Mt. Sinai School of Medicine. The job involved 34 members dismantling a seven-mile section of elevated subway. Medical exams for these workers found 28 had blood lead levels over 40 µg/dl. Three had levels over 100 µg/dl and another 9 had levels over 80 µg/dl. Short term health complaints included stomach cramps and constipation.
Case Study #2
A 1984 follow-up study by Mt. Sinai found continuing problems among union workers. Testing of 97 members working on 6 different jobs involving torch demolition found that 55% of burners had elevated blood lead levels and ZPP values. Thirty percent had blood lead levels over 60 µg/dl and 9% had blood leads over 80 µg/dl. The highest value found was a very dangerous 128 µg/dl. The study found that burner assistants were also affected, with 29% having elevated levels. This shows that workers in the immediate vicinity of the burners are also at risk.
Case Study #3
A 1988 report from California described a case where a worker got lead poisoning after just three days of torch work. The worker experienced cough, chest pain, nausea, vomiting, stomach cramps, and constipation. Although he left the job, he developed headaches, instability, poor concentration, insomnia, depression, and weakness in the right wrist. A blood lead test after a week gave a value of 92 µg/dl. Follow-up testing seven months later still found nervous system effects, such as depression, impairment of attention and concentration, and memory problems. He also had wrist drop, headache, insomnia, and decreased sex drive.
In summary, the availability of lead-specific medical tests has allowed studies to be done in a number of settings. These studies provide strong evidence of a serious hazard. More follow-up studies are needed to determine the long term health effects on Laborers. You can see that lead is linked to a large variety of health problems. While the effects are obvious for some, other symptoms and problems are seemingly general in nature, and are not likely to raise a red flag with most members. Training on the health effects is important.
ASSIGNMENT SHEET
---
Define the following terms:

Acute health effects

Chronic health effects

Chelation

Inhalation

Ingestion
List the two main routs of exposure for lead entering the body.
Where does lead go once it enters the body?
What are the short and long term symptoms associated with lead exposure?
What body systems and organs are damaged by lead?
Why is lead exposure such a potential hazard to young children?
What are two biological tests used for detecting lead exposure?