Statistical Analysis of Pavement Profiler Data to Evaluate the Bump at the End of the Bridge
PDF Version (4.32 MB)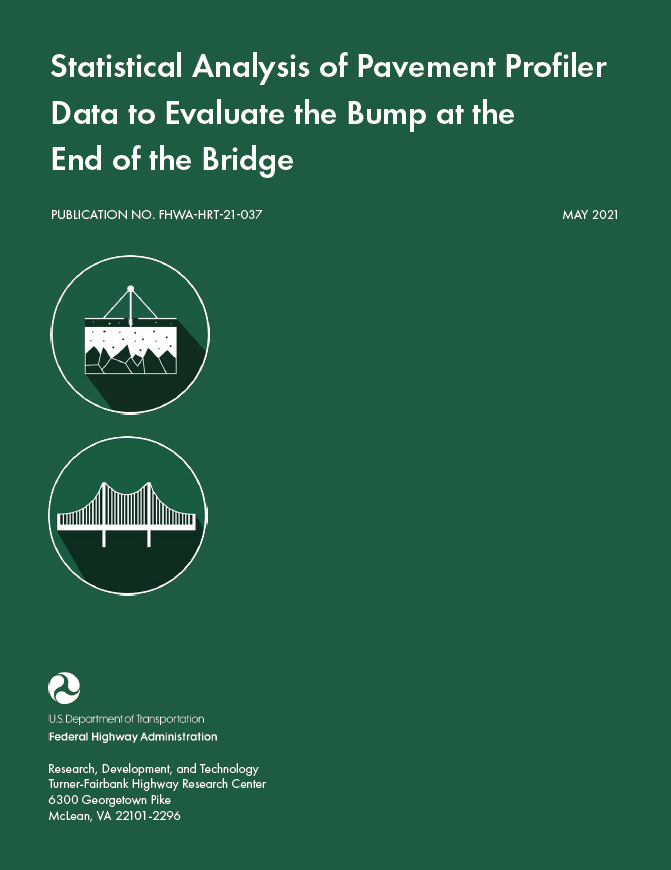 FOREWORD
The bump at the end of the bridge (BEB) is one of the most prevalent factors impacting ride quality at a bridge's approach and departure and can be a safety hazard to motorists. Its causes, along with mitigation strategies, have been well researched, yet the BEB remains ubiquitous, leading to chronic maintenance activities. This report details the data collected from inertial pavement profilers used to quantify the BEB at numerous bridge approaches across the country. Many of the bridge approaches measured included Geosynthetic Reinforced Soil—Integrated Bridge Systems which were compared with bridge approach profiles for conventional abutment types. This report also presents statistical analyses of the profile data to evaluate the effects of different site and bridge structure characteristics on BEB magnitude and ride quality. This report may be useful for geotechnical, bridge, and pavement engineers, consultants, and contractors.
Cheryl Allen Richter, Ph.D., P.E.
Director, Office of Infrastructure
Research and Development
Notice
This document is disseminated under the sponsorship of the U.S. Department of Transportation (USDOT) in the interest of information exchange. The U.S. Government assumes no liability for the use of the information contained in this document.
The U.S. Government does not endorse products or manufacturers. Trademarks or manufacturers' names appear in this report only because they are considered essential to the objective of the document.
Quality Assurance Statement
The Federal Highway Administration (FHWA) provides high-quality information to serve Government, industry, and the public in a manner that promotes public understanding. Standards and policies are used to ensure and maximize the quality, objectivity, utility, and integrity of its information. FHWA periodically reviews quality issues and adjusts its programs and processes to ensure continuous quality improvement.
Technical Report Documentation Page
1. Report No.

FHWA-HRT-21-037

2. Government Accession No.
3. Recipient's Catalog No.
4. Title and Subtitle

Statistical Analysis of Pavement Profiler Data to Evaluate the Bump at the End of the Bridge

5. Report Date

May 2021

6. Performing Organization Code
1YX01
7. Author(s)

Debakanta Mishra (ORCID: 0000-0003-2354-1312), Jenn McAtee (ORCID: 0000-0003-1547-7592), Md Shahjalal Chowdhury (ORCID: 0000-0003-2134-880X), Bhaskar Chittoori (ORCID: 0000-0001-8583-1003), Erol Tutumluer (ORCID: 0000-0003-3945-167X), and Jennifer Nicks, Ph.D., P.E. (HRDI-40; ORCID: 0000-0001-7230-3578)

8. Performing Organization Report No.
9. Performing Organization Name and Address

Engineering & Software Consultants, Inc.
14123 Robert Paris Court
Chantilly, VA 20151

Boise State University
1910 University Drive
Boise, ID 83725

10. Work Unit No.
11. Contract or Grant No.

DTFH6117D00011L/693JJ318F000070

12. Sponsoring Agency Name and Address

Office of Infrastructure Research and Development
Federal Highway Administration
6300 Georgetown Pike
McLean, VA 22101

13. Type of Report and Period Covered

Technical Report; March 2018–June 2020

14. Sponsoring Agency Code

HRDI-40

15. Supplementary Notes

The Task Order Contracting Officer's Representative was Jennifer Nicks, Ph.D., P.E. (HRDI-40; ORCID: 0000-0001-7230-3578).

16. Abstract

The roughness experienced at bridge approaches and departures, generally termed the bump at the end of the bridge (BEB), has been identified as one of the most prominent issues in the transportation industry. The BEB is usually detected qualitatively based on road user feedback, with maintenance strategies subsequently implemented to improve ride quality. The BEB and road roughness can cause many issues beyond user discomfort, including driving safety concerns, vehicle damage, increased maintenance requirements for both automobiles and bridge infrastructure, and decreased bridge service life. The BEB is a complex issue caused by multiple interactive factors. Several research efforts have focused on identifying factors contributing to the BEB problem and identifying suitable remedial measures; however, quantitative approaches should be employed to establish standardized "ride quality indices" that can be used among engineers to evaluate the condition of a particular bridge approach and subsequently evaluate the need for maintenance and rehabilitation efforts. Researchers explored potential methods, such as the International Roughness Index and rolling straightedge measurements, to quantify the roughness at bridge approaches and analyzed the advantages and disadvantages of each. The surface profiles for a sample of 66 bridges across the United States were evaluated using multiple segment lengths and filters in ProVAL (The Transtec Group 2015) to statistically analyze the effects of different site and bridge structure characteristics on the magnitude and roughness of the BEB. A segment length of 0.31 m (1 ft) was determined the most appropriate for bridge approach analyses. This report presents findings from this study and makes inferences regarding what factors may have the most significant effect on the BEB problem.

17. Key Words

Bump at the end of the bridge, BEB, inertial profiler, International Roughness Index, IRI, rolling straightedge, RSE, bridge approach roughness

18. Distribution Statement

No restrictions. This document is available through the National Technical Information Service, Springfield, VA 22161.
http://www.ntis.gov

19. Security Classification
(of this report)

Unclassified

20. Security Classification
(of this page)

Unclassified

21. No. of Pages

92

22. Price

N/A
| | |
| --- | --- |
| Form DOT F 1700.7 (8-72) | Reproduction of completed page authorized |