Corrosivity of Water-Soluble Sulfate Ions in Simulated Pore Water Solutions and Different Types of Grout Samples
PDF Version (3.33 MB)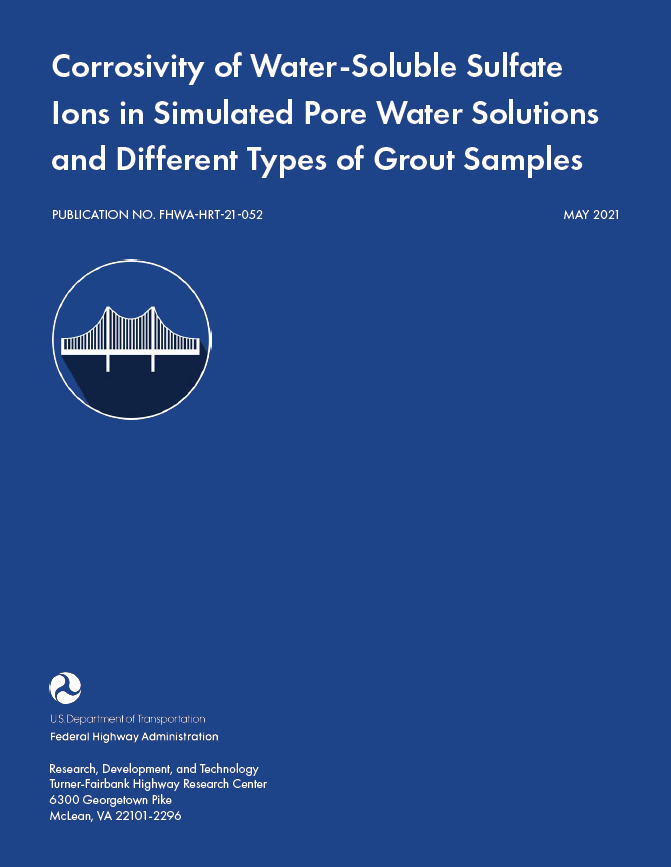 FOREWORD
This final report presents research findings of an accelerated corrosion test program to determine the corrosivity of water-soluble sulfate ions in the simulated grout pore water and how these ions are present in various types of grout samples. The research product can enhance the bridge owners' understanding of sulfate-induced corrosion in the grouted post-tensioned tendons and help their management of prestressed concrete bridges containing this type of tendons. This report is expected to be of interest to bridge program personnel from Federal, State, and local transportation departments as well as to parties engaged in bridge-related research.
Cheryl Allen Richter, P.E., Ph.D.
Director, Office of Infrastructure
Research and Development
Notice
This document is disseminated under the sponsorship of the U.S. Department of Transportation (USDOT) in the interest of information exchange. The U.S. Government assumes no liability for the use of the information contained in this document.
The U.S. Government does not endorse products or manufacturers. Trademarks or manufacturers' names appear in this report only because they are considered essential to the objective of the document.
Quality Assurance Statement
The Federal Highway Administration (FHWA) provides high-quality information to serve Government, industry, and the public in a manner that promotes public understanding. Standards and policies are used to ensure and maximize the quality, objectivity, utility, and integrity of its information. FHWA periodically reviews quality issues and adjusts its programs and processes to ensure continuous quality improvement.
Technical Report Documentation Page
1. Report No.

FHWA-HRT-21-052

2. Government Accession No.
3. Recipient's Catalog No.
4. Title and Subtitle

Corrosivity of Water-Soluble Sulfate Ions in Simulated Pore Water Solutions and Different Types of Grout Samples

5. Report Date

May 2021

6. Performing Organization Code

7. Author(s)

Seung-Kyoung Lee (ORCID ID 0000-0001-7367-5197)

8. Performing Organization Report No.
9. Performing Organization Name and Address

SK Lee & Associates, Inc.
10813 Fieldwood Drive
Fairfax, VA, 22030

Appendix prepared by Wiss, Janney, Elstner Associates, Inc.
330 Pfingsten Road
Northbrook, IL 60062

10. Work Unit No.
11. Contract or Grant No.

DTFH6112D00030T13001;
DTFH6117D00017

12. Sponsoring Agency Name and Address

Office of Infrastructure Research and Development
Federal Highway Administration
6300 Georgetown Pike
McLean, VA 22101

13. Type of Report and Period Covered

Final Report; July 2014–November 2020

14. Sponsoring Agency Code

HRDI-30

15. Supplementary Notes

The Technical Contact was Frank Jalinoos (HRDI-30) and the Contracting Officer's Representative was Cara Fitzgerald (HRDI-1).

16. Abstract

While sulfate-induced corrosion problems have been observed in segregated grout, the existing literature lacks useful information about the role of sulfate ions in the corrosion process. To produce empirical data on the corrosivity and concentration of water-soluble sulfate ions under different grout conditions, researchers performed a laboratory study. In low-pH aqueous solutions, simulating carbonated bleed water and grout pore water, water-soluble sulfate ions were as detrimental as chloride to post-tensioned (PT) strands if the strands were not protected by high-pH grout. In high-pH aqueous solutions, sulfate was less corrosive than chloride. When chloride and sulfate of equal concentrations coexisted in different pH aqueous solutions, chloride was the dominant species in determining corrosivity of the solutions. Like chloride ions, water-soluble sulfate ions showed temperature-dependent corrosivity in that corrosion was more severe at the elevated than ambient temperature. Mean corrosion rates at the near-freezing temperature were less than 10 percent of those measured at the ambient temperature, regardless of sulfate concentration. The content of water-soluble sulfate in raw grout powders ranged from 0.35 to 1.0 percent by weight of sample, but most of the sulfate became bound to the hardened grout and the water-soluble sulfate reduced to 0.1 percent. Aged/expired raw grout was more prone to segregation and readily released water-soluble sulfate ions into the segregated grout. Petrographic examination and chemical analyses revealed that pore water and soft/wet segregated grout retained 100 times the water-soluble sulfate and more than five times the total sulfur content than dried and hardened grout did. This is because water-soluble sulfate ions can migrate via water movement toward areas with more moisture. If the segregated grout maintains a low-pH environment by carbonation, corrosion can be initiated on a strand in direct contact with a carbonated layer of segregated grout with a concentration of water-soluble sulfate ions as low as 0.05 percent by weight of sample. Just a thin film of carbonation, in intimate contact with the steel, is sufficient to induce the intensive corrosion.

17. Key Words

Corrosion, galvanic corrosion, pitting corrosion, electrochemical test, carbonation, sulfates, cement grouts

18. Distribution Statement

No restrictions. This document is available through the National Technical Information Service, Springfield, VA 22161.
http://www.ntis.gov

19. Security Classification
(of this report)

Unclassified

20. Security Classification
(of this page)

Unclassified

21. No. of Pages

74

22. Price

N/A
| | |
| --- | --- |
| Form DOT F 1700.7 (8-72) | Reproduction of completed page authorized |