U.S. Department of Transportation
Federal Highway Administration
1200 New Jersey Avenue, SE
Washington, DC 20590
202-366-4000
---
Federal Highway Administration Research and Technology
Coordinating, Developing, and Delivering Highway Transportation Innovations
Report
This report is an archived publication and may contain dated technical, contact, and link information
Publication Number: FHWA-HRT-21-067 Date: July 2021
Publication Number: FHWA-HRT-21-067
Date: July 2021

United States-Japan Bridge Engineering Workshop: Innovative Bridge Design and Preservation
PDF Version (600 KB)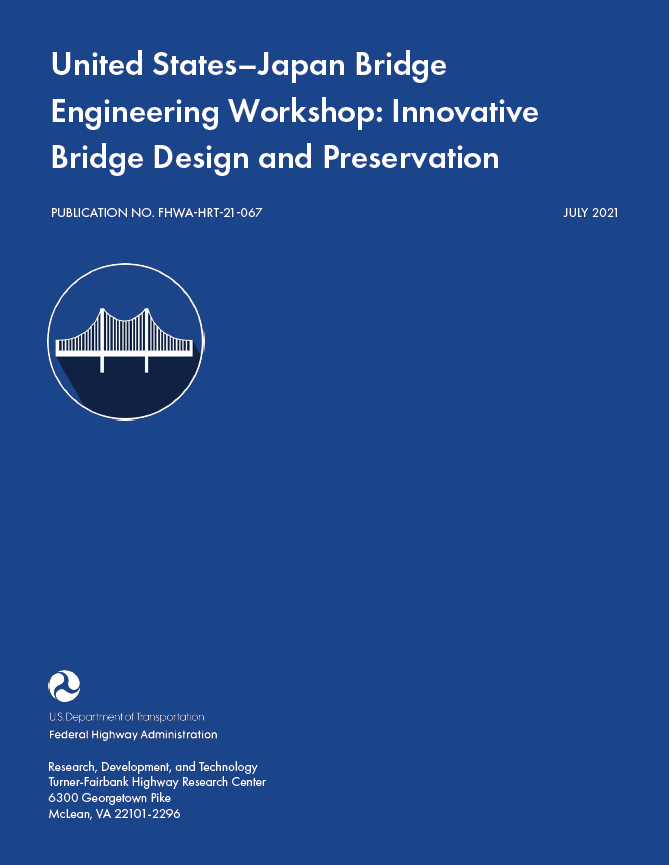 Technical Report Documentation Page
1. Report No.
FHWA-HRT-21-067
2. Government Accession No.
3. Recipient's Catalog No.
4. Title and Subtitle
United States–Japan Bridge Engineering Workshop: Innovative Bridge Design and Preservation
5. Report Date
July 2021
6. Performing Organization Code
7. Author(s)
Editors: David Sanders, P.E.; and Sheila Rimal Duwadi, P.E. (ORCID: 0000-0003-0647-6889). Contributing Authors: Hoda Azari, Ph.D. (ORCID: 0000-0002-7340-0035); Bijan Khalegi, P.E., S.E.; Bruce Johnson, P.E.; Elmer Marx, P.E., S.E.; and Tom Ostrom, P.E.
8. Performing Organization Report No.

9. Performing Organization Name and Address
Office of Infrastructure Research and Genex Systems, LLC
11848 Rock Landing Drive, Suite 303
Newport News, VA 23606
10. Work Unit No.
11. Contract or Grant No.
DTFH6114D00007
12. Sponsoring Agency Name and Address
Office of Infrastructure Research and Development and
Federal Highway Administration
6300 Georgetown Pike
McLean, VA 22101
13. Type of Report and Period Covered
Summary Report; February 2017–October 2018
14. Sponsoring Agency Code
HRDI-30
15. Supplementary Notes
The Japanese topic leads were Masahiro Shirato, Jun-ichi Hoshikuma, Yoshinobu Oshima, and Michio Ohsumi. The Federal Highway Administration Contracting Officer's Representative was Sheila Rimal Duwadi.
16. Abstract


The United States–Japan Bridge Engineering Workshop brings together bridge engineers from the United States and Japan to exchange promising ideas and technologies and share critical knowledge and lessons learned to further bridge engineering. The 2018 workshop focused on innovative bridge design and preservation issues of growing interest to both countries. This report is a summary of the 2018 workshop, including discussion topics of interest to bridge engineers.

17. Key Words
Bridges, preservation, nondestructive evaluation, NDE, design
18. Distribution Statement
No restrictions. This document is available to the public through the National Technical Information Service, Springfield, VA 22161.
http://www.ntis.gov
19. Security Classif. (of this report)
Unclassified
20. Security Classif. (of this page)
Unclassified
21. No. of Pages
44
22. Price
N/A
Form DOT F 1700.7 (8-72)
Reproduction of completed pages authorized.