Overall Program Presentation 2
PowerPoint Version (3,032 kb)
---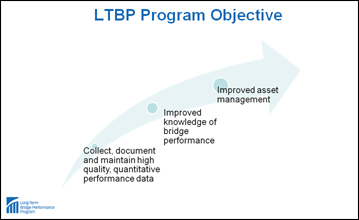 ---
Program Objectives
Over the next five years, LTBP will inspect, document, evaluate, and periodically monitor a representative sample of bridges nationwide, taking advantage of advanced condition monitoring technologies in addition to detailed visual inspections.
The high-quality data gathered in the process and the subsequent data analysis and data mining aim to significantly enhance our knowledge of bridge performance.
---
Program Objectives
Among the study's objectives are improved life-cycle cost and predictive models, better understanding of bridge deterioration and more effective maintenance and repair strategies.
LTBP results should also support improved design methods and bridge preservation practices and help develop the next generation of bridges and bridge management systems.
---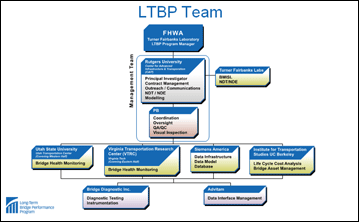 ---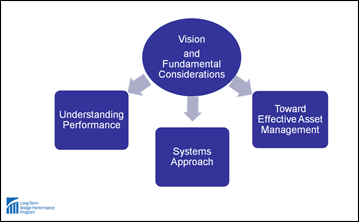 ---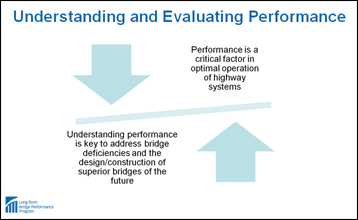 ---
Understanding and Evaluating Performance
How do we define bridge performance objectively?
Are current measures (sufficiency and condition rating) sufficient to describe performance of critical nodes of a multi-domain system?
Does "health index" account for interactions important to bridge and highway system performance?
What are the critical design, fabrication and construction parameters, loading and behavior mechanisms, operational as well as maintenance practices that have significant impacts on bridge LC performance?
---
Understanding and Evaluating Performance
How do we rationally estimate LCC given the complexity of multidomain infrastructure system?
Challenge is to formulate performance in terms of rational, measurable indices that correlate with the performance of the entire system
---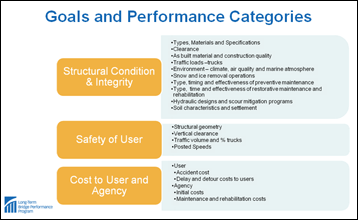 ---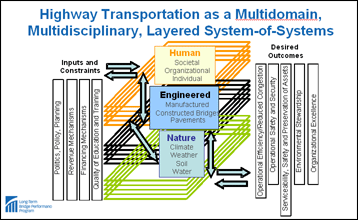 ---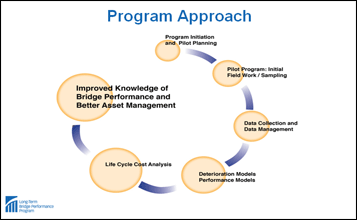 ---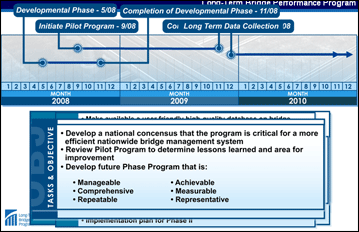 ---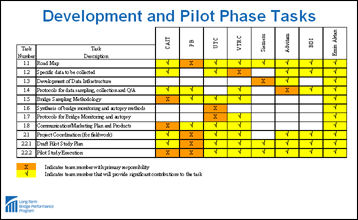 ---
Developmental Phase Tasks
Task 1.1: Road Map
Understanding

Guide to the LTBP program
Basis of early communication and marketing plan
Identify the range of issues, needs, and desired state-of-practice at the end of the LTBP program.
Approach

Review lessons learned from similar projects
Work closely with advisory board and stakeholders
---
Developmental Phase Tasks
Task 1.2: Specific Data to be Collected
Understanding

Identify key elements
Type of data
Determine what relevant data is available from other sources
Approach

Work with SHA
Bring together experienced bridge inspectors for symposium
---
Developmental Phase Tasks
Task 1.3: Development of Data Infrastructure
Understanding

Open, scalable, extensible software and data infrastructure
Incorporate tools and algorithms for:

Life Cycle Cost Models
New Data analytical Methods

Easy to Use
Approach

Experience from previous projects will be leveraged
Connection with NBI, NOAA, GIS, etc
---
Developmental Phase Tasks
Task 1.4: Protocols for Data Sampling and Collection
Understanding

Develop protocols for:

Inspection
Instrumentation
Data Quality Assurance

Determine quantity and frequency of data collection
Approach

Protocols need to be coordinated with the rest of the LTBP team
---
Developmental Phase Tasks
Task 1.5: Bridge Sampling
Understanding

Develop methodology and rational for sampling bridges
Recommend type, number, and location
Final sample shall support the objectives of LTBP program
Approach

Multiobjective constrained optimization problem
Combined top-down heuristic and bottom-up statistical approach
Work closely with stakeholders
---
Developmental Phase Tasks
Task 1.6: Synthesis of Bridge Monitoring & Autopsy Methods
Understanding

Synthesize past work for both short-term and long-term monitoring

Structural Health Monitoring (SHM)
NDE/NDE techniques

Include benefits realized from the application of SHM and Autopsy
Approach

Work closely with Turner Fairbanks NDE/NDT Laboratory
Review published literature
---
Developmental Phase Tasks
Task 1.7: Protocols for Bridge Monitoring & Bridge Autopsy
Understanding

Develop protocols and standards for monitoring and autopsy
Document protocols for implementation
Accommodate a variety of sensors, instrumentation, and NDE/NDT methods
Approach

Based on findings of Task 1.6
Take advantage of existing documents
---
Review of Developmental Phase Tasks
Task 1.8: Communication and Marketing Plan
Understanding

Develop aggressive communication and marketing plan including:

LTBP Website
PowerPoint Presentations
Briefings
Program Newsletter
Workshops
Conferences
Approach

Work closely with FHWA and Stakeholders
Aggressive outreach
---
QUESTIONS OR COMMENTS
PowerPoint files can be viewed with the PowerPoint Viewer