U.S. Department of Transportation
Federal Highway Administration
1200 New Jersey Avenue, SE
Washington, DC 20590
202-366-4000
---
Federal Highway Administration Research and Technology
Coordinating, Developing, and Delivering Highway Transportation Innovations
Report
This report is an archived publication and may contain dated technical, contact, and link information
Publication Number: FHWA-HRT-21-015 Date: March 2021
Publication Number: FHWA-HRT-21-015
Date: March 2021

Impacts of Automated Vehicles on Highway Infrastructure
PDF Version (1.95 MB)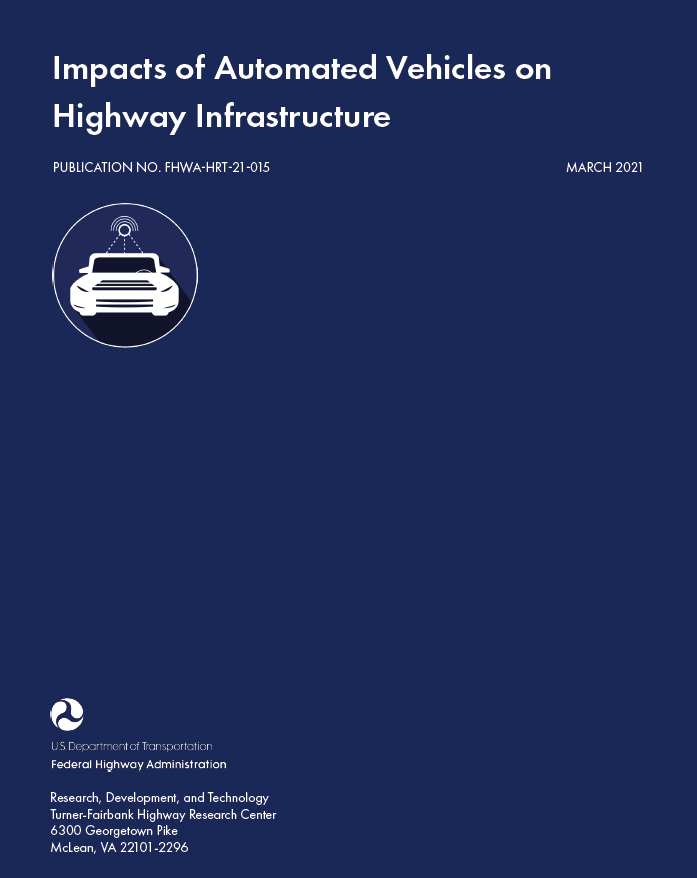 Technical Report Documentation Page
1. Report No.
FHWA-HRT-21-015
2. Government Accession No.
3. Recipient's Catalog No.
4. Title and Subtitle
Impacts of Automated Vehicles on Highway Infrastructure
5. Report Date
March 2021
6. Performing Organization Code
7. Author(s)
Deepak Gopalakrishna, Paul Carlson (ORCID 0000-0003-0859-9305), Peter Sweatman, Deepak Raghunathan, Les Brown, Nayel Urena Serulle
8. Performing Organization Report No.

9. Performing Organization Name and Address
ICF Incorporated, LLC
9300 Lee Highway
Fairfax, VA 22031
10. Work Unit No. (TRAIS)
11. Contract or Grant No.
GS00Q14OADU119/693JJ318F000403
12. Sponsoring Agency Name and Address
U.S. Department of Transportation
Federal Highway Administration
1200 New Jersey Avenue, SE
Washington, DC 20590
13. Type of Report and Period Covered
Final Report; October 2018–October 2020
14. Sponsoring Agency Code
HRDI-20
15. Supplementary Notes
The Contracting Officer's Representatives were Morgan Kessler (HRDI-20) and Abdul Zineddin (HRDS-10).
16. Abstract


This report presents the results of a multiphase research effort, which involved a comprehensive literature review, engagement with highway infrastructure owners and operators (IOOs), and interviews with industry experts and key stakeholders to document the potential impact of automated vehicles (AVs) on highway infrastructure. The study attempts to identify the state of the practice among IOOs, gaps in knowledge, and agency-preparedness levels regarding the impacts of AV use on highway infrastructure. Operations or policy aspects of AV—infrastructure impacts are not covered. Several aspects of roadway infrastructure are considered for this study, including the quality and uniformity of traffic control devices, the changing demands of intelligent transportation systems, structural requirements for pavements and bridges, effects on multimodal infrastructure (e.g., bike lanes and Complete Streets designs), and the potential need for other roadside infrastructure (e.g., guardrails and communications systems for roadway digital infrastructure).

17. Key Words
Automated vehicles, pavements, bridges, traffic control devices, pavement markings, barriers, traffic management, operations, pedestrians, bicyclists, curb space
18. Distribution Statement
No restrictions. This document is available to the public through the National Technical Information Service, Springfield, VA 22161.
http://www.ntis.gov
19. Security Classif. (of this report)
Unclassified
20. Security Classif. (of this page)
Unclassified
21. No. of Pages
107
22. Price
N/A
Form DOT F 1700.7 (8-72)
Reproduction of completed pages authorized.