Over the past decade, the Federal Highway Administration (FHWA) has conducted and developed extensive research, workshops, technical briefs, and other outreach materials about alternative intersections/interchanges. These research efforts and publications have increased interest and rapid adoption of alternative geometric designs across the United States. Of the many alternative intersection/interchange designs, stakeholders showed significant interest in these four:
Double Crossover Diamond (DCD) interchange (or Diverging Diamond Interchange (DDI)).
Displaced Left Turn (DLT) intersection.
Median U-Turn (MUT) intersection.
Restricted Crossing U-Turn (RCUT) intersection.
Most existing analysis tools supporting the adoption of alternative intersections/interchanges involve the use of complex microscopic simulations that are expensive and time consuming. The Highway Capacity Manual (HCM) and the Highway Capacity Software (HCS) are widely used analytical tools that assess the quality of service for conventional intersections and interchanges. However, they do not assess any of the alternative designs considered in this project.
To support the increased exposure and interest in these designs, FHWA is conducting activities to integrate alternative intersection/interchange guidance into the HCM and HCS. This will help expand the portfolio of design alternatives contained in the HCM and enable a side-by-side assessment of their operations in contrast to traditional designs.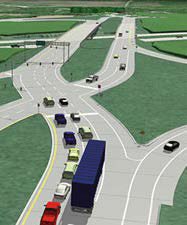 The new HCM guidance and procedures resulting from this project will assist agencies in evaluating capacity and quality of service for the design and operation of alternative intersections/interchanges.
Pooled Fund Study
Partner States
Alabama, California,
Colorado, Florida,
Missouri, North
Carolina, Nevada, Ohio,
Washington, Wisconsin

Project Tasks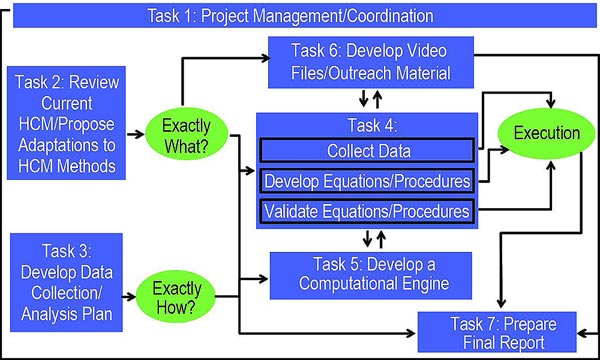 The project consists of seven tasks. Task 1 includes administrative activities throughout the duration of the project. Task 2 involves identifying knowledge and methodology gaps in the current 2010 HCM, formulating an analysis framework, and identifying field data collection necessary to address knowledge and methodology gaps. Task 3 will determine the applicability of existing HCM models to the new designs, and will decide whether data is on hand, or if field data collection and simulation are needed. In Task 4, the project team will reduce and analyze field data collected for development of HCM procedures during Task 3 and prepare a report consisting of new or modified HCM procedures for each intersection/interchange type. Task 5 will involve updating existing HCS modules to incorporate the newly developed methods for alternative intersections/interchanges. Tasks 6 and 7 will produce outreach videos from simulation and the final project report in the form of draft HCM chapters for alternative intersections/interchanges.