FHWA Research and Technology Evaluation: Enhanced Prediction of Vehicle Fuel Economy and Other Vehicle Operating Costs
PDF Version (793 KB)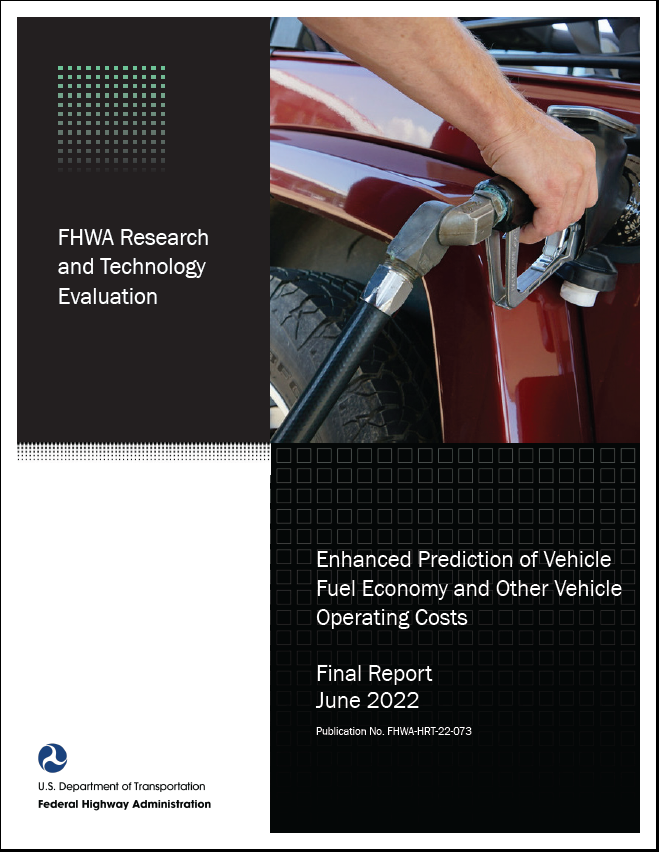 FOREWORD
The Federal Highway Administration's (FHWA) Research and Technology (R&T) Evaluation Program seeks to assess and communicate the benefits of FHWA's R&T efforts; ensure that the organization is expending public resources efficiently and effectively; and build evidence to shape and improve policymaking. FHWA partners with State transportation departments, local agencies, industries, and academia to conduct research on issues of national significance and accelerate adoption and deployment of promising research products.
This report examines how FHWA's investment in updating vehicle operating cost (VOC) models affected early interest, application, and response to the new VOC models. The findings of this report should be of interest to engineers, economists, practitioners, researchers, and decisionmakers involved with the estimation of VOCs, fuel consumption, and highway performance.
Jonathan B. Walker
Acting Director, Office of Corporate Research
Technology, and Innovation Management
Notice
This document is disseminated under the sponsorship of the U.S. Department of Transportation (USDOT) in the interest of information exchange. The U.S. Government assumes no liability for the use of the information contained in this document.
The U.S. Government does not endorse products or manufacturers. Trademarks or manufacturers' names appear in this report only because they are considered essential to the objective of the document.
Quality Assurance Statement
The Federal Highway Administration (FHWA) provides high quality information to serve Government, industry, and the public in a manner that promotes public understanding. Standards and policies are used to ensure and maximize the quality, objectivity, utility, and integrity of its information. FHWA periodically reviews quality issues and adjusts its programs and processes to ensure continuous quality improvement.
Technical Report Documentation Page
1. Report No.

FHWA-HRT-22-073

2. Government Accession No.

3 Recipient's Catalog No.

4. Title and Subtitle

FHWA Research and Technology Evaluation: Enhanced Prediction of Vehicle Fuel Economy and Other Vehicle Operating Costs

5. Report Date

June 2022

6. Performing Organization Code

OST-R V-321

7. Author(s)

Gregory Bucci (ORCID: 0000-0001-6815-9956), Lora Chajka-Cadin, and Daniel Friedman

8. Performing Organization Report No.

9. Performing Organization Name and Address

Volpe National Transportation Systems Center
55 Broadway
Cambridge, MA 02142

10. Work Unit No. (TRAIS)

11. Contract or Grant No.

HW9AA300

12. Sponsoring Agency Name and Address

Office of Corporate Research, Technology, and
Innovation Management
Federal Highway Administration
6300 Georgetown Pike
McLean, VA 22101

13. Type of Report and Period Covered

Final Report; 2014–2021

14. Sponsoring Agency Code

HRTM-10

15. Supplementary Notes

Mary Huie (HRTM-10) is the Research and Technology Program Manager and the Contracting Officer's Representative.

16. Abstract

This report presents an evaluation of the Enhanced Prediction of Vehicle Fuel Economy and Other Vehicle Operating Costs (VOCs) research project. This research aimed to update the decades-old VOC equations, which the Federal Highway Administration uses in the Highway Economic Requirements System model to make projections for the Nation's transportation system conditions and performance. The evaluation team assessed two short-term outcomes of this research: early interest and application of the updated VOC models and internal reviewers' response to, and perceptions of, the updated VOC models. The evaluation team found that outreach conducted by the research team introduced the updated models to hundreds of public and private entities, with many entities directly contacting the researchers for additional information. While internal stakeholders indicate that the updated VOC models are an improvement over current methods, concerns were expressed about specific equations, which will be addressed through further research.

17. Key Words

Vehicle operating costs, HERS, fuel economy

18. Distribution Statement

No restrictions. This document is available to the public through the National Technical Information Service, Springfield, VA 22161.
http://www.ntis.gov

19. Security Classification
(of this report)

Unclassified

20. Security Classification
(of this page)

Unclassified

21. No. of Pages

32

22. Price

N/A
| | |
| --- | --- |
| Form DOT F 1700.7 (8-72) | Reproduction of completed page authorized |