State of the Practice for Traveler Information During Nonrecurring Events
CHAPTER 2. USER INFORMATION NEEDS AND DECISIONMAKING
Schofer, Khattak, and Koppelman define traveler behavior as the process of individual decisionmaking about what trips to make, where to visit, when to depart, what mode of travel to utilize, and what route to follow.(1) In the rapidly changing environment of today's society, individual needs and trip purpose are often fluctuating. Pre-trip information, such as the location of traffic incidents and traffic congestion, is often available from a variety of sources, such as local news and radio reports. This chapter highlights traveler decisionmaking, user information needs, and traveler behavior.
Decisionmaking is defined as the thought process for selecting a logical choice from the available options by weighing the positives and negatives of each option and considering all the alternatives.(2) Decisionmaking is not always an error-free process and can be affected by various factors including, but not limited to, fatigue, lack of information, perceived or real-time pressure, and stress.(3) In addition, when in an unknown situation that may elicit stress, decisionmakers (e.g., drivers or travelers faced with information about a nonrecurring event) may experience the following:
Seek out certainty (and are less tolerant of ambiguity).


Attempt to make fast decisions and seek out closure.


Narrow perception due to sensory overload (e.g., tunnel vision).


Demonstrate suboptimal judgment due to perception distortion.


Experience decreased capacity to handle complex tasks.


Choose risky alternatives.
In addition, not all decisionmakers operate or approach, perceive, or navigate problems the same way. As a result, the following individual differences can have an impact on how travelers understand traffic-related messages:
Age-related differences in processing, perceiving, and understanding messages as well as the decisions and strategies chosen.


Personality differences in style, types, and preferences.


Cultural/language (including regional differences within the United States).


Familiarity with area (e.g., local commuters versus tourists).
Information influencing driver decisionmaking has three layers. The first layer is the initial observation, which includes providing primary information. The second layer is secondary information (i.e., passive messages). The third layer is the tertiary information, which represents the actively sought specifics. When providing information to drivers, the goal is to help them make a decision to avoid disruption at the highest level with the least amount of interaction with traveler information sources.
According to Torma-Krajewski and Powers, an effective decisionmaker is confident and competent, is knowledgeable of the situation, seeks advice, takes advantage of opportunities, remains flexible and open to new options, is calculated and selective, takes a comprehensive approach to decisionmaking, has initiative to make a decision, and has a good understanding of his or her own abilities.(4) Specifically, driving-related decisions should be timely to minimize delays resulting from driving into an incident or other delay-inducing events, such as work zones, and should accomplish a specific objective or mission. To reduce the difficulties experienced by drivers when confronted with decisions, all forms of uncertainty must be minimized, and all information necessary to make a good decision should be provided at the time that the decision needs to be made.
Certain precautions must be taken when developing strategies for assisting the decisionmaking process, especially in situations of nonrecurring events where there may be limited or rapidly changing information (e.g., evacuations and emergency situations). For example, providing too much information can cause drivers to forget already processed information, which may induce mental fatigue or delay the actual decision.(4)
Information Needs for NonRecurring Events
When reviewing research findings about travelers' information needs and wants for nonrecurring events, it is important to consider how rapidly the traveler information environment is evolving. For example, dynamic message signs (DMSs) and other ITS features have become increasingly common, and Internet sources or social media in particular (e.g., Twitter™) have become much more prevalent, reliable, and, popular. Smartphones in particular have allowed travelers to access an incredible amount of information in real time wherever they are, including on the road. The rapid evolution of traveler information options and availability means that information about traveler preferences for routing can be outdated even if the data are only a few years old. Therefore, the literature discussed in this section should be considered with that caveat in mind.
Higgins et al. conducted a study on behalf of the Wisconsin Department of Transportation (WisDOT) to better understand drivers' decisionmaking processes when faced with unexpected lane restrictions or closures.(11) The researchers conducted focus groups and traveler surveys with commuters in two Wisconsin cities (n = 20, where n is the total number of observations). Focus group results showed that traffic congestion and travel speed were primary factors in determining route choice for commutes. During hazardous weather such as snow, the perceived safety and accessibility of the route was a factor. For example, some drivers preferred driving on freeways because of specific features such as divided traffic and wide shoulders. About half of the participants indicated that they check traffic conditions at least occasionally before beginning a trip using a variety of information sources, including WisDOT's website, TV, radio, and mobile apps.(12) Participants were mixed in their willingness to divert to alternate routes. Factors in choosing an alternate route included the availability of viable alternates, expectation of time savings, and easy access to relevant traveler information. The focus groups revealed that participants were sometimes suspicious of alternative route suggestions because of concerns that the alternate route would be overburdened by diverting traffic.(11) They also expressed uncertainty about whether the alternative was consistent with the planned destination as well as that the alternative might be less direct than the current route.
When asked about their information needs and preferences, participants expressed an interest in obtaining information related to traffic, roadway, and weather conditions.(11) If participants encountered a delay-causing event, most wanted to know the cause of the delay, the length of the expected delay, travel time on the original route, and the time that the delay was expected to be resolved. Some participants also wanted to know pre-trip route planning information, recommended exit numbers to divert around a delay, and messages about special events that could affect traffic. They also expressed the desire for obtaining advance notifications prior to a diversion point.
When asked about specific information sources, participants generally liked DMS messages.(11) Few had used HAR, 511, the WisDOT mobile website, or traffic mobile apps.(12) Participants had mixed opinions of receiving text messages due to the risks of reading text messages while driving.
Higgins et al. also conducted focus groups with commercial vehicle drivers.(11) These drivers frequently received traffic information from other drivers via citizen band (CB) radio and could choose an alternate route based on previous experience or guidance from dispatch. They also used DMS while en route. Drivers were aware of the availability of traffic incident alert information, but because the alerts were given for the entire State with no customization option, most drivers chose not to receive these alerts.
When asked about their information needs and preferences, commercial drivers indicated that they wanted detailed information about planned construction over the next 10 d, traffic and delays, length of delay, and bridge height/weight for available routes.(11) It would also be beneficial to create a commercial driver page on the WisDOT website as well as additional mobile traffic information resource apps and real-time text-to-voice message updates.(12)
Higgins et al. also conducted traveler information surveys at DMV locations and online (n = 287).(11) Results show that the most commonly used sources of traveler information for drivers were travel websites other than WisDOT/511 (such as other private sector online mapping tools), road signs/DMSs, radio, mobile apps, mobile websites, and television. It is notable that participants were more than three times as likely to use a non-State transportation department website than a State transportation department website.(11)
When participants were asked about the types of information they wanted to receive about a delay, the answers, from most to least important, were length of delay, recommendations for alternate routes, general traffic-related messages indicating that drivers should take an alternate route, and expected travel time on usual route.(11) When asked about specific information related to alternate routes, participants most wanted to know how long the congestion delay on the usual route would last, travel time on the alternative route, and the name of the alternative route. If the information was for an unfamiliar trip, turn-by-turn directions for the alternate route and a map of the alternate route were especially desirable regardless of the source.
A survey conducted by Sun et al. investigated the route choices of truck drivers.(13) Data collection took place during February and June 2012 at three rest area and truck stop locations along major highways in Texas and Indiana as well as Ontario, Canada. Part of the survey questioned truck drivers about the sources of information that affected their routing choices. Commonly cited factors included prior experience/knowledge, maps, and navigation systems. While en route, the most common source of information was other truck drivers via CB radio. When considering whether to choose an alternate route, truck drivers were likely to consider the availability of fueling stations, predictability of travel time, and availability of truck parking.(13)
Schroeder and Demetsky investigated the effects of various DMS content strategies on the likelihood that drivers would choose one of two viable alternate routes (i.e., I-95 or I-295) in the Richmond, VA, area.(14) Results showed that changes in DMS wording could influence diversion rates or the number of drivers who actually decided to take an alternative route after seeing the DMS message. The authors recommended that traffic managers provide estimates of travel times for the original route and alternate routes to encourage diversion. DMS text should be consistent in format, use one-phase messages, avoid all capital letters, and be staircase or left-justified.
The Kansas City Scout Advanced Traffic Management System is a comprehensive traveler information and traffic congestion management system that is a joint effort between the Missouri and Kansas TMCs. Kansas City Scout has two main traveler information dissemination methods: its website (see figure 1 ) and CMSs.(15) The website shows a live traffic map of Kansas City, MO/KS. The map also includes clickable live traffic cameras and CMS messages, as well as locations of incidents, scheduled closures, and special events. Once on the road, drivers can use the network of freeway CMS. These CMSs are primarily used to provide travel time information but can also be used to provide incident information.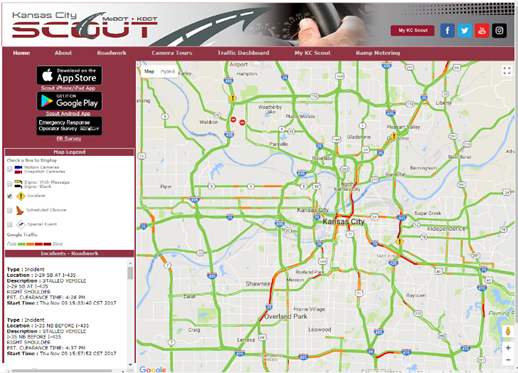 Screen Capture ©Kansas City Scout, Kansas Department of Transportation, and Missouri Department of Transportation (Map in screen capture ©Google® Maps™).
Figure 1. Screenshot. Kansas City Scout website.(15 ,16)
To gauge driver feedback, Kansas City Scout conducted a mobility survey in spring 2015. The survey gathered feedback about preferred ways for travelers to receive real-time traffic information pre-trip and en route. Survey results indicated that before beginning trips, the preferred information source for drivers was the Kansas City Scout website map and mobile app.(15 ,17) While en route, drivers indicated that DMSs were the preferred means for obtaining real-time traffic information. The survey also asked drivers about their preferences for the types of information that they would like to see on DMSs. Drivers ranked DMS messages in the following order of importance: (1) incident and lane closures, (2) roadwork, and (3) weather updates.
International Perspective Regarding Traveler Preferences
Chang et al. investigated automobile and commercial travelers' requirements of multimodal travel information systems in New Zealand.(9) The research was carried out between October 2014 and May 2015 in several stages, which included surveying the public through indepth user interviews and online surveys at sites in Dunedin and Auckland. Through the survey, drivers across both cities identified delays, detours, and parking information as their top three pre-trip information needs. Across both cities, important information sought en route included road closure, delay, and detour information. In Auckland, route planning and trip duration was ranked higher as a pre-trip need than in Dunedin. The authors speculated that this may be due to Auckland's size and longer commuting times and distances along with having a more complex transportation network, though no significant differences between the two sites was shown.(9)
Muizelaar provided findings from a Dutch online survey that included several components, including examining the impact of nonrecurring events on traffic.(10) Three nonrecurring situations were presented to drivers: crashes, road work, and large events. In the case of crashes, travelers wanted to receive extended traffic information, such as the cause and expected duration. Travelers wanted to be able to make their own route choice from that information. In regard to road work, travelers showed a greater preference toward wanting to receive information about the fastest route. In the case of large events, travelers preferred receiving information that increased their comfort level for accuracy of the information.