Development of Human Factors Guidelines for Advanced Traveler Information Systems and Commercial Vehicle Operations: Identification of the Strengths and Weaknesses of Alternative Information Display Formats
DEVELOPMENT OF HUMAN FACTORS GUIDELINES FOR ADVANCED
TRAVELER INFORMATION SYSTEMS AND
COMMERCIAL VEHICLE OPERATIONS:
IDENTIFICATION OF THE STRENGTHS AND WEAKNESSES OF
ALTERNATIVE INFORMATION DISPLAY FORMATS
FOREWORD
This report is one of a series produced as part of a contract designed to develop precise, detailed, human factors design guidelines for Advanced Traveler Information Systems (ATIS) and Commercial Vehicle Operations (CVO). The contractual effort consists of three phases: analytic, empirical, and integration. This report is a product of the analytic phase. Among the other analytic topics discussed in the series are ATIS and CVO system objectives and performance requirements, comparable systems analysis, ATIS/CVO functions, task analysis, alternate systems analysis, driver acceptance, identification and exploration, and definition and prioritization of research studies.
This report identifies information display format alternatives for in–vehicle devices for both private and CVO applications and presents a set of human factors design tools designers can use to develop safer and more effective ATIS displays. Also reported are research issues still requiring attention in order to further the goal of this project and to develop useful information format guidelines.
Copies of this report can be obtained through the Research and Technology Report Center, 9701 Philadelphia Court, Unit Q, Lanham, Maryland 20706, telephone: (301) 577–0818, fax: (301) 577–1421, or the National Technical Information Service (NTIS), 5285 Port Royal Road, Springfield, Virginia 22161, telephone: (703) 605–6000, fax: (703) 605–6900.
Michael F. Trentacoste
Director, Office of Safety
Research and Development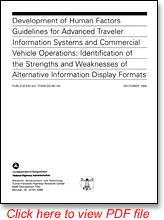 PDF Version (2.3 MB)
PDF files can be viewed with the Acrobat® Reader®
---
TECHNICAL REPORT DOCUMENTATION PAGE
1. Report No.

FHWA-RD-96-142

2. Government Accession No.
3. Recipient's Catalog No.
4. Title and Subtitle

DEVELOPMENT OF HUMAN FACTORS GUIDELINES FOR ADVANCED TRAVELER INFORMATION SYSTEMS AND COMMERCIAL VEHICLE OPERATIONS: IDENTIFICATION OF THE STRENGTHS AND WEAKNESSES OF ALTERNATIVE INFORMATION DISPLAY FORMATS

5. Report Date

October 16, 1998

6. Performing Organization Code
7. Author(s)

M.C. Hulse, T.A. Dingus, M.A. Mollenhauer, Y. Liu, S.K. Jahns, T. Brown, and B. McKinney

8. Performing Organization Report No.
9. Performing Organization Name and Address

Center for Computer-Aided Design
University of Iowa
Iowa City, Iowa 52240

10. Work Unit No. (TRAIS)

3B4C

11. Contract or Grant No.

DTFH61-92-C-00102

12. Sponsoring Agency Name and Address

Office of Safety and Traffic Operations R&D
Federal Highway Administration
6300 Georgetown Pike
McLean, VA 22101-2296

13. Type of Report and Period Covered

Final Report
6/93 - 4/97

14. Sponsoring Agency Code
15. Supplementary Notes

Contracting Officer's Technical Representative (COTR): M. Joseph Moyer, HRDS, Thomas M. Granda, HRDS (formerly with SAIC)

16. Abstract

This report is one of a series produced as part of a contract designed to develop precise, detailed, human factors design guidelines for Advanced Traveler Information Systems (ATIS) and Commercial Vehicle Operations (CVO). The goals of the work covered in this report were to: (1) identify information format alternatives for ATIS devices for both private drivers and CVO applications, and (2) identify research issues that must be addressed in order to develop effective information format guidelines. To achieve these goals, and to make the greatest progress possible toward the ultimate project goal of guideline development, the project developed the strategy of turning the current state of knowledge into tools applicable to any ATIS design.

Four primary design-decision tools were developed. These tools are intended to help either professional or nonprofessional human factors designers make appropriate tradeoff decisions in designing effective ATIS displays. The four tools are: (1) Sensory Modality Allocation, (2) Trip Status Allocation, (3) Display Format Allocation, and (4) Display Location.

17. Key Words

Advanced Traveler Information Systems (ATIS); Commercial Vehicle Operations (CVO); Intelligent Vehicle-Highway Systems (IVHS);Intelligent Transportation System (ITS)

18. Distribution Statement No restrictions. This document is available to the public through the National Technical Information Service, Springfield, VA 22161.
19. Security Classif. (of this report)

Unclassified

20. Security Classif. (of this page)

Unclassified

21. No. of Pages

187

22. Price
Form DOT F 1700.7 (8-72) Reproduction of completed page authorized
FHWA-RD-96-142