Development of Human Factors Guidelines for Advanced Traveler Information Systems and Commercial Vehicle Operations: Investigation of ATIS Function Transition and the Effects of an In-Vehicle ATIS on Driver Performance
DEVELOPMENT OF HUMAN FACTORS GUIDELINES FOR ADVANCED TRAVELER INFORMATION SYSTEMS
AND COMMERCIAL VEHICLE OPERATIONS
INVESTIGATION OF ATIS FUNCTION TRANSITION AND THE EFFECTS OF AN
IN–VEHICLE ATIS ON DRIVER PERFORMANCE
FOREWORD
This report is one of a series of reports produced as part of a contract designed to develop precise, detailed human factors design guidelines for Advanced Traveler Information Systems (ATIS) and Commercial Vehicle Operations (CVO). Among the other topics discussed in the series are descriptions of ATIS/CVO functions, comparable systems analysis, task analysis of ATIS/CVO functions, definition and prioritization of research studies, and more than a dozen laboratory and field experiments.
These studies are part of the empirical phase of the on–going human factors design guidelines project. The first examines the cognitive demands imposed on the driver by the need to transition from one pre–drive in–vehicle information function to another while in pre–drive mode.
The second study evaluates driving performance with a moving map implementation of an ATIS device.
Copies of this report can be obtained through the Research and Technology Report Center, 9701 Philadelphia Court, Unit Q, Lanham, Maryland 20706, telephone: (301) 577–0818, fax: (301) 577–1421, or the National Technical Information Service (NTIS), 5285 Port Royal Road, Springfield, Virginia 22161, telephone: (703) 605–6000, fax: (703) 605–6900.
Michael F. Trentacoste
Director, Office of Safety
Research and Development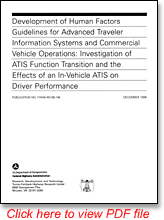 PDF Version (568 KB)
PDF files can be viewed with the Acrobat® Reader®
---
TECHNICAL REPORT DOCUMENTATION PAGE
1. Report No.

FHWA–RD–96–146

2. Government Accession No.
3. Recipient's Catalog No.
4. Title and Subtitle:

DEVELOPMENT OF HUMAN FACTORS GUIDELINES FOR ADVANCED TRAVELER INFORMATION SYSTEMS AND COMMERCIAL VEHICLE OPERATIONS: INVESTIGATION OF ATIS FUNCTION TRANSITION AND THE EFFECTS OF AN IN–VEHICLE ATIS ON DRIVER PERFORMANCE.

5. Report Date:

December, 1999

6. Performing Organization Code
7. Author(s):

Campbell, J. L., Kantowitz, B. H., Simsek, O., Carney, C., Hanowski, R. J., Hooey, B. L., & Gore, B. F.

8. Performing Organization Report No.
9. Performing Organization Name and Address:

Battelle Seattle Research Center
4000 NE 41st Street
Seattle, WA 98105

10. Work Unit No. (TRAIS)
11. Contract or Grant No.:

DTFH61–92–C–00102

12. Sponsoring Agency Name and Address:

Office of Safety & Traffic Operations R&D
Federal Highway Administration
6300 Georgetown Pike
McLean, VA 22101–2296

13. Type of Report and Period Covered:

Final Report 4/95 – 4/97

14. Sponsoring Agency Code
15. Supplementary Notes:

Contracting Officer's Technical Representative (COTR): M. Joseph Moyer, HRDS; Thomas M. Granda, HRDS (formerly with SAIC)

16. Abstract:

The objective of the first experiment reported below was to measure the cognitive demands associated with transitioning across Advanced Traveler Information System (ATIS) functions. This required the development of both objective and subjective indices of driver behavior and cognition. To accomplish this, a small number of pre–drive trip scenarios that invoke appropriate transitions across ATIS functions were developed.

Driving performance under more representative conditions was investigated in experiment 2 using a driving simulator. This study investigated several issues on the influence of an ATIS on driving behavior. The questions asked were:

How does a moving map display of the current vehicle location influence driving performance?

How do ATIS control inputs influence driving performance? Should they be allocated to pre–drive? Is it too much to expect the driver to do while in transit?

Do ATIS messages affect drivers' reactions to roadway events?

Does message potency affect drivers' reactions to roadway events?

Overall, the two experiments reported here suggest that in–vehicle ATIS devices can be learned, understood, and successfully used by drivers for both pre–drive trip planning tasks and on–road driving conditions. ATIS devices have the potential to improve driver compliance to regulatory information, as compared with standard roadside signs. While concurrent visual and auditory ATIS alert messages may be beneficial, the visual ATIS messages alone are significantly better than roadside signage alone. While cognitive demands associated with ATIS transitions and ATIS complexity should continue to be a concern, these demands can be addressed by selecting ATIS functions with clear benefits to the driving task.

17. Key Words:

Human Factors, Driving Simulator, Advanced Traveler Information System Design, Function Transition, Cognitive Task Analysis

18. Distribution Statement:

No restrictions. This document is available through the National Technical Information Service, Springfield, VA 22161

19. Security Classif. (of this report):

Unclassified

20. Security Classif. (of this page):

Unclassified

21. No. of Pages

157

22. Price
Form DOT F 1700.7 (8–72) Reproduction of completed page authorized
FHWA-RD-96-146