Development of Human Factors Guidelines for Advanced Traveler Information Systems and Commercial Vehicle Operations: Human Factors Evaluation of the Effectiveness of Multi-Modality Displays in ATIS
DEVELOPMENT OF HUMAN FACTORS GUIDELINES FOR ADVANCED
TRAVELER INFORMATION SYSTEMS AND COMMERCIAL VEHICLE OPERATIONS
HUMAN FACTORS EVALUATION OF THE EFFECTIVENESS OF MULTI–MODALITY
DISPLAYS IN ADVANCED TRAVELER INFORMATION SYSTEMS
FOREWORD
This is one in a series of reports produced as part of a contract designed to develop precise, detailed human factors design guidelines for Advanced Traveler Information Systems (ATIS) and Commercial Vehicle Operations (CVO). During the analytic phase of the project, research issues were identified and rated by eight human factors experts along fourteen separate criteria. The goal of the experimental phase was to examine the highest rated research issues that can be addressed within the scope of the project. The fourteen experiments produced in that phase reflect the results of those ratings.
This experiment examined the design issue of which display modality (i.e. visual, auditory, or multi–modality) resulted in the best driving performance. Effects of driver age, driving load, and information complexity were evaluated.
Copies of this report can be obtained through the Research and Technology Report Center, 9701 Philadelphia Court, Unit Q, Lanham, Maryland 20706, telephone: (301) 577–0818, fax: (301) 577–1421, or the National Technical Information Service (NTIS), 5285 Port Royal Road, Springfield, Virginia 22161, telephone: (703) 605–6000, fax: (703) 605–6900.
Michael F. Trentacoste
Director, Office of Safety
Research and Development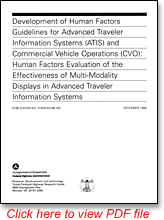 PDF Version (629 KB)
PDF files can be viewed with the Acrobat® Reader®
---
TECHNICAL REPORT DOCUMENTATION PAGE
1. Report No.

FHWA–RD–96–150

2. Government Accession No.
3. Recipient's Catalog No.
4. Title and Subtitle

DEVELOPMENT OF HUMAN FACTORS GUIDELINES FOR ADVANCED TRAVELER INFORMATION SYSTEMS (ATIS) AND COMMERCIAL VEHICLE OPERATIONS (CVO): HUMAN FACTORS EVALUATION OF THE EFFECTIVENESS OF MULTI–MODALITY DISPLAYS IN ADVANCED TRAVELER INFORMATION SYSTEMS

5. Report Date

December, 1999

6. Performing Organization Code
7. Author(s): Yung–Ching

Liu, Christopher S. Schreiner, Thomas A. Dingus

8. Performing Organization Report No.
9. Performing Organization Name and Address

Center for Transportation Research
Virginia Polytechnic Institute and State University
1700 Kraft Drive, Suite 2000
Blacksburg, VA 24061–0536

10. Work Unit No. (TRAIS):

3B4C

11. Contract or Grant No.

DTFH61–92–C–00102

12. Sponsoring Agency Name and Address

Office of Safety and Traffic Operations R&D
Federal Highway Administration
6300 Georgetown Pike
McLean, VA 22101–2296

13. Type of Report and Period Covered

Final Report

14. Sponsoring Agency Code
15. Supplementary Notes:

Contracting Officer's Technical Representative – M. Joseph Moyer, HRDS; Thomas M. Granda, HRDS (formerly with SAIC)

16. Abstract

To achieve the goals for Advanced Traveler Information Systems (ATIS), significant information will necessarily be provided to the driver. A primary ATIS design issue is the display modality (i.e. visual, auditory, or the combination) selected for providing this information. There were two objectives for this research. First, to what degree, and under which circumstances, are multi–modality displays beneficial? Second, for circumstances where multi–modality are not beneficial, which single display modality results in best performance? A simulator experiment was conducted to determine the effects of driver age, display modality, driving load, and information complexity on driving performance, navigation performance, driver workload, and driver performance.Four primary findings from the study were that:

For emergency response displays, the multi–modality and the auditory displays resulted in faster reaction times than the visual display for detecting warning information, while information presented on the multi–modality display resulted in fewer errors than the auditory display.

For navigation tasks, the multi–modality display resulted in the best performance for both total correct turns and number of navigation–related errors.

For driving performance, the multi–modality display generally resulted in better performance for both speed maintenance and safe driving behavior.

For subjective workload and preference ratings, the multi–modality display and the auditory display received more preferable ratings than did the visual display.

17. Key Words

Advanced Traveler Information Systems (ATIS), Intelligent Transportation Systems (ITS), driver age, information complexity, driving load

18. Distribution Statement

No restrictions. This document is available to the public through the National Technical Information Service, Springfield, VA 22161.

19. Security Classif. (of this report)

Unclassified

20. Security Classif. (of this page)

Unclassified

21. No. of Pages

110

22. Price
Form DOT F 1700.7 (8-72) Reproduction of completed page authorized
FHWA-RD-96-150