Development Of Human Factors Guidelines For Advanced Traveler Information Systems (ATIS) And Commercial Vehicle Operations (CVO): Display Formats And Commercial Vehicle Operator (CVO) Workload
DISPLAY FORMATS AND COMMERCIAL VEHICLE OPERATOR (CVO) WORKLOAD
FOREWORD
This report is one of a series of nine reports produced as part of a contract designed to develop precise, detailed human factors design guidelines for Advanced Traveler Information Systems (ATIS) and Commercial Vehicle Operations (CVO). Among the other topics discussed in the series are functional description of ATIS/CVO, comparable systems analysis, task analysis of ATIS/CVO functions, alternate systems analysis, identification and exploration of driver acceptance, and definition and prioritization of research studies.
This report documents a study that was performed to determine the effects of display modality, level of interaction, and amount of information on the driving performance and system operation performance of commercial drivers.
Copies of this report can be obtained through the Research and Technology Report Center, 9701 Philadelphia Court, Unit Q, Lanham, Maryland 20706, telephone: (301) 577–0818, fax: (301) 577–1421, or the National Technical Information Service (NTIS), 5285 Port Royal Road, Springfield, Virginia 22161, telephone: (703) 605–6000, fax: (703) 605–6900.
Michael F. Trentacoste
Director, Office of Safety
Research and Development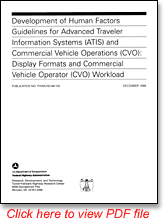 PDF Version (1.5 MB)
PDF files can be viewed with the Acrobat® Reader®
---
TECHNICAL REPORT DOCUMENTATION PAGE
1. Report No.

FHWA–RD–96–152

2. Government Accession No.
3. Recipient's Catalog No.
4. Title and Subtitle

DEVELOPMENT OF HUMAN FACTORS GUIDELINES FOR ADVANCED TRAVELER INFORMATION SYSTEMS (ATIS) AND COMMERCIAL VEHICLE OPERATIONS (CVO): DISPLAY FORMATS AND COMMERCIAL VEHICLE OPERATOR (CVO) WORKLOAD

5. Report Date

September 22, 1997

6. Performing Organization Code
7. Author(s)

Michael A. Mollenhauer, Thomas A. Dingus, Jonathan M. Hankey, Cher Carney, Vicki L. Neale

8. Performing Organization Report No.
9. Performing Organization Name and Address

Center for Transportation Research
Virginia Polytechnic Institute and State University
1700 Kraft Drive, Suite 2000
Blacksburg, VA 24061–0536

10. Work Unit No. (TRAIS)

3B4C

11. Contract or Grant No.

DTFH61–92–C–00102

12. Sponsoring Agency Name and Address

Office of Safety and Traffic Operations R&D
Federal Highway Administration
6300 Georgetown Pike
McLean, VA 22101–2296

13. Type of Report and Period Covered

Final Report

14. Sponsoring Agency Code
15. Supplementary Notes

Contracting Officer's Technical Representative (COTR) –M. Joseph Moyer, HRDS; Thomas M. Granda, HRDS (formerly with SAIC)

16. Abstract

The objective of this study was to determine the effects of display modality, level of driver interaction, and amount of information on the driving performance and system operation performance of commercial drivers. Introducing any level of interaction with an ATIS will probably result in some level of increased workload for the driver. However, it is possible that the increase in workload would not result in unsafe driving behavior. A secondary objective of this study was to determine at what level of ATIS task demand driving performance begins to degrade to the point of becoming unsafe.

To test the impact of having commercial drivers operate a multi–function ATIS, a prototype display was developed that would provide a variety of tasks to be performed while driving. The prototype for this experiment consisted of baseline information that was always presented to the driver in addition to an underlying menu structure that allows the driver to perform more complex information retrieval functions. The baseline ATIS display used for both taxi and truck drivers was identical, while the underlying menu structures were different to reflect the different types of information the drivers might require or desire. The system was designed for use as a visual–only system or as a combination visual and auditory system. An auditory–only system was not tested because it was felt that any feasible system would include at least some visual elements.

Based upon the results of this research, guidelines have been developed to aid in the design of ATIS.

17. Key Words

Advanced Traveler Information Systems, Commercial Vehicle Operations

18. Distribution Statement

No restrictions. This document is available to the public through the National Technical Information Service, Springfield, VA 22161.

19. Security Classif. (of this report)

Unclassified

20. Security Classif. (of this page)

Unclassified

21. No. of Pages

114

22. Price
Form DOT F 1700.7 (8-72) Reproduction of completed page authorized
FHWA-RD-96-152