Dynamic Evaluation of the New FOIL Instrumented Rigid Pole: FOIL Test Numbers 96F008 Through 96F015
FOREWORD
The Federal Highway Administration (FHWA) Federal Outdoor Impact Laboratory (FOIL) has always had a unique feature in its instrumented rigid pole, which was designed to measure frontal and side–impact crush characteristics of small passenger vehicles. With the adoption of the National Cooperative Highway Research Program Report Number 350 (NCHRP 350) as the new crash test standard, and an increasing interest in vehicle collisions with narrow objects, the need developed for computer–generated finite element models (FEM) of full–size pickup trucks. This necessitated the need for a new, larger capacity rigid pole. A new, taller, stouter rigid pole was designed and fabricated. This report documents the test procedures and test results from seven frontal full–scale vehicle crash tests between FOIL's new rigid pole and test vehicles ranging in size from FOIL's surrogate bogie to a full–size Chevrolet C2500 pickup truck.
This report (FHWA–RD–99–026) contains test data, photographs taken with high–speed film, and a summary of the test results.
This report will be of interest to all State departments of transportation, FHWA headquarters, Region and Division personnel, and highway safety researchers interested in the crashworthiness of roadside safety hardware.

Michael F. Trentacoste, Director
Office of Safety Research and Development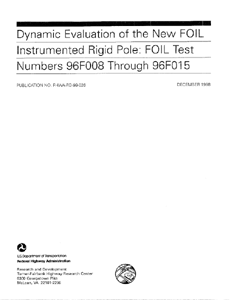 PDF Version (7.61 MB)
PDF files can be viewed with the Acrobat® Reader®
---
TECHNICAL REPORT DOCUMENTATION PAGE
1. Report No.

FHWA–RD–99–026

2. Government Accession No.
3. Recipient's Catalog No.
4. Title and Subtitle

Dynamic Evaluation of the New FOIL Instrumented Rigid Pole: FOIL Test Numbers 96F008 Through 96F015

5. Report Date

December 1998

6. Performing Organization Code
7. Author(s)

Christopher M. Brown

8. Performing Organization Report No.
9. Performing Organization Name and Address

MiTech Incorporated
8484 Georgia Avenue, Suite 950
Silver Spring, MD 20910

10. Work Unit No. (TRAIS)

3A5F3142

11. Contract or Grant No.

DTFH61–94–C–00008

12. Sponsoring Agency Name and Address

Office of Safety and Traffic Operations R&D
Federal Highway Administration
6300 Georgetown Pike, T-304
McLean, Virginia 22101–2296

13. Type of Report and Period Covered

Test Report
March–July 1996

14. Sponsoring Agency Code
15. Supplementary Notes

Contracting Officer's Technical Representative (COTR) – Richard King, HSR–20

16. Abstract

This report contains the test procedures, test setup followed, and the test results from seven frontal full–scale vehicle crash tests conducted at the Federal Outdoor Impact Laboratory (FOIL) located at the Turner–Fairbank Highway Research Center in McLean, Virginia. The frontal collisions were between FOIL's new, larger capacity rigid pole and test vehicles ranging in size from FOIL's surrogate bogie vehicle to a full–size Chevrolet C2500 pickup truck. Two FOIL bogies, two Ford Festivas, one Volkswagen Rabbit, one Ford pickup truck, and one Chevrolet pickup truck were accelerated to varying speeds before striking the large rigid pole. This series of seven crash tests served multiple purposes, with the main objective being to get the new, larger capacity rigid pole operational. The results from the crash tests indicated that the new rigid pole was operational and structurally sound.

17. Key Words

Rigid pole, FOIL, frontal, C2500 pickup, bogie, Festiva, VW, F150, FEM

18. Distribution Statement

No restrictions. This document is available to the public through the National Technical Information Service, Springfield, VA 22161.

19. Security Classification (of this report)

Unclassified

20. Security Classification (of this page)

Unclassified

21. No. of Pages

155

22. Price
Form DOT F 1700.7 (8-72) Reproduction of completed page authorized
FHWA-RD-99-026