Development of Human Factors Guidelines for Advanced Traveler Information Systems and Commercial Vehicle Operations: Driver Response to Unexpected Situations When Using an In-Vehicle Information System
DRIVER RESPONSE TO UNEXPECTED SITUATIONS WHEN USING AN IN–VEHICLE INFORMATION SYSTEM
FIELD STUDY RESULTS WORKING PAPER
FOREWORD
This report is one of a series of reports produced as part of a contract designed to develop precise, detailed human factors design guidelines for Advanced Transportation Systems (ATIS) and Commercial Vehicle Operations (CVO). Among the other topics discussed in the series are descriptions of ATIS/CVO functions, comparable systems analysis, task analysis of ATIS/CVO functions, definition and prioritization of research studies, and more than a dozen laboratory and field experiments.
This report describes the results of a field study conducted to investigate the effects of using an In–Vehicle Information System (IVIS) when the driver is confronted with unexpected situations. The study examines issues regarding benefits of an integrated IVIS, information density, and the impact of driver age on system use.
Copies of this report can be obtained through the Research and Technology Report Center, 9701 Philadelphia Court, Unit Q, Lanham, Maryland 20706, telephone: (301) 577–0818, fax: (301) 577–1421, or the National Technical Information Service (NTIS), 5285 Port Royal Road, Springfield, Virginia 22161, telephone: (703) 605–6000, fax: (703) 605–6900.
Michael F. Trentacoste
Director, Office of Safety
Research and Development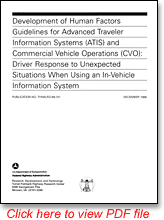 PDF Version (851 KB)
PDF files can be viewed with the Acrobat® Reader®
---
TECHNICAL REPORT DOCUMENTATION PAGE
1. Report No.

FHWA–RD–99–131

2. Government Accession No.
3. Recipient's Catalog No.
4. Title and Subtitle

DEVELOPMENT OF HUMAN FACTORS GUIDELINES FOR ADVANCED TRAVELER INFORMATION SYSTEMS (ATIS) AND COMMERCIAL VEHICLE OPERATIONS (CVO): DRIVER RESPONSE TO UNEXPECTED SITUATIONS WHEN USING AN IN–VEHICLE INFORMATION SYSTEM

5. Report Date

December, 1999

6. Performing Organization Code
7. Author(s)

Richard J. Hanowski, John P. Gallagher, Cheryl A. Kieliszewski, Thomas A. Dingus, Wayne Biever, Vicki Neale

8. Performing Organization Report No.
9. Performing Organization Name and Address

Center for Transportation Research
Virginia Polytechnic Institute and State University
1700 Kraft Drive, Suite 200
Blacksburg, VA 24061–0536

10. Work Unit No. (TRAIS)

3B4C

11. Contract or Grant No.

DTFH61–92–C–00102

12. Sponsoring Agency Name and Address

Office of Safety and Traffic Operations R&D
Federal Highway Administration
6300 Georgetown Pike
McLean, VA 22101–2296

13. Type of Report and Period Covered

Final Report

14. Sponsoring Agency Code
15. Supplementary Notes

Contracting Officer's Technical Representative (COTR) – M. Joseph Moyer, HRDS

16. Abstract

This investigation is one of a series of studies aimed at investigating Advanced Traveler Information Systems (ATIS) and Commercial Vehicle Operations (CVO) applications and their effect on driver behavior and performance. A field experiment was conducted to investigate the benefits and detriments of using an In–Vehicle Information System (IVIS) when the driver is confronted with unexpected situations. The IVIS used in the present study included three in–vehicle subsystems: In–Vehicle Signing and Information Systems (ISIS), which provide redundant roadside information, In–Vehicle Routing and Navigation Systems (IRANS), and In–Vehicle Safety Advisory and Warning Systems (IVSAWS). This research focused on five primary areas: (1) the inclusion of unexpected situations, specifically external events and vehicle status warnings, (2) driver notification of these events and warnings via an IVSAWS, (3) situation awareness of the driver when confronted with unexpected situations, (4) the impact of IVIS display density on driver response to unexpected situations, and (5) older driver use of an IVIS when confronted with unexpected situations. Three research questions were posed and investigated, each involving the use of an IVIS and response to unexpected situations: (1) Do drivers derive a benefit from using an IVIS that has multiple subsystems, when confronted with an unexpected situation? (2) What impact does IVIS information density have on driver's behavior and performance? and (3) What impact does driver age have on system use and measures related to driver behavior and performance? The following conclusions and recommendations were derived from this field study: (1) results indicated a clear benefit for drivers responding to external events and vehicle status warnings when using an IVIS, (2) drivers are capable of safely switching attention from an IVIS to the forward roadway while responding to an external event, (3) older drivers behave more cautiously when using an IVIS and responding to unexpected situations, (4) limitations associated with older driver performance, such as longer response latency and more frequent navigation errors, may be reduced through the use of an optimally designed IVIS, (5) auditory cues for alerts should allow user control of intensity, and (6) drivers should be allowed to select "low urgency" messages and alerting cues from a bank of options that crosses sense modalities.

17. Key Words

Advanced Traveler Information Systems (ATIS); Intelligent Transportation System (ITS); In–Vehicle Information Systems (IVIS); In–Vehicle Safety Advisory and Warning Systems (IVSAWS); Older Driver, Human Factors

18. Distribution Statement

No restrictions. This document is available to the public through the National Technical Information Service, Springfield, VA 22161.

19. Security Classif. (of this report)

Unclassified

20. Security Classif. (of this page)

Unclassified

21. No. of Pages

93

22. Price
Form DOT F 1700.7 (8-72) Reproduction of completed page authorized
FHWA-RD-99-131