Development of Human Factors Guidelines for Advanced Traveler Information Systems and Commercial Vehicle Operations: Integration of ATIS and Crash Avoidance In-Vehicle Information: Preliminary Simulator Study
DEVELOPMENT OF HUMAN FACTORS GUIDELINES FOR ADVANCED
TRAVELER INFORMATION SYSTEMS AND COMMERCIAL VEHICLE OPERATIONS
Integration of ATIS and Crash Avoidance In–Vehicle Information: Preliminary Simulator Study
FOREWORD
This report is one of a series of reports produced as part of a contract designed to develop precise, detailed human factors design guidelines for Advanced Traveler Information Systems (ATIS) and Commercial Vehicle Operations (CVO). The contractual effort consists of three phases: analytic, empirical, and integrative. This report is a product of the empirical phase. The empirical phase will also address topics such as: ATIS function transition, display channels, multi–modality displays, CVO driver fatigue, display formats and workload, and head–up displays (HUDs). Among the analytic topics discussed in the series are functional descriptions of ATIS/CVO, comparable systems analysis, task analysis of ATIS/CVO functions, alternate systems analysis, identification and exploration of driver acceptance, and definition and prioritization of research studies.
This report documents a study that was performed to investigate the following issues: (1) the influence of an ATIS on driver performance in reduced visibility conditions, (2) the influence of an ATIS on drivers' reactions to unexpected roadway events, and (3) the interaction of an ATIS with a Collision Avoidance System (CAS).
Copies of this report can be obtained through the Research and Technology Report Center, 9701 Philadelphia Court, Unit Q, Lanham, Maryland 20706, telephone: (301) 577–0818, fax: (301) 577–1421, or the National Technical Information Service (NTIS), 5285 Port Royal Road, Springfield, Virginia 22161, telephone: (703) 605–6000, fax: (703) 605–6900.
Michael F. Trentacoste
Director, Office of Safety
Research and Development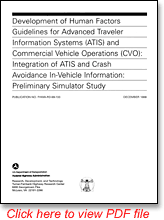 PDF Version (315 KB)
PDF files can be viewed with the Acrobat® Reader®
---
TECHNICAL REPORT DOCUMENTATION PAGE
1. Report No.:

FHWA–RD–99–133

2. Government Accession No.
3. Recipient's Catalog No.
4. Title and Subtitle:

DEVELOPMENT OF HUMAN FACTORS GUIDELINES FOR ADVANCED TRAVELER INFORMATION SYSTEMS (ATIS) AND COMMERCIAL VEHICLE OPERATIONS (CVO): INTEGRATION OF ATIS AND CRASH AVOIDANCE IN–VEHICLE INFORMATION: PRELIMINARY SIMULATOR STUDY.

5. Report Date:

December, 1999

6. Performing Organization Code
7. Author(s):

Kantowitz, B. H., Simsek, O., & Bittner Jr., A. C.

8. Performing Organization Report No.
9. Performing Organization Name and Address:

Battelle Seattle Research Center
4000 NE 41st Street
Seattle, WA 98105

10. Work Unit No. (TRAIS):

3B2C1012 3B2C

11. Contract or Grant No.:

DTFH61–92–C–00102

12. Sponsoring Agency Name and Address:

Office of Safety and Traffic Operations R&D
Federal Highway Administration
6300 Georgetown Pike
McLean, VA 22101–2296

13. Type of Report and Period Covered:

Technical Report 4/95 – 5/99

14. Sponsoring Agency Code
15. Supplementary Notes:

Contracting Officer's Technical Representative (COTR): M. Joseph Moyer, HRDS

16. Abstract:

This study investigated three issues relevant to Advanced Traveler Information System (ATIS) design: (1) the influence of an ATIS on driver performance in reduced visibility conditions, (2) the influence of an ATIS on drivers' reactions to unexpected roadway events, and (3) the interaction of an ATIS with a Collision Avoidance System (CAS). The study was conducted in two phases, combining a very efficient confounded experimental design used in Phase I with a traditional orthogonal design used in Phase II. Both experiments were conducted in a high–fidelity driving simulator. A total of 20 drivers was tested: 8 in Phase I and 12 in Phase II. In both phases, subjects completed several driving scenarios, during which they received roadway–relevant information via an in–vehicle ATIS and variable message signs (VMS) posted on the roadway. Subjects also experienced several unexpected roadway events, some of which triggered a CAS alert. Results showed that mean speed was lower in the ATIS condition than in the control condition, while out–of–vehicle VMS messages did not alter speed. Contrary to our expectations, effects of ATIS and VMS messages upon driving performance did not depend upon visibility conditions. Drivers in clear and fog visibility performed consistently. The results also showed that an ATIS message interfered with the driver's ability to react to a pedestrian road incursion. However, an ATIS message did not interfere with a CAS warning. The present results need to be expanded before design guidelines, especially for integration of in–vehicle systems, can be written with great confidence. However, these results do indicate that the simulator can provide a reasonable test bed for future evaluation of system interactions.

17. Key Words:

Advanced Traveler Information Systems (ATIS); integration; Collision Avoidance System (CAS)

18. Distribution Statement:

No restrictions. This document is available to the public through the National Technical Information Service, Springfield, VA 22161

19. Security Classif. (of this report)

None

20. Security Classif. (of this page)

None

21. No. of Pages

80

22. Price
Form DOT F 1700.7 (8–72) Reproduction of completed page authorized
FHWA-RD-99-133