U.S. Department of Transportation
Federal Highway Administration
1200 New Jersey Avenue, SE
Washington, DC 20590
202-366-4000
---
Federal Highway Administration Research and Technology
Coordinating, Developing, and Delivering Highway Transportation Innovations

This report is an archived publication and may contain dated technical, contact, and link information
05085 >
Federal Highway Administration University Course on Bicycle and Pedestrian Transportation
Publication Number: FHWA-HRT-05-086
Date: July 2006
Lesson 1: The Need for Bicycle and Pedestrian Mobility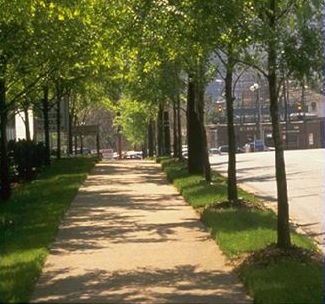 ---
Lesson Outline
Urban/suburban development and travel examples.
The benefits of bicycling and walking: transportation, environment, health.
Community and government support.
Planning trends.
---
Urban/Suburban Development and Travel
Bicycling and walking have become novelty experiences.
Development follows the lead of the predominant personal transportation mode.
Planning and zoning regulations have favored low-density, automobile-oriented development.
Many planners and designers still do not consider pedestrians and bicyclists.
---
Influence of Automobile on Design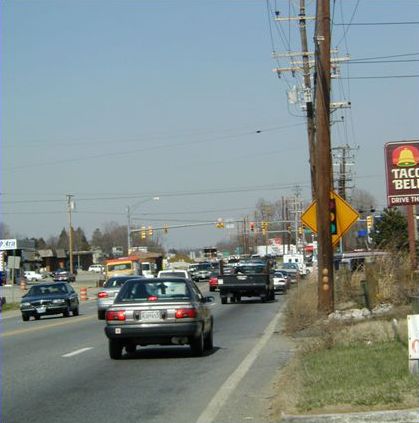 ---
Benefits of Bicycling and Walking
Transportation.
Environment.
Economy.
Quality of life.
Health.
---
Transportation Opportunities
Half of all trips are shorter than 3 miles— a 15-minute bike ride.
Forty percent of U.S. adults say they would commute by bike if safe facilities were available.
Gallup poll—2002: Half of U.S. adults favor providing bicycle and pedestrian facilities, even if it means less space for automobiles.
References: 2001 National Household Transportation Survey, League of American Bicyclists Press Release
---
Environment
Air pollution contributes to 70,000 deaths nationwide each year.
Short auto trips produce far more pollution per mile than longer trips.
References: Harvard School of Public Health, Federal Highway Administration
---
Health Benefits




There are nearly twice as many overweight children as in 1980.
Obesity and overweight are linked to the Nation's number one killer—heart disease—as well as diabetes.
Thirty minutes of routine exercise (such as walking) per day can significantly improve health.
References: Centers for Disease Control, U.S. Surgeon General
---
Government and Community Support
Federal legislation and guidance.
State and MPO programs.
Rising levels of public concern about bicycling and walking conditions.
---
Planning Trends
Complete Streets policies.
Trends in commercial and residential design.
Safe Routes to Schools programs.
Interconnected trail networks.
Roadway design that favors lower speeds.
More public involvement in transportation planning process.
---
Lesson Summary
Post-WW II development plans have hampered the ability to accommodate bicycle and pedestrian travel.
There are many reasons to encourage the use of nonmotorized transportation.
Currently, there is strong government and community support for walking and biking.
This support is leading to positive trends in planning and roadway design.
---
FHWA-HRT-05-086