U.S. Department of Transportation
Federal Highway Administration
1200 New Jersey Avenue, SE
Washington, DC 20590
202-366-4000
---
Federal Highway Administration Research and Technology
Coordinating, Developing, and Delivering Highway Transportation Innovations

This report is an archived publication and may contain dated technical, contact, and link information
05085 >
Federal Highway Administration University Course on Bicycle and Pedestrian Transportation
Publication Number: FHWA-HRT-05-112
Date: July 2006
Lesson 14: Shared Roadways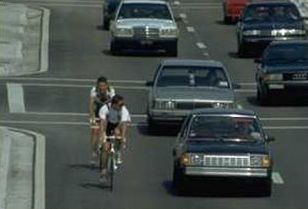 (This picture shows bicyclists not wearing helmets. FHWA strongly recommends that all bicyclists wear helmets.)
---
Lesson Outline
Shared roadways:

– Pavement markings.
– Wide curb lanes.
– Paved shoulders.
– Signed routes.
– Bicycle boulevards.

Design considerations:

– Rumble strips.
– Drainage grates.
– Railroad crossings.

Avoid!!

– Sidewalk bikeways.
– Raised curb dividers.
---
Shared Roadways
| | |
| --- | --- |
| | * No pavment marking are required for shared roadways |
---
Wide Curb Lanes
Provide where inadequate width exists for bike lane or shoulder.
4.2–4.5 meters (m) (14–15 feet (ft)).
Not greater than 4.5 m (15 ft)—cars use as two lanes.
---
Shared Lane Pavement Markings
Indicate possible presence of bicyclists to motorists.
Improve bicyclist positioning near parked vehicles and other obstacles.
---
Shoulders and Shoulder Bikeways
| | |
| --- | --- |
| | |
---
Designated Bike Routes
Source: http://members.aol.com/rcmoeur/
---
Bicycle Boulevards
Direct, continuous route.
Cross-traffic stops.
Vehicle traffic diverted.
Traffic calming used.
Ample signing.
Bicyclists protected at crossings.

(This picture shows a bicyclist not wearing a helmet. FHWA strongly recommends that all bicyclists wear helmets
---
Rumble Strips
Provided to alert motorists, but hazardous to bicyclists.
Min. 4 ft of usable shoulder width required.
Periodic gaps may be provided.
---
Drainage Grates
---
Railroad Crossings
---
Treatments to Avoid
Sidewalk bikeways:

– Conflict at driveways/intersections.
– Conflict with pedestrians.
– Lead to confusion about right-of-way.

Raised concrete curbs (or other barriers) separating motor vehicles from bicycles.
---
Lesson Summary
There are many ways to allow motor vehicles and bicycles to share the same roadway.
Use of specific design elements creates a shared roadway that is bicycle–friendly.
FHWA-HRT-05-112