Guidebook on Methods to Estimate Non-Motorized Travel: Supporting Documentation
2.12 Market Analysis
Relative Demand Potential
Descriptive Criteria: What is It?
Categories:
| | | | |
| --- | --- | --- | --- |
| Bicycle | Pedestrian | Facility-Level | Area-Level |
Authors and Development Dates:
Ohrn (1976); Deakin (1985); Erickson (1992); Clark (1997)
Purpose:
This is a general type of approach which estimates the maximum potential number of trips by bicycle or walking, based on: (1) current trip length distributions, usually by trip purpose; (2) rules of thumb on the maximum percentage of bicycling or walking trips by trip distance and purpose; or (3) the percentage of the population likely to switch to bicycling or walking, based on the definition of a target market of bicyclists or walkers according to commute distance, demographic characteristics, etc. An ideal network of facilities is assumed -- i.e., this method estimates how many trips might take place if quality of facilities was not an issue.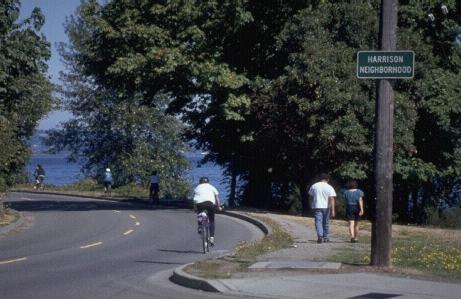 Figure 2.12 A market analysis approach can be used to estimate the maximum potential number of bicycling and walking trips in an area.
Structure:
Ohrn (1976) applied the following steps to estimate the potential for bicycle trips in the Minneapolis-St. Paul area:
1. Assume that the maximum length of a bicycle trip is 3.2 km.
2. Compute the total number of home-based trips by trip purpose that are less than two miles long, based on household travel survey data.
3. Apply assumptions about the percentage of these trips-by-trip type which can be made by bicycle (ranges from 5 percent for medical to 50 percent for school trips) to estimate the total trips attracted to bicycle if proper facilities were provided.
Deakin (1985) defined a demographic target group for San Francisco Bay Area commuter bicycling, based on data from the Bay Area Travel Survey, a review of the literature, and interviews with local and State officials. Her market was defined as: employed full-time; under 40 years old; travels less than 11.2 km one-way to work; drives alone during the peak-period; and owns a bike suitable for commuting. She then used these criteria to estimate a reasonable upper bound on the size of the potential bicycle commuter market.
Erickson (1992) refined Deakin's approach and applied it to the Chicago area. He developed trip length distributions by county for work trips less than 9.6 km, based on the 1980 Urban Transportation Planning Package. He then defined a target market population similar to Deakin's. Given information on the size of this target market population, he developed lower-bound and upper-bound estimates for the near-term mode shift potential, using statistics about the percentage of adults who bicycle regularly and the percentage of current bicycle commuters (derived from national studies), multiplied by the size of the target market.
Clark (1997) described a process to adjust vehicle trip tables in a travel demand model to account for future increases in bicycle and pedestrian trips. Existing trips are stratified by length and purpose, and adjustment factors which represent a potential percent increase in bicycle and pedestrian trips as a result of future improvements are applied to reduce the number of vehicle trips between each origin-destination pair. The adjustment factors vary by trip purpose (home-based work, home-based other, and non-home-based); length (less than 0.8 km, 0.8 to 4.0 km, and 4.0 to 8.1 km); and mode (pedestrian and bicycling), and are based on local judgment.
Calibration/Validation Approach:
Validation of this method would require observations of areas which already have a complete network of bicycle facilities. While a few such areas may exist, they have not (to our knowledge) been studied with the particular aim of determining if the entire market potential has been reached.
Inputs/Data Needs:
1. This method at a minimum requires local data on trip lengths by trip purpose, which can usually be obtained from household travel surveys.
2. Some variations of the method require assumptions about the total number of trips (by trip distance, purpose, and/or personal characteristics), which can be converted to bicycling or walking.
3. Some variations on this method also require other data to estimate the size of the target market population, which may be obtained from household surveys, census, and other data depending on how the target market is defined.
Potential Data Sources:
Estimates of market diversion potential could potentially be obtained from surveys of potential bicyclists nd pedestrians (see entry for "Preference Surveys"). In practice, they have been developed based on the professional judgment of planners and analysts.
Computational Requirements:
This type of analysis can generally be performed using a spreadsheet, although statistical software may be required for analyzing household travel surveys or other data sources.
User Skill/Knowledge:
In general, no special skills are required to apply this method.
Assumptions:
The most significant assumption employed in this method is in estimating the total mode shift by trip type, trip distance, market segment, etc., under the assumption of an ideal network of facilities. The methods documented here assume that (1) a certain percentage, if not all, of the target market will switch modes; or (2) a given percentage of trips by type and distance will be converted to bicycle or walk trips. These factors have generally been developed based on judgment and speculation. In fairness, little concrete evidence is available given the absence of areas with well-developed bicycle networks. The methods also generally ignore the potential effects of many other factors, such as quality of competing modes, terrain, weather, and public attitudes.
Facility Design Factors:
The methods assume a network of ideal facilities. However, they do not address which design factors are needed to create an ideal facility/network.
Output Types:
The output of this method may be the total number or percent of bicycle or walk trips estimated in the future under ideal conditions. The results can also be applied (with further assumptions) to estimate the corresponding reduction in automobile and/or transit trips. However, the method is only capable of treating utilitarian, not recreational, trips.
Real-World Examples:
A basic example of this approach can be found in Ohrn (1976) and is also outlined in Northwestern University Traffic Institute (no date). The approach was also applied by Clark (1997) using origin-destination trip tables from travel models. Deakin (1985; referenced in FHWA Case Study #1) estimated a demographic target market and a probable upper bound on those likely to switch to bicycling, based on household travel survey data. Erickson (1991; also referenced in FHWA Case Study #1) attempted to refine Deakin's approach and apply it to northeastern Illinois. Other variations on the market analysis method are referenced in the literature cited here.
Contacts/Source:
David Clark: Kittelson and Associates (Portland, OR).
Publications:
Clark, David E., P.E., Estimating Future Bicycle and Pedestrian Trips From A Travel Demand Forecasting Model, Institute of Transportation Engineers, 67th Annual Meeting, 1997.
Deakin, Elizabeth A. Utilitarian Bicycling: A Case Study of the Bay Area and Assessment of the Market for Commute Bicycling. University of California, Berkeley, ITS Research Report (1985). (Referenced in FHWA Case Study #1).
Erickson, Michael. The Potential for Bicycle Transportation in Chicagoland. Proceedings of the Velo 1992 conference (Perspectives Mondiales Sur le Velo; The Bicycle: Global Perspectives). (Erickson's work is also documented in his master's thesis from Northeastern Illinois University (1991) and referenced in FHWA Case Study #1.)
Federal Highway Administration (Stewart A. Goldsmith). Case Study No. 1: Reasons Why Bicycling and Walking Are Not Being Used More Extensively As Travel Modes. National Bicycling and Walking Study, U.S. Department of Transportation (FHWA), Publication No. FHWA-PD-92-041.
Louisse, Cees J. Obstacles and Potentions (sic) for Replacing Car Trips by Bicycle Trips. Proceeds of the Velo 1992 conference (Perspectives Mondiales Sur le Velo; The Bicycle: Global Perspectives), 1992.
Northwestern University Traffic Institute. Pedestrian and Bicycle Considerations in Urban Areas - An Overview. Training course developed for the U.S. Department of Transportation, Federal Highway Administration, in cooperation with Barton-Aschman Associates. (no date; est. late 1970s).
Ohrn, Carl E. Predicting the Type and Volume of Purposeful Bicycle Trips. Transportation Research Record No. 570, 1976.
Evaluative Criteria: How Does It Work?
Performance:
No information is available.
Use of Existing Resources:
The method can largely be applied using existing data, although the less data collected, the greater the number of assumptions made.
Travel Demand Model Integration:
The method is not designed to be integrated with travel demand models, although it may utilize travel demand model output in the form of trip tables by mode and purpose.
Applicability to Diverse Conditions:
The basic methodology can be applied in different areas.
Usage in Decision-Making:
No information is available.
Ability to Incorporate Changes:
The method can easily be used to test changes in assumptions about the potential market diversion by trip purpose, distance, and market segment. However, the method is a rough approximation of total mode split and is not sensitive to changes in facilities or policies (the effects of these must be estimated manually by adjusting the potential market diversion factors).
Ease-of-Use:
The method is relatively easy to apply assuming that the required data sources are available, although some analysis is required.
FHWA-RD-98-166