Table of Contents
Next Generation of Inspectors Will Fly Under Tall Bridges
Pavement & Materials Engineers Set Priorities through Forum
MRC Issues Challenge to Bridge Engineers
Federal Highway Administration and ITE Open Networking Opportunities
Will Your Bridge Withstand the Ultimate Test?
Latest Highway Construction Specs on the Web
HSIS Develops New Online Safety Database Web site
FHWA Partnership With Russia's Krasnodar Region Yields Positive Results
"AASHTO Roadside Design Guide" Course Available
INNOVATIVE TECHNOLOGY
---
Next Generation of Inspectors Will Fly Under Tall Bridges
Some bridge inspectors may possess hidden skills for accessing those hard-to-reach bridge girders, such as the talent to climb rocks or the ability to rappel from extremely tall heights. Because bridge structures can range from tens to hundreds of meters (or feet) in height, a one-man lift may not enable an inspector to reach those high areas for inspections and tests-making examinations lengthy, difficult, and unsafe for inspectors. The next generation of bridge inspectors will fly easily through these physical challenges.
As part of the Advanced Research team robotics program, the Federal Highway Administration (FHWA) is cofunding the Phase II pooled-fund development of the robot, Aerobot (for "aerial robot"), being led by California Department of Transportation (CALTRANS) and six other States. The Aerobot will perform bridge structure inspections, thereby reducing the risk to personnel and the completion time necessary to perform a physical inspection.
Already tested in prototype, the Aerobot is 0.6 meters (two feet) in diameter and able to vertically take off and land. It can be outfitted with cameras and other sensor packages, and can hover over and around large structures. In the electric version ordered by FHWA and CALTRANS, the Aerobot will carry a video camera and link to the ground via a communications cable. This enables inspectors to remotely inspect the bridge, without the need to climb under or around the bridge's structure.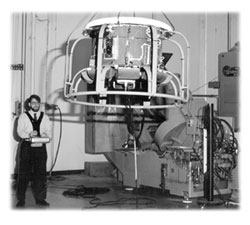 This flying Moller International Aerobot is similar to the one being studied for bridge inspections.
Aerobots use the ducted fan, and stabilization and control technologies, to supply vertical takeoffs, landings, hovering, and spatial positioning capabilities. Inspectors may operate the robots entirely autonomously as airborne robots, or semi-autonomously as remotely-controlled aerial platforms. The Aerobot performs vertical takeoff and landing functionalities from unimproved sites-without special launch or recovery equipment-and it hovers at a fixed point or moves horizontally at moderate speeds. The ducted fan technology makes it safe and quiet, and a single operator can control the device.
The aerodynamics available on the Aerobot make it possible to fly the aerial robot up close to a structure for inspection without the risk of damage to either the structure or the robot. By enabling more frequent inspections of inaccessible and dangerous parts of superstructures, this system should improve the bridge maintenance scheduling; therefore helping meet the strategic goal of improving mobility.
Dick Livingston 202-493-3063 dick.livingston@fhwa.dot.gov
AROUND THE REGION
---
Pavement & Materials Engineers Set Priorities through Forum
In this fast moving era, most transportation experts agree that keeping abreast of the latest research and technical information can save money, time, and research duplication. However, in everyday life, gathering and sharing knowledge often takes a back burner to other important daily activities.
The Federal Highway Administration (FHWA) Eastern Resource Center recently hosted a forum to improve technology transfer of ongoing research and implementation programs in the pavement and pavement materials fields. These forums also provided the opportunity to develop an FHWA-wide comprehensive, coordinated approach among the key players in this arena. Key technical pavement and materials specialists from different agency offices across the U.S. participated in the fourth National Pavement and Materials Engineers Meeting at the Maritime Institute of Technology in Baltimore, MD.
Attendees agreed that the practice of meeting with or polling Division and State offices before the actual forum made it easier to establish a work plan. This work plan priority selection process debuted at the San Francisco meeting and the new "voting" approach resulted in a more clear-cut ranking of high to low research and technology priorities. This format also gave participants an opportunity to showcase available technology and/or products, and to learn about the latest applications, successes, and failures in other parts of the country.
The top ten topics of concern to pavement and materials engineers include:
Internal Training for 2002 Design Guide
Smoothness
Use of Profilers-Inertial & Light Weight
Pavement Warranties
Pavement Knowledge System
Profile Calibration Center
Best Practice Reviews
Preventive Maintenance
QCQA Specification
Superpave
The next tentative meetings for pavement and materials engineers include the following:
July 2002-OST Out-year Program Submission to Congress
August/September 2002-FHWA Pavement Forum Meeting coordinated by the Midwest Resource Center
September 2002-FHWA Headquarters, Resource Center, and Turner-Fairbank Highway Research Center Pavement and Materials Technology Transfer Meeting
Carin Michel 410-962-2530 carin.michel@fhwa.dot.gov
MRC Issues Challenge to Bridge Engineers
The Federal Highway Administration (FHWA) Midwest Resource Center (MRC) Director of Field Services George Ostensen issued a challenge to Mid-western bridge engineers-build bridges faster to reduce construction time and driver frustration.
Ostensen issued his challenge in his opening remarks at the FHWA MRC and Division Office Bridge Engineers Workshop, held this winter in Olympia Fields, IL. The workshop brought together MRC area bridge engineers and the MRC infrastructure team to discuss current technologies, lessons learned, and program issues. In his remarks, Ostensen presented the revised FHWA vision and mission and his expectations for delivering technology. He also provided an overview of the Technology Implementation Group (TIG), and stressed innovation and technology deployment as the norm. Ostensen asked engineers to find opportunities for using preengineered/ prefabricated bridge elements to reduce construction time, which will minimize the impact of congestion on the traveling public.
The three-day, MRC-sponsored workshop consisted of sessions covering such topics as bridge preservation and management; bridge design and construction; high performance materials; bridge geotechnical and hydraulics issues; bridge program issues; and bridge research activities. Technical and program presentations were given by attendees of the workshop, followed by open discussions. Guest speakers from FHWA's Western Resource Center (WRC) and Eastern Resource Center (ERC) made presentations covering their area success stories in implementing high-performance materials.
Participants were given several opportunities to help further technical initiatives in their local areas by training for CAESAR hydraulic program; hosting seminars on high performance reinforced steels; helping further bridge technology roadmap development and implementation; and assisting with technical and program reviews.
Several attendees requested that Federal Highway Administration (FHWA) and State highway agencies coordinate a joint workshop that includes bridge personnel-already in the works.
Larry O'Donnell 708-283-3502 Larry.O'Donnell@fhwa.dot.gov
INFRASTRUCTURE
---
Federal Highway Administration and ITE Open Networking Opportunities
This winter, representatives from the Institute of Transportation Engineers (ITE) toured the Federal Highway Administration (FHWA) Turner-Fairbank Highway Research Center (TFHRC). The purpose of the visit and tour was to familiarize ITE staff with some of the ongoing and completed research in the Operations and Safety Research and Development Offices and to discuss networking opportunities for ITE, whose members often have an interest in products and research produced by TFHRC.
ITE Technical Projects Director Lisa Fontana, Communications Director Eileen Erickson, and Marketing Sales Director Marianne Saglam were shown a number of TFHRC laboratories, including the Traffic Research Lab, the Arens Photometric and Visibility Lab, the HYSIM Driving Simulator, and the RealSIM Instrumented Research Vehicle. Additionally, they were given demonstrations of the Nationwide Differential Global Positioning System (NDGPS), which will provide positioning and location information to travelers with a 1- to 2- meter accuracy when it's brought online. It should also be able to integrate with collision notification systems, cooperative vehicle-highway collision avoidance systems, and in-vehicle route guidance systems.
ITE has more than 15,000 members including traffic engineers, transportation planners, and other professionals who are responsible for meeting society's needs for safe and efficient surface transportation through planning, designing, implementing, operating, and maintaining surface transportation systems worldwide. It has 70 local and regional chapters; and more than 90 student chapters, which provide additional opportunities for information exchange, participation, and networking.
Jack Jernigan 202-493-3363 jack.jernigan@fhwa.dot.gov
Will Your Bridge Withstand the Ultimate Test?
In some areas, engineers must consider other variables in addition to weather fluctuations and traffic usage when developing their bridge designs. For safety, mobility, and critical infrastructure maintenance, they need to know if their bridge design and materials will pass the ultimate test-an earthquake.
Sponsored by Federal Highway Administration (FHWA), Oregon Department of Transportation, and Washington State Department of Transportation, the Third National Seismic Conference and Workshop on Bridges and Highways was held April 28 through May 1, 2002, in Portland, Oregon. Organized by the FHWA Western Resource Center, and the Multidisciplinary Center for Earthquake Engineering Research, headquartered at the University at Buffalo, conference attendees included bridge and highway engineers; design consultants; researchers; and Federal, State, and local transportation agency representatives.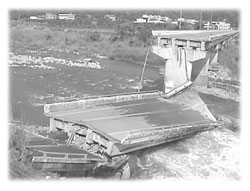 The Bei-Fung bridge was damaged by the Chi-Chi earthquake on September 21, 1999 in central Taiwan. This superstructure collapsed because the fault ruptured underneath the bridge. The fault rupture lifted the upper stream by 5-6 meters (16-19 feet).
A key objective of the conference was to provide a forum for exchanging information about: current national and regional practices; research of seismic-resistant design; and retrofits for new and existing bridges and highway systems in all seismic zones. The conference also focused on engineering and technological advances that provide increased seismic safety for highway bridges, structures, and systems in the new millennium.
Featuring more than 50 presentations and poster exhibits on new and innovative technologies, the conference highlighted the latest research and earthquake engineering developments for bridges and highway systems. The program also included an International Forum of speakers from countries that have implemented advanced earthquake design and mitigation technologies and techniques. The Technology Showcase featured exhibitors displaying the latest products and services for seismic design and retrofit.
Lessons Learned from Recent Earthquakes (Since 1998)
Seismic Design Practices and Specifications
Design of Major Bridges in High and Moderate Seismicity Areas
Effects of Near Field Earthquakes on Bridges
Seismic Practices for Transportation Structures and Systems
Displacement Based Design
Emerging Seismic Design and Retrofit Technologies
Development and Testing of the retrofit. New LRFD Seismic Design
Specifications for Highway Bridges
For additional information about the conference, visit http://mceer.buffalo.edu/meetings/3nsc/NewVersion/ Default.asp.
Or, contact:
Roland Nimis, Conference Chair Roland.Nimis@fhwa.dot.gov 415-744-2653
W. Phillip Yen, Ph.D., P.E. Wen-huei.Yen@fhwa.dot.gov 202-493-3056
Latest Highway Construction Specs on the Web
Specifications for highway construction and design are constantly in flux, which presents problems for engineers needing the latest information to build safe and cost-effective transportation systems. With 50 State Departments of Transportation (DOTs) and other national transportation agencies constantly changing, updating and issuing new specifications on an as-needed basis, tracking specifications for new ideas, concepts, and processes becomes an implementation challenge.
The Federal Highway Administration (FHWA) and the American Association of State Highway and Transportation Officials (AASHTO), is launching a National Highway Specification Web site, providing state-of-the-art methods to electronically access and search specifications from National Transportation Agencies (NTAs), all State DOTs, AASHTO, the District of Columbia, the Territory of Puerto Rico, and many highway-related organizations. It will feature the most current and approved standard specifications and supplements; performance-related specifications (PRS); the latest quality assurance (QA) specifications; accessibility to other specification-related Web sites; and convenient links to the National Highway Institute's (NHI) training materials. The group envisions the Web site as a clearinghouse and electronic library for searching, reviewing, cross-referencing, and downloading the most up-to-date specification information.
FHWA and AASHTO plan three phases for Web site development.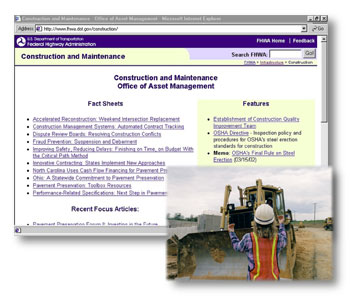 National Highway Specification Web site will provide engineers and transportation professionals with state-of-the-art methods for electronically accessing and searching specifications from National Transportation Agencies (NTAs), all State DOTs, AASHTO, the District of Columbia, the Territory of Puerto Rico, and others.
Phase I includes preliminary fact-finding research for designing the Web site, which will be used to develop a pilot Web site for testing. Special attention is being paid to creating a usable design, and an in-depth e-mail survey of 49 NTAs was conducted in 2000 with over 80 percent response rate. Go to www.fhwa.dot.gov/construction to visit the construction Web site.
In Phase 2, the team will incorporate approved materials from agencies across the country into the Web site. The project team will enhance the structure created in the pilot Web site development; will populate the site with content; and will add features, as necessary. The team will complete the final Web site development from FHWA/AASHTO Technical Panel comments and a group of beta testers by late 2002. Phase 3 of the project incorporates the preparation of courses and NHI training programs.
For more information, please contact:
Ken Jacoby 202-366-6503 ken.jacoby@fhwa.dot.gov
SAFETY
---
HSIS Develops New Online Safety Database Web site
The design and operation of any highway system includes the potential safety impact on highway users. Making decisions about the appropriate system requires an understanding of geometric roadway design; roadside hardware selection and placement; traffic control measures; vehicle size and performance capabilities; and road users' needs and abilities-and how these factors impact safety and road development. By researching and analyzing crash information, roadway geometrics, traffic control devices, traffic volume data, and hardware/obstacle locations on the roadside, engineers can develop an understanding of how roadway and driver characteristics affect highway safety.
The Federal Highway Administration (FHWA) developed the Highway Safety Information System (HSIS), a highway safety database, which uses data already collected by States for managing their individual State highway systems. The HSIS is a roadway-based system providing quality data on a large number of accident, roadway, and traffic variables. Data are acquired annually from a select group of States, processed into a common computer format, documented, and prepared for analysis.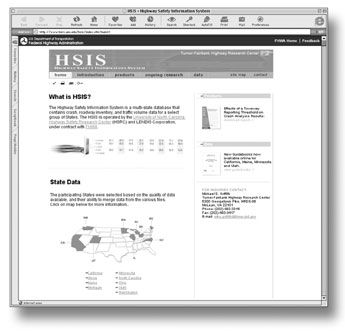 This screen capture shows the new HSIS Web site in development at www.tfhrc.gov.
The HSIS can be used to analyze a large number of safety problems ranging from the more basic "problem identification" issues, to identifying the size and extent of a safety problem, to modeling efforts that attempt to predict future accidents from roadway characteristics and traffic factors. Additionally, the HSIS supports the FHWA safety research program and provides input for program and policy decisions. It is available to analysts conducting research under the National Cooperative Highway Research Program, university researchers, and others involved in the study of highway safety
More information about the HSIS can be found on the new HSIS Web site at www.tfhrc.gov. Visitors will find the following tools in the "Products" section of the Web site: summary reports, research reports, safety analysis tools, and published articles and technical papers in professional journals. The "Data" area contains State statistics, generic variable tables, guidebooks, and data request capabilities.
Carol Tan Esse 202-493-3315 Carol.Tan.Esse@fhwa.dot.gov
INTERNATIONAL
---
FHWA Partnership With Russia's Krasnodar Region Yields Positive Results
In 1997, the World Bank released statistics on Russian roads: road traffic was increasing by 27 percent every year; 40 percent of the Federal roads needed pavement strengthening, while 19 percent required rehabilitation and 11 percent needed widening. The World Bank report stated, "Russian road problems are severe. The condition of local roads is even worse and most are unpaved. There is also a lack of technical knowledge and little funds to make much-needed repairs."
Russia's Krasnodar Regional Highway Administration, located near the Black Sea, took steps to surmount these problems by establishing a highway fund and getting legislative support from their regional government for highway maintenance, rehabilitation, and equipment purchases. Krasnodar also trained personnel in new technology implementation; established its own technology transfer center; and improved the management structure, allowing it to make decisions on almost all of the transportation problems through a specially-formed regional board, made up of contractors and highway administration managers. Krasnodar's transportation engineers created a computer database that monitors current conditions. They concentrated on more effective road and bridge rehabilitation planning, leading to more effective use of funds and establishing a cost-effective way for maintaining their regional road network based on deadlines and standards.
This new approach to improving the Krasnodar road systems was successful because of strong executive personnel training abroad-in the United States, England, Finland, France, and Germany. The North Carolina Department of Transportation (DOT) and Krasnodar Regional Highway Administration launched one of the first "sister state" programs between the U.S. and Russia. This relationship, supported by the Federal Highway Administration (FHWA), the American Road and Transportation Builders Association (ARTBA), and the Russian Federal Highway Administration, includes public and private sectors, and enables both countries to share knowledge, experience, and new technologies through ARTBA and FHWA program grants.
Knowledge sharing between Krasnodar and U.S. colleagues suggested the necessity for a better approach to ecological issues. This environment-friendly approach has not only been considered to be the most important chapter in the relationship between Krasnodar transportation officials and its U.S. counterparts, but an organization was created to help Krasnodar with the disposal of asphalt concrete plant waste products and to deal with other ecological issues.
The help and support of North Carolina DOT, U.S. and Russian Federal Highway Administrations, and other organizations witnesses a remarkable transformation-from a centralized to a market economy-enabling the roads of the Krasnodar Region to become one of the leading roadway systems in Russia.
Tracy Busch 202-366-9807 tracy.busch@fhwa.dot.gov
TRAINING
---
"AASHTO Roadside Design Guide" Course Available
National Highway Institute (NHI) has updated the two-day American Association of State Highway and Transportation Officials (AASHTO) Roadside Design Guide instructor-led course to reflect the concepts and practices embodied in the latest 2002 edition of the AASHTO Roadside Design Guide. In addition, an 8-hour Web-based course is available for those who cannot attend the instructor-led course, making this training accessible from an individual participant's desktop at any time of the day.
The instructor-led course provides a comprehensive overview of the AASHTO publication. Each student will receive a copy of the AASHTO Roadside Design Guide as the course text. Upon completing the instructor-led or online course, participants will be expected to:
State the nature and extent of single-vehicle run-off-road crashes
Recognize unsafe roadside design features and elements
Prioritize roadside safety improvement options
Apply the clear-zone concept to all roadway class types
Select, design, and install crash-worthy roadside hardware
Apply safety concepts to roadside features and appurtenance selection/use in work zones (2-day course only)
Compare existing agency roadside design policies/practices to the current state-of-the-art and initiate changes in policy where appropriate
The course is primarily intended for Federal, State, local, and consulting highway design engineers involved in roadside design or in the formulation of policies and standards related to safer roadside design. The topic may also interest and provide direct applications to construction and maintenance personnel.
To schedule the two-day instructor-led course, contact NHI's Danielle Mathis-Lee at 703-235-0528, danielle.mathis-lee@fhwa.dot.gov. For technical information on the course, contact Richard Powers at 202-366-1320, richard.powers@fhwa.dot.gov.
Or, register online for the Web-based course at www.nhi.fhwa.dot.gov/. For questions about the online course, contact Kathy Frankle at 410-414-2925, kfrankle@chesapeake.net.
Kyung Kyu Lim 703-235-1260 kyung.lim@fhwa.dot.gov