Table of Contents
Next Step in Differential GPS Evolution: 10 Centimeter Accuracy
ITS Launches Enhancements to Deployment Tracking Web Site
Pennsylvania Seeks Pooled-Fund Research Partners
East Meets West: Russia Cements a Work Plan with PennDOT
TFHRC Paves the Way for Polymer-Modified Asphalt Study
Consortium Looks to Infrastructure Technologies to Reduce Crashes
San Antonio Hosts Workshop on Safety Workforce Planning
NHI's Road Safety Audit Course Available
TECHNOLOGY INNOVATION
---
Next Step in Differential GPS Evolution: 10 Centimeter Accuracy
Heavy rains and snowstorms reduce visibility, making it difficult for drivers to keep their eyes and wheels on the road. Continuing advancements in global positioning systems (GPS) might one day enable drivers and snowplow operators to stay within their lanes or make it easier for surveyors to measure the height, positioning, and coordinates of a specific area.
At one research site in Hagerstown, MD, Federal Highway Administration (FHWA) researchers from the Turner-Fairbank Highway Research Center (TFHRC) improved the precision of the Nationwide Differential Global Positioning System (NDGPS), calling the new technology High Accuracy-Nationwide Differential Global Positioning System (HA-NDGPS).
Like a standard GPS unit, HA-NDGPS uses satellite transmissions to provide information about the specific location of an object in the United States. HA-NDGPS, however, calculates the error in the GPS navigation solution (coordinates) and broadcasts a correction to receivers located within range of the transmitter, allowing even greater accuracy. In fact, researchers estimate the accuracy to be within 10 centimeters (or 4 inches). That's about the width of a roadway lane marking!
Engineers estimate the accuracy of the new HA-NDGPS will hold true to within 320 kilometers (or 200 miles) of a transmitter. This opens the door for the transportation industry to use the system to survey land more accurately; track and ensure that snowplows stay on the road; provide drivers with real-time mapping and positioning of their commercial and private vehicles; move freight around a port; and keep passenger vehicles safely within a lane and on the road.
With HA-NDGPS, engineers can improve the accuracy of radionavigation by correcting delays caused by atmospheric interference, clock-time errors, satellite positioning, solar wind, gravitational forces, etc. Ultimately, HA-NDGPS could help provide radionavigation service that enhances safety by facilitating a host of transportation safety applications, including lane-departure warnings.
Today, individuals and organizations from both the public and private sectors are using the existing NDGPS technologies with 1- to 3-meter (3- to 10-feet) accuracy for everything from positioning Coast Guard navigation buoys to highway road surveying and enhanced 9-1-1 mapping.
For more information, contact:
Rudy Persaud 202-493-3391 rudy.persaud@fhwa.dot.gov
James A. Arnold 202-493-3265 james.a.arnold@fhwa.dot.gov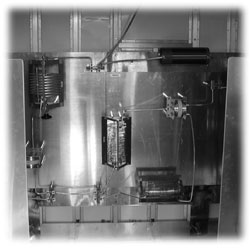 Researchers working on HA-NDGPS at TFHRC built this diplexer to feed two high-powered broadcast signals into the same broadcast antenna, making maximum use of existing infrastructure.
OPERATIONS
---
ITS Launches Enhancements to Deployment Tracking Web Site
Want to know how the deployment of electronic fare payment systems in Denver, CO, compares with those in Nashville, TN? For information on this and other ITS deployment data, visit the newly updated Web site at www.itsdeployment.its.dot.gov. The FHWA Intelligent Transportation Systems (ITS) Joint Program Office recently announced several improvements to its deployment tracking Web site, offering enhanced online access to nationwide ITS deployment data.
The ITS Deployment Tracking Web site tracks the U.S. Department of Transportation's substantial progress toward achieving its goal of deploying ITS infrastructure in the Nation's largest metropolitan areas by 2005. The site contains data from surveys conducted in 78 of the largest metropolitan areas in the United States and, for the first time, provides users with access to data from earlier surveys and produces charts showing deployment trends. Users can access data from earlier surveys through a single search request-previously only available through separate Web pages. The user can select any one of nine data fields-including electronic toll collection, transit management, and emergency management-showing national, metropolitan area, or individual agency trends.
The user also can select an "agency," which could be as small as one local fire department or as large as a city or county, and view trend information for all data fields for that agency. The site features tables and charts that may be displayed on screen or printed. Users can still access earlier versions using a separate button on the home page of the new site.
For more information about the Web site's content, contact:
Susan Slye 202-366-1068 susan.slye@fhwa.dot.gov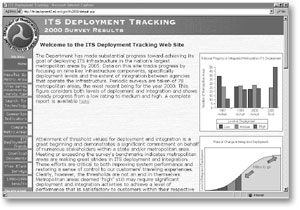 This screen capture shows the home page of the ITS Deployment Tracking Web site.
PARTNERSHIIPS
---
Pennsylvania Seeks Pooled-Fund Research Partners
Potential Areas For Partnership Activities
Pavements
FHWA Accelerated Loading Facility (ALF) Pooled Fund
Calibration of 2002 Design Guide
Rolling Weight Deflectometer
Concrete Pavement Analysis
Structures
Certification of Inspection/Painting
Bridge Deck Cracking
Performance of Cross-Frame Diaphragms in Complex Steel Bridge Structures
Highway Safety
Motorcycle Safety
Portable Concrete Barrier Research and Separation for Work Zone Safety
ITS Technologies in Work Zones
Center Line Rumble Strips in Relation to Pavement Performance and Safety
Traffic
Quick Zone Partnership
Rural Real-Time Traveler Information
Traffic Systems Operations Under Adverse Weather Conditions
Intersection Collision Avoidance
A meeting of the minds brought together experts from the Pennsylvania Department of Transportation (PennDOT) and their counterparts at the Federal Highway Administration (FHWA) for a recent 1-day tour of the facilities at the Turner-Fairbank Highway Research Center.
"We want to join other States in setting up pooled-fund studies and research," said Bob Garrett, PennDOT's research manager. "We want to demonstrate the value of this type of collaboration to other States."
"One example of this collaboration would be for us to serve as a test bed to field-validate the assumptions made through research performed by the Federal Highway Administration," said Gary Hoffman, chief engineer at PennDOT. "We believe that we can provide valuable feedback to researchers."
During the recent visit, more than 30 transportation professionals from PennDOT-representing a broad range of research areas from concrete and steel to intelligent transportation systems-spent the day touring the Turner-Fairbank facility and research labs. They had the opportunity to interact with their FHWA counterparts to explore opportunities for potential pooled-fund partnerships.
Some of the PennDOT representatives visited the Paint and Corrosion Laboratory, where they viewed the test results of research on water-based versus zinc-rich paints. After pointing out various accelerated testing devices, the tour guide explained that FHWA researchers have defined a new standard for measuring the extent of failure during accelerated testing of painted tiles. This work was done in cooperation with the American Association of State Highway and Transportation Officials' Subcommittee on Materials during the development of the new specification for testing bridge coatings under the National Transportation Product Evaluation Program (NTPEP). The new evaluation method will bring greater consistency and credibility to the test data generated by the NTPEP program.
At end of the day, the group identified a number of areas for research collaboration-everything from pavements and structures to highway safety and traffic. FHWA and PennDOT officials will meet again later this summer.
For information about pooled-fund research projects in Pennsylvania, contact:
Gary Hoffman 717-787-6898 ghoffma@dot.state.pa.us
Robert Garrett 717-787-0800 rgarrett@dot.state.pa.us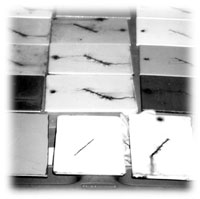 PennDOT guests were shown painted tiles scribed by the laser method.
East Meets West: Russia Cements a Work Plan with PennDOT
In search of effective pavement rehabilitation and repair techniques, a delegation of Russian transportation professionals recently visited the United States to exchange ideas and technologies in roadway maintenance. The Russians also were interested in visiting construction and maintenance sites where they could view U.S. methods to repair roadways-specifically rural and local roads.
The tour was a part of the Federal Highway Administration's (FHWA) international twinning program, which matches State departments of transportation with sister organizations in other countries. Tour delegates from Nizhny Novgorod, a Russian oblast (equivalent to a U.S. State), kicked off their U.S. visit in Washington, DC, where they explored the FHWA Turner-Fairbank Highway Research Center asphalt labs and met with FHWA engineers to learn more about the origins and evolution of U.S. Superpave technologies.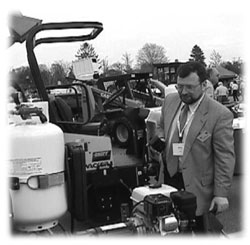 Mark Alpert, deputy director of the Nizhny Novgorod Road Administration, inspects crack-sealing equipment at the Pennsylvania State Association of Township Supervisors' 80th Annual Convention and Trade Show held in Hershey, PA.
The tour progressed from the District of Columbia north to Harrisburg for a meeting with Pennsylvania Department of Transportation (PennDOT) and Pennsylvania Local Technical Assistance Program (LTAP) representatives. Common interest areas included budgeting, funding sources, and snow removal. Hailing from a region located at a latitude farther north than the State of Maine, which experiences major temperature and climate changes, the Nizhny Novgorod delegates brought extensive experience in combating the ravages of freeze-thaw cycles that can benefit PennDOT and other States.
Several rural areas in Pennsylvania became part of the tour because many of the Nizhny Novgorod oblast roads are similar to Pennsylvania's local roads, in terms of age and mileage. Eager to discuss the importance of a consistent maintenance program, Sergei Zotov and Mark Alpert, representing the Nizhny Novgorod Highway Administration, and Vasily Samusev, assistant to the vice governor of the Nizhny Novgorod Oblast Administration, had three primary goals for their visit: (1) to gain an overview of Pennsylvania's legislative process, (2) to learn about training procedures at a Pennsylvania technology transfer center, and (3) to visit construction and maintenance sites.
As a result of the visit, members from PennDOT, Pennsylvania LTAP, and the Nizhny Novgorod Highway Administration identified several areas for joint research, including cold mix asphalt and cold liquid crack sealants. The PennDOT and LTAP representatives were eager to learn more about Nizhny Novgorod's certification programs for maintenance technicians. Maintenance certification is of considerable interest to Pennsylvania at both the State and local levels, and PennDOT officials hope that continued collaboration with the Russians will provide new insights into providing quality maintenance.
The delegates also met with staff from the FHWA Pennsylvania Division Office to discuss the details of Federal-State relations. After a warm introduction on the floor of the Pennsylvania House of Representatives, the Russian delegates were inundated with questions from representatives regarding transportation legislation and rule-of-law reforms in Russia. House Representatives also asked questions about privatization and the current business climate.
Based on the U.S. LTAP model, the Nizhny Novgorod Highway Administration opened its technology transfer and training center in October 2001. While in the United States, the Russian delegates were eager to absorb best practices from their PennDOT and LTAP counterparts, including training and establishing performance standards for contractors. Many technologies and processes are directly transferable between the two countries, because Pennsylvania's local-level, low-volume roads and small budgets are remarkably similar to those in Nizhny Novgorod.
The delegates also explored the variety of U.S.-manufactured equipment for low-volume roads on display at the Pennsylvania State Association of Township Supervisors' 80th Annual Convention and Tradeshow in Hershey, PA. Afterwards, they visited several construction sites, where they could view the equipment operating in the field. While participating in a PennDOT Foremen's Academy field pipe installation, the Russian guests watched intensely and were impressed that effective training could take place in the field-a valuable take-home lesson learned during the visit.
This East-West partnership is just beginning-with a signed work plan between PennDOT and the Nizhny Novgorod Road Fund for 2002-2003 and a joint seminar on winter maintenance planned for 2003.
Tracy Busch 202-366-9807 tracy.busch@fhwa.dot.gov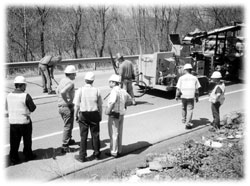 The Nizhny Novgorod delegation observes crack-sealing equipment in operation in Mifflin County, PA.
INFRASTRUCTURE
---
TFHRC Paves the Way for Polymer-Modified Asphalt Study
Nearly 10 percent of asphalt mixtures laid in the United States each year use modified asphalt binders, yet Superpave specifications only apply to unmodified or "neat" binders. The asphalt pavement team at the Federal Highway Administration's (FHWA) Turner-Fairbank Highway Research Center (TFHRC) is conducting a study that will help develop Superpave specifications for modified binders and ultimately enable engineers to select binders that increase the longevity of roads in various climates.
The research team is constructing 12 new, hot-mix asphalt (HMA) test lanes at TFHRC's pavement test facility. The 44- by 4-meter (144- by 13-foot) lanes will incorporate eight polymer-modified and four neat asphalt binders. The team will use accelerated loading facility (ALF) machines to study the durability of the different binders.
The binders for the test include:
Terminal-Blend Crumb Rubber-Modified Asphalt Binder
Crumb Rubber-Modified Asphalt (wet process)
Polyester Fiber
Polyester Fiber Plus Polymer
Elasto Plastomeric Polymer
Plastomeric Polymer
Elastomeric Polymer
Air-Blown Asphalt Binder
Control Asphalt Binder
Participants in this national pooled-fund project include the asphalt industry and FHWA's Eastern Federal Lands Highway Division and Office of Pavement Technology and the project is still open to additional participants.
Consortium Looks to Infrastructure Technologies to Reduce Crashes
In cities and towns across the country, crashes bring traffic to a standstill and all too often result in personal injuries, property damage, and hours of congestion. Almost 30 percent of crashes occur at intersections, and another 20 percent are run-off-the-road crashes. Because of these alarming statistics, safety is a major concern for the Federal Highway Administration (FHWA). Engineers across the Nation are looking at ways to improve highway infrastructure to make roads safer and to help alleviate traffic congestion.
The FHWA Infrastructure Consortium (IC) supports the research and development of infrastructure technologies aimed at preventing many types of crashes. Infrastructure-based systems for collision avoidance are classified as either those that are infrastructure-only or those that are cooperative between infrastructure and a vehicle. Infrastructure-only systems rely solely on roadside warning devices to communicate with drivers. Cooperative systems communicate information directly to vehicles and drivers. The major advantage of cooperative systems lies in their capability to improve the interface with the driver, virtually ensuring that the driver receives a warning.
The IC is a Federally designated pool fund, using monies from FHWA and three State departments of transportation (DOTs)-California, Minnesota, and Virginia. The IC and FHWA's Intelligent Vehicle Initiative (IVI) will help ensure that infrastructure-based safety systems are researched, evaluated, deployed, operated, and maintained effectively.
The IC is interested in several infrastructure technologies, including "sensor-friendly" tags that improve the performance of in-vehicle sensors; point communication systems (e.g., Dedicated Short-Range Communication) that provide information transmission to and from vehicles; global positioning systems (GPS) to locate vehicles accurately; and roadway databases that provide geometric and operational descriptions of the roadway.
As with other large-scale research projects, deployment of infrastructure technologies will require considerable investment, the application of national standards, and coordination with vehicle manufacturers.
At a workshop in Minneapolis in August 2000, participants discussed countermeasures to prevent intersection crashes, including relatively complex systems that can identify safety threats using sensors for traffic, pedestrians, and bicycles. Other systems analyze traffic movements to determine how to avoid threats and communicate countermeasures to drivers. Consortium members agreed that deployment of infrastructure-based systems for avoiding intersection collisions could happen by 2010.
In October 2000, a second workshop in Washington, DC, shared information about intersection collision avoidance systems with members of the automobile manufacturing industry, garnering industry support for the long-range potential of vehicle-highway cooperative systems to improve safety. Both industry and government representatives agreed that near-term solutions to the intersection safety problem are needed.
During the workshops, the IC identified eight research tasks necessary for the development of intersection collision avoidance systems:
Analyzing crashes and mitigation concepts
Developing concepts and algorithms for intersection collision avoidance
Developing analytical models to assess safety countermeasures
Developing or adopting infrastructure-based sensors
Examining human factors issues
Defining vehicle-infrastructure (or vehicle-vehicle) communication methods
Assessing benefits, costs, and barriers to deployment
Developing infrastructure systems
The IC is developing a detailed 3-year work plan and aims to conduct research with universities in participating States. In June 2003, the IC plans to conduct a demonstration of early intersection collision avoidance at FHWA's Turner-Fairbank Highway Research Center in conjunction with the IVI National Meeting.
Bob Ferlis 202-493-3268 robert.ferlis@fhwa.dot.gov
SAFETY
---
San Antonio Hosts Workshop on Safety Workforce Planning
Making more effective use of human capital to enhance highway safety was a major theme at the Highway Safety Workforce Planning Workshop held in San Antonio, TX, this spring. Cosponsored by the Federal Highway Administration (FHWA), the Institute of Transportation Engineers (ITE), the American Association of State Highway and Transportation Officials (AASHTO), and the Transportation Research Board (TRB), the workshop emphasized the importance of training and workforce development.
Held back-to-back with a regular meeting of AASHTO's Standing Committee on Highway Traffic Safety also taking place in San Antonio, the workshop drew more than 60 transportation and safety professionals from around the country. Attendees represented various highway safety organizations, including the National Association of Governors' Highway Safety Representatives, FHWA's National Highway Institute, and several State departments of transportation.
The workshop focused on assessing safety needs and developing steps to ensure the availability of a capable workforce that is ready to meet future needs at transportation agencies. The opening speaker, Bruce Warner, director of the Oregon Department of Transportation, addressed the attendees to discuss his State's views on the value of workforce development to the highway safety community.
During the 2-day event, key topics included legislation to improve safety training and education, strategies to provide continuous professional development, and an approach to address workforce planning for the U.S. Department of Transportation.
Workshop attendees recommended that the enforcement, engineering, education, and emergency medical services communities be involved in safety education and safety awareness outreach. Participants also recommended that changes made through traditional safety partners be incorporated into external agencies' programs, such as driver's education courses. Working with external agencies helps ensure that safety information is transferred and disseminated to a broad audience.
At the end of the workshop, policy recommendations drafted by workshop attendees included:
Developing safety training programs to prepare workforce members for their roles and responsibilities
Establishing and funding a road safety curriculum
Conducting safety training that is performance-driven
Establishing a clearinghouse for training resources
Attendees also recommended measuring the success of safety training programs by conducting performance evaluations of safety professionals and by measuring reductions in fatalities, injuries, and crashes.
For more information about the results of the workshop, contact:
Kristine Lee Leiphart 202-366-1809 kristine.leiphart@fhwa.dot.gov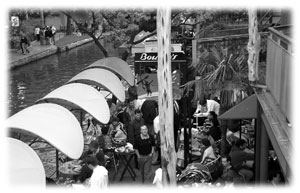 The Highway Safety Workforce Planning Workshop took place near the Riverwalk in San Antonio, TX, on April 3 and 4, 2002.
TRAINING
---
NHI's Road Safety Audit Course Available
The National Highway Institute (NHI) is offering a 2-day course, "Road Safety Audits and Road Safety Audit Reviews" (course #380069).
Participants in this training will learn how to improve transportation safety by applying two new proactive approaches called Road Safety Audits (RSA) and Road Safety Audit Reviews (RSAR). These techniques provide examinations of future and existing roadways by independent, qualified audit teams.
This course includes "hands-on" application of the training materials, which include such topics as:
Road Safety Audit definition and history
Why care about safety
Stages of a Road Safety Audit
Details on how to conduct a Road Safety Audit
Easy-to-use checklists
Legal considerations
The RSA training provides practical information on how to conduct a Road Safety Audit. Participants will receive a copy of the Road Safety Audits and Road Safety Audit Reviews Reference Manual.
Upon completion of the course, participants will be able to:
Use the Road Safety Audit process terminology accurately
Perform a simple Road Safety Audit, as a member of a team
Assess the benefits of a Road Safety Audit on a statewide basis
The course is intended primarily for Federal, State, and local transportation personnel who are likely to serve on a Road Safety Audit team, as well as consultants who conduct highway safety studies.
To schedule the course, contact:
Danielle Mathis-Lee 703-235-0528 danielle.mathis-lee@fhwa.dot.gov