Table of Contents
FHWA Completes Tests of Weather Information System
FHWA Improves Model for Tracing Dispersion of Air Pollutants
New Site Pools Research on the Web
New Web Site Tracks State Transportation Research
Making Two-Lane Roads Safer
Louisiana Launches Campaign to Curb Tailgating
Course Applies Location Data to Transportation Planning
Peer Network Fields Questions on Traffic Control Devices
OPERATIONS
---
FHWA Completes Tests of Weather Information System
Approximately 6,500 people are killed and 450,000 are injured in weather-related crashes each year in the United States. Adverse weather also can reduce freeway speeds by 38 percent and traffic capacity in urban areas by 30 percent, adding to congestion. The U.S. Department of Transportation's (DOT) Intelligent Transportation Systems (ITS) Joint Program Office has funded a number of projects and field tests that aim to alleviate these problems, including the development of the Advanced Transportation Weather Information System and, more recently, the Maintenance Decision Support System, and the testing of FORETELLTM—a multistate initiative that integrates ITS with advanced weather prediction systems to improve highway maintenance and traveler information systems.
The FORETELL field operational test was initiated in 1998 to help State highway managers, trucking professionals, transit operators, and other road users operate more efficiently and safely during poor driving conditions. The Iowa DOT was the lead state in the program with participation from the Missouri and Wisconsin DOTs, Environment Canada, and the Ministry of Transportation in Ontario, Canada. The test was completed in 2002, and evaluation reports currently are being written. The private partner in the field test, Castle Rock Services, continues to run the system as a road weather service provider.
Accessed via the Internet, FORETELL collects and analyzes weather data and then provides authorized users with timely, detailed, and relevant weather-related road information, including:
Current weather, updated hourly (called "nowcasts").
Detailed 24-hour weather forecasts, updated four times per day.
Gridded atmospheric weather forecasts and nowcasts mapped to interstate highways and U.S. and State routes.
"Plain English" descriptions of road and weather conditions.
Weather event descriptions, provided on demand via the Internet or telephone.
FORETELL collects information from several sources, including the National Weather Service, Environment Canada, agricultural and airport sensors, ITS snowplow sensors, and roadside automatic weather stations.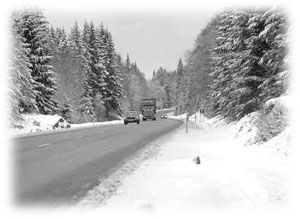 FORETELL provides road users with weather information to help them navigate through poor driving conditions such as the snow shown here.
The system is in the process of being distributed to New England. According to surveys conducted during testing, users see FORETELL as a valuable tool for weather prediction. Approximately 50 percent of highway maintenance operators indicated that they based decisions on FORETELL information, and more than 50 percent of all users expressed an intent to continue employing FORETELL in the future. A smaller percentage indicated a willingness to pay for the service.
For more information, contact:
Paul Pisano 202-366-1301 paul.pisano@fhwa.dot.gov
INFRASTRUCTURE
---
FHWA Improves Model for Tracing Dispersion of Air Pollutants
Automobile commercials often show motorists driving roads in wide-open spaces and picturesque vistas. Researchers studying the flow of air contaminants frequently base their models on these types of areas, rather than on the more frequently traveled urban and suburban environments where buildings, trees, road cuts, and other obstacles create conditions that can trap air pollutants. Recognizing the limited utility of existing combined air flow/pollution models, the Federal Highway Administration's (FHWA) Office of Infrastructure, along with the Federal Aviation Administration, developed a new model for tracing the dispersion of air pollutants—the Canyon Plume Box (CPB-3) Model.
FHWA developed the CPB-3 model to evaluate how vehicle emissions, particularly in urban areas, affect air quality. City landscapes often are characterized by structures of varying size that can obstruct air flow or create pollution-trapping vortices. The new model accounts for these obstructions and uses more realistic site geometries and road conditions. Transportation planners and environmental researchers will be able to use the CPB-3 model to determine the concentration levels of air pollutants associated with various roadway configurations. Researchers in other fields will be able to use the model's results to assess the impact of vehicle emissions on human health and the environment.
To develop CPB-3, FHWA used a wind tunnel to measure wind flow speed, turbulence, and pollutant concentrations. Several types of roadway, building, and site geometries were evaluated, including varying wall heights, partial building openings, ratios of road width to building height, road curvature, and intersection configurations. Researchers also conducted full-scale evaluations of air flow and pollutant levels at sites in Houston, TX; New York, NY; Seattle, WA; St. Paul, MN; and Syracuse, NY.
CPB-3 is based on mathematical computations of air flow patterns and an empirical model that represents atmospheric turbulence, as well as the turbulence generated by moving automobiles and the waste heat released by their engines. The new CPB model expands the versatility of an earlier version that was based on relatively few, full-scale measurements.
FHWA published its findings in a two-volume series: Report No. FHWA-RD-02-036, Modifications of Highway Air Pollution Models for Complex Site Geometries, Volume I: Data Analyses and Model Development and Report No. FHWA-RD-02-037, Volume II: Wind Tunnel Test Program. Further information about the CPB-3 model is available from the TechBrief for these reports, which will be posted on the FHWA Web site.
For more information, contact:
Robert J. Yamartino 207-780-0594 rjy@maine.rr.com
TECHNOLOGY INNOVATION
---
New Site Pools Research on the Web
Before the Information Age, transportation researchers and project managers at State departments of transportation, metropolitan planning organizations, universities, or private companies lacked the benefit of a central location that would enable them to locate Federal and State pooled funding for research projects. Now State and local agencies can harness the power of the Internet to stretch transportation dollars, locate research projects that other States are working on, and determine the status of ongoing projects and reports.
In December 2002, the Federal Highway Administration's (FHWA) Transportation Pooled Fund Program launched a Web site at www.pooledfund.org. FHWA's Transportation Pooled Fund Program enables various public and private entities to pool their resources and jointly fund research, planning, and technology innovations aimed at solving a variety of transportation-related problems. The site provides an interactive place for researchers and project managers to view online solicitations; commit project funding; and post work plans, progress reports, final reports, implementation activities, and other relevant information.
Visitors to the easy-to-use site can learn about newly proposed research; find studies to join; browse ongoing projects sorted by organization, study status, or date; or sign up to receive e-mail notifications about new solicitations. In addition, the site has a password-protected area where authorized users can locate partners interested in supporting their research efforts, commit funds to proposed studies, post new project information, and review their financial commitments.
Examples of projects currently on the site include Developing a National Strategic Plan for Advanced Construction and Maintenance, sponsored by the California Department of Transportation, and Evaluation of Recycled Materials for Roadside Appurtenances, sponsored by FHWA.
"The success of FHWA's Pooled Fund Program depends on good communications among study partners," says William Zaccagnino, program manager for the Transportation Pooled Fund Program at FHWA. "One means of communication is the newly launched Web site, where project managers can go to find out about the status of projects involving their State. When project managers know how the research is progressing, they are more likely to be happy with the outcome of the research and use the new information to reduce congestion and make roads safer and bridges more secure."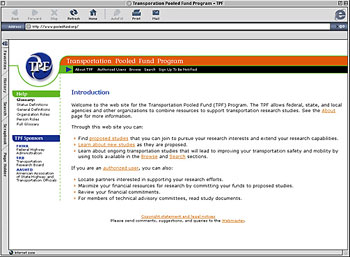 FHWA's Transportation Pooled Fund Program Web site.
Lisa Williams 202-493-3376 lisa.williams@fhwa.dot.gov
STATE RESEARCH
---
New Web Site Tracks State Transportation Research
Houston, TX, and Houston, AK, have more in common than a shared name. Both have major highways running through them, main rail line connections to other cities, and very high or very low temperatures. Until recently, however, transportation professionals in these two Houstons had little opportunity or need to share information about ongoing research projects on roadways, rail lines, or temperature extremes. The need for States to stretch transportation dollars, coupled with the relatively low price of disseminating information across the Internet, presents a potential method for solving problems, alleviating redundancy, and adding to the information pool.
With funding for the development provided by the National Cooperative Highway Research Program and with the support of the Federal Highway Administration (FHWA) and other Federal and State agencies, the Transportation Research Board (TRB) launched the Research-in-Progress (RiP) Web site at http://rip.trb.org. The Rip Web site provides a place for transportation agencies and organizations to post and share information about new, current, and recently completed research projects and enables these groups to explore opportunities for future collaboration. It features easy access to a database of more than 6,600 project summaries, including start dates, contacts, and funding details. The purpose of the site's database is to facilitate information exchange on research topics such as highway operations, bridge maintenance, pavement design, and public transit.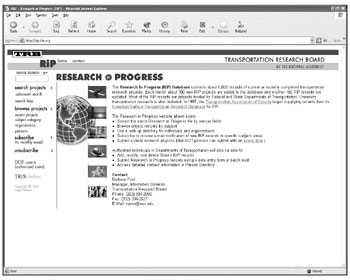 TRB's Research-in-Progress Web site enables researchers to access information about ongoing transportation research from around the country.
Targeting engineers, planners, and other researchers within Federal and State agencies, academia, and industry, the Rip Web site offers a number of ways to learn about transportation projects. Researchers can search by keyword or browse project records by subject, organization, contact person, or date. Users also can sign up to be notified by e-mail about new Rip records in specific subject areas.
Each month, TRB and others add about 100 new Rip projects to the database, and another 150 Rip records are updated. To gather new information, TRB actively solicits project entries from transportation agencies and universities. Authorized users at State departments of transportation (DOT) also can add, modify, and delete information on their projects or submit new records. Users not affiliated with a State agency can submit research projects using an online entry form. In addition, Federal agencies, including FHWA, submit monthly project updates and listings.
"The database will help prevent duplicative efforts and redundancies between researchers," says Barbara Post, manager of information services at TRB. "We're trying to prevent researchers at one State DOT from completing research only to find out that another State DOT already conducted the same research." This also enables States to spread transportation dollars further. For more information, contact:
Barbara Post 202-334-2990 bpost@nas.edu
SAFETY
---
Making Two-lane Roads Safer
The Federal Highway Administration (FHWA) has issued the 2003 public release of the Interactive Highway Safety Design Model (IHSDM), a suite of software analysis tools for evaluating the safety and operational effects of geometric design decisions on two-lane rural highways.
In today's highway development environment, citizens want agencies to create context-sensitive designs, yet demand that safety not be compromised in the process. IHSDM provides quantitative estimates of the safety and operational consequences of design alternatives crucial to decisionmaking in this environment.
IHSDM consists of five evaluation modules:
Policy review—automating the current process of checking a design against applicable quantitative design guidelines.
Crash prediction—providing quantitative safety performance measures, including expected crash frequency and severity.
Design consistency—assessing operating speed consistency.
Intersection review—evaluating design elements that influence the safety performance of at-grade intersections.
Traffic analysis—evaluating traffic operations on the roadway under current or projected traffic loads.
Using these evaluation modules, project decisionmakers can estimate and compare the safety and operational consequences of design alternatives. To facilitate the use of IHSDM, FHWA provides mechanisms for importing design data from commercial roadway design software packages currently utilized by highway agencies and their design consultants.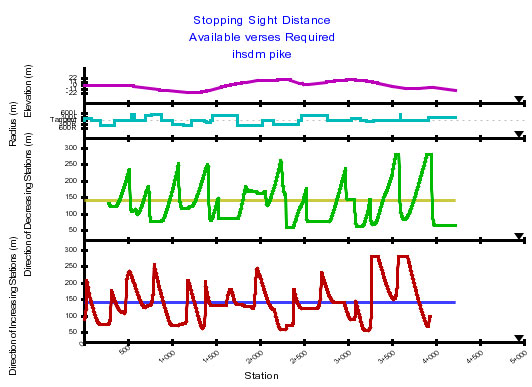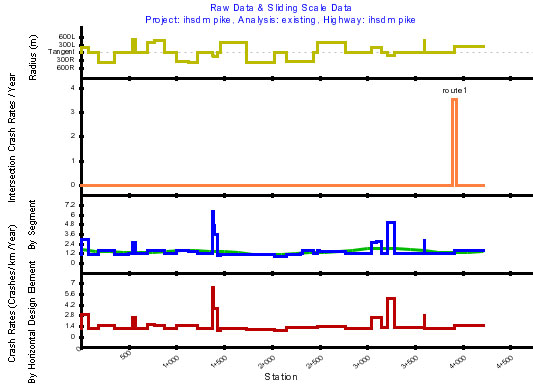 The graphs above comparing available versus required stopping distances and displaying various annual crash rates are two examples of the types of outputs produced by IHSDM.
The 2003 release of the IHSDM software may be downloaded free of charge for testing and evaluation purposes through the IHSDM Web site at www.fhwa.dot.gov/research/tfhrc/projects/safety/comprehensive/ihsdm/index.cfm. The Web site is the primary source of information on the research underlying IHSDM, answers to frequently asked questions, technical support options available to users, and updates on training opportunities.
Ray Krammes 202-493-3312 ray.krammes@fhwa.dot.gov
Louisiana Launches Campaign to Curb Tailgating
In Louisiana, tailgating—or following too closely behind another vehicle—causes more than half of all crashes on State-maintained highways and nearly 40 percent of crashes on all public roads in Louisiana. To increase awareness of this dangerous behavior, the Louisiana Department of Transportation and Development (LADOTD), in partnership with the Federal Highway Administration's Louisiana Division Office, the Louisiana State Police, and the Louisiana Highway Safety Commission, launched a statewide campaign urging motorists not to tailgate.
The statewide public awareness program, "Don't Be a Tailgator," began as a smaller campaign sponsored by a Louisiana State Police troop near Houma, LA, in early 2002. After hearing about the campaign, LADOTD decided to push the campaign statewide by broadcasting five radio public service announcements (PSAs) during all 12 Louisiana State University (LSU) football games of the 2002-2003 season and publishing a full-page advertisement in each of the programs distributed at the LSU games.
To educate audiences about the dangers of tailgating, the advertisement and radio messages on the Louisiana Sports Network creatively contrasted good tailgating at LSU football games—socializing in the parking lot before entering the stadium—with the bad tailgating that occurs on the highways. The mascot for the campaign is an alligator dressed in the uniform of a Louisiana State trooper.
"The campaign is designed to make people more aware of their driving habits," says Ken Perret, assistant secretary for LADOTD's Office of Planning and Programming. "By trying to change driver behavior, we hope to reduce highway fatalities and the number of incidents to which the State Police and other emergency services must respond."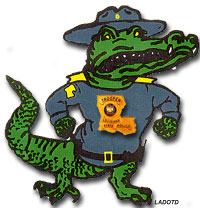 The mascot, shown here, for the "Don't Be a Tailgator" campaign is an alligator dressed in the uniform of a Louisiana State trooper.
After the LSU football season, other universities wanted to participate in the campaign. In February 2003, LADOTD launched the second phase of the "Don't Be a Tailgator" campaign at 12 Louisiana colleges during the 2003 college baseball season with television PSAs, radio announcements, infield signage at the ballparks, and advertisements in the game programs. Universities participating in the baseball program include Tulane University, Grambling State University, and the University of New Orleans, among others.
In addition to the football and baseball campaigns, LADOTD is taking the campaign into middle-school classrooms as part of the safety program conducted by the State Police. Students learn about tailgating during safety presentations, receive a "Don't Be a Tailgator" activity book, and are awarded a certificate for participating in the program.
"The campaign is wide-reaching," says Perret. "The PSAs, signage, and other materials at the football and baseball games reach college students, their families, and the residents of the nearby communities, most of whom already are driving and possibly tailgating. The classroom campaign teaches kids about the hazards of tailgating before they learn to drive and establish their own driving patterns."
For more information about the "Don't Be a Tailgator" campaign, contact:
Mary Stringfellow 225-757-7610 mary.stringfellow@fhwa.dot.gov
Karla Armand 225-379-1928 karmand@dotd.state.la.us
TRAINING
---
Course Applies Location Data to Transportation Planning
These days, a wealth of spatial data—from maps and photographs to digital video and satellite imagery—-is available to transportation professionals with a click of the mouse. The variety of spatial data technologies that makes this possible is the subject of a new course, Applying Spatial Data Technologies for Transportation (#151039A), offered by the Federal Highway Administration's (FHWA) National Highway Institute (NHI).
The course will prepare participants to implement transportation planning applications that rely on spatial data technologies. FHWA, in cooperation with the Bureau of Transportation Statistics, developed the course to introduce middle managers—those who manage technical specialists—to today's major spatial data technologies, such as remote sensing, geographic information systems (GIS), and global positioning systems (GPS).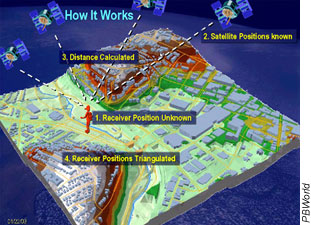 As shown in this figure, GPS receivers use timing signals from at least four satellites to establish a position. GPS and other spatial data technologies introduced in the course can help transportation professionals collect and analyze data more efficiently.
Through discussions and joint-problem solving activities, attendees will learn about different aspects of the technologies, including cross-cutting implementation issues (both technological and organizational), training needs, and evaluation measures. Exercises focus on how to use spatial data technologies in an environment where data sharing and cooperative agreements are essential components for success.
Upon completion of the course, participants will be able to:
Recognize current and emerging spatial data technologies.
Understand the benefits and limitations of each technology.
Benchmark the trends in terms of high, medium, and low risk for implementation.
Understand why a transportation planner would want to apply each technology.
Describe specific examples of applications using spatial data technologies in transportation planning.
Recognize the value of cooperative efforts—both internal and external—when implementing the technologies.
Participants should have a basic understanding of GIS or have completed NHI's course Applications of GIS for Transportation (#151029). Professionals who need to use spatial data technologies will benefit most from the course, including individuals representing State departments of transportation, metropolitan planning organizations, county and city governments, transit agencies, airport and port authorities, consultants, and State/Federal agencies that have access to environmental data warehouses.
To learn more, consult the course catalog on NHI's Web site at www.nhi.fhwa.dot.gov. For scheduling, contact Danielle Mathis-Lee at 703-235-0528 or danielle.mathis-lee@fhwa.dot.gov. For technical information, contact Mark Sarmiento at 202-366-4828 or mark.sarmiento@fhwa.dot.gov.
Leslie Wright 703-235-1260 leslie.wright@fhwa.dot.gov
CUSTOMER SUPPORT
---
Peer Network Fields Questions on Traffic Control Devices
With more than 1,000 pages of information on traffic control devices in the Federal Highway Administration's (FHWA) Manual on Uniform Traffic Control Devices, locating specific data can be a daunting task. To help transportation professionals sort through the voluminous manual and obtain answers to questions regarding traffic control devices, FHWA established the Peer-to-Peer program on Traffic Control Devices (P2P TCD), a free service for State and local transportation agencies.
Through the P2P TCD program, State, regional, county, or local transportation officials contact FHWA via e-mail or a toll-free number to request assistance. After receiving the request, the P2P TCD coordinator selects a transportation peer from a nationwide network of volunteers to contact the requestor and help him or her resolve the problem or answer the question.
P2P TCD volunteers are able to answer questions about a variety of topics, including the application of signage at unique locations, raised pavement markings, sign warrants, work zone devices, and installation of traffic control devices for persons with disabilities.
The information exchanges generated by P2P TCD will help transportation agencies implement TCD standards more easily and cost-effectively by disseminating the most up-to-date information on these technologies and strategies. This implementation will improve traffic flow, increase safety for motorists and pedestrians, and help streamline information gathering that will help reduce overall project costs.
For information about the program, manual, or traffic control devices in general, send an e-mail to P2P@fhwa.dot.gov or call 1-888-700-PEER (7337). To volunteer as a P2P TCD peer, or to learn more about the manual, visit the discussion area on the manual's Web site at http://mutcd.fhwa.dot.gov.
Debra Chappell 202-366-0087 debra.chappell@fhwa.dot.gov