Table of Contents
Update on MDSS Tool for Winter Road Maintenance
New Group Evaluates ITS Technology Benefits and Costs
Alaska Emergency Response Rolls Out After Earthquake
Research Proposals from Small Businesses being Reviewed
Report Evaluates ITS in Work Zones
Web Site will Ease the Search for Specs
What Can Telecommunications Technologies Do for Your Highway?
OPERATIONS
---
Update on MDSS Tool for Winter Road Maintenance
Adverse weather conditions dramatically affect the Nation's surface transportation system, and each year drivers lose 544 million hours of time on America's highways because of bad weather. First reported in the January 2002 issue of TRANSPORTER, the Federal Highway Administration (FHWA) Maintenance Decision Support System (MDSS) is being designed to assist road maintenance managers at State departments of transportation (DOTs), local agencies, and private industry in treating roadways and predicting the impact of adverse weather. This multiyear project is now in Phase II of developing and demonstrating a functional prototype and evaluating the operation of selected components of the prototype. Six national laboratories developed the MDSS prototype: the Cold Regions Research and Engineering Laboratory (CRREL), the National Center for Atmospheric Research (NCAR), the Massachusetts Institute of Technology - Lincoln Laboratory (MIT/LL), the National Severe Storms Laboratory (NSSL), Environmental Technology Laboratory (ETL), and the Forecast Systems Laboratory (FSL).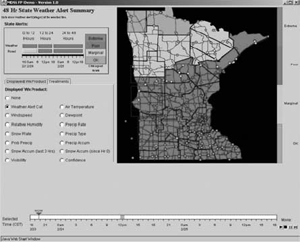 Users of MDSS can view weather alert summaries like this one.
Developers designed the MDSS capabilities based on user needs, such as the desire for a system that can monitor and identify weather threats and help users make decisions, or a system that enables operations to dispatch road maintenance crews. By providing users with guidance on options for road maintenance, MDSS will enable highway departments to deploy snowplows more effectively to improve road conditions, potentially leading to reduced response costs. The system also will lead to a more efficient use of chemicals for treating roadways, minimizing the impact on the environment. By combining standards of practice with the latest weather models and forecasting techniques, MDSS enables users to:
View predicted weather and road conditions.
Monitor the potential for deteriorating road conditions.
Predict the impact of upcoming weather on specific road segments.
Assess treatment recommendations based on proven rules of practice.
Devise plans for anti-icing, deicing, plowing, or other road treatments.
"MDSS users can select a maintenance route, look at the predicted weather and road conditions, and view a recommended treatment plan," explains William Mahoney, a scientist at NCAR. "They also can pose 'what if' scenarios by editing the recommended treatment plan and seeing what would happen if they took no action, used the recommended treatment plan, or employed some modification of the recommended treatment."
The FHWA has recently completed demonstration and field test of the MDSS in Iowa. For more information on MDSS, visit FHWA's Road Weather Management Web site at www.ops.fhwa.dot.gov/weather/index.htm.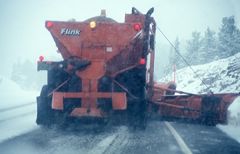 MDSS can help users decide when they should deploy equipment such as the snowplow shown here.
Rudy Persaud (202) 493-3391 rudy.persaud@fhwa.dot.gov
Nancy Singer 202-366-0660 nancy.singer@fhwa.dot.gov
INTELLIGENT TRANSPORTATION SYSTEMS
---
New Group Evaluates ITS Technology Benefits and Costs
According to the U.S. Department of Transportation (USDOT), a "freeway management system" can reduce crashes by up to 50 percent in metropolitan areas. Other intelligent transportation systems (ITS), such as electronic devices that collect tolls, also can lead to a 200 to 300 percent increase in highway capacity compared to attended toll lanes. ITS technologies like these can help improve safety and mobility; however, to make an informed decision, technology transfer organizations and Federal, State, and local agencies need to know the benefits and costs of ITS investments to help them analyze the best use of transportation dollars.
Formally announced at the ITS World Congress in Chicago, IL, in October 2002, the International Benefits, Evaluation, and Costs (IBEC) working group held its first official meeting in January 2003 during the Transportation Research Board's annual conference in Washington, DC. The purpose of the working group is to share information about innovative methods to evaluate costs and benefits of ITS projects. IBEC activities and events will aim to:
Provide advice and oversight on cost-benefit and cost-effectiveness analyses to members and government agencies in charge of ITS activities.
Promote development of consistent and more reliable methodologies for the evaluation and deployment of ITS products and services.
Supply information to transportation professionals, decisionmakers, and the public on the measured costs and benefits of ITS deployment.
Share information about nontechnical and institutional issues and lessons learned based on evaluations of ITS projects.
In November 2003, IBEC will sponsor four sessions at the ITS World Congress in Madrid, Spain, featuring discussions on how transportation professionals currently perform ITS evaluations in the United States and Europe, the results of previously conducted ITS evaluations, and the most effective use of evaluation results. IBEC also will offer a course at the meeting in Madrid to train participants on how to evaluate ITS projects. Planners, researchers, and ITS system and service suppliers, decisionmakers, and the public may join the group.
For more information on IBEC, contact Dr. Richard Mudge, the elected chair of IBEC, at 703-871-5255 or r.mudge@delcan.com. To join IBEC, send an e-mail to ibec@trl.co.uk.
Joe Peters202-366-2202joe.peters@fhwa.dot.gov
EMERGENCY RESPONSE
---
Alaska Emergency Response Rolls Out After Earthquake
Recently, the Nation has concentrated on preparing for emergencies-whether it is planning a response to a natural disaster or a man-made catastrophe. On November 3, 2002, an earthquake registering 7.9 on the Richter scale shook Alaska's interior, triggering mudslides, splitting roadbeds, and causing a shutdown of the trans-Alaska oil pipeline. Quick response and coordination among staff from the Federal Highway Administration's (FHWA) Alaska Division Office and the Maintenance and Operations Division at the Alaska Department of Transportation and Public Facilities (DOT&PF) helped expedite the emergency response and recovery process.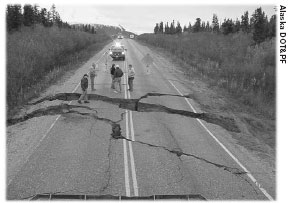 Engineers assess an earthquake-damaged section of the Richardson Highway in Alaska. Photo credit: Alaska DOT&PF
The earthquake resulted in statewide road damage, especially along the only routes connecting Alaska's two largest cities and on the three highways that lead out of Alaska to Canada and the lower 48 States. Although two of the highways, the George Parks and the Alaska Highway, sustained only limited damage, two other important roads, the Richardson Highway and the Tok Cutoff, were not passable over several miles.
The decentralized organization of the DOT&PF made the response faster because it enabled DOT&PF to assess the damage throughout the State immediately after the earthquake. The DOT&PF also attribute their response to knowing the proper emergency procedures, because they knew how and when to implement appropriate response actions.
"As soon as the trembling stopped, Alaska's transportation crews went into the field to start working," says Ralph Swarthout, director for DOT&PF's northern region. "The crews immediately began inspecting the roads, bridges, and airports, and in many cases, made repairs as they went." For example, two DOT&PF district managers, an area manager, and five maintenance foremen-all located throughout interior Alaska-immediately began driving the State-maintained highways after the earthquake, while their crews repaired the damage.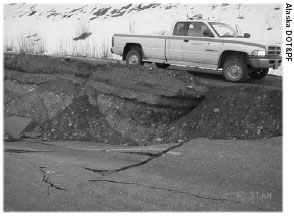 A truck stops next to a portion of the Tok Cutoff damaged during the earthquake.
The FHWA Alaska Division office was also able to immediately respond to the event and provided same day on-site staff support to assess the extent of the damage and to make preliminary emergency relief eligibility determinations.
Familiarity with emergency procedures enabled the public information officer at DOT&PF to begin coordinating dissemination of information to the media and the public immediately, allowing the director, managers, and foremen to focus on gathering information and performing other response and recovery tasks.
The earthquake occurred on the Denali Fault and was preceded by an earthquake measuring 6.7 on the Richter scale 11 days earlier. The second quake was the largest seismic event ever recorded on the Denali Fault and one of the largest ever recorded on U.S. soil. For more information, contact:
Shannon McCarthy 907-451-2240 shannon_mccarthy@dot.state.ak.us
Karen Schmidt 907-586-7158 karen.schmidt@fhwa.dot.gov
INNOVATIVE RESEARCH PROGRAM
---
Research Proposals from Small Businesses being Reviewed
The Federal Highway Administration (FHWA) currently is reviewing proposals from small businesses to participate in the Small Business Innovation Research (SBIR) program, which provides funding for the research, development, and commercialization of new and innovative products. The deadline for proposals was May 1, 2003. The next solicitation for proposals will open in mid-February 2004, with a new set of topics to consider.
Congress established SBIR to stimulate technological innovation by small, minority, and disadvantaged businesses, to help the Federal government meet its research and development (R&D) needs, and to increase the private sector commercialization of innovative technologies derived from Federal R&D. FHWA encouraged small businesses in the United States with 500 or fewer employees to submit proposals for projects with a focus in one of the following areas:
Developing a visual and quantitative representation of the value of right-of-way land acquisitions within environments that have multiple natural hazards.
Increasing the usability of the TEXAS model, a traffic simulation tool that models vehicle flows through intersections.
Designing a fiber-optic system to monitor the internal relative humidity of concrete.
Demonstrating the use of native plant sods for controlling erosion and sedimentation during highway construction projects.
Adapting real-time software for the Linux operating system that can interact with advanced programs for controlling traffic.
Creating a user interface for a computer-design system for pavement repair.
FHWA plans to offer at least one award in each category. Criteria for selection include the scientific and technical merit of the proposal; the commercial potential of the research; the quality of the work plan; the qualifications of the researchers; and the adequacy of the supporting staff, facilities, equipment, and data for successfully completing the proposed research. Final selections will be posted on the RSPA-Volpe Center Web site sometime this fall.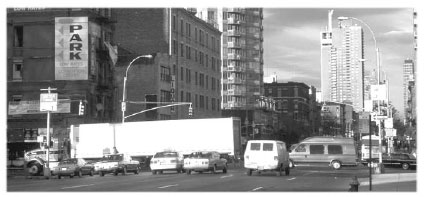 The Small Business Innovation Research program will fund projects in several topic areas, including improving the TEXAS model, a tool used to model vehicle flows through intersections.
FHWA typically awards SBIR funding to projects that are in one of two phases of development. In Phase I, FHWA awards funds for feasibility-related experimental or theoretical research. The dollar value of Phase I proposals cannot exceed $100,000, and the period of performance may be up to 6 months. Phase II funds are awarded to businesses that previously received a Phase I award and are ready to move into the research and development stage of their work. The period of performance for Phase II projects is approximately 2 years, with a dollar value of up to $750,000. After the second phase, projects may continue to Phase III, which includes the development of commercial applications for the research. The small businesses must conduct the third phase using non-Federal funds.
For more information on the topic areas or the application process, contact:
Norman Paulhus 202-493-3491 norman.paulhus@fhwa.dot.gov
Joseph Henebury 617-494-2051 henebury@volpe.dot.gov
SAFETY
---
Report Evaluates ITS in Work Zones
Lines of orange cones and flags, concrete traffic barriers, workers wearing hardhats, and enormous bulldozers are all noticeable to drivers as they approach roadway work zones. Unfortunately, other telltale signs of a work zone sometimes also include long lines of traffic and vehicle incidents. More than 1000 fatalities and 37,000 injuries are caused by crashes in work zones, annually. According to the Federal Highway Administration (FHWA) 2002 user satisfaction report Moving Ahead: The American Public Speaks on Roadways and Transportation in Communities, traffic delays associated with work zones were one of the major causes of road user dissatisfaction with the Nation's highways.
To help State departments of transportation (DOTs) alleviate work zone-related congestion and improve safety, FHWA's Intelligent Transportation System (ITS) Joint Program Office recently announced publication of a report on how State DOTs can use ITS technologies to ease traveler frustration and prevent crashes. Targeting managers and maintenance and construction engineers, the report, Intelligent Transportation Systems in Work Zones: A Cross-Cutting Study, looks at how four State DOTs successfully should be used ITS technologies in work zones.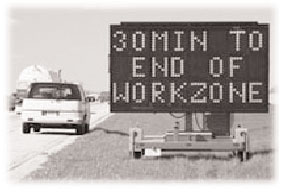 Dynamic message signs such as the one shown here can be used to alert drivers about work zone delays.
In Springfield, IL, the Illinois DOT used traffic sensors, closed-circuit television cameras, and portable remote-controlled dynamic message signs to improve traffic flow over a 64-kilometer (40-mile) stretch of roadway during a bridge reconstruction and pavement resurfacing project. These ITS technologies enabled the State to move traffic and minimize congestion. Consequently, there were no significant traffic back-ups; there were fewer speeding citations; and during this construction, only two crashes occurred-both caused by impaired drivers.
During reconstruction of 5 kilometers (3 miles) of roadway in Arkansas along one of the major routes into Memphis, TN, the Arkansas State Highway and Transportation Department (AHTD) used traffic sensors to collect data on work zone delays. The AHTD ITS application evaluated the data and disseminated information the data to motorists via dynamic message signs and highway advisory radio. The system enabled drivers to choose alternate routes and gave AHTD a better understanding of daily traffic patterns so contractors could avoid or reduce operations during peak periods.
In Lansing, MI, the Michigan Department of Transportation (MDOT) employed cameras, dynamic message signs, queue detectors, and specialized ITS software to gather, process, and display traffic data during a reconstruction project that involved involving rebuilding and reconstructing bridges and parts of the freeway, and adding a "merge weave" for a third lane in each direction. The ITS technologies helped MDOT issue real-time traffic information to travelers, respond to incidents more quickly, and communicate more effectively with local agencies, and guide traffic around the work zone during the full closure that -all of which reduced construction time from two seasons to one.
And, during a 2-year project in New Mexico involving 179 kilometers (111 miles) of construction, 45 new bridges, and 10 rehabilitated bridges, the New Mexico State Highway and Transportation Department (NMSHTD) used closed circuit television cameras, light-emitting diode portable dynamic message signs on trailers, and arrow dynamic signs to help with traffic management. These measures enabled NMSHTD to more quickly identify incidents, which resulted in a 44 percent reduction in incident response and roadway clear time, contributed to fewer secondary crashes, and enabled operations to better maintain traffic flow.
In addition to these projects, the report also profiles other ITS technologies, such as variable speed limit systems; intrusion alarms, which can detect vehicles entering the buffer areas between lanes and work crews;, and the Wizard CB Alert System for truckers, which automatically broadcasts advisory messages about road conditions and hazards.
The report is the latest publication in FHWA's series, ITS Benefits Special Studies. To request a copy of the report, call the ITS/Operations helpline at 866-367-7487 or send an e-mail message with shipping information to itspubs@fhwa.dot.gov. To download a copy of the report, visit www.itsdocs.fhwa.dot.gov/jpodocs/repts_te/13600.html.
Tracy Scriba 202-366-0855 tracy.scriba@fhwa.dot.gov
DESIGN
---
Web Site will Ease the Search for Specs
Locating and retrieving highway specifications can be a time-consuming task for project planners, managers, and engineers. Although State departments of transportation (DOTs) are moving their construction specifications online, agencies vary considerably in how they format and maintain their standard specifications, supplements, special provisions, and related documents. In addition, many State bridge, port, and highway authorities issue their own specifications and rules, as do national trade organizations and Federal agencies, and these specifications all affect the highway construction industry.
The Federal Highway Administration (FHWA) and the American Association of State Highway and Transportation Officials (AASHTO) are working together to launch a Web site on national highway specifications to provide a central location for information on highway specifications. The Web site will be designed to save transportation professionals, contractors, and researchers time and money by providing an easier way to search for specifications and spec improvements.
The goal of the new site will be to offer state-of-the-art methods to electronically access and search approved highway construction specifications from national transportation agencies (NTA) including the 50 state departments of transportation, American Association of State Highway and Transportation Officials, and other highway-related organizations. Currently approved standard specifications and supplements, and emerging specifications in areas of quality assurance, performance-related specifications, and other innovative practices will be featured.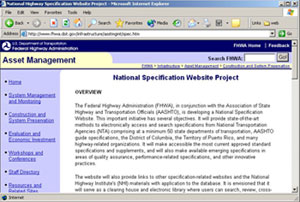 FHWA's Web site on national highway specifications nearing reality.
Targeting highway engineers, contractors, and researchers, the site also will link to other specification-related Web sites and the FHWA National Highway Institute (NHI) training materials that are related to specification topics. It will serve as a clearinghouse and electronic library where users can search, review, cross-reference, and download specifications, training materials, and other specification-related documents. It will also provide Web-based discussion forums for QA and PRS specifications.
The first phase included preliminary fact-finding research, which assessed current practices about developing and maintaining electronic specifications and related documents to determine the best overall Web design. Answers to the fact-finding research confirmed that there is significant variability in how individual NTAs format, access, and maintain their standard specifications, supplements, special provisions, and related documents. However, the data clearly indicated that most, if not all, NTAs maintain their specifications online now or will do so in the near future.
The next phase developed a pilot Web site, based on the conceptual design presented in the Web site development report. The pilot Web site was a logically organized and searchable compilation of NTA specifications for seven NTAs. Although representing less than ten percent of the fully developed library's contents, the majority of the library user interface development, library organizational structure, and search engine was completed in this phase of the project. The final phase is to evaluate the major features of the specifications library, and to refine any needs identified in the pilot.
This specifications Web site is presently being converted from the pilot into an online FHWA Web site. For additional information about this site, and progress on this site, contact:
Kenneth R. Jacoby 202-366-6503 ken.jacoby@fhwa.dot.gov
TRAINING
---
What Can Telecommunications Technologies Do for Your Highway?
Telecommunications is the act of transmitting electronic or electromagnetic voice, data, image, and message information over a distance using telephone lines, cable, satellite, microwave, and light. Today, telecommunications is a part of virtually every transportation job, and it enables the industry to do more in a shorter amount of time, such as, collaborate and research on the Web; plan, design and build roads; install traffic safety measures; or deploy intelligent transportation systems (ITS) technologies. Where the industry once used paper and physical meetings, telecommunications now provides a fast, efficient means of collecting, analyzing, and sharing transportation data within the industry -and with the traveling public. Because the high-tech industry can create and deploy innovations more quickly in this electronic era, technical information becomes quickly outdated, and many transportation professionals may not be familiar with the newest technologies available on the market.
The goal of a recently updated course offered by the Federal Highway Administration's (FHWA) National Highway Institute (NHI) is to bring transportation professionals up to speed with the latest telecommunications technologies. The course, ITS Telecommunications Overview (#137005A), is part of the core curriculum established by FHWA's ITS Professional Capacity Building program. Each 1-day seminar provides transportation professionals with a broad introduction to the latest telecommunications technologies-including new high-speed techniques available through wireless and in- and above-ground cable systems-and offers practical lessons learned in the application of ITS technologies.
Upon completing the course, participants will be able to:
Explain the fundamentals of telecommunications at a basic level
Define some of the key terminology and concepts used in transportation telecommunications
Recognize current issues with developing, designing, operating, and managing transportation projects using telecommunications technologies and infrastructure
Plan and conduct requirements analyses to match devices and components to telecommunications technologies
Use regional ITS architectures for telecommunications planning
Those likely to benefit most from the class include transportation professionals in the public and private sectors who are involved in transportation planning and ITS deployment, such as, project planners, engineers, managers, senior technicians, and systems integrators at metropolitan planning organizations, transit agencies, other municipal offices, State highway agencies, FHWA Division and Resource Center Offices, and the Federal Transit Administration.
"Every transportation engineer in the field today should be familiar with the jargon of the people working in the telecommunications industry," says Bill Jones, technical director for wireless and telecommunications in FHWA's ITS Joint Program Office. "The main objectives of this course are to give engineers a speaking knowledge of the latest technologies in the field and demonstrate how they can be used in transportation applications."
To learn more, see the course catalog on NHI's Web site at www.nhi.fhwa.dot.gov. For scheduling, contact Danielle Mathis-Lee at 703-235-0528, danielle.mathis-lee@fhwa.dot.gov. For technical information, contact William S. Jones at 202-366-2128, william.s.jones@fhwa.dot.gov.
Bud Cribbs 703-235-0526 bud.cribbs@fhwa.dot.gov