Table of Contents
New Course Provides Instruction on Integrating Pavement Preservation and Management
Report Helps Agencies Improve Safety, Reliability, and Security
Online Database and Report Highlights ITS Benefits and Costs
National Conference Highlights ITS Needs in Rural Areas
Report Highlights Projects That Improve Air Quality and Mobility
Streamlining Task Force Concludes Successful First Year
Firefighters Practice Rescue Skills at FOIL
Celebrating a Decade of Research on Crash Safety
Meeting Sheds Light on Visibility Research
INFRASTRUCTURE
---
New Course Provides Instruction on Integrating Pavement Preservation and Management
To keep cars running smoothly, auto manufacturers recommend changing the oil every 3 months or 4,800 kilometers (3,000 miles). In the same way, strategies to preserve and protect pavements can help ensure the long-term usability and vitality of the Nation's roadways by keeping good roads good.
The Federal Highway Administration's (FHWA) National Highway Institute is offering a new course — Pavement Preservation: Integrating Pavement Preservation Practices and Pavement Management (#131104) — on the benefits of integrating preservation and maintenance activities for roads. The 2-day class is targeted at pavement and maintenance engineers, as well as highway planning and programming personnel.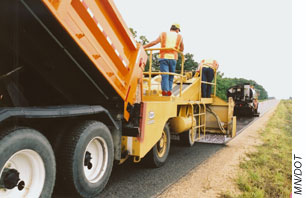 Workers apply a chip seal treatment (a pavement preservation technique) to a State highway in Minnesota.
The course provides basic information about the types of pavement management decisions made by State and local agencies, and the data and tools to support those decisions at the project and network levels. The instructors explain the many benefits of including pavement preservation techniques in the management process, such as cost savings, improved customer satisfaction, and enhanced safety. Often, maintenance managers, design engineers, and State police, for example, use different referencing systems to identify specific sections of road, intersections, or other locations. The course brings together representatives from the different areas to discuss obstacles like these and brainstorm agency-specific solutions, such as using global positioning systems to identify locations. By the end of the course, participants will be able to develop a useful plan for integrating pavement preservation and management that they can take back to their home agencies.
This course is the fourth in a series on pavement preservation. The others are The Preventive Maintenance Concept (#131054), Selecting Pavements for Preventive Maintenance (#131058), and Design and Construction of Quality Preventive Maintenance Treatments (#131103).
For more information on the pavement preservation course, contact Ewa Rodzik at 703–235–0524 or ewa.rodzik@fhwa.dot.gov. For scheduling, contact Danielle Mathis-Lee at 703–235–0528 or danielle.mathis-lee@fhwa.dot.gov. To learn more about transportation-related training courses available from NHI, consult the course catalog at www.nhi.fhwa.dot.gov or contact NHI at 4600 N. Fairfax Drive, Suite 800, Arlington, VA 22203; 703–235–0500 (phone); or 703–235–0593 (fax).
Nancy Stout 703–235–1260 nancy.stout@fhwa.dot.gov
PARTNERSHIPS
---
Report Helps Agencies Improve Safety, Reliability, and Security
Collaboration and coordination across jurisdictional and organizational boundaries is essential for the safe, reliable, and secure operation of the Nation's transportation system. Metropolitan regions, especially, have numerous jurisdictions, agencies, and service providers that need to work together to keep the transportation system operating effectively. In many regions, however, institutional barriers including resource constraints and internal bureaucracy impede collaboration.
To meet the public's needs and expectations successfully, transportation professionals and other officials need to engage in effective regional collaboration. Recently, the Federal Highway Administration's (FHWA) Office of Transportation Management published a report titled Regional Transportation Operations Collaboration and Coordination: A Primer for Working Together to Improve Transportation Safety, Reliability, and Security (FHWA-OP-03-008). FHWA developed the report to help regional transportation stakeholders create a shared vision, develop measures to assess the effectiveness of transportation operations, and meet public expectations for performance. The target audience includes engineers and managers responsible for traffic and transit operations; police, fire, and emergency medical services officials; emergency managers; port authority managers; and partners in the private sector.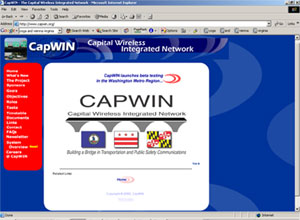 The Web site for the Capital Wireless Integrated Network, a partnership of Maryland, Virginia, and the District of Columbia to develop an integrated wireless network for transportation and criminal justice information.
In the first of five sections, the report explains the value of agencies working together. In the next section, FHWA describes the five elements—structures, processes, products, resources, and performance measures—that should be part of the framework that managers develop and use for successful regional collaboration and coordination. According to the report, the framework creates structures through which processes occur that result in products, such as a regional concept of operations, baseline performance data, current performance information, and operating plans and procedures. The framework then requires a commitment of resources to initiate and sustain collaboration and to implement solutions. Finally, performance measures help stakeholders evaluate improvement in the transportation system.
In the third section, FHWA explains how projects involving intelligent transportation systems (ITS) can provide the momentum to help agencies collaborate. The report outlines the steps necessary for creating regional ITS projects, such as identifying the appropriate ITS technologies, contacting the relevant stakeholders, determining the functional requirements of a project, defining information flow, implementing the project, and maintaining and enhancing it so that it continues to serve the intended region effectively.
The fourth section of the report contains a self-assessment questionnaire that agencies can use to initiate or build on existing collaboration within their regions. FHWA designed the questionnaire based on the five elements described in section two of the report. The questions in the self-assessment will help planners, operators, and service providers evaluate their progress in planning operations and charting a course toward improved performance of the transportation system.
The final section presents case studies demonstrating how some regions already are benefiting from improved coordination. In metropolitan Washington, DC, for example, public safety and transportation agencies are forming the Capital Wireless Integrated Network to improve information sharing on transportation and criminal justice issues. Currently, agencies in the region do not have the means to communicate directly with each other in a mobile environment. The new network will enable them to access information for planning and implementing traffic and safety controls during major incidents. The enhanced communication will decrease traffic delays, improve resource allocations, avoid duplication of expenditures on technology, and improve responses to natural and manmade disasters.
The report is available online at www.itsdocs.fhwa.dot.gov/JPODOCS/REPTS_TE/13686.html. To order a hard copy, contact the Operations/ITS HelpLine at 866–367–7487 or e-mail itspubs@fhwa.dot.gov. For more information, contact:
Wayne Berman 202–366–4069 wayne.berman@fhwa.dot.gov
Robin Mayhew 202–366–1454 robin.mayhew@fhwa.dot.gov
INTELLIGENT TRANSPORTATION SYSTEMS
---
Online Database and Report Highlight ITS Benefits and Costs
From 1980 to 1999, the number of vehicle miles traveled in the United States increased by 76 percent, while road expansion to meet this demand lagged behind. The increase in travel is causing strain on road capacity. To ease the strain, transportation professionals increasingly rely on intelligent transportation systems (ITS) such as electronic toll collection devices to help maintain traffic flow and increase mobility and safety. But project managers and engineers working with tight budgets need to identify the costs and benefits of particular projects before implementing ITS technologies.
Recently, the ITS Joint Program Office of the U.S. Department of Transportation (USDOT) and the Federal Highway Administration (FHWA) updated two tools on the Internet to help agencies assess the costs and benefits of ITS projects. The first tool is a Web site (www.benefitcost.its.dot.gov) that features two databases on the benefits and costs of ITS technologies. The benefits database includes more than 200 summaries of evaluation reports, and conference papers on ITS projects and the benefits they provide. Users can search the database according to location, type of project, and project goals, such as reducing delay or improving safety. Also available at the Web site is the Benefits Desk Reference, which serves as an easy-to-use guide to examples of successful ITS installations, and compares data from ITS projects.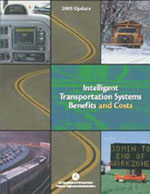 The ITS Benefits and Costs: 2003 Update report.
The costs database contains two types of cost data: unit costs and system costs. The unit costs data for ITS technologies includes estimates for capital expenditures and operating and maintenance costs. The database also has information on the design life of ITS technologies. For example, a transportation professional designing a check weighing station for commercial vehicles could access the database to find out that the capital cost for roadside signal indicators for weighing stations is between $5,000 and $10,000, operating and maintenance costs run $250 to $500 per year, and the equipment has a 20-year estimated lifetime. The system costs data, a new addition to the costs database, provides examples of intelligent transportation systems that have been deployed and the costs associated with their implementation. Users can view the database online or download it to their computers.
The second online tool is a report, ITS Benefits and Costs: 2003 Update (FHWA-OP-03-075), which is available at www.itsdocs.fhwa.dot.gov/jpodocs/repts_te/13772.html. The report summarizes the contents of the benefits and unit costs databases and includes profiles of 16 types of ITS applications, such as transit and road weather management systems. Each profile describes the range of benefits to be expected from a specific ITS system or a case study on the benefits seen at a particular location. In addition, some profiles include cost estimates for individual ITS components, overall ITS systems, and complete projects.
The online report also features links to specific parts of the ITS benefits and costs databases. For example, information dissemination is one topic covered under road management for adverse weather conditions. To illustrate the benefits of disseminating information on road conditions in a timely manner, the report describes a study by the Idaho Department of Transportation that found that motorists reduced their speed significantly after the agency posted weather-related warnings on dynamic message signs. For information on costs of road weather information dissemination systems, the report lists relevant sections of the unit costs database and points to two system cost examples.
In May 2003, officials from the ITS Joint Program Office demonstrated the database and showcased the online report at the "Show Me the Benefits!" workshop during the ITS America annual meeting in Minneapolis, MN. The purpose of the workshop was to examine the benefits of ITS technologies and discuss how public officials can use the information to make decisions about investments in new technology.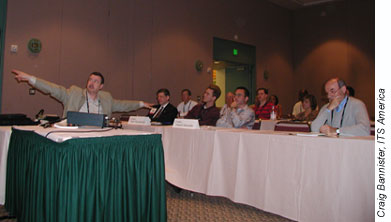 Dr. Joseph Peters, manager of ITS program assessment in the ITS Joint Program Office of USDOT, spoke at a "Show Me the Benefits!" workshop.
FHWA updates the benefits database continually and the cost database biannually in March and September. FHWA publishes an updated report every 2 years. E-mail itspubs@fhwa.dot.gov to order a printed version.
For more information contact:
Joseph Peters 202–366–2202 joe.peters@fhwa.dot.gov
National Conference Highlights ITS Needs in Rural Areas
More than 60 percent of fatal traffic crashes occur in rural areas. In 1990, there were approximately 6,900 more fatalities resulting from crashes in rural areas than in urban centers. Eleven years later, in 2001, that difference had increased to nearly 8,900. High travel speeds and rough terrain are factors that contribute to the number and severity of rural crashes. Other transportation issues common in rural areas include the ability of transportation agencies to distribute traveler information, especially during weather events or when major incidents close roadways, and access to public transportation. As a result, many States and organizations increasingly are using intelligent transportation systems (ITS) to improve mobility, enhance the capacity of transportation services, and improve road conditions in rural and small communities.
In August 2003, the Federal Highway Administration (FHWA) and Federal Transit Administration (FTA), with support from ITS America, the Florida Department of Transportation (DOT), and the Florida Commission for the Transportation Disadvantaged, sponsored the 2003 National Rural ITS Conference. The 4-day event provided a forum for transportation professionals to share ideas and information about rural ITS programs and ways to make rural roads safer.
During 12 technical sessions, representatives from FHWA, FTA, several State DOTs, law enforcement agencies, and other organizations discussed ITS technologies as they relate to three topic areas—traveler information and communication systems, public mobility, and safety and operations. Ray Murphy, an ITS specialist with FHWA, for example, discussed using satellite communications for weather information on remote roadways. He explained that satellite technology could be instrumental in surveying traffic and road conditions during adverse weather conditions, such as fog, flooding, or snow.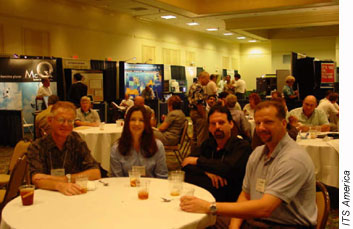 Attendees at the National Rural ITS Conference in an exhibit hall in Palm Harbor, FL
During a session on public mobility, participants drafted a short-term plan for assisting rural ITS providers. Participants suggested that FTA fund more technical assistance activities. They also suggested that FTA continue to support ITS conferences and similar activities that promote sharing of ideas by Federal, State, and local agencies, and activities that help increase industry awareness of efforts to improve rural transit. Since the conference, FTA has incorporated some of the suggestions into its current plans for enhancing community coordination of transportation services and its strategic plan for the rural component of its Transit ITS Initiative.
Also during the conference, ITS America launched a new special-interest group focused on rural ITS. The group's goal will be to encourage dialog among stakeholders in the rural ITS industry. Attendees at the first meeting nominated Steve Albert of the Western Transportation Institute to lead the group.
ITS Florida hosted the conference, which was held in Palm Harbor, FL. Nearly 250 people from 35 States, Africa, and Canada attended the event. Next year's conference will be held in Duluth, MN, from August 22–24, 2004. For more information, visit www.itsmn.org or contact:
Michael Freitas 202–366–9292 michael.freitas@fhwa.dot.gov
Mike Pietrzyk, NRITS Conference Program Chair 813–681–6881 mcptsi@tampabay.rr.com
ENVIRONMENT
---
Report Highlights Projects That Improve Air Quality and Mobility
Between 1980 and 2000, vehicle travel in the United States grew by 80 percent, while road lane-miles increased less than 4 percent. As a result, communities face escalating traffic congestion and challenges to mobility. The Congestion Mitigation and Air Quality (CMAQ) Improvement Program, administered by the Federal Highway Administration (FHWA) and the Federal Transit Administration, has a primary goal of reducing air pollution. But CMAQ also increases mobility by improving traffic flow, enhancing transit services, and providing other alternative modes of transportation.
Recently, FHWA published a report, CMAQ: Advancing Mobility and Air Quality (FHWA-EP-03-045), which highlights CMAQ projects that have led to mobility enhancements. The examples offer models for transportation professionals who are searching for projects that both improve air quality and enhance mobility.
In the Cincinnati, OH, metropolitan area, for example, the Ohio Department of Transportation and the Kentucky Transportation Cabinet developed the Advanced Regional Traffic Interactive Management and Information System (ARTIMIS) to help with incident and congestion management. Using fiber-optic cable and telephone lines, 80 closed-circuit television cameras and 1,100 loop detectors, installed along 142 kilometers (88 miles) of freeway, relay information about traffic congestion and incidents to a control center. Through 40 changeable message signs, ARTIMIS distributes information on traffic problems and alternate routes from the control center to motorists. The system also includes a traveler advisory telephone service and a motorist assistance program with five service patrol vans. Estimates show that the system saves $15.9 million per year in reduced traffic delays, fuel consumption, and crashes.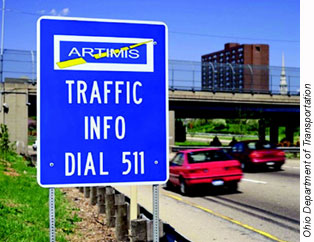 Signs such as the one shown above are posted along roadways in the Cincinnati, OH, area to alert drivers about the 511 traveler advisory phone number, which is just one part of the Advanced Regional Traffic Interactive Management and Information System.
In Chicago, IL, the area's commuter rail service, Metra®, opened its North Central Service line with the help of funding under the CMAQ program. The area's first new commuter rail service since 1926, the North Central Service line runs 10 trains each weekday on an 85-kilometer (53-mile) route between Antioch and Chicago. The train service relieves congestion along the I–94 corridor, which experiences some of the highest levels of traffic delay in the Chicago area. A 1999 study showed that the new train service helps motorists divert between 487,000 and 670,000 vehicle trips per year.
The CMAQ program also provided funding for a truck-to-rail intermodal facility in Auburn, ME. Intermodal services, which move containers from trucks to trains, reduce truck traffic on congested highways and improve air quality because one train can carry the same load as dozens of trucks. The Maine Intermodal Terminal includes a weighing station and freight-control operations center with a mechanized stacker that lifts and positions the cargo containers. The terminal, which handled 15,000 containers in 2001, has made Auburn a center for transportation exchanges in the Northeast.
FHWA distributed the CMAQ report to State transportation agencies, metropolitan planning organizations, FHWA offices, the U. S. Environmental Protection Agency, and the Federal Transit Administration. To request a copy, contact Adrica Coates in FHWA's Office of Natural and Human Environment at 202–366–6724.
Victoria Martinez 787–766–5600, ext. 231 victoria.martinez@fhwa.dot.gov
Streamlining Task Force Concludes Successful First Year
Transportation projects often are delayed or put on hold by lengthy environmental reviews. In September 2002, President Bush issued Executive Order 13274, instructing the U.S. Department of Transportation (USDOT) to select projects for participation in a new, more efficient method of conducting environmental reviews. The Executive Order required USDOT to establish a task force to ensure that environmentally sound projects are not held up unnecessarily by inefficient reviews.
Subsequently, Secretary of Transportation Norman Y. Mineta and other Cabinet Secretary's formed the Interagency Transportation Infrastructure Streamlining Task Force. In addition to Secretary Mineta, task force members include the U.S. Secretaries of Agriculture, Commerce, the Interior and Defense, as well as the Administrator of the Environmental Protection Agency, Chair of the Advisory Council on Historic Preservation, and Chair of the Council on Environmental Quality.
In September 2002, Secretary Mineta also selected 13 projects to receive expedited review. In just one year, the Executive Order has shown to be an effective tool for expediting the review of projects previously delayed for years. By September 2003, four of the selected projects had completed the environmental review process. These projects now have advanced to a Priority Project Transition List, which is an ongoing tracking tool for the Task Force to ensure that no new issues arise that could be prevented by their intervention.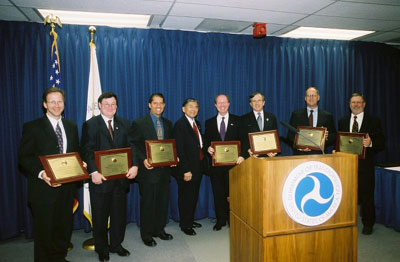 Members of the Interagency Transportation Infrastructure Streamlining Task Force are pictured above. From left to right: Merlin Bartz, U.S. Department of Agriculture; James Walpole, U.S. Department of Commerce; J.P. Suarez, U.S. Environmental Protection Agency; Norman Y. Mineta, U.S. Department of Transportation; James Connaughton, the Council on Environmental Quality; John Fowler, Advisory Council on Historic Preservation; John Paul Woodley--U.S. Army Corps of Engineers; Paul Hoffman, U.S. Department of the Interior.
"Too many transportation projects become mired for too long in the complex web of clearances required by Federal and State law," Secretary Mineta said. "This initiative is intended to make our transportation investments more efficient, helping ease congestion and reduce pollution."
The four projects on the transition list are geographically diverse. They include upgrades to a portion of Interstate 80 in Nebraska and a study of transportation facilities in Riverside County, CA. Projects farther east include construction of a circumferential highway in Vermont and development of the Louisville-Southern Indiana Ohio River Bridges Project in Kentucky and Indiana.
The upgrade to Interstate 80 in Nebraska will involve widening a 56.4-kilometer (35-mile) section between Lincoln and Omaha from a four-lane divided highway to six lanes. Interstate 80 serves as a major east-west thoroughfare across the continental United States, extending from New Jersey to California. The Nebraska section to be widened currently accommodates both commuter and freight traffic. By performing the upgrades and participating in the streamlined review process, the Nebraska Department of Roads will increase travel capacity along that corridor, reduce congestion, and create a roadway that better serves freight vehicles and heavy commercial vehicles.
In Riverside County, CA, the local transportation commission is studying the north-south Winchester-to-Temecula corridor to determine how to preserve rights-of-way and where to locate major new multimodal facilities. The study is part of the Community and Environmental Transportation Acceptability Process (CETAP), which is part of a larger project in Riverside County to integrate land use, transportation and conservation planning for the future development of the County. The purpose of CETAP is to identify and preserve important transportation corridors in the western part of the United States, such as those in Riverside County. Adequate transportation infrastructure is needed to support the County's projected job growth, and environmental streamlining will help ensure that the necessary facilities are developed in an expedited fashion.
In Vermont, the Chittenden County Circumferential Highway Project will create a new divided, limited-access highway that will bypass Interstate 89 around the City of Burlington. Begun in 1982, the Vermont project has gone on for more than 20 years. Environmental streamlining will help steer the project toward completion and meet the intended goals of alleviating future congestion, improving safety, and removing traffic from local roads.
For the Louisville-Southern Indiana Ohio River Bridges Project, the Indiana Department of Transportation and the Kentucky Transportation Cabinet will construct two new six-lane bridges to improve cross-river mobility between Jefferson County, KY, and Clark County, IN. In addition, the transportation agencies will build pedestrian and bicycle paths on both of the new structures. The project will help reduce current and future traffic congestion while improving system connectivity, efficiency, and safety.
In the future, other projects will be selected to replace these projects that have been placed on the Priority Project Transition List. For additional information about Executive Order 13274: Environmental Stewardship and Transportation Infrastructure Project Reviews visit www.dot.gov/execorder/13274/index.htm.
Robert Mariner 202–493–0064 robert.mariner@ost.dot.gov
SAFETY
---
Firefighters Practice Rescue Skills at FOIL
Nearly three million people are injured and 43,000 people die in motor vehicle crashes each year. In cases where motorists are trapped in wrecked vehicles, the ability of rescue personnel to extricate them quickly and transport them safely to medical facilities sometimes can mean the difference between life and death. Firefighters routinely practice rescue techniques at training academies using junked vehicles. Most of those vehicles, however, are not damaged enough to simulate the more critical conditions encountered during actual emergencies.
As part of a community outreach program, the Federal Highway Administration (FHWA) periodically invites local firefighters to practice rescue techniques on crash vehicles at the Federal Outdoor Impact Laboratory (FOIL) in McLean, VA. The laboratory is located at the Turner-Fairbank Highway Research Center, where FHWA researchers conduct crash testing to study interactions among motor vehicles, occupants, and roadside objects during staged collisions. Once researchers complete their crash tests, the test vehicles are used for training exercises for firefighters and then scrapped.
The vehicles that FHWA tests at FOIL provide more challenging training exercises because they better simulate conditions that firefighters would encounter after an actual crash. Training at the laboratory enables firefighters to practice on newer cars with equipment not found on older vehicles, such as airbags.
Recently, firefighters from Rescue Engine 433 in Fairfax City, VA, attended a 1-day training exercise where they practiced on several vehicles. The goal was to improve the firefighters' ability to move quickly and efficiently through the steps involved in extricating crash victims trapped in a vehicle.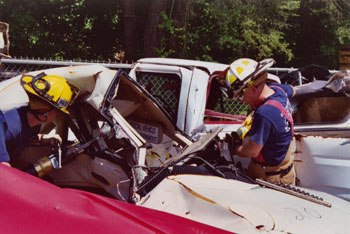 Firefighters used the "Jaws of Life" to remove the door from a damaged vehicle.
The firefighters started by stabilizing the vehicle with hydraulic jacks and wooden blocks to prevent it from moving while they extract the occupants. The firefighters then pried open the doors of the vehicle with a hydraulic tool commonly known as the "Jaws of Life®." In some cases, the firefighters used saber saws to cut through the vehicle's roof supports, enabling them to remove the roof and reach the occupants.
After an actual collision, the next step for the firefighters and other rescue workers, such as paramedics, would be to stabilize the spines of the injured occupants to prevent further injury. The occupants also would be covered to prevent shock. Finally, the victims would be removed from the vehicle and transported to a medical facility.
For more information about FHWA's community outreach activities at FOIL, contact:
Charlie McDevitt 202–493–3313 charlie.mcdevitt@fhwa.dot.gov
Celebrating a Decade of Research on Crash Safety
Each year, an estimated 43,000 lives are lost on our Nation's roads. For Americans between the ages of 6 and 33, crashes are the leading cause of death. In addition to the human loss, crashes also represent economic damages of approximately $230 billion annually. As a result, safety is a top priority for the U.S. Department of Transportation (USDOT), which aims to reduce the fatality rate from motor vehicle crashes by 33 percent by 2008.
In recent years, USDOT and its partner agencies and organizations have conducted significant research to help meet this goal. The National Crash Analysis Center (NCAC), a federally funded laboratory for research on vehicle crashes into roadside hardware, has been instrumental in helping improve highway safety. The center was established 10 years ago, first as a contract from and later through a cooperative agreement partnership between the Federal Highway Administration (FHWA), the National Highway Traffic Safety Administration (NHTSA), and The George Washington University. In September 2003, officials representing the founding organizations hosted a ceremony on the university's satellite campus in Ashburn, VA, to celebrate the facility's achievements.
Researchers at NCAC, for example, provide analytical services to help NHTSA assess vehicle crashworthiness and vehicle-to-vehicle crashes. The center also maintains an extensive library of crash films, which researchers can use to understand what happens to vehicle occupants during different types of crashes. For FHWA, researchers at NCAC use three-dimensional computer simulations, finite element analyses, and selected validation crash testing to improve roadside hardware devices, including guardrails, signposts, and lighting towers. With the help of NCAC researchers, engineers can improve roadside hardware faster and more cost-effectively than using traditional testing methods.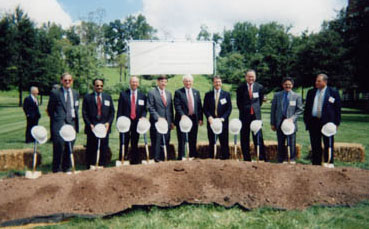 Representatives from The George Washington University, FHWA, and NHTSA join in the groundbreaking ceremony for a new $14 million crash-test facility to be constructed in Ashburn, VA.
In addition to celebrating a decade of successful research, the September event also served as the university's official groundbreaking for a new $14 million, 7,440-square-meter (80,000-square-foot) crash test facility being constructed at the Ashburn campus. The new facility, scheduled to open in 2005, will include an automotive crash test barrier and a sophisticated indoor laboratory for researchers to conduct additional testing on infrastructure safety, roadside hardware, and new materials and designs.
"We commend GW [The George Washington University] for its initiative in creating a new crash-test facility," said FHWA Deputy Administrator J. Richard Capka, at the groundbreaking event. Capka also praised the accomplishments of NCAC, including the center's efforts to expand the number of vehicles and types of roadside hardware that can be evaluated using virtual crash scenarios. "Through this and other ongoing research," he stated, "future highway engineers will be able to see the results of their designs in a virtual environment in real time, saving more lives."
Len Meczkowski 202-493-3317 len.meczkowski@fhwa.dot.gov
Meeting Sheds Light on Visibility Research
According to the National Highway Traffic Safety Administration (NHTSA), the fatal crash rate for nighttime driving is three to four times that for daytime driving. In 2001, approximately half of the 37,795 roadway fatalities due to motor vehicle crashes occurred at night. In addition, an estimated 60 percent of vehicle crashes caused by veering off the road took place at night or during reduced-light conditions, suggesting that a driver's inability to see roadway delineation, guidance, or warning information may be a contributing factor. Low visibility also may contribute to crashes involving pedestrians, while adverse weather further complicates driving at night.
Reducing highway fatalities and run-off-the-road crashes are strategic goals for the Federal Highway Administration (FHWA). Currently, FHWA is partnering with the Lighting Research Center at Rensselaer Polytechnic Institute, plus other researchers and roadway system stakeholders, in an effort to prioritize efforts aimed at improving driving visibility. Working with FHWA are representatives from State departments of transportation, lighting equipment manufacturers, transportation research organizations, and private consultants. Cooperation among these groups will help maximize transportation dollars invested in highway safety research and avoid duplication of experiments and studies.
In August 2003, FHWA and its partners met in Washington, DC, to discuss the potential benefits of several technologies that may improve visibility, including fixed roadway lighting, in-vehicle systems, traffic signals, signs, and pavement markings. The meeting began with general presentations on background information, including discussions on safety and traffic flow. Following these presentations, meeting participants divided into several working groups for breakout sessions.
The breakout sessions revealed several common themes. Participants agreed that consistency is needed between signage and the overall visual scene of the roadway as it appears to drivers. For example, transportation agencies should use consistent colors, shapes, and symbols on roadway signs to represent similar messages. The participants concluded that agencies also need to be consistent in the pavement markings they use to display messages, including the types of markings and levels of luminance and contrast. Uniformity among visual cues was deemed integral to improving the ability of drivers to process roadway information quickly and without hesitation. The participants agreed that although adequate and consistent visual cues are needed to alert motorists, it is important to avoid overloading drivers with too much information.
The participants discussed the use of in-vehicle technologies to complement signs and markings on roadways. Researchers are, for example, developing "intelligent vehicles" that warn drivers approaching traffic signals as to whether the signal is about to turn red or if pedestrians are present in the roadway. These technologies can help reduce driver inattentiveness and provide consistent warnings to motorists regardless of adverse weather conditions or other factors that could affect the visibility of signs and markings. To help prevent a disparity between the information drivers receive inside and outside the vehicle, in-vehicle signals also should be consistent with roadway signage and markings.
Using the input gathered at the meeting, the Lighting Research Center will develop a proposed priority list of visibility-related research efforts. Criteria for prioritization will include anticipated cost/benefit ratios, overall costs of potential projects, and the projected amount of time from project start until new products or concepts are available to traffic engineers. The Lighting Research Center will deliver the proposed list to FHWA to help it develop its visibility research agenda for the next 6 to 8 years.
Carl Andersen 202-493-3366 carl.andersen@fhwa.dot.gov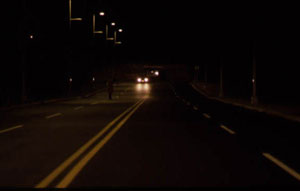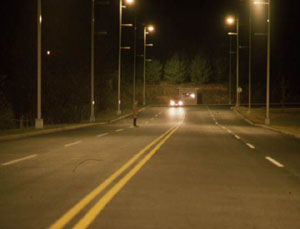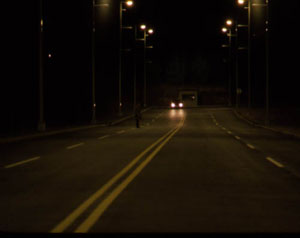 These three photographs show how increasing the levels of luminance of overhead lights and the amount of vertical illumination can reveal a pedestrian who was nearly invisible under low-lighting conditions.