Table of Contents
Arizona Introduces 511 Enhancements
NHI Offers Suite of Courses on Transportation and Air Quality
Pavement Markings Shed Light on Speed Reduction
FHWA to Study the SegwayTM Human Transporter
FHWA Announces 2003 Roadway Safety Award Winners
FHWA Provides Technical Assistance on Tied-Foundation, Twin Arch Bridge
New Software Helps Agencies Track Culvert Maintenance
Listserv Gives a Voice to Freight Planning Issues
---
Arizona Introduces 511 Enhancements
Telephone services for travelers provide real-time information about work zones, traffic incidents, and other potential causes of congestion. As 10-digit telephone numbers and new area codes proliferate, however, travelers may find it difficult to remember the various numbers assigned to traveler information systems around the country. A test in 1999, for example, showed that 11 different phone numbers were required to access travel information on a trip from Washington, DC, to New York City.
In 2000, the Federal Communications Commission designated "511" as the national traveler information telephone number. When fully deployed, the number will provide easy access to local travel information across the United States. To facilitate implementation of 511 systems, the Federal High-way Administration (FHWA) is funding a model deployment program in Arizona in collaboration with the Arizona Department of Transportation (ADOT), Maricopa County, the cities of Phoenix and Tucson, and several metropolitan planning organizations. Arizona's 511 system has been available statewide for more than a year, and ADOT recently introduced several enhancements.
One improvement is interactive voice recognition, which enables callers to speak their preference rather than use the phone keypad to indicate their choice from the menu of available travel information. The 511 system now also offers "Quick Reports," or short updates of travel conditions in a general region, in addition to full reports on specific routes. "Segment Reports" give users travel information for specific portions of roadways. In the future, ADOT plans to add freeway travel times and bus arrival times. ADOT decided to add the enhancements after conducting focus groups in which participants chose these features as their favorites.
In addition, Arizona's 511 system offers information on nonrecurring traffic congestion, ongoing roadway construction projects, variable weather conditions, and the status of traffic incidents. The system relies on intelligent transportation system (ITS) technologies to collect traveler information. The data is stored in a central database called the Highway Condition Reporting System and is available on the Web at www.az511.com or by dialing 511 statewide.
To facilitate deployment of 511 systems across the Nation, FHWA offers technical assistance to State DOTs, and, in the past, has offered planning grants of up to $100,000. FHWA also is working with the 511 Deployment Coalition, which includes the American Association of State Highway and Transportation Officials, the Intelligent Transportation Society of America, and the American Public Transportation Association. For more information on implementation of the 511 system and the 511 Deployment Coalition visit www.deploy511.org.
Bob Rupert 202–366–2194 robert.rupert@fhwa.dot.gov
Alan Hansen 602–379–3645, ext. 108 alan.hansen@fhwa.dot.gov
TRAINING/ENVIRONMENT
---
NHI Offers Suite of Courses on Transportation and Air Quality
Many members of the transportation community are committed to ensuring that effective planning leads to a safe, accessible, and healthful environment. Transportation planners, metropolitan planning organizations, and other transportation and air quality agencies are integral to ensuring that transportation plans meet the requirements of the Clean Air Act and the Transportation Equity Act for the 21st Century (TEA-21).
Although air quality has improved in the last 20 years, many new regions are likely to be designated as being in "nonattainment," or failing to attain the U.S. Environmental Protection Agency's (EPA) new standards for ozone and fine particulates. With some of these areas facing transportation and air quality issues for the first time, many transportation professionals will require additional training.
To meet this need, the Federal Highway Administration's Office of Planning, Environment, and Realty and the National Highway Institute (NHI), Federal Transit Administration, National Transit Institute (NTI), the U.S. Department of Energy, and EPA have partnered to create a four-course suite to instruct planners and engineers in metropolitan planning organizations, air quality agencies, and Federal, State, and local departments of transportation on implementing the legislation and regulations governing transportation and air quality. Three of the four courses currently are available, while the fourth is still in development.
Before Federal funding will be approved for an area, regions in "nonattainment" and "maintenance" areas (areas previously considered to be in nonattainment) are required under the Clean Air Act to demonstrate that their transportation plans, programs, and projects will not worsen air quality or delay the area's ability to attain the air quality standards.
NTI has developed an introductory course, Introduction to Transportation/ Air Quality Conformity, to present basic information about the requirement that highway and transit plans meet conformity requirements or conform with the goals established in the State air quality implementation plan. The course will provide professionals with a clear understanding of the dynamic relationship between transportation and air quality planning in the context of transportation conformity.
NHI is offering an introductory course as well, Implications of Air Quality Planning on Transportation (#142044), to familiarize participants with the relevant legislation and the interconnections between the regulations. In addition, participants will learn how to develop vehicle emissions budgets and how to relate the budgets to State implementation plans. The course also addresses the importance of public involvement and ways in which interactions between stakeholders affect air quality and transportation planning.
Determinations about whether transportation plans meet conformity requirements are based on regional emissions analyses, a complex technical process that requires expertise in transportation and emissions modeling. As a technical compendium to NTI's introductory course, NHI is offering a course, Estimating Regional Mobile Source Emissions (#152071), to teach planners the tools needed to develop data for modeling mobile source emissions. Participants, for example, will learn how to use the Mobile Source Emission Factor Model (MOBILE6) and travel forecasting models to generate inventories of mobile source emissions.
Although still in development, the fourth course, The Congestion Mitigation and Air Quality (CMAQ) Program: Purpose and Practice, will provide an overview of the CMAQ program for prospective project sponsors, and Federal, State, and local officials responsible for administering the CMAQ program. Topics covered include program eligibility, emissions analyses, and the relationship between CMAQ and the Clean Air Act and Federal-Aid Highway Program.
Taken together, these courses represent a transportation and air quality curriculum that can help beginners and experienced practitioners in these difficult and evolving areas.
For more information about the courses, contact Mila Plosky at 703–235–0527. To schedule a course, contact Danielle Mathis-Lee at 703–235–0528 or danielle.mathis-lee@fhwa.dot.gov. Information about NHI courses is available at www.nhi.fhwa.dot.gov.
Nancy Stout 703–235–1260 nancy.stout@fhwa.dot.gov
SAFETY
---
Pavement Markings Shed Light on Speed Reduction
According to the National Highway Traffic Safety Administration, speeding was a contributing factor in more than 30 percent of all fatal crashes in the United States in 2002. In addition, speeding-related crashes cost society more than $40 billion each year. Speeding can cause drivers to lose control around curves or objects in the roadway, and increases the distance a vehicle travels when a driver reacts to a sudden or dangerous roadway condition. Transportation agencies have used pavement markings to encourage motorists to reduce their speed. Prior to 1999, however, no agency in the United States had used converging chevron marking patterns with parallelogram-shaped figures along lane edges, a technique that has proven successful in several experiments outside the United States.
In 1999, the Federal Highway Administration (FHWA) approved a project that enabled the Wisconsin Department of Transportation (WisDOT) to install experimental chevron pavement markings along the approach to a freeway interchange in Milwaukee, WI, on Interstate 94 (I–94). WisDOT spaced the markings widely apart at the start and then narrowed the space between them to create the illusion that vehicles are speeding and the road is narrowing. With funding from the American Automobile Association Foundation for Traffic Safety, researchers at Marquette University recently evaluated the I–94 Milwaukee experiment for WisDOT.
Data from the evaluation showed that the markings caused drivers, on average, to reduce their speed by nearly 24 kilometers (15 miles) per hour at the test ramp. The markings also led to a reduction in total crashes, including zero truck rollovers. Before the chevrons were installed, 14 crashes occurred on the test ramp, while eight crashes occurred after the addition of the markings. In the same interchange, a control site with no special markings did not lead to similar changes in speed. Others results from the evaluation are contained in two published reports available online at http://www.aaafoundation.org/pdf/chevrons.pdf and http://www.eng.mu.edu/~drakopoa/web_documents/index.htm.
The Milwaukee site is the first installation with this specific pattern in the United States. The idea originated in Japan, where several experiments also have proved successful. Japanese traffic officials, for example, installed converging chevron markings on the 751-meter (2,461-foot) Yodogawa Bridge in Osaka, Japan, in November 1992, and later showed that the pattern was effective in reducing speed-related crashes. The chevrons created the illusion that drivers were traveling faster than they actually were.
In addition, FHWA currently is sponsoring a new pooled fund study on traffic control devices. The study will examine new devices and applications, including the use of pavement markings for speed reduction. Other technologies FHWA plans to examine this year include navigation signing for roundabouts, color for transponder- controlled tollbooth lanes, and countdown pedestrian signal enhancements.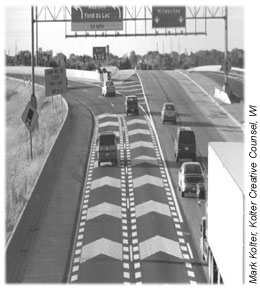 Drivers travel through experimental pavement markings at an interchange on Milwaukee's I–94.
For more information, contact:
Mark Chandler 608–829–7514 mark.chandler@fhwa.dot.gov
William Bremer 608–829–7519 william.bremer@fhwa.dot.gov
FHWA to Study the SegwayTM Human Transporter
Mobility devices such as powered scooters, wheelchairs, and in-line skates recently have been appearing on sidewalks and roads throughout the United States. Another new personal electric mobility device, called the SegwayTM Human Transporter, enables users to travel up to 20 kilometers (12.5 miles) per hour. Since its introduction to the public, the Segway has generated a great deal of media attention with its potential to reduce dependence on motor vehicles for short trips. Very little, however, is known about the device's safety and operational characteristics. Transportation professionals and pedestrian advocates are concerned about Segway users interacting with pedestrians on sidewalks because the device occupies more space, travels faster, and weighs more than pedestrians. In addition, little is known about how it might interact with other modes of travel, including bicycles.
To address some of these concerns, the Federal Highway Administration's (FHWA) Office of Research, Development, and Technology is initiating a series of studies that will aim to identify user needs and determine the safety of interactions with pedestrians and bicyclists. Transportation professionals can use the results of the studies to develop design criteria for the sidewalks, paths, trails, and other transportation facilities needed to enable Segway users and others to travel side-by-side.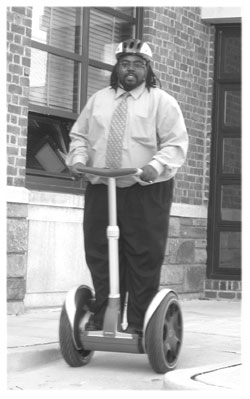 A representative from FHWA rides the SegwayTM Human Transporter
Researchers at FHWA will measure brake reaction time, braking distance, and stopping precision. Participants in the studies will be evaluated as they ride on an outdoor walkway at the Turner-Fairbank Highway Research Center in McLean, VA. FHWA will conduct the test runs with riders traveling at 6.4, 12.8 and 20 kilometers (4.0, 8.0, and 12.5 miles) per hour. The researchers will instruct the participants to come to a complete stop at a planned location or make a sudden, unexpected stop. The researchers then will interview the study participants about their perceived comfort with and control over the device.
FHWA is planning to conduct a followup study to evaluate the maneuverability of the Segway using a test course that simulates an actual sidewalk. The followup study tentatively is scheduled for summer 2004.
For more information contact:
Carol Tan 202–493–3315 carol.tan@fhwa.dot.gov
SAFETY/TECHNOLOGY INNOVATION
---
FHWA Announces 2003 Roadway Safety Award Winners
Transportation agencies work diligently to make roads safer. As technologies, driving habits, and lifestyles change, agencies develop new locally based technologies and programs that help save lives, reduce injuries, and meet new travel demands. Many of these programs and technologies could be implemented throughout the country and achieve similar results if other agencies had the opportunity to learn about them.
To highlight outstanding safety practices, the Federal Highway Administration (FHWA) and the Roadway Safety Foundation (RSF) cosponsor the biennial National Roadway Safety Awards. The awards recognize innovative and effective safety achievements that were attained using funds from the Federal-Aid highway program, Section 402, State and/or local governments, and the private sector. The award criteria include whether projects are innovative compared to existing state-of-the-art technologies used at the national, State, or local levels; resulted in a significant reduction in the number or severity of crashes; and/or efficiently used available resources. FHWA and RSF presented awards in three categories—safety, operational improvements, and program planning, development, and evaluation.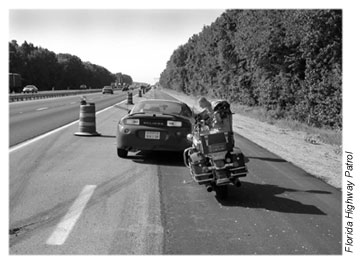 A State trooper stops a vehicle in a workzone for a violation under Florida's Operation Hardhat program.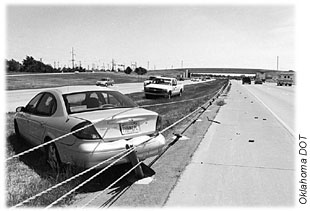 Oklahoma DOT's British cable barriers prevented a car from crossing the median when it crashed.
For the 2003 awards, FHWA and RSF recognized the Oklahoma Department of Transportation (DOT) in the safety category for installing a British cable barrier along an 11.3-kilometer (7-mile), six-lane divided highway. Prior to installation of the barrier in 2001, the highway had only a grass median. In the 3 years prior to installation of the barrier, 185 collisions occurred, resulting in four fatalities. Since the barrier was put in place, it has been hit more than 160 times with no fatalities and only one reported minor injury. In addition, the wire cables typically stay at or near the correct height after impact, allowing the system to remain functional and eliminating costly emergency replacement.
In Florida, rapid growth in traffic on the State's highways has generated an increase in construction activity. Work zones have proven dangerous to both construction workers and motorists because of speeding vehicles, tailgating, and the workers' proximity to the travel lanes. To mitigate this problem, the Florida Highway Patrol created "Operation Hardhat" and received an award in the operational improvements category. Under the program, a State trooper dressed as a construction worker is stationed in work zones wearing a hardhat and reflective vest. As vehicles pass through the work zones, the trooper uses radar or laser equipment to clock vehicle speeds and monitor other violations. When a violation occurs, the trooper calls another officer who stops the vehicle and takes the appropriate enforcement action. Since its introduction in 2001, the program has helped reduce fatalities and injuries in work zones by 25 percent.
The Iowa Department of Transportation received an award in the program planning, development, and evaluation category for its Iowa National Model—a program for sharing information, resources, and technologies to improve highway safety. The focus of the model is the "Traffic and Criminal Software," (TraCS), which agencies can use to facilitate the electronic collection and management of safety data, including information related to crashes, citations, drunk driving, and truck and bus inspections. The software transfers data daily to State and local data systems and interfaces with geographic information systems. TraCS forms are integrated so data can be shared across all applications and participating agencies. Iowa has made the software available to all States at no cost. As of June 2003, 23 States, the U.S. Virgin Islands, and two Canadian provinces were using the software. In March 2002, when only 11 States were users, the cost savings were estimated at between $16 and $20.4 million.
Kathy Krause 202–366–9265 kathy.krause@fhwa.dot.gov
STRUCTURES/TECHNOLOGY INNOVATION
---
FHWA Provides Technical Assistance on Tied-Foundation, Twin Arch Bridge
When the Michigan Department of Transportation (MDOT) and several community-based associations decided to build a new bridge on a local interstate over U.S. 24 near Detroit, MI, the stakeholders decided they needed a span that would be functional, long-lasting, attractive, and well-integrated into the surrounding environment, while satisfying the design requirements for interstate bridges. They also needed U.S. 24 to remain fully passable during and after construction. To meet these requirements, the parties determined that a tied-foundation, twin arch bridge—a "double bridge"—with inward-leaning arches and an underground tie extending between the two legs of the bridge foundation would be most suitable. This type of twin arch bridge is structurally complex and typically reserved for long spans, such as over waterways, rather than over roadways. In this case, however, MDOT chose this design because the engineers could not use piers to support the bridge from below if U.S. 24 was to remain open and if they were to build an aesthetically pleasing bridge.
To design the bridge, MDOT needed assistance from technical experts outside the agency. Since outsourcing to private consultants can be costly in time and resources, MDOT turned to the Federal Highway Administration's (FHWA) Office of Bridge Technology—one of the largest, most easily accessible sources of technical knowledge. Benjamin Tang and Firas Ibrahim, structural engineers from the Office of Bridge Technology, met with representatives from MDOT and FHWA's Michigan division office to discuss the complexities of the project.
While pleasing to the eye, tied-foundation bridges have structural and design challenges not associated with building other types of bridges. During the meeting, Tang and Ibrahim provided comments and recommendations about numerous details involving the bridge design, corrosion protection systems for the in-grade tied beam, and the cost of fabrication and construction. The engineers also provided guidance on the maintenance and inspection of the bridge during its service life.
Tang and Ibrahim recommended placing additional steel bars within the bridge's concrete ties to reduce the chance of fatigue and to enhance the structural integrity of the bridge. These measures also will help prevent cracking and corrosion of the steel-reinforced concrete ties. They also recommended sealing the arch to reduce exposure to humidity and winter deicing salt and to protect against corrosion of the arch ribs.
The engineers suggested that MDOT construct the bridge to allow some limited access to the concrete ties and steel bars. Access to the ties and bars will enable engineers to improve detection of fatigue, corrosion, and deterioration while avoiding closure of the bridge during inspections. In addition MDOT will keep specific areas of the bridge clear of utilities infrastructure so that access is available for future post-tensioning.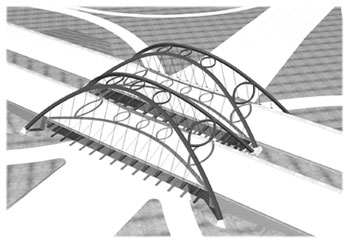 FHWA engineers provided insights into construction of the tied-foundation, twin arch bridge shown in this illustration.
One of MDOT's priorities during construction was to create a structure with guaranteed redundancy —that is a bridge that will maintain its structural integrity even if one of its components fails. To accomplish this objective, Tang and Ibrahim suggested using multiple, well-protected underground ties as a backup system.
"We basically needed to know the acceptable methods for tying the foundation and how to protect the ties," said Jon Nekritz, an engineer with FHWA's Michigan division office. "Since this technique is used so infrequently, we wanted to make sure that it would work and that we were implementing it properly."
In addition to the special structural and design demands, MDOT is fast-tracking the bridge so that work can begin on another large project in 2005. The agency plans to complete the bridge by December 2004 and predicts that both projects will be complete before the National Football League Super Bowl, to be held in Detroit in early February 2006.
For more information, contact:
Benjamin Tang 202–366–4592 benjamin.tang@fhwa.dot.gov
STRUCTURES
---
New Software Helps Agencies Track Culvert Maintenance
Malfunctioning culverts can contribute to flood damage on roads and bridges, but tracking the need to maintain and replace culverts before they cause problems can be a challenge for local road agencies. Many rely on manual systems to record information on inventory, condition, and work needs, which can be time-consuming and inefficient. Other agencies have no formal system in place and consequently find themselves reacting to immediate or impending problems, rather than proactively managing maintenance and replacement.
To help agencies manage their culvert inventories, condition assessments, and improvement programs, the Federal Highway Administration (FHWA), under the Local Technical Assistance Program (LTAP), developed a computer-based "Culvert Management System." Designed to help transportation professionals responsible for local road maintenance save time and money, the system provides an automated tool to facilitate the coordination of culvert maintenance and replacement operations on a systemwide basis. The software enables agencies to create an inventory of their culverts, assess them, and schedule repairs and replacements. It also helps agencies to develop maintenance plans and to estimate costs for installing, repairing, or replacing culverts.
The system consists of five modules, which an agency can phase in individually. The inventory module enables the agency to record information about each culvert under its jurisdiction, such as size and location, while the condition module maintains a record of each culvert's condition. The schedule module helps the agency develop a culvert work plan for the year. The work needs module enables the agency to define maintenance and rehabilitation options, determine costs, and rank work by type and priority. With the work funding module, agencies can project culvert deterioration over time and develop long-term work programs.
In addition, agencies can use the system to analyze the type and size of pipe used in individual culverts. By comparing the different types of pipe used, the agency can determine if certain culverts require more frequent maintenance or are more costly to repair, leading to specifications for pipe replacement and installation. The system's user manual cites an example of a local agency using the software to determine that a minimum pipe size of 457 millimeters (18 inches) in diameter would reduce the frequency and effort required to maintain a culvert.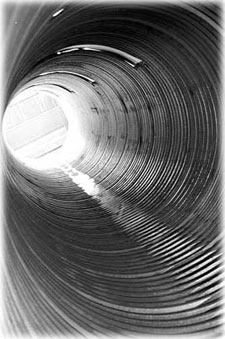 Culverts, such as the one shown above, help move water under the roadbed to preserve and prevent flooding. The Culvert Management System will help transportation agencies better manage their culvert inventories, condition assessments, and improvement programs.
FHWA distributed the Culvert Management System software and user manual (FHWA-LT-02-001) in text and CD-ROM format to the LTAP centers, the National Association of County Engineers, and State departments of transportation. Copies of the software and user manual are available from the FHWA Report Center at 9701 Philadelphia Court, Unit Q, Lanham, MD, 20706 or by calling 301–577–0818.
FHWA created LTAP in 1982 to help improve the skills and knowledge of local transportation providers through training, technical assistance, and technology transfer in local communities. LTAP includes a network of centers in every State and Puerto Rico, plus regional centers serving tribal governments.
Jon Schans 703–235–0509 jon.schans@fhwa.dot.gov
PLANNING
---
Listserv Gives a Voice to Freight Planning Issues
In recent years, freight transportation has undergone significant changes. Containerized freight has revolutionized the industry by creating a system in which smaller shipments can be moved from one transportation mode to another without opening and repacking crates, by consolidating them in standardized containers. In addition, the deregulation of motor carriers and railroads has led to greater competition and lower shipping costs. The U.S. Department of Transportation estimates that by 2020, the Nation's transportation system will handle cargo valued at almost $30 trillion, compared with only $9 trillion today.
Through all this growth and change, the goal of freight transporters remains the same—to deliver goods efficiently and reliably. To meet this goal, transportation planners and freight movers need a forum to share new ideas and innovations, learn about emerging technologies, and discuss successes and challenges. Toward that end, the Federal Highway Administration's (FHWA) Office of Planning, Environment, and Realty and Office of Freight Management and Operations created the FHWA "Freight Planning Listserv" as a forum for participants tasked with integrating freight into metropolitan and statewide transportation planning processes. The listserv—a subscriber-based electronic mailing list and discussion board—is a valuable tool for disseminating information on freight planning projects.
Nearly 500 people currently are registered members of the listserv, and many are from city and State departments of transportation (DOTs), metropolitan planning organizations (MPOs), local governments, Federal agencies, port authorities and railroads, consultants, academia, and international government bureaus.
Each month, FHWA sends out questions through the listserv to stimulate conversation among members and distribute important information or announcements about upcoming seminars, training sessions, and conferences. In addition, subscribers can post their own questions. One recent topic was whether there is a need for a training course on freight forecasting. The question asked members to identify potential course topics that would address the needs of the public sector. Using information from the responses, FHWA is developing a 3-day course called Multimodal Freight Forecasting in Transportation Planning, which FHWA's National Highway Institute will begin offering this summer.
In another recent listserv question, FHWA sought information about how State DOTs and MPOs address freight planning needs. The Delaware Valley Regional Planning Commission—the MPO for Philadelphia and central New Jersey—responded that it organized a freight advisory committee as an important stakeholder in its transportation planning process. Other freight planners also weighed in.
Other topics include innovative financing for freight projects, the impact of freight on State and regional economies, access to freight facilities, methods for tracking performance, and truck-only interchanges and lanes.
The listserv complements FHWA's new monthly seminar series, Talking Freight, by providing participants with a means of continuing topic-based discussions with speakers from the seminars. To join the listserv, visit www.fhwa.dot.gov/freightplanning/index.htm.
Eloise Freeman-Powell 202–366–2068 eloise.freeman-powell@fhwa.dot.gov
Scott Johnson 202–366–9498 scott.johnson@fhwa.dot.gov