Table of Contents
Forum Seeks Fresh Solutions for Foul Weather
New Systems Control Traffic in Real Time
New Web Feature Spreads the Good Word on ITS
LTAP Offers Sign Maintenance Presentation
New Course Helps Integrate Freight and Planning
FHWA Publications Spread the Word on New Geotechnical Applications
FHWA Initiates Study on Collision Avoidance
FHWA Deploys New Tunnel Management System
OPERATIONS
---
Forum Seeks Fresh Solutions for Foul Weather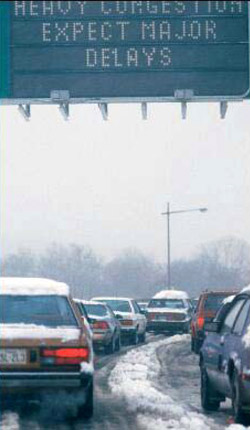 Variable message signs, like the one shown above, can alert drivers about congestion during adverse weather events, such as snowstorms, by providing real-time information.
In 2001, more than 6,900 people lost their lives on roadways in adverse weather in the United States. In addition, nearly 470,000 injuries result from weather-related crashes annually. Weather events can cause a routine traffic delay to deteriorate quickly from bad to worse.
In November 2003, the American Meteorological Society and the Federal Highway Administration (FHWA) cosponsored a policy forum in Washington, DC, to discuss how to improve the safety and operation of the Nation's highway system through enhanced transportation management strategies based on better application of weather information. With the theme "Weather and Highways," the 2-day event attracted weather researchers, transportation managers, and specialists representing academia, the private sector, and Federal, State, and local agencies.
FHWA Associate Administrator for Operations Jeffrey F. Paniati, also the acting director of the Intelligent Transportation System (ITS) Joint Program Office, shared FHWA's perspective on research needs and barriers. Paniati explained that managing the highway system involves transportation professionals representing many areas of specialization. The Road Weather Management Program at FHWA documented 44 types of highway managers who use weather information to make 423 different kinds of decisions. This diversity complicates how weather information is packaged. In addition, the differing missions and requirements between and within agencies translate into a lack of uniformity in the application of weather information.
The Road Weather Management Program supports a dual mission of making the meteorological community aware of specific road weather information needs, while educating the highway management community about new tools and techniques. The Maintenance Decision Support System project, for example, uses state-of-the-art weather forecasting technologies and computerized maintenance rules of practice to create an automated system that generates an optimized set of recommendations for winter road maintenance. The program's goal is a system that provides "anytime, anywhere, road weather information" for highway users and managers alike.
Paniati also emphasized that new applications to manage weather on roadways need to keep pace with the evolving strategies for operating the Nation's highways. In the past, highway agencies focused on building new roads, but today FHWA is helping reshape the way highways operate by addressing operations-related problems. Paniati highlighted six characteristics that FHWA believes can transform an organization into a "21st century operations agency." First, agencies must be focused on the customer by responding to the needs of residents, tourists, workers, businesses, and freight operators, who care about the quality and reliability of their trips regardless of who "owns" the roadway. Second, agencies need to improve the performance of the transportation system in terms of road capacity, cost savings, customer satisfaction, delay, energy and the environment, and safety. Third, agencies need to shift to a systems approach, which means adopting a regional view of managing highways that transcends city, county, and State boundaries and system ownership.
Next, agencies increasingly need to focus on managing highways in real time by providing up-to-date information on weather, pavement conditions, incidents, traffic flow, maintenance activities, and construction plans. Fifth, since the transportation system functions 24 hours a day and 7 days a week, operations agencies need to conduct some functions on a 24/7 basis to be responsive to their customers. Finally, highway agencies need to improve their ability to anticipate and manage transportation events, whether caused by construction, incidents, or weather.
A final report summarizing the recommendations from the forum will be available in spring 2004. For more information on managing road weather, visit http://ops.fhwa.dot.gov/weather/.
Paul Pisano 202–366–1301 paul.pisano@fhwa.dot.gov
New Systems Control Traffic in Real Time
Existing systems for controlling signals at intersections often are incapable of handling modern traffic requirements. For example, they are unable to respond quickly to changing traffic conditions and varying levels of congestion. In addition, traditional systems tend to be effective only when traffic is not congested and relatively consistent over time. The present systems also are expensive to maintain because transportation agencies must update the timing plans if traffic demands and patterns change.
To develop traffic control systems that agencies can alter easily to meet the requirements of the current transportation system, researchers at the Federal Highway Administration's (FHWA) Turner-Fairbank Highway Research Center in McLean, VA, launched a 10-year research effort in 1992 to develop adaptive software systems for operating traffic signals. The goal of the research was to create control systems that operate in real time, with signal timing that agencies can adjust to accommodate changing traffic patterns. FHWA recently completed the research, and two adaptive control systems currently are available for use.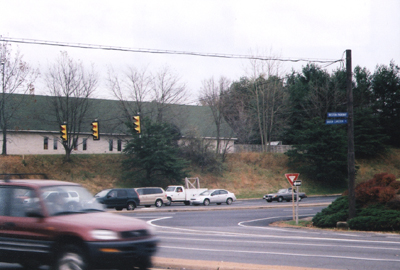 FHWA's new adaptive control systems will help improve traffic flow at signal-controlled intersections such as the one shown above.
Unlike earlier signal timing systems, the adaptive systems are not based on a fixed cycle length or on the time it takes to complete all phases of a signal. Instead, the new systems can adjust the cycle length and the order in which the phases occur. Adaptive systems also can change the split—the division of the cycle time of green phases for competing approaches—and the offset—the difference in the starting times of the green phases at adjacent intersections. Using sensors, the systems detect approaching traffic and apply mathematical algorithms to adapt the timing of the signals to optimize performance.
Initially, FHWA researchers developed five prototypes of the software. After determining that three of the prototypes were viable, they tested them in the laboratory with traffic simulators and in the field at actual intersections. One system, called Optimized Policies for Adaptive Control (OPAC), is designed to control congestion by maximizing throughput, or the volume of traffic moving through an intersection. OPAC adjusts splits, offsets, and cycle lengths while maintaining a specified phase order.
The second prototype, the Real-Time Hierarchical Optimized Distributed Effective System (RHODES), enables highway agencies to control signals at the intersection and network levels. RHODES uses information from sensors to predict when traffic will arrive at intersections.
In contrast, the Real-Time Traffic Adaptive Control Logic (RTACL) system uses a simulator to estimate traffic flow and evaluate signal-phasing alternatives in an intersection network. The RTACL system can optimize signal timing based on stopped lines of traffic on all links into or out of a particular intersection.
FHWA's simulation tests found that, when compared to traditional signal timing systems, adaptive control software can improve traffic volume handling by 3 to 7 percent, thus using road capacity more effectively, and can decrease travel time. Field tests of OPAC in Reston, VA, RHODES in Seattle, WA, and RTACL in Chicago, IL, supported the results of the simulation tests. During peak traffic hours, OPAC and RHODES improved travel times by 5 percent compared to traditional signal timing plans. RTACL improved travel times by 12 to 53 percent, and decreased delay up to 100 percent along certain paths within the network, while travel times along other paths increased significantly.
Installation of adaptive control software systems costs between $10,000 and $40,000 per intersection. Maintaining the systems, however, requires just $1,000 per intersection per year, compared to the cost of retiming traditional systems at $5,000 per signal every 2 years. In addition, adaptive control software saves drivers $8 for every reduced vehicle-hour of delay and $20 for each reduced commercial vehicle-hour of delay. Currently, only the OPAC and RHODES systems are available for use.
For information on obtaining these systems, contact:
Deborah Curtis 202–493–3267 deborah.curtis@fhwa.dot.gov
New Web Feature Spreads the Good Word on ITS
Transportation professionals around the Nation are using intelligent transportation systems (ITS) to help improve traffic safety, reduce congestion, increase nighttime vision, and keep drivers awake. Using the latest computers, electronics, communications, and safety systems, these professionals are applying ITS technologies to highways, streets, bridges, and vehicles. With numerous ITS technologies already available and many more in development, however, transportation professionals want a quick and easy way to learn about the experiences of others who are using the technologies, the costs and benefits of ITS, and whether the available technologies meet industry expectations. With this information, transportation professionals will be better equipped to choose the right ITS technologies for their projects and spend scarce transportation resources wisely.
To highlight some of the most successful ITS technologies, the U.S. Department of Transportation's ITS Joint Program Office recently introduced the ITS Benefit of the Month, a new feature available on the office's "ITS Benefits and Costs Database" Web site. Each ITS Benefit of the Month entry indicates how ITS helped transportation professionals improve safety, mobility, efficiency, productivity, or the environment of a community.
The November 2003 entry, for example, showcased the success of adaptive signal control systems, which adjust the timing of traffic signals based on traffic flow. After the systems were deployed at intersections in Los Angeles, CA, overall intersection delay decreased by up to 18 percent, and the level-of-service—a qualitative measure of how well an intersection is operating based on traffic volume and geometric conditions—improved at most intersections by up to 55 percent. More than 2,500 of the 4,000 traffic signals in Los Angeles, CA, currently are equipped with adaptive signal controls.
These kinds of signal controls were found to be most beneficial at two-phase intersections with exclusive turning lanes and/or unbalanced critical volumes—intersections where traffic on the cross street is significantly greater than on the main street at particular times of day. The benefit was considerably less at intersections with multiple phases, such as advanced green lights for left turns, because such intersections require a minimum time for each phase of the signal. This type of timing leaves little flexibility for adjusting the green phase according to traffic flow.
More recently, the December 2003 ITS Benefit of the Month entry highlighted TravInfo®, a traveler information system used in the San Francisco Bay area. TravInfo provides the public with travel updates via telephone—by dialing 511—and the Internet. To evaluate TravInfo, researchers at the University of California, with funding from the Federal Highway Administration and the California Department of Transportation, conducted a field operational test from 1996 to 1998. Although researchers found that only 9 percent of households were aware of TravInfo, the test results indicated that users of TravInfo's telephone and Internet services were two to three times more likely to change their travel plans, such as their routes or departure times, than those who relied on traffic reports broadcast on radio or television.
The test showed that the Internet travel advisory service had the greatest influence on travelers' plans. The information presented online influenced 81 percent of Web site visitors. The phone service was the second most effective medium, with 45 percent of callers changing their travel plans compared with only 25 percent who heard reports on radio or television. These results suggest that graphic displays and verbal descriptions of freeway traffic speeds and incident locations enabled travelers in the San Francisco Bay Area to select different departure times and choose alternate routes.
The ITS Joint Program Office distributes the Benefit of the Month via e-mail to ITS media outlets monthly and posts it on the "ITS Benefits and Costs Database" Web site at www.benefitcost.its.dot.gov. The Web site also provides access to a growing collection of information on the benefits and costs of implemented ITS technologies, including summaries of ITS benefits and unit costs, conference papers, and other reports.
Joseph Peters 202–366–2202 joe.peters@fhwa.dot.gov
TRAINING
---
LTAP Offers Sign Maintenance Presentation
Signs along roadways provide vital information to motorists. They give drivers guidance on the operation of their vehicles, provide warnings about upcoming hazards, and inform drivers about important locations. Theft and vandalism of signs, however, are growing problems in many areas and can create traffic hazards when agencies do not replace the missing or damaged signs. In addition, road workers in some localities are not trained to keep signs clean, legible, and placed in appropriate locations. This can lead to crashes and increased legal claims against highway agencies for road and bridge conditions that allegedly cause injuries or damages to motorists.
Cosponsored by the Federal Highway Administration (FHWA), the Pennsylvania Department of Transportation, The Pennsylvania State University, and the Governor's Center for Local Government Services, the Pennsylvania Local Technical Assistance Program (LTAP) recently developed a Microsoft® PowerPoint® presentation, "Maintenance of Signs and Sign Supports for Local Roads and Streets." The slide presentation provides an overview of best practices for installing and maintaining signs. The presentation is divided into several modules, including an introduction, repairing and replacing signs, inspecting and cleaning them, and work zone traffic control. The modules are arranged in a nonlinear format, enabling local road workers using the presentation to access specific topics easily.
A module dealing with sign inspection, for example, outlines best practices, such as continuous and scheduled inspections, for developing an effective sign management program. Continuous inspections should occur when crews are on the roadway for a job and observe a sign deficiency, such as fading, dirt, or graffiti. In addition, crews should perform scheduled inspections at least two times per year—at the end of the winter season and prior to the start of the school year—during the day and at night, for both inspection periods. Another best practice—scouting—should take place after unusual events, such as construction activities, storms, or large gatherings, when crews go out looking for missing, damaged, or nonvisible signs.
The Pennsylvania LTAP, in cooperation with FHWA, developed the presentation as a supplement to the FHWA's publication, Maintenance of Signs and Sign Supports on Local Roads and Streets: A Guide for Street and Highway Maintenance Personnel (FHWA-RT-00-00). FHWA's Office of Safety published the guide to help local road workers understand the importance of well-maintained signs. Available at http://safety.fhwa.dot.gov/local_rural/fhwart0000/, the guide also includes best practices on repairing, replacing, and maintaining signs and sign supports.
Pennsylvania LTAP has distributed the sign maintenance presentation to other LTAP centers, the National Association of County Engineers, State departments of transportation, and FHWA division offices. The presentation can be downloaded from the National Highway Institute's Web at www.nhi.fhwa.dot.gov/downaffi.asp. A CD-ROM with the presentation is available through the LTAP Clearinghouse, which can be accessed online at www.ltapt2.org.
Jon Schans 703–235–0509 jon.schans@fhwa.dot.gov
New Course Helps Integrate Freight and Planning
The issues associated with delivering products to consumers are complex and involve many stakeholders all holding distinct perspectives on the movement of freight. Transportation planners and government officials have the responsibility to balance the needs of these stakeholders with the requirements of a growing economy, while working to maintain and improve the Nation's transportation system. To meet the challenge, planners need to understand freight and its importance in the transportation planning process.
To equip transportation professionals with the knowledge and skills necessary to plan effective freight movement, the Federal Highway Administration's (FHWA) National Highway Institute (NHI) is offering a new 2-day introductory course—Integrating Freight in the Transportation Planning Process. Representatives from Federal agencies, State departments of transportation (DOTs), metropolitan planning organizations, and local governments can benefit from the course's lectures, interactive discussions, and hands-on activities.
The new course will focus on current trends and challenges and provide forecasts of freight transportation movements. Participants will learn to identify data sources that should be used in the planning process and will develop a list of data questions covering the types, tonnage, and frequency of commodities moved through a metropolitan area. These questions will help participants develop a freight action plan.
In addition, participants will gain an appreciation for the stakeholders within the freight industry and their perspectives. They also will discuss common problems that hinder incorporating freight issues into the planning process and identify successful practices used in State and metropolitan areas for conducting freight studies and building freight advisory committees. In addition, attendees will identify key resources that can help them integrate freight concerns into their transportation planning processes and programs.
FHWA's Office of Freight Management and Operations and Office of Planning, Environment, and Realty are sponsoring the course, which NHI will open to groups of 20 to 30 participants in January 2004. NHI will offer the first 12 sessions scheduled free of charge and will offer the next 12 sessions at a reduced price. State DOTs, metropolitan planning organizations, local governments, FHWA division offices, and private sector businesses are welcome to sponsor the course. Courses will be scheduled on a first-come, first-serve basis.
For more information visit http://www.nhi.fhwa.dot.gov/home.aspx, or contact Danielle Mathis-Lee at 703–235–0528 or danielle.mathis-lee@fhwa.dot.gov.
Nancy Stout 703–235–1260 nancy.stout@fhwa.dot.gov
INFRASTRUCTURE
---
FHWA Publications Spread the Word on New Geotechnical Applications
Each year, researchers develop many new products, materials, and standards for geotechnical engineering, such as rapid-testing methods, faster and more powerful installation equipment, and improved techniques for site characterization. Staying on top of the latest developments can be challenging for specialists in highway design and construction, but many of these new technologies can help maximize scarce resources and improve the quality of the Nation's transportation system.
To keep transportation professionals up-to-date, the Federal Highway Administration's (FHWA) National Geotechnical Team is developing a series of reports offering practical geotechnical design and construction guidance. Known as the Geotechnical Engineering Circulars (GECs), the publications focus on emerging and underutilized technologies within the transportation industry. To date, FHWA has produced seven GECs, including two new reports in 2003.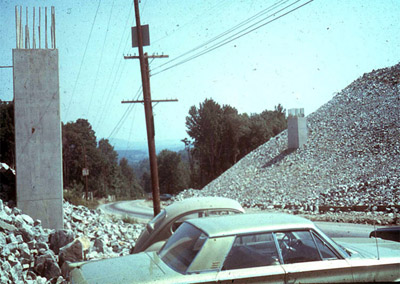 Piers in end fills such as the one shown above can be subject to tilting if the settlement is not correctly accounted for. Applying current design and construction procedures for shallow foundations can minimize such problems.
GEC #6, "Shallow Foundations" (FHWA-IF-02-054), highlights techniques and guidance for designing and constructing shallow foundations, such as simple footings under retaining walls or more elaborate bridge piers or abutments that only extend several feet below the bottom of a highway structure. As a relatively new technology, shallow foundations are underutilized in the transportation industry. They have the potential, however, to reduce costs and improve infrastructure performance in situations where installing deep foundations, such as driven and drilled piles, is expensive or environmentally unattractive. In addition, at many urban interchanges, constructing shallow foundations may be faster and less disruptive than other alternatives. The report includes requirements for using specific materials and highlights information on placing shallow foundations to minimize or eliminate post-construction deformations.
GEC #7, "Soil Nail Walls" (FHWA-IF-03-017), explains the technique of using steel bars to reinforce earthen walls. Installation involves sequentially excavating soil or rock and inserting unstressed, grouted soil nails. Transportation agencies can use soil nailing for excavation applications like slope stabilization and the construction of temporary and permanent retaining walls and abutments. The technique has a design life of 75 years, requires minimal workspace, and can save money and reduce construction time. The report also provides guidance and best practices for applying the technique and cautions designers to use performance-based rather than traditional specifications for projects involving soil nailing.
The target audience for the GEC series includes managers, engineers, and researchers responsible for selecting, designing, constructing, and contracting geotechnical engineering features for transportation projects. To download or request a copy of any of the reports, visit https://www.fhwa.dot.gov/engineering/geotech/library_listing.cfm.
Jerry DiMaggio 202-366-1569 jerry.dimaggio@fhwa.dot.gov
SAFETY
---
FHWA Initiates Study on Collision Avoidance
Drivers run red lights for many reasons—they are in a hurry, encounter poorly timed signals, or simply ignore the light. Regardless of the reason, the results can be devastating. More than 1.8 million crashes occur at intersections each year. Preliminary estimates indicate that in 2002, 207,000 of these crashes were attributed to red light running, resulting in 178,000 injuries and approximately 920 deaths.
To help reduce the number of crashes occurring when drivers run red lights, researchers at the Federal Highway Administration's (FHWA) Turner-Fairbank Highway Research Center in McLean, VA, recently initiated a study to evaluate warning systems designed to alert drivers about oncoming vehicles that could run a red light. Previous measures to curb red light running focused on alerting motorists who are about to run red lights. In contrast, the new 3-month study will determine the feasibility and effectiveness of systems that protect other drivers from becoming victims of red light running crashes.
"There are essentially two scenarios that need to prevented," explains Gregory Davis, a research psychologist in FHWA's Office of Safety Research and Development. "One is keeping drivers at a red light from running through the intersection, but the other is warning someone approaching a green light who is about to be hit. We are focusing on the second scenario; if it's not possible to stop the person running through the red light, we want to help the person who might be hit."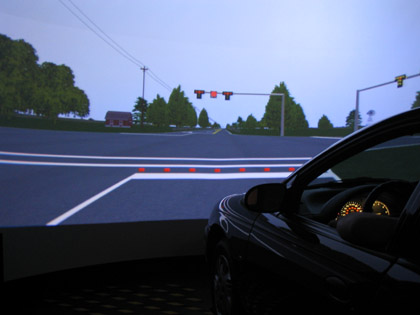 Research participants come to an emergency stop at a simulated signalized intersection.
Using the Highway Driving Simulator, researchers at FHWA will study the responses of approximately 200 drivers to realistic driving scenarios on two-lane rural, signalized intersections. The simulator is a fully interactive 1998 Saturn® SL1 vehicle with active brake and accelerator pedals, a steering wheel, and all other controls from the original vehicle. Study participants will drive through a series of intersections with the lights timed so that drivers expect to travel through during the green phase without slowing or stopping the vehicle. However, without prior alert, a visual warning system outside the vehicle will signal the drivers to stop immediately to avoid a collision with a potential red light runner traveling in the crosspath of the intersection.
The researchers will evaluate four methods of presenting the warnings, with each method becoming progressively more complex than the preceding one. To test the effectiveness of each method, the researchers will measure the reaction times of the drivers. "We want to find the least complicated method of achieving an acceptable driver reaction time," Davis says. "Our goal is to warn drivers of oncoming red light runners, but we need to do it in a cost-effective way. The more complex the warning system, the more expensive it becomes."
The first system—the experimental control—uses a traditional green-to-yellow-to-red phase change with a normal 4-second yellow phase. The second method also uses a three-phase system but with an abbreviated 0.5-second yellow phase. The third method builds on the second, using both the traditional three-phase signal with an abbreviated yellow phase, but also has two additional red signals affixed to the sides of the main signal. The fourth system is the most complex and expensive. It employs all of the elements of the third system, plus a stop sign illuminated by strobe lights, flashing in-roadway lights on either side of the driver's lane, and simulated "intelligent rumble strips"—tactile warning devices that rise out of the pavement only when a red light runner is approaching.
The researchers will use initial results from the study to determine which combinations of elements from the warning systems to evaluate further. FHWA expects to release the results of the entire study in spring 2004. If the researchers find that these infrastructure-based intersection collision warning systems are proven effective, they can later be integrated into in-vehicle warning systems to maximize safety performance.
For more information, contact:
Gregory Davis 202–493–3367 gregory.davis@fhwa.dot.gov
TECHNOLOGY INNOVATION
---
FHWA Deploys New Tunnel Management System
As tunnel components such as fans, pumps, and structural supports reach the end of their service lives, deferred or neglected maintenance can speed their deterioration and result in costly repairs or necessitate complete replacement. To help improve the Nation's highways, tunnels, and underground transit infrastructure, the Federal Highway Administration (FHWA) developed the Tunnel Management System (TMS), and has made it available for downloading at http://assetmanagement.transportation.org.
The system includes guidance for inspecting, maintaining, and repairing structural elements of tunnels and mechanical and electrical components. It also includes a software program for tunnel operators to use to create a database for collecting and analyzing information about specific facilities. Data can include ratings for the condition of components; sketches, photos, and videos of defects; comments describing conditions; and a log of completed repairs and repair costs.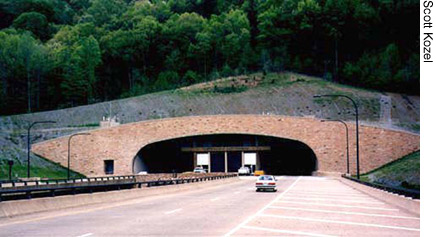 FHWA's new Tunnel Management System will help agencies manage tunnels such as the one shown above.
Unlike previously developed systems, the new TMS includes best practices from sources around the country and is available on the Internet. Because the system is comprehensive and can be downloaded, the U.S. Department of Transportation now is able to disseminate information on tunnel management nationally.
"We can't simply design and build tunnels and expect them to care for themselves," says Associate Administrator for Infrastructure King W. Gee. "Because TMS will be available to all highway agencies, owners, and operators, it will become an invaluable tool in maintaining and preserving our Nation's tunnel assets."
The system outlines the protocol for tunnel inspections and record keeping, and includes two downloadable manuals. The Highway and Rail Transit Tunnel Inspection Manual (Contract No. DTFH61-01-C-00067) describes tunnel components and provides guidelines for performing inspections and recording their results, while the Highway and Rail Transit Tunnel Maintenance and Rehabilitation Manual (Contract No. DTFH61-01-C-00067) provides recommendations on best practices for preventative maintenance and structural repairs on various tunnel components.
FHWA recently combined forces with the District of Columbia Department of Transportation (DDOT) to deploy the first TMS for highway tunnels. Coordinated by FHWA's Office of Asset Management, the deployment includes installation of the TMS software onto the DDOT server, populating the system with an inventory of tunnels in Washington, DC, and using the software program and guidance manuals to collect inspection data on the structural features and other components of the tunnels. DDOT began collecting inspection data in September 2003 and will continue through January 2004. When the project is complete, the agencies will post a report on the Internet documenting the deployment of the TMS.
George Romack 202–366–4606 george.romack@fhwa.dot.gov