Table of Contents
New Web Tools are Gold Mine of ITS Information
FHWA Developing New ITS and Safety Course
New Methods Characterize Lava Flows Beneath Roadways
Agencies Celebrate National Transportation Week
FHWA Offers Tips for Effective Communications in Work Zones
Studies Explore Delayed Ettringite Formation in Concrete
Getting the Research Word Out
ITS/INFORMATION RESOURCES
---
New Web Tools are Gold Mine of ITS Information
Transportation professionals can save time and money by identifying lessons learned from past projects and by embracing the successes and avoiding the pitfalls of previous endeavors. Projects in which transportation agencies implement intelligent transportation systems (ITS) to help solve problems related to congestion and safety, to be effective, must be tailored to meet the needs of the traveling public. By learning from previous projects, transportation professionals are better able to determine whether a particular ITS technology will help address a specific issue.
To help in planning ITS projects, the Federal Highway Administration recently published two online reference tools that contain a wealth of information on past projects. The first tool is the latest edition of ITS Projects Book 2004, which provides descriptions of hundreds of projects, tests, and studies. All of the projects described in the online catalog were partially or wholly financed with Federal ITS funds. The U.S. Department of Transportation's ITS Joint Program Office developed the catalog, which is available at www.itsdocs.fhwa.dot.gov//JPODOCS/REPTS_TE//13999.html. Each listing contains the project's goals and objectives, the scope of work, location, start and end dates, points of contact, and other information.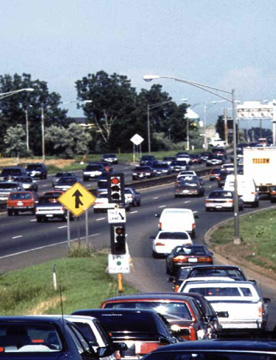 Ramp metering systems, such as the one shown here, are one example of the type of ITS projects described in FHWA's new ITS online reference tools.
The second reference tool is the Evaluation/Program Assessment section of the ITS Joint Program Office Web site, which is available at www.itsdocs.fhwa.dot.gov/EVAL/docs.htm. Arranged into various categories of projects, this section of the site features final evaluation reports on specific projects, including detailed information about lessons learned.
According to Joseph Peters, manager of ITS program assessment for the ITS Joint Program Office, this Web site will assist transportation professionals tasked with planning and implementing ITS projects. "For example, if an engineer were charged with developing a freeway management system," Peters says, "he or she could go to that category on the Web site to get documents that present a crosscutting view of freeway management systems and lessons learned during the development and implementation of these systems."
Michael Freitas 202-366-9292 michael.freitas@fhwa.dot.gov
TRAINING/SAFETY/ITS
---
FHWA Developing New ITS and Safety Course
More than 40,000 people die and 3 million are injured in motor vehicle crashes on highways each year. As more people travel more miles, the number of fatalities and injuries could increase unless significant improvements in highway safety are made. FHWA's goal is to make improvements that will help reduce the rate of fatalities from 1.5 to 1.0 fatalities per 100 million vehicle-miles (161 million vehicle-kilometers) traveled by 2008. To help meet this goal, FHWA's Resource Center and Office of Safety and the U.S. Department of Transportation's Intelligent Transportation Systems (ITS) Joint Program Office are developing a 2-day course for the National Highway Institute (NHI), entitled Improving Highway Safety with ITS (#137044).
The course will be based on a series of 1.5-day workshops that FHWA currently is sponsoring for local transportation agencies. The new course will be geared toward traffic operations and ITS engineers at all levels, planners responsible for highway and transportation improvements, public safety professionals responsible for transportation safety, researchers interested in highway safety and ITS, and others who want to learn more about these topics.
Like the workshops, the course will show how ITS applications can be used to improve safety, such as replacing stationary signs with electronic versions. In addition, participants will learn about ways to encourage collaboration between safety- and ITS-related programs. The course also will include examples of local applications of ITS and breakout sessions to foster additional discussions about specific technology and safety issues.
Attendees will learn about various project experiences and planning issues at the project and system levels. Instructors will present and compare ITS applications with more traditional approaches to improving safety, and participants will explore how ITS can complement the safety improvements that transportation agencies currently are using. The goals of the course are to accelerate the introduction and evaluation of ITS applications, examine the results from deploying ITS, review the procedures and requirements of strategic safety planning, and increase the transportation community's awareness of safety improvements that can be achieved with ITS.
FHWA is making the course broad enough in scope to be delivered nationally, but also is ensuring that the contents are flexible enough to be tailored to address local problems. Although the NHI course will not be available until 2005, FHWA plans to provide additional opportunities for people to participate in the 1.5-day workshops until NHI can offer the full course.
Mac Lister 708-283-3532 mac.lister@fhwa.dot.gov
Morris Oliver 202-366-2251 morris.oliver@fhwa.dot.gov
GEOTECHNOLOGY
---
New Methods Characterize Lava Flows Beneath Roadways
Road crews and engineers working on transportation projects in national parks and forests often are confronted with lava tubes-ancient subsurface conduits for flowing lava. Found primarily in Hawaii and the northwestern States, lava tubes can be nearly 25 meters (80 feet) in diameter. They can pose serious safety hazards to roadway construction activities, particularly during operations employing heavy, vibrating excavation equipment, which can increase the risk that the roadway could collapse. To detect lava tubes, crews historically have used various drilling methods. These techniques, however, can be costly and ineffective. In addition, many tubes are located on protected lands where drilling is discouraged.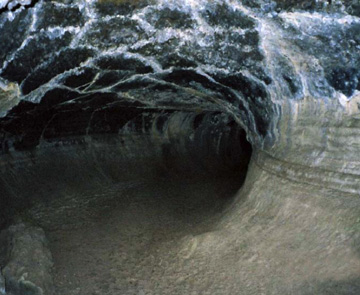 The above photo shows the internal structure of Valentine Cave in Lava Beds National Monument. This structure is typical of the lava tubes commonly found beneath the ground in California and Hawaii.
To find faster, more effective, and less intrusive detection methods, the Federal Highway Administration (FHWA) is leading the development and evaluation of various geophysical methods to characterize extensive subsurface lava tubes in a nondestructive manner. In fall 2003, for example, researchers from FHWA conducted a study at the Lava Beds National Monument in northern California.
Results indicated that lava tubes could be located by using a combination of magnetometry and ground penetrating radar. Both methods detect subsurface anomalies by measuring shifts in the Earth's magnetic field and then measuring the reflections from a microwave pulse. After determining the best methods for locating the tubes, FHWA used the selected techniques to perform a full-scale survey of critical lava tubes at the site. The researchers located nearly 150 potential lava tubes and found that tubes were located beneath approximately 26 kilometers (16 miles) of roadway slated for reconstruction and paving. The survey also revealed that only about 10 percent of the total subsurface anomalies in the Lava Beds National Monument are visible from the surface.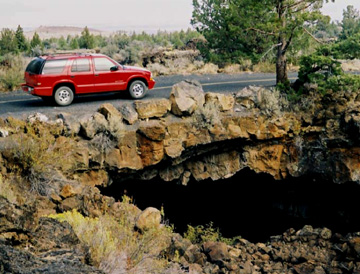 The lava tubes known as Bear Paw Bridge, shown above, formed next to the entrance to Merrill Cave in Lava Beds National Monument.
To determine which geophysical approaches are best suited for locating lava tubes and helping to develop new analytic methods, the researchers in the California study evaluated the features and location of several known lava tubes. By analyzing measurements relative to known features of the landscape, the researchers calibrated their geophysical technologies to develop a method of characterizing the likelihood of tube crossings at each location where reconstruction is slated to occur. The new geophysical methods will enable FHWA to provide contractors with the location of known anomalies, a rating of likelihood that a given location harbors an actual tube crossing, and information on associated dangers.
The knowledge gained from FHWA's research in California is not limited to lava flows. Other subsurface voids, such as abandoned mine shafts, sinkholes, and unknown caverns, often are located beneath roadway projects. Although the specific tools used in the northern California study may not be applicable universally, transportation agencies can adapt the general geophysical methods for other uses.
Matthew J. DeMarco 720-963-3520 matthew.demarco@fhwa.dot.gov
OUTREACH
---
Agencies Celebrate National Transportation Week
Each year, the U.S. transportation system helps millions of travelers reach their destinations and carries more than 14.5 billion metric tons (16 billion tons) of freight worth almost $12 trillion. Each day, transportation planners, designers, and engineers work diligently to provide the Nation with one of the fastest, most efficient, and safest transportation networks in the world.
To recognize this hard work and success, the U.S. Department of Transportation (USDOT), the Federal Highway Administration (FHWA), and several other transportation agencies recently celebrated National Transportation Week (NTW). The week provided an opportunity for transportation-related agencies and organizations-including Federal, State, and local governments and educational institutions-to celebrate past accomplishments and look toward the future. Many members of the transportation workforce-including designers, engineers, and construction workers-participated in the festivities.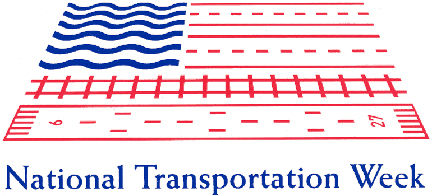 This year's National Transportation Week logo.
The second annual NTW Transportation and Travel Conference and National Defense Transportation Association Exposition took place in Washington, DC, on May 18-19, 2004. The conference and exposition featured a number of speakers, including a keynote address by USDOT Acting Deputy Secretary Kirk Van Tine, and speeches by Under Secretary of Transportation for Policy Jeffrey Shane, Administrator William Schubert of the Maritime Administration, Deputy Administrator Warren Hoemann of the Federal Motor Carrier Safety Administration, Deputy Administrator J. Richard Capka of FHWA, Deputy Administrator Stephen McHale of the Transportation Security Administration, and Under Secretary of Homeland Security for Border and Transportation Security Asa Hutchinson. Several presentations discussed current transportation issues, such as the security of freight transport and the effects of the Centennial of the Flight Aviation Authorization Act (Flight-100) on passenger travel and air freight. A speech by David Plavin, president of the Airports Council International-North America, discussed the transportation industry's perspective on emerging factors that affect business and personal air travel.
In addition to the conference and exposition, one of the week's signature events was the fifth Annual National Transportation Week Poster Contest. Taylor Morgan Cunningham, a fifth-grade student at Freehold Learning Center Elementary School in Freehold, NJ, was this year's winner. More than 600 fifth-grade students, representing 125 schools, entered the contest. With the theme "One Nation on the Move," entrants provided their interpretations of the Nation's transportation system. Cunningham's poster depicted travel by train, automobile, airplane, boat, bicycle, and skateboard, along with a stop sign to represent transportation safety. During the conference, Acting Deputy Secretary Van Tine presented Cunningham with an award and unveiled an enlarged copy of the winning poster displayed on the side of a semitrailer truck.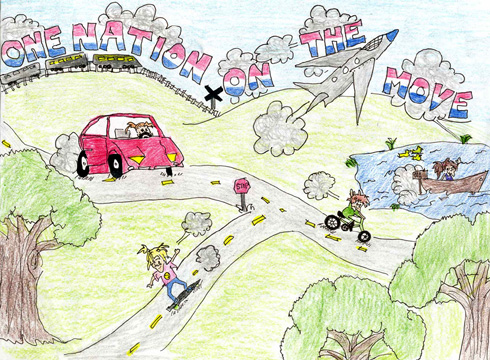 Taylor Morgan Cunningham, a fifth-grade student in Freehold, NJ, drew the winning poster in the fifth Annual National Transportation Week Poster Contest.
This year's NTW also featured several demonstrations and programs sponsored by agencies representing the various transportation modes. More than 1,000 students from the Washington, DC, metropolitan area attended an airfield tour conducted by the Federal Aviation Administration (FAA) at Potomac Field in Ft. Washington, MD. During the tour, officials from FAA announced winners of the NTW aircraft flyer and "music of the mind" contests, which encouraged students to elaborate on the theme, "Charting the Next Century of Flight," through artistic expression.
Several agencies outside the Washington, DC, area, including several university transportation centers, also held events to celebrate NTW. High school students from Madison, WI, for example, visited the University of Wisconsin's engineering department to learn about prospective careers in transportation. In addition, METRA, the transit system in Columbus, GA, hosted its first annual transportation fair to celebrate NTW. The fair, held at METRA headquarters, featured exhibits and displays from the Georgia and Alabama DOTs, the city of Columbus, METRA, Georgians for Better Transportation, and Operation Lifesaver-a nonprofit program dedicated to reducing collisions, injuries, and fatalities at highway-rail crossings.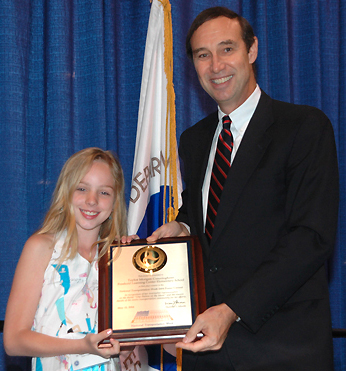 Acting Deputy Secretary of Transportation Kirk Van Tine is shown presenting a plaque to Taylor Morgan Cunningham, the winner of this year's Annual National Transportation Week Poster Contest.
Starting during NTW, a traveling exhibit called "South Carolina on the Move," which chronicles SCDOT's history and provides glimpses into its future, began visiting counties across the State. For NTW, the agency also added a new presentation called "SCDOT: At Your Service" to its Speakers Bureau offerings. The presentation highlights SCDOT's responsibilities and commitment to the people it serves. SCDOT also invited local citizens to open houses held at each of its 48 county maintenance offices. Visitors enjoyed an up-close look at the operations of the DOT by viewing demonstrations, historical photos, and equipment displays.
"Our State has one of the best departments of transportation in the Nation, thanks to our talented and dedicated employees," says SCDOT Executive Director Elizabeth S. Mabry. "National Transportation Week is a time to celebrate the work of each and every employee of SCDOT and join together to promote even greater awareness of the importance of transportation in our State and Nation."
National Transportation Week was first established in 1962 by President John F. Kennedy. He declared NTW to be the week in May containing the third Friday, which had been named as National Defense Transportation Day 5 years earlier. According to FHWA, this year's event was particularly important as the Nation is considering major legislative initiatives that will affect transportation for years to come. Many agencies already have contacted FHWA's Office of Professional Development to add events to next year's NTW schedule.
For additional information about NTW, visit www.ntweek.org or contact:
Maggie Glesner 703-235-0519 maggie.glesner@fhwa.dot.gov
OPERATIONS
---
FHWA Offers Tips for Effective Communications in Work Zones
In 2002, more than 117,000 crashes occurred in work zones. These crashes resulted in an average of three deaths per day and one injury every 15 minutes. To protect workers and ensure the safe and efficient movement of road users-including drivers, bicyclists, and pedestrians-construction crews often use temporary traffic controls around work zones. However, protecting workers and road users also requires all parties to communicate effectively in an environment that often is noisy and full of activity.
The Federal Highway Administration (FHWA) has developed several tips for how clearer communications in work zones can be achieved. Work zones extend from the first warning sign to the last traffic control device, where traffic returns to its normal path. Most work zones can be divided into four areas for drivers-advance warning, transition, activity, and termination. In the advance warning area, for example, communication can vary from a single sign or flashing lights to a series of signs. The sign(s) should attract the attention of road users, tell them what lies ahead-a lane closure, for example-and advise them to take certain actions, such as merging into another lane.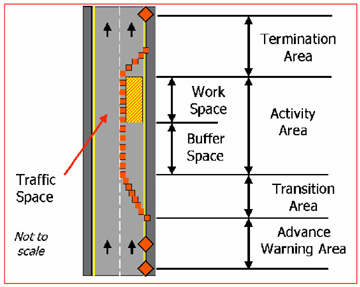 As shown above, work zones can be divided into four areas: advance warning, transition, activity, and termination. Communications in each of the areas can increase the safety of both workers and road users.
Pedestrian and bicycle work zones can be divided into similar areas. Information also should be posted in these areas to allow for safe passage around the work zone, especially if sidewalks are closed. In the advance warning area, for example, FHWA recommends that crews post information to minimize the need for pedestrians and bicyclists to retrace a blocked route. In the transition area, crews should provide information that helps pedestrians and bicyclists find a safe path around the work area. The activity area should include information to help them bypass the work space. In the termination area, crews or signs should direct bicyclists and pedestrians back to the original route. To accommodate the needs of disabled pedestrians, temporary pedestrian facilities, such as wheelchair ramps, should be accessible, and audible information devices should be considered where needed.
Since flaggers are responsible for public safety in work zones, FHWA recommends that they be trained in safe traffic control practices and techniques for communicating with the public. When adequate visibility cannot be maintained by one flagger station, traffic should be controlled by a flagger at each end of the work area, with one flagger designated as the coordinator. Flaggers also should be able to communicate with each other orally, electronically, or with manual signals.
Construction in work zones is a high-risk activity for workers because they may be less visible, particularly at night. FHWA recommends that workers wear high-visibility safety apparel. In addition, agencies should train their workers to decrease their vulnerability while working alongside traffic. Workers need to learn how to move construction vehicles within the work zone safely, particularly when backing up. Effective preparation includes providing workers on foot with a means of communicating with vehicle operators, either orally or with hand signals.
For more information on FHWA's work zone safety program, visit http://ops.fhwa.dot.gov/wz/index.asp.
Mike Robinson 202-366-2193 mike.robinson@fhwa.dot.gov
ADVANCED RESEARCH/PAVEMENTS
---
Explore Delayed Ettringite Formation in Concrete
A potentially significant cause of concrete deterioration is cracking associated with delayed ettringite formation (DEF)-the gradual development of the mineral ettringite within hardened concrete. DEF was first reported in heat-cured railway ties in Germany in the early 1980s. Since then, several other countries including the United States have reported DEF problems in concrete structures. Researchers, however, do not agree on how ettringite forms and causes cracks. To determine how these processes occur, researchers need to establish the specific mechanisms involved and develop improved models for predicting concrete failure.
To gain a better understanding of the problem, researchers at the Federal Highway Administration's (FHWA) Turner-Fairbank Highway Research Center (TFHRC) and the University of Maryland have been collaborating for several years on a DEF research program involving both laboratory and field studies. Dr. Amde M. Amde, a professor in the Department of Civil and Environmental Engineering at the University of Maryland, discussed the research at a June 2004 seminar attended by FHWA scientists and engineers.
In his presentation, Amde reviewed both completed and ongoing DEF studies, which use cutting-edge technology to determine the specific damage mechanisms that make up the complex process of concrete cracking. Researchers have designed the studies to help formulate more reliable predictive models for DEF and more accurate test methods. The predictive models and test methods will help the researchers to recommend changes to the specifications and best practices for mixing and curing concrete to prevent DEF. These changes, in turn, may lengthen the service lives for concrete structures and pavements.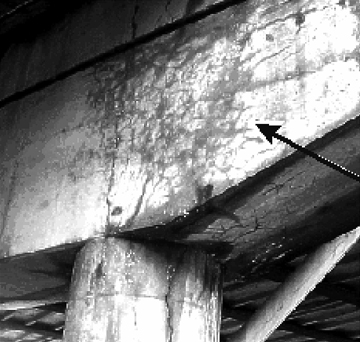 The gradual formation of the mineral ettringite has been associated with cracking in concrete, such as the damage shown here.
The laboratory studies on DEF damage evaluated the effect of various individual factors on DEF, then modified the test conditions and applied alternate methods of measurement. The field studies, supported by the Maryland State Highway Administration, used both destructive and nondestructive methods to investigate a statistical sample of bridges selected from the State's bridge inventory.
The studies considered the types of aggregate used, curing conditions, exposure conditions, potassium content, and the addition of admixtures such as fly ash and mix water conditioners. Quantitative x-ray diffraction and a scanning electron microscope equipped with high-energy, dispersive x-ray analysis technology were used to identify materials within the concrete to determine the mechanisms causing concrete failure. X-ray computed tomography technology was employed to reveal interior cracks in the concrete. The results showed that ettringite crystals were forming in cavities in the concrete and in the interface between the aggregate and cement paste. The studies also found that fly ash and mix water conditioners had positive effects on preventing DEF.
The current research, conducted by FHWA and the University of Maryland and sponsored by the National Science Foundation, looks at correlations among ettringite formation, ettringite distribution, microcrack distribution, and volumetric change in concrete. To track these correlations, researchers used advanced technologies such as synchrotron radiation diffraction, an x-ray technique that employs electromagnetic waves to study the structure of matter; and laser shearography, a nondestructive testing method that uses laser technology to locate internal defects in a material under stress.
Dick Livingston 202-493-3063 dick.livingston@fhwa.dot.gov
INFORMATION RESOURCES
---
Getting the Research Word Out
All the research in the world will not solve problems unless the results are communicated in the right format to the right people. Because Federal Highway Administration (FHWA) research, development, and technology (RD&T) communication products represent the agency, they must be professional, technically accurate, and appropriately comprehensive. Many readers equate the quality of research, the reliability of innovations, and the competence of research staff with the quality of an agency's communication products. To be effective, communication products must present information clearly, concisely, and consistently in design, style, grammar, spelling, composition, and format.
The FHWA Office of Research and Technology Services developed the Communications Reference Guide (FHWA-RD-03-074) to help agency staff and contractors create RD&T reports, fact sheets, technical flyers, brochures, booklets, Web sites, articles, events, and marketing outreach materials. The new Communications Reference Guide replaces the Office of Research and Technology Services' Quick Reference Guide and augments the FHWA Publications and Printing Handbook.
Several steps are essential for planning and producing research communication products, including technical review, editing, layout and design, and printing or posting on a Web site—and publications must comply with a variety of Federal and agency policies and regulations such as the Data Quality Act and Section 508 of the Rehabilitation Act.
The new guide provides tools, techniques, and timelines for effectively planning, scheduling, writing, and formatting print and electronic publications that are specific to RD&T products. Chapters on preparing research reports and other technical publications discuss the purpose, audience, style, and formatting of the publications. A chapter on electronic publishing contains guidelines for CD-ROM submission and Web site development. The guide also includes information on FHWA publication requirements for complying with Section 508 of the Rehabilitation Act, including tips for writing captions for photos and other nontext elements.
To download the guide, visit www.tfhrc.gov/qkref/qrgmain.htm. For more information on the guide or on producing RD&T communications products, contact:
Paula Magoulas 202-493-3398 paula.magoulas@fhwa.dot.gov
Dawn Vanlandingham 202-493-3198 dawn.vanlandingham@fhwa.dot.gov