Table of Contents
FHWA to Host Seminar on Historic Covered Bridge Preservation
FHWA Staff Named to AASHTO Security Committee
Talking Freight: A View from the Border
CD-ROM Helps Local Agencies use SuperpaveTM
Audits Help States Examine Road Safety
Showcase Features System for Reducing Crashes on Rural Roads
New Guide to Improve Signalized Intersections
FHWA Offers Pedestrian Safety Guidelines for Intersections
STRUCTURES/TECHNOLOGY INNOVATION
---
FHWA to Host Seminar on Historic Covered Bridge Preservation
Covered bridges evoke picturesque images of America's past. Their appeal, however, is more than historic. From an engineering perspective, covered bridges are distinctive because many were built by carpenters with strong aesthetic senses but little formal engineering training. In fact, part of the charm of covered bridges is that most do not follow classical engineering principles. This peculiarity, however, can pose difficulties for engineers trying to repair and preserve these structures, many of which date back to the 18th and 19th centuries.
In 1998, the Transportation Equity Act for the 21st Century established the National Historic Covered Bridge Preservation Program to preserve the bridges listed or eligible to be listed on the National Register of Historic Places. One of the research projects funded by the program was the development of the Covered Bridge Manual (FHWA-HRT-04-098), a comprehensive guide to teach preservationists, contractors, and engineers how to preserve, rehabilitate, restore, and reconstruct these historic structures to conform to the Secretary of the Interior's Standards for the Treatment of Historic Properties. The manual features information on how to evaluate, repair, and strengthen existing bridges and includes several examples of recent projects, such as the recently restored Hamden Bridge in New York and Vermont's Power House Bridge, which collapsed but was reconstructed as a replica in 2002.
On July 21, 2004, the Federal Highway Administration (FHWA) will present a seminar on the manual to coincide with its upcoming release. FHWA's Turner-Fairbank Highway Research Center in McLean, VA, will host the event. The 1-day seminar will address many of the technical and engineering challenges associated with historic covered bridges. Topics scheduled for discussion include the unit weight of bridge timber, wind bracing, and snow loads and reasonable live loads on covered bridges. In addition, FHWA will hold an open discussion where attendees may bring up any related topics that are important to them.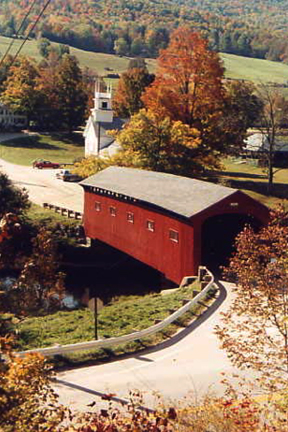 On July 21, 2004, FHWA will hold a seminar on covered bridges like this one. The seminar will coincide with the release of the Covered Bridge Manual.
There is no charge for the seminar; however, all participants must preregister. For their participation, all attendees will receive a copy of the Covered Bridge Manual.
For more information, contact:
John O'Fallon 202–493-3051 john.o'fallon@fhwa.dot.gov
TRANSPORTATION SECURITY
---
FHWA Staff Named to AASHTO Security Committee
Since September 11, 2001, State highway departments and other transportation agencies have increased their efforts to assess the vulnerability of highways, bridges, and other structures to potential security threats. Agencies also are evaluating their ability to respond to the Nation's mobility needs in the event of major incidents. A study by the American Association of State Highway and Transportation Officials (AASHTO) and the Transportation Research Board, however, recently showed that although 98 percent of the transportation agencies surveyed have emergency response plans for natural disasters, only 70 percent have plans for terrorist attacks.
To assist State highway agencies in their efforts to enhance security, representatives from the Federal Highway Administration (FHWA) currently are participating on a new AASHTO Special Committee on Transportation Security. John Gerner, program manager for transportation security in FHWA's Office of the Administrator, serves as secretary of the committee. In addition, Steve Ernst, bridge security engineer in the Office of Bridge Technology, and Vince Pearce, public safety and security team leader in the Office of Operations, are serving as FHWA liaisons to the committee.
The purpose of the committee is to support AASHTO and its members as they develop plans, policies, and procedures for maintaining and improving the security of their transportation systems. Committee goals include promoting awareness of transportation security among State transportation agencies by organizing meetings and conferences and preparing guidance materials on security topics. The committee also plans to partner with Federal and State agencies and other organizations to conduct research and promote the development of security plans and programs.
FHWA's role is to provide guidance and information on the agency's programs and best practices on transportation security and to collaborate with AASHTO on developing new policies and procedures. FHWA staff also will support the committee's activities and initiatives by providing research, training, and technical assistance. Gerner, Ernst, and Pearce, who also were members of the AASHTO Transportation Security Task Force, were chosen based on their expertise in highway, bridge, and tunnel security, and emergency response and preparedness. The committee also includes representatives from other transportation organizations and Federal agencies.
AASHTO created the new committee as an outgrowth of its Transportation Security Task Force, which was formed in October 2001 to address the immediate security needs of the States. Since its inception, the task force has completed several initiatives to help States plan for potential terrorist activities, including sponsoring the development of A Guide to Highway Vulnerability Assessment and A Guide for Updating Highway Emergency Response Plans for Terrorist Incidents.
For more information on the AASHTO Special Committee on Transportation Security, visit http://security.transportation.org. For more information on FHWA's transportation security initiatives, contact:
John Gerner 202-366-0507 john.gerner@fhwa.dot.gov
Talking Freight: A View from the Border
To help ensure the security of international freight movements, the U.S. Department of Homeland Security's U.S. Bureau of Customs and Border Protection (CBP) has implemented several new programs and policies that affect how goods move across the Nation's borders. With the number of new programs devoted to security, however, transportation planners and other professionals may find it difficult to stay informed about the latest initiatives.
The Federal Highway Administration's (FHWA) Office of Planning and Office of Freight Management and Operations recently hosted a Web-conference, "Border Operations," as part of the agency's monthly "Talking Freight Seminar Series" to share information about CBP's freight- and mobility-related activities.
Robert Watt, branch chief of cargo release in CBP's Office of Field Operations, provided an overview of the Free and Secure Trade (FAST) program, a bilateral initiative involving the United States, Canada, and Mexico. FAST enables trucks carrying low-risk shipments to use specially designated lanes to cross the U.S. border in an expedited fashion. During the presentation, Watt outlined basic eligibility requirements. To use the lanes, trucks must meet the requirements of the Customs-Trade Partnership Against Terrorism (C-TPAT) initiative, which develops cooperative relationships between government and businesses to help strengthen the overall supply chain and border security. In addition, trucks using the FAST lanes must carry a special seal that indicates participation in the program. Watt explained that officials with the FAST program currently are investigating the use of transponders to replace the high-security seals. The new transponders would contain the carrier's identification data and would transmit the information electronically to a FAST lane sensor. Since FAST lanes carry up to 11 percent of border traffic, the program could reduce driver wait-time significantly. According to Watt, there already are more than 50 FAST lanes on the Nation's southern border and more than 40 lanes on the northern border.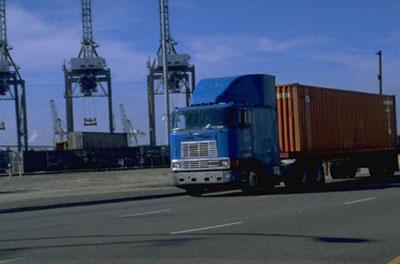 Freight trucks, such as the one shown above, that are carrying low-risk shipments are eligible to cross the U.S. border using specially designated lanes under the FAST program, a topic of discussion at a recent Talking Freight seminar.
During the Web-conference, Jill Hochman, director of FHWA's Office of Interstate and Border Planning, described some of the programs currently helping the U.S. Department of Transportation (USDOT) and FHWA meet their shared goal of global connectivity in transportation. USDOT and FHWA, for example, are working with numerous stakeholders at all levels of government, including the U.S. Department of Homeland Security, State departments of transportation, and the Canadian and Mexican governments. Members of these governments and agencies, including representatives from FHWA, have formed several partnerships. Hochman also discussed FHWA's implementation of the National Corridor Planning and Development Program and the Coordinated Border Infrastructure Program. These programs provide funds to States and metropolitan planning organizations to support economic growth, international or interregional trade, and coordinated planning, design, and construction for corridors of national significance. Though not specifically dedicated to freight transportation, these programs support activities at ports of entry and help improve traffic flow on multistate corridors.
Led by government and industry experts, the Talking Freight seminars are designed to help transportation professionals become familiar with managing freight in the private sector. FHWA conducts the seminars via the Internet and telephone, and each seminar lasts approximately 90 minutes. To learn more about the "Border Operations" seminar, view materials from previous seminars, or register for an upcoming event, visit https://www.fhwa.dot.gov/freightplanning/talking.htm.
Eloise Freeman-Powell, Office of Planning, 202-366-2068 eloise.freeman-powell@fhwa.dot.gov
Scott Johnson, Office of Freight Management & Operations, 202-366-9498 scott.johnson@fhwa.dot.gov
PAVEMENT/TECHNOLOGY INNOVATION
---
CD-ROM Helps Local Agencies use SuperpaveTM
Since 1997, the Indiana Department of Transportation (INDOT) has been moving toward standardizing the use of SuperpaveTM (SUperior PERforming asphalt PAVEment) on nearly all asphalt pavements constructed in the State. Superpave is a system that enables transportation professionals to specify the components of asphalt concrete, design and analyze mixtures, and predict the performance of the pavement. One obstacle, however, has been encouraging local agencies to use the system. To overcome this challenge, INDOT requires that local agencies requesting Federal-aid funding for paving projects include specifications for using Superpave. Since this requirement has been in place for several years, INDOT now is working toward having local agencies use the specifications on all paving projects, regardless of the funding source.
To help reduce the cost and simplify the process of incorporating Superpave into paving projects, the Asphalt Pavement Association of Indiana, in consultation with the Federal Highway Administration, INDOT, and the Indiana Local Technical Assistance Program, recently released the interactive CD-ROM, Asphalt Pavement, the Best Choice for Indiana. Using easy-to-understand language, the CD-ROM helps local agencies navigate the complexities of Superpave, select performance binders, and choose manufacturing plants that are certified to produce hot-mix asphalts. The software also assists hot-mix asphalt plants in complying with INDOT's specifications for quality control and becoming State-certified providers and producers of hot-mix asphalt.
Other features include INDOT's asphalt specifications and test methods and a sample specification for paving roads and streets. In addition, the CD-ROM offers specifications for commercial applications and local governments from the Indiana Highway Engineers and Supervisors Handbook. To ensure that users fully understand the elements of Superpave, the CD-ROM also features links to explanations of all processes and specifications.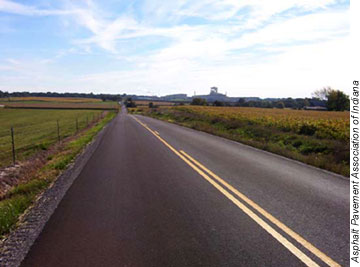 This section of highway in Indiana features asphalt pavement designed using Superpave.
Implementing Superpave may help local agencies and the asphalt industry design pavement projects with longer service lives, reduced maintenance costs, and mix designs tailored for specific local climate and traffic conditions. The CD-ROM incorporates the latest asphalt pavement technologies, best practices, procedures, and processes in a user-friendly, point-and-click format.
To date, 18 local transportation agencies, including the city of Indianapolis, have adopted the new procedures and specifications. For more information on the CD-ROM or to receive a copy, contact the Asphalt Pavement Association of Indiana at 317-632-2441 or inapai@aol.com.
Victor Lee Gallivan, FHWA Indiana Division, 317-226-7493 victor.gallivan@fhwa.dot.gov
SAFETY/TECHNOLOGY INNOVATION
---
Audits Help States Examine Road Safety
More than 42,000 people are killed every year on our Nation's road network. State and local transportation agencies are identifying different approaches to improving safety in their jurisdictions. One proactive approach is for transportation agencies to anticipate the crash potential and safety performance of the road network and identify potential safety issues before a crash pattern develops. To implement this approach, transportation agencies can undertake road safety audits (RSAs). Road safety audits are formal safety performance examinations of existing or future roads or intersections by independent audit teams. At the Federal Highway Administration (FHWA), officials are working to develop basic knowledge and tools for agencies interested in conducting RSAs.
Transportation agencies at the State, county, and city levels have been performing road safety audits since 1997. To carry out an audit, an agency starts by identifying the existing or future road or intersection to be assessed and then selecting a team qualified to perform the audit at that location. The team then evaluates the safety of the road or intersection and prepares a brief report identifying potential safety issues. The agency or owner of the road or intersection responds to the issues identified and lists the actions that will be taken or documents the reasons for not implementing a suggestion. Issues identified by RSAs can range from the very simple, such as the need to trim vegetation, to the more complex, such as the planning of the layout of roadway networks.
In addition to saving lives, RSAs may offer potential cost savings. Officials in Grand Rapids and Detroit, MI, have performed economic analyses of suggestions resulting from RSAs and consistently have found positive benefit-to-cost ratios. In South Carolina, the State department of transportation saved thousands of dollars after its first audit by correcting a design problem at the audit site.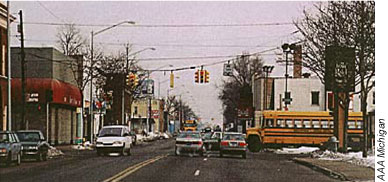 Prior to the RSA of this intersection in Grand Rapids, MI, two traffic signal heads were suspended on a diagonal span of wire with only one head hung over the travel lanes. The intersection also had two approaching lanes, which were separated by a dashed white pavement marking.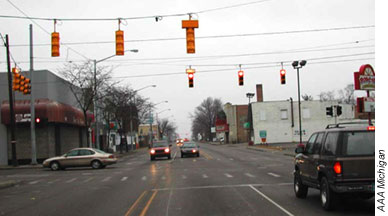 After the RSA, three traffic signal heads were suspended on a box span of wire directly over the travel lanes, with two signals for the through lane and one for the left turn lane. Traffic signal timing also was adjusted to add a protected left turn phase. In addition, pavement markings now show a separate left-turn lane at the intersection.
The cost of performing an audit can vary and depends on the complexity and scope of the project. Agencies can save money by designating RSA teams that include experts from nearby jurisdictions, in exchange for providing their own experts to perform RSAs on neighboring roads. Alternatively, agencies can hire a consultant, which can cost anywhere from $2,000 to $5,000 or more, depending on the scope of the RSA. To fund the RSA and implement the audit results, agencies also can seek Section 402 Highway Safety Funds, which support State highway safety programs designed to reduce traffic crashes and resulting deaths, injuries, and property damage. At least 40 percent of these funds are earmarked for addressing local traffic safety problems.
A report by the National Cooperative Highway Research Program, Roadway Safety Tools for Local Agencies, contains an RSA toolkit for local agencies that includes forms to use on field visits and a sample checklist of items to consider when conducting an audit. To download the report, visit http://trb.org/publications/nchrp/nchrp_syn_321.pdf. FHWA also is developing guidelines and a checklist for use by agencies conducting RSAs. In addition, the National Highway Institute offers a 2-day course on road safety audits. For more information on RSAs contact:
Louisa Ward 202-366-2218 louisa.ward@fhwa.dot.gov
Showcase Features System for Reducing Crashes on Rural Roads
According to a recent report by the U.S. General Accounting Office, crashes on rural roads account for more than 60 percent of the deaths on roadways nationwide, or about 70 deaths each day. Published in May 2004, Federal and State Efforts to Address Rural Road Safety Challenges (GAO-04-663) further states that the rate of fatalities per vehicle miles traveled on rural roads was more than twice the rate for urban areas.
To highlight ways to reduce crash rates on rural roads, the Local Technical Assistance Program (LTAP) will sponsor a showcase event on September 28-29, 2004, in Mendocino County, CA, that will demonstrate a low-cost system for evaluating and improving safety. The showcase focuses on Mendocino County's road system traffic safety review program, which has reduced the number of crashes on Mendocino County roads by 42 percent over the past decade. The program analyzes the crash histories of rural roads to identify and correct safety issues such as deficiencies in signing and marking. Mendocino College in Ukiah, CA, will host the event, which is part of a series of LTAP showcases providing hands-on technology demonstrations.
Staff from the Mendocino County Department of Transportation will discuss the details of the safety review program, including roadway selection, processes to correct deficiencies, and cost-benefit measurements. Participants will visit previously improved field sites to observe roadway conditions and the corrective measures that the county applied. In addition, representatives from the Michigan LTAP center will explain how local agencies in Michigan developed a crash analysis and reporting system that is integrated with their management systems for road surfaces, signs, guardrails, and pavement markings.
After the 2-day showcase, participants will have access to a support group through the LTAP centers to assist with implementation of their own programs. In addition, participants will receive copies of software packages for sign management and asset management, developed by the New Hampshire and Utah LTAP centers.
Registration costs $125 per person. For more information or to register, visit www.pdshowcase.org or contact Chris Ritch at the Florida LTAP center at 352-392-2371, ext. 223, or chris@ce.ufl.edu, or Daiana Mathis at the California LTAP center at 510-231-5672 or daianam@berkeley.edu. Some LTAP scholarships are available to cover travel and accommodations. Priority will be given to agencies that serve populations under 50,000, have extensive low-volume road miles or high crash rates, or have restricted travel policies. For information on travel stipends, contact Renee Curtis at the Florida LTAP center at 352-392-2371, ext. 233, or pdshowcase@ce.ufl.edu.
Jon Schans 703-235-0509 jon.schans@fhwa.dot.gov
TRAFFIC OPERATIONS
---
New Guide to Improve Signalized Intersections
In 2002, 21 percent of crashes and 24 percent of all fatalities and injury collisions occurred at signalized intersections. To help prevent these crashes, traffic engineers need to plan and design intersections to meet the needs of various users, including motorists, pedestrians, and bicyclists. They also must take into account geometric and traffic signal design, roadway infrastructure, and project costs. If engineers do not consider all of these factors, the intersections they design may increase traffic congestion and compromise public safety.
Because signalized intersections play an important role in improving traffic movement and safety at intersections, the Federal Highway Administration (FHWA) has produced a comprehensive guide titled Signalized Intersections: Informational Guide (FHWA-HRT-04-091). Developed for traffic engineers and other professionals responsible for planning and designing intersections, the guide provides methods for evaluating the safety and operation of signalized intersections and tools to remedy deficiencies. The guide will help practitioners make insightful assessments of intersections and understand the tradeoffs involved in potential improvement measures.
The guide takes a holistic approach to addressing signalized intersections and considers both the overall safety of the intersection and the operational implications of particular treatments for all system users, including motorists, pedestrians, bicyclists, and transit riders. The publication includes examples of novel treatments and best practices used by jurisdictions across the United States. These treatments include low-cost measures, such as improvements to signal timing and signs, and high-cost steps, such as intersection reconstruction or grade separation. Although some treatments apply only to high-volume intersections, most information in the guide applies to signalized intersections of all volume levels.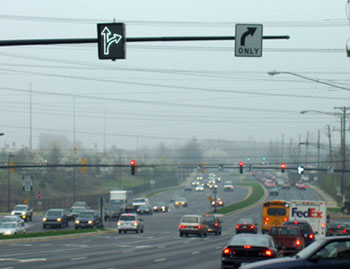 FHWA's new guide on signalized intersections includes information on ways to improve traffic flow at busy intersections, such as the one shown above.
The guide is organized into three sections-fundamentals, project process and analysis methods, and treatments. The first section introduces the fundamentals of intersection design, including road-user needs, geometric design, traffic design, and illumination. The second section describes processes for designing or redesigning an intersection and methods for analyzing the safety and operation of an intersection. The final section covers five types of treatments for signalized intersections, including systemwide treatments-which apply to all roadway segments influenced by a particular signalized intersection-and individual movement treatments that affect only those vehicles traveling through or turning at a signalized intersection. The final section also includes a chapter on alternative or non-conventional intersection treatments.
Since the guide is intended to serve as an informational reference rather than as a standard or policy, traffic engineers and others may use the publication as a complement to other traditional resources, such as the Manual on Uniform Traffic Control Devices, the Highway Capacity Manual, and the American Association of State Highway and Transportation Officials' A Policy on Geometric Design of Highways and Streets.
FHWA will make the informational guide available in fall 2004. To obtain a copy, visit www.fhwa.dot.gov/research/topics/safety/intersections/index.cfm, send a message to report.center@fhwa.dot.gov, send a fax to 301-577-1421, or call 301-577-0818. FHWA also has published a TechBrief that describes the guide in more detail. The Agency will distribute the TechBrief to all division offices and the Resource Center offices.
Joe Bared 202-493-3314 joe.bared@fhwa.dot.gov
SAFETY/MARKETING
---
FHWA Offers Pedestrian Safety Guidelines for Intersections
Of the 4,808 pedestrians killed in 2002 in roadway-related crashes, more than 1,000 died as a result of crashes at intersections. A variety of conditions at intersections can create hazards for pedestrians. The timing of signals may be too brief to permit safe crossings for children, the elderly, and the disabled. Reconstruction projects-including widening streets and adding lanes-improve vehicular efficiency but also can reduce pedestrian safety by increasing the distance that people must walk to cross an intersection. Inadequate lighting, a common problem at rural and suburban intersections, can make it difficult for motorists to see pedestrians. Crash data show that vehicular collisions with pedestrians occur more often with turning vehicles than with straight-through traffic, and left-turning vehicles are involved more often than right-turning traffic.
To improve safety, the Federal Highway Administration's (FHWA) Office of Safety created a comprehensive public awareness campaign targeting both motorists and pedestrians. FHWA designed the campaign to educate pedestrians on how to minimize safety risks and to remind drivers that pedestrians-who also are legitimate road users–should be expected on or near most roadways. The campaign includes a planning guide, a video, public service announcements, posters, brochures, and news releases that States and communities can customize for their use.
More than 150 communities have obtained the campaign planning guide and materials. In addition, FHWA is conducting a study to evaluate the effectiveness of the materials in campaigns underway in Oceanside, CA; Washington, DC; and Missoula, MT. The agency expects the results of the study to be available in October 2004. Campaign information and materials are available at http://safety.fhwa.dot.gov/local_rural/pedcampaign/.
Reducing the number and severity of pedestrian collisions requires coordination among public authorities, law enforcement personnel, and transportation engineers. FHWA offers the following guidelines to State and local highway agencies for improving pedestrian safety at intersections:
Increase visibility. Half of all pedestrian fatalities occur between 6 p.m. and midnight. Add or improve roadway lighting and encourage pedestrians to wear reflective clothing.
Adjust signals. Consider adding a pedestrian-only phase in the traffic signal cycle. Ensure that the pedestrian signal is visible and that any pushbuttons used by pedestrians to activate the signal are accessible. When appropriate, supplement signals with audible messages for visually impaired persons.
Reduce traffic hazards. Restripe crosswalks and stop lines to make them more visible, and provide additional signs where necessary. In addition, use different pavement coloring to delineate pedestrian areas. Install barriers such as fences or shrubs to discourage pedestrians from crossing at unsafe locations, and provide refuge islands on medians so that they can cross one direction of traffic at a time.
Improve crosswalks. Embed flashing lights in the pavement and install flashing "Pedestrian Crossing" signs that alert oncoming traffic to pedestrians in the crosswalk.
Enforce laws. Focus on reducing speeding through intersections, and enforce motorist compliance with pedestrian safety laws and pedestrian compliance with signals and appropriate crossing locations.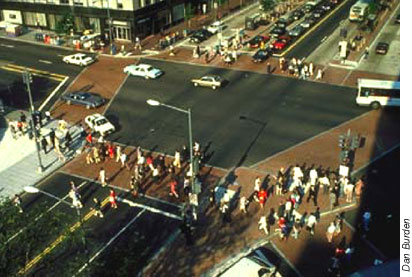 Varying pavement colors in this intersection are helpful in defining the pedestrian crossing area for pedestrians and drivers.
For more information on FHWA's pedestrian safety campaign and measures to enhance intersection safety, contact:
Tamara Redmon 202-366-4077 tamara.redmon@fhwa.dot.gov