Table of Contents
ITS Interface Tested Through Public Safety Partnership
New FHWA Course Helps MPOs Meet Federal Planning Requirements
Automated Anti-Icing Systems Show Potential as Solution to Slippery Streets
Managing Transportation Assets in an Ever-Changing Environment
FHWA Awards Recognize Safety Conscious Planning
FHWA Helps Deliver QuickZone to Transportation Agencies
Expo Explores Winter Maintenance Techniques
New NHI Course Helps Maintain Ancillary Roadway Structures
INTELLIGENT TRANSPORTATION SYSTEMS
---
ITS Interface Tested Through Public Safety Partnership
Although many transportation, law enforcement, medical, and public works agencies routinely collect public safety information, such as incident locations and road conditions, the data are not always fully utilized. Such information could be more useful to other agencies if it were easier to share. Information sharing among agencies not only ensures that everyone has the data necessary to respond to an emergency, but also helps prevent the duplication of data collection. Information sharing can be a challenge, however, for agencies that use proprietary systems incompatible with other technologies or that use older equipment not designed for sharing information.
Intelligent transportation systems (ITS) have the potential to solve these problems through the application of traffic management, communication, and information technologies. During the past year, the U.S. Department of Transportation (USDOT) and Utah DOT, with funding from the Federal Highway Administration, have been cooperating in an ongoing test that integrates computer aided dispatch (CAD) technologies with ITS to expedite emergency services. The goals of the test are to demonstrate that incident data can be shared effectively through a common data interface and can be formatted and managed so that each agency receives only useful and relevant information. Accelerating data sharing through compatible communications systems will enable police, fire, and transportation agencies to provide faster response, expedite incident clearance, make crash scenes safer, and reduce congestion around crashes.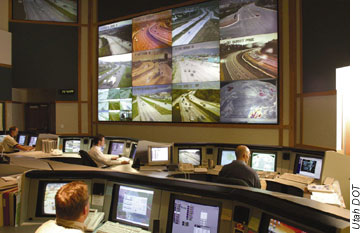 The control room for Utah DOT's test project includes screens displaying weather and road conditions and traffic information. (Photo Credit: Utah DOT)
As part of the project, Utah DOT developed a two-way interface based on national standards and in an open format. The interface is being used to communicate with the CAD systems used by 911 dispatchers and transit agencies. One of the challenges of the project was getting all of the involved agencies to agree on the data content and format. The interface is operational with the Utah Department of Public Safety and scheduled for beta testing with the Utah Transit Authority and the Salt Lake Valley Emergency Communications Center. Utah DOT expects to begin a field operations test in 2005.
Under the current system, dispatchers receive emergency calls and enter information about an incident into their CAD system. Utah DOT's Traffic Operations Center independently tracks road closures and traffic incidents in its system. With the new interface, data are electronically exchanged between interested agencies. This reduces the chance of errors and redundancy. The rapid exchange of information enables all parties to make quick decisions in managing incidents and more effectively utilizes the agencies' resources.
Richard Manser 801-887-3718 rmanser@utah.gov
POLICY AND PLANNING
---
New FHWA Course Helps MPOs Meet Federal Planning Requirements
As a condition for receiving and spending Surface Transportation Program funds from the Federal Highway Administration (FHWA), Federal law requires that urbanized regions with 50,000 or more people establish a metropolitan planning organization (MPO). These organizations are responsible for developing continuing, comprehensive, and cooperative transportation plans-sometimes known as Long-Range Transportation Plans (LRTP)—that meet Federal planning requirements. Over the past few years, an increase in the urban population, verified by the 2000 U.S. Census, has led to the creation of more than 45 new MPOs around the Nation.
To help new and experienced MPOs learn about their roles and responsibilities, the Tennessee Division of FHWA, in coordination with the Federal Transit Administration (FTA), saw a need to provide guidance on LRTPs and brief MPO board members on the transportation planning process. Thus, FHWA and FTA, in collaboration with the National Transit Institute (NTI) and the Tennessee Department of Transportation (TDOT), created a 1-day introductory training course for MPO staff, Technical Coordinating Committee members, and MPO Board members, and recently presented the course for the first time to the Lakeway Area MPO in Morristown, TN.
During the first offering, FHWA and FTA divided the new course into two distinct components. The first part included a 2-hour session for the MPO's Executive Board that focused on higher-level decisionmaking, such as the MPO's authority to decide which projects to fund and the importance of the LRTP. The second part was a separate session for the MPO's Technical Coordinating Committee that focused on the basic functions and tasks that MPOs undertake, such as developing transportation plans and criteria for prioritizing projects
Participants also learned about the general planning authority of MPOs. For example, if an MPO member wants to develop a regional road that is not included in the region's transportation plan, then the MPO has the authority to decide whether the project moves forward and is added to the LRTP or whether another solution should be analyzed. Additional topics covered in the course included the types of decisions needed to create an LRTP, an assessment of how future opportunities and limitations may affect goals and desired system performance measures, and identification of short- and long-term alternative choices in the transportation planning process.
FHWA currently plans to offer at least five additional presentations of the course in the near future. Eight other MPOs already have asked to participate.
Theresa Hutchins 615-781-5767 theresa.hutchins@fhwa.dot.gov
Karen Brunelle 615-781-5772 karen.brunelle@fhwa.dot.gov
INNOVATIVE TECHNOLOGY
---
Automated Anti-Icing Systems Show Potential as Solution to Slippery Streets
In 2001, more than 1,000 fatalities occurred on the Nation's roads due to snow-covered roadways and icy or slushy conditions. Along with the unacceptable safety consequences, these crashes also lead to traffic congestion and delays. To complement the traditional methods of clearing ice and snow, such as the manual dispersion of salt and other chemicals, many State and local departments of transportation (DOT) are investing in fixed, automated anti-icing spray systems on targeted areas, such as bridges and ramps. These systems have proven useful on all classes of roads, in both urban and rural areas.
The Federal Highway Administration (FHWA), in coordination with the Highway Innovative Technology Evaluation Center of the Civil Engineering Research Foundation (CERF) and the Snow and Ice Pooled Fund Cooperative Program of the American Association of State Highway and Transportation Officials, is conducting a multiyear study to evaluate the performance of one type of fixed, automated anti-icing spray system called FreezeFreeTM. With the study nearing completion, CERF recently hosted a meeting to review the draft final report from the project. Paul Pisano, leader of FHWA's Road Weather Management team, and Rick Nelson, assistant director of operations at the Nevada Department of Transportation, conducted the meeting to gather feedback from a technical panel.
Transportation agencies can use the FreezeFree system to apply calibrated amounts of anti-icing liquids on targeted areas and high-incident locations. To trigger the spraying cycle, highway workers either can activate the system manually or allow the system to use its pavement sensor to monitor ambient conditions and the road surface, and then automatically activate a pump and a series of high-pressure valves that spray anti-icing liquid over the targeted area. The system's computer makes a record of the conditions and other information, including the date and time of activation. To supervise and evaluate the system's performance, officials can retrieve data or monitor the system via telephone, fax, or computer.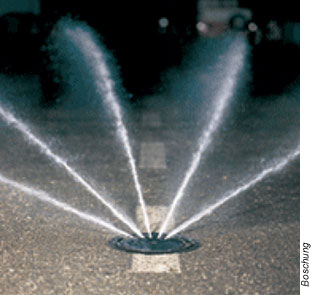 Fixed anti-icing systems, such as the system shown here, use sensors to predict the freezing point of the road surface and activate the anti-icing spray system.(Photo Credit: Boschung)
At the meeting, the panel discussed the findings from test sites in Maryland, Minnesota, North Dakota, Oregon, and Wisconsin. The panel concluded that the report provided strong evidence that fixed anti-icing systems show potential for future use on roadways. In addition, the panel decided that, with some revisions, the report could serve as a useful guide to State and local agencies evaluating the fixed, anti-icing option.
In addition to FreezeFree, other fixed automated systems currently on the market include the Boschung Fixed Automated Spray Technology system and the All Weather Inc. Quality Manufactured Fully Automated Spray Technology.
Paul Pisano 202-366-1301 paul.pisano@fhwa.dot.gov
INFRASTRUCTURE ASSET MANAGEMENT
---
Managing Transportation Assets in an Ever-Changing Environment
As the Nation's highway system ages and many agencies face budget cuts, transportation agencies need to optimize resources by using performance-based goals and measures to evaluate the operation, preservation, and improvement of their transportation system. Every decision that an agency makes, therefore, should or needs to be fiscally constrained and financially responsible. To help agencies make decisions, transportation professionals are turning to asset management, a strategic approach to managing transportation infrastructure, including allocating funding and making cost-effective investment decisions. With so many professionals using asset management, they needed a venue for sharing lessons learned from past experiences.
In September 2004, the Federal Highway Administration's (FHWA) Offices of Asset Management and Planning, Environment, and Realty joined with the Transportation Research Board (TRB) to host an asset management peer exchange in Washington, DC, that enabled participants to learn about the latest approaches to planning, preserving, operating, and improving transportation infrastructure assets. The peer exchange focused on issues, such as prioritizing problems, maintaining a consistent asset management program, and increasing accountability. All attendees prepared a summary of their organization's asset management-related activities and discussed their current practices.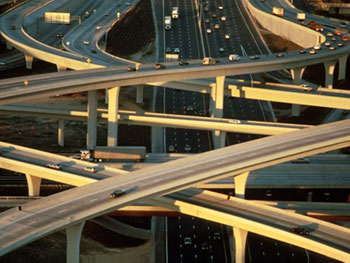 At a recent peer exchange hosted by FHWA and TRB, participants learned about the latest approaches to planning, preserving, operating, and improving transportation infrastructure assets, such as the highway interchange in Atlanta, GA, shown above.
Representatives from Jackson County, MO, for example, informed participants about their asset management system (AMS), a predictive modeling system that they developed to help staff decide where, when, and how to allocate their agency's limited budget. Since the system was implemented in 1991, the county has saved an estimated $10 million. According to Dr. Ali Roohanirad, one of two representatives from Jackson County, "The true power of the Jackson County AMS is its ability to permit the asset manager to quickly examine the consequences of different strategies." J.D. Stokes, the other representative, noted that Jackson County developed its system based on performance data collected during a period of more than 15 years. The system is used primarily for measuring pavement performance, deterioration, and current conditions.
Kirk Steudle from the Michigan Department of Transportation (MDOT) and Carmine Paolombo with the Southeast Michigan Council of Governments discussed the establishment of an asset management council in Michigan. The council is responsible for advising the State Transportation Commission on its statewide asset management strategy. The council provides the commission with information on the procedures and analytical tools, such as fact-based decisionmaking, accountability, and a performance-based management approach, that are needed to implement an asset management strategy. Since MDOT's adoption of asset management principles in 1996, the amount of pavement in the State considered to be in poor condition has decreased by 11 percent. In addition, the average remaining service life of the pavement has increased by 26 percent.
Attendees at the peer exchange included representatives from State DOTs, metropolitan planning organizations, county agencies, TRB committees, the American Association of State Highway and Transportation Officials (AASHTO), the Province of Ontario, and FHWA. TRB hosted the event for the AASHTO Standing Committee on Planning's Task Force on Capacity Building. Funding was provided by FHWA's Office of Planning through the Transportation Planning Capacity Building Program.
Robert Ritter 202-493-2139 robert.ritter@fhwa.dot.gov
Stephen Gaj 202-366-1336 stephen.gaj@fhwa.dot.gov
SAFETY
---
FHWA Awards Recognize Safety Conscious Planning
In the past, transportation planners and safety engineers had limited opportunity to collaborate on roadway projects, despite the fact that merging the two areas has the potential to reduce the estimated 43,000 highway fatalities that occur each year. To integrate safety and planning, engineers and other transportation professionals need to focus their attention on putting safety into their decisionmaking processes at the earliest stage-during the planning process. Cooperation between safety and planning officials can be difficult, however, because each area has separate processes, funding streams, agendas, and goals.
In July 2004, the Federal Highway Administration (FHWA) and Federal Transit Administration hosted the first biennial Transportation Planning Excellence Awards. The awards feature 10 categories, one of which focuses on safety. The award in the safety category was established by the National Association of Regional Councils and is known as the "Planning it Safe" award. This year, the following projects won awards:
Route 9 Pedestrian Safety Study. The New York State Department of Transportation (NYSDOT) undertook a study to improve pedestrian safety along a segment of Route 9 in Poughkeepsie, NY. NYSDOT surveyed and interviewed more than 2,600 pedestrians over a 2-week period. The study involved using automated equipment to count vehicles and performing speed and crash analyses. The agency also built a model to simulate traffic flow and analyze various operations scenarios.
Metro Gold Line Light-Rail Transitway-Marmion Corridor Project. In July 2003, the Los Angeles County Metropolitan Transportation Authority began operating a light-rail line in the Marmion Corridor. From its outset, the project required a sensitive urban design, and the final design addressed the public's concerns. The maximum operating speed, for example, was reduced from 64 to 32 kilometers (40 to 20 miles) per hour. In addition, the transportation authority incorporated bicycle and pedestrian paths along the corridor to provide safe access to light-rail stations.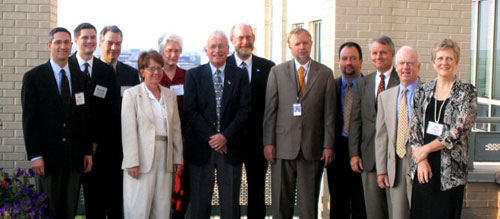 Winners and participants in the Planning It Safe award ceremony are pictured from left to right: Mell Henderson and Michael Briggs, MARC; Fred Glick, Los Angeles County
Metropolitan Transportation Authority; Cindy Burbank, FHWA; Susan Pikrallidas, American Automobile Association; George Ostensen, FHWA; Robert Dennison III, NYSDOT; Steven Brye, Los Angeles County Metropolitan Transportation Authority; Fred Abousleman, National Association of Regional Councils; Mike Halladay, FHWA; Tony Kane, American Association of State Highway and Transportation Officials; and Jill Hochman, FHWA.
Southeast Michigan Council of Government's (SEMCOG) 2025 Regional Transportation Plan for Southeast Michigan, "Putting Traffic Safety into the Planning Mix." SEMCOG designed a comprehensive safety program to reduce the number and severity of traffic crashes that occur in its region. To develop the plan, SEMCOG used a proactive approach that combined advocacy, training, analysis, leadership, planning, and partnering with its safety program. Actions to implement the SEMCOG plan included providing crash data and analysis tools to southeast Michigan communities to enable them to develop traffic safety studies.
Mid-America Regional Council's (MARC) First Steps: Safety Planning Initiatives. MARC initiated a three-phase transportation safety planning program for the Kansas City metropolitan area. In the first phase, MARC sponsored training sessions on the importance of addressing safety in multiple transportation modes. The council also worked with the local chapter of the American Public Works Association to develop standards and guidelines for bicycle facilities. In the second phase, MARC plans to build partnerships with additional stakeholders to address transportation safety issues. In the final phase, MARC will map crash records to develop targeted solutions that incorporate education, engineering, enforcement, and emergency response.
Jill Hochman 202-366-0233 jill.hochman@fhwa.dot.gov
OPERATIONS
---
FHWA Helps Deliver QuickZone to Transportation Agencies
Travelers increasingly view road construction activities as a major cause of delays and believe that improvements in work zone planning could enhance driver satisfaction. But project planners who make key decisions about the staging and duration of construction projects typically lack the tools needed to assess the hidden costs associated with traveler delay.
To help mitigate the traffic delays and costs associated with work zones, the Federal Highway Administration (FHWA) currently is providing training sessions on QuickZone, a user-friendly, computer-based application suitable for urban and interurban corridor analysis. The software enables planners, highway engineers, road owners, and contractors to compare various construction planning strategies, such as the effects of doing work at night or diverting traffic to alternate roads. Users can estimate the effects for time periods ranging from 1 day to the entire life of the project.
QuickZone Version 1.0 already has been used successfully for several completed projects. FHWA expects to release a new version of QuickZone in January 2005. In addition, the FHWA Resource Center is working to enable users to incorporate QuickZone into their project analyses more efficiently.
Although contractors have offered several 1-day QuickZone training sessions, FHWA is transferring responsibility for the sessions to its Resource Center, which will help States, contractors, and other attendees save money. A recent training session in Tennessee focused on a QuickZone case study of a highly politicized full closure of I-40 in Knoxville, TN, during a reconstruction project.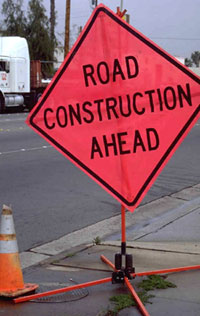 The sign shown above warns motorists about an upcoming work zone, which may cause traffic delays and detours. FHWA currently is providing training sessions on QuickZone, a software program that enables users to better manage work zone delays, detours, and other issues related to work zones.
In 2004, the Tennessee DOT (TDOT) determined that a section of I-40 located east of downtown Knoxville needed major rehabilitation, and the agency started evaluating various strategies for performing the work. Construction costs, project duration, and the potential impact of the project on road users were major considerations. One option was full closure, which entailed completing work on the freeway interchanges without maintaining through traffic. The advantages of this option were shorter project duration, improved worker safety, and potential cost savings. The impact on road users throughout the closure period was unknown, however, until TDOT used QuickZone to determine the potential delays. The QuickZone analysis indicated that several bottlenecks along a proposed diversion route would not support the combination of current and diverted traffic, and that queuing at these bottlenecks would, on most days, generate significant congestion during peak periods.
The FHWA Resource Center plans to offer additional QuickZone training sessions in the near future as demand necessitates. In addition, FHWA expects to release a report in 2005 that will capture the innovative uses of QuickZone in eight case studies, including the Knoxville study.
Deborah Curtis 202-493-3267 deborah.curtis@fhwa.dot.gov
Expo Explores Winter Maintenance Techniques
The "Blizzard of 1996" deposited up to 91 centimeters (36 inches) of snow from South Carolina to Massachusetts and halted transportation in the eastern half of the Nation for several days. During this time, major roadways were closed, interrupting the normal delivery of mail and leaving many people unable to commute to work. Events such as the 1996 blizzard reveal the problems that can result from severe weather and demonstrate the need to improve winter maintenance.
As a result of the historic storm, the Federal Highway Administration (FHWA) has hosted an annual winter maintenance forum since 1996 to showcase current information and technologies that can help combat the effects of winter's wrath. The annual Eastern Winter Road Maintenance Symposium and Equipment Expo targets winter maintenance managers from transportation groups located east of the Mississippi River and other public works practitioners from agencies at all levels of government, plus representatives from private organizations. Held in Knoxville, TN, this year's event was cosponsored by FHWA, the Tennessee Department of Transportation, and the Tennessee Transportation Assistance Program. The expo provided an opportunity for participants to gain insight into the best practices, materials, and equipment available for winter maintenance and to learn from their peers' experiences.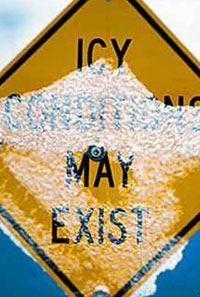 Snow can cover street signs, as shown above, and render roads impassable. Events such as the recent Eastern Winter Road Maintenance Symposium and Equipment Expo showcase the latest technologies to improve road safety during winter storms.
Dr. Tom Maze, a professor of civil engineering for the Center for Transportation Research and Education at Iowa State University, gave a presentation on "New Techniques for Solving Simultaneous Systems of Non-Linear Equations." Maze compared crash rates for vehicles traveling on an 181-kilometer (113-mile) stretch of Interstate 35 in Iowa during clear conditions and during 64 winter storms at times when snow fell at a rate of 0.5 centimeters (0.2 inches) per hour or greater.
Maze concluded that although the number of miles traveled by vehicles during storms decreased, the number of crashes increased by 13 percent. In his presentation, he explained that to minimize the impact of adverse weather on interstate traffic, transportation officials must manage roadways by providing drivers with accurate information on road and weather conditions, issuing advisories on the best times to travel to and from specific locations during inclement weather, and lengthening or shortening the dwell time that vehicles remain stationary at ramp meters.
More than 70 vendors and an estimated 650 winter maintenance professionals attended the symposium and expo. In addition to Maze's presentation, the event offered demonstrations and discussions on the latest anti-icing operations; new equipment, tools, and products; current public emergency communication methods; environmental concerns such as chemical storage and equipment fueling and cleaning; and the latest storm forecasting technology and road weather information systems.
Mark Sandifer 708-283-3528 mark.sandifer@fhwa.dot.gov
TRAINING
---
New NHI Course Helps Maintain Ancillary Roadway Structures
The Nation's highways need ancillary or auxiliary structures, such as traffic signals, overhead signs, and lighting fixtures, to keep highways well-lit, well-marked, and free of congestion. The structural supports for these roadway components, however, have increasingly showed signs of wind-induced vibration, fatigue, and collapse. The increasing rate of failures is due in part to inadequate design specifications prior to 2001, when the American Association of State Highway and Transportation Officials introduced the fourth edition of Standard Specifications for Structural Supports for Highway Signs, Luminaires and Traffic Signals (LTS-4-I1).
To inform officials at State and local transportation agencies about updated and improved installation, inspection, and maintenance procedures, the Federal Highway Administration (FHWA) published Guidelines for the Installation, Inspection, Maintenance, and Repair of Structural Supports for Highway Signs, Luminaires, and Traffic Signals. To help transportation officials establish inspection programs that comply with these guidelines, FHWA's National Highway Institute (NHI) recently introduced a course titled Inspections of Ancillary Highway Structures (#130087).
NHI developed the course, which uses the FHWA guidelines as its foundation, for field inspectors, construction supervisors, maintenance and other technical personnel, and structural, material, and traffic engineers. Although private sector firms have provided similar training in the past, the NHI course is a more comprehensive program that reflects an increasing national awareness of the failure of ancillary structures and the need to inspect and maintain them.
Upon completing the course, participants will be able to recognize appropriate nondestructive testing techniques, such as dye-penetrant, magnetic particle, and ultrasonic testing, that can help them locate and identify various types of internal defects without compromising a structure's surface integrity. Participants also will know how to identify the factors that lead to corrosion on ancillary structures and explain the most appropriate mitigation methods. In addition, they will be able to identify common visible weld defects and defects in base/anchor bolt installations. They also will be able to define the severity of any observed defects in accordance with FHWA guidelines.
For more information on the technical content, contact Doug Edwards at the FHWA Resource Center in Atlanta at 404-562-3673 or doug.edwards@fhwa.dot.gov. For scheduling, contact Danielle Mathis-Lee at 703-235-0528 or danielle.mathis-lee@fhwa.dot.gov.
Nancy Stout 703-235-1260 nancy.stout@fhwa.dot.gov