Table of Contents
FHWA Proposes Rulemaking on Retroreflectivity for Traffic Signs
FHWA Evaluates Safety for Visually Impaired Pedestrians at Roundabouts
FHWA Releases Case Study of ITS Applications
Bridge Conference Highlights New Technologies
Transportation Communicators Swap Strategies
North Carolina and FHWA Host First National Hydraulics Conference
Infrastructure Consortium Prepares for New Challenge
New NHI Course Integrates Pavement Preservation and Management
SAFETY
---
FHWA Proposes Rulemaking on Retroreflectivity for Traffic Signs
At night, motorists depend on vehicle headlights to navigate roadways safely. To enhance the visibility of traffic signs at night, most signs are made using retroreflective sheeting. Generally, greater retroreflectivity means improved nighttime visibility. Unfortunately, sign retroreflectivity gradually degrades over time.
To address the need for improved visibility of traffic signs at night, the Federal Highway Administration (FHWA) sponsored several research efforts to determine minimum required levels of retroreflectivity and develop methods for agencies to maintain adequate night visibility. Those efforts resulted in the publication of a notice of proposed rulemaking on maintaining retroreflectivity in the July 30, 2004, edition of the Federal Register (Vol. 69, No. 146). The notice provides an opportunity for the public to review and comment on proposed changes to FHWA's Manual on Uniform Traffic Control Devices (MUTCD), which will incorporate new methods for maintaining traffic sign retroreflectivity.
FHWA proposed minimum retroreflectivity levels in 1993 and 1998. During the past 4 years, research at FHWA led to the development of minimum levels for overhead guide signs and street name signs to reflect improvements in headlight technology, changes in sign materials, the growing number of vehicles with higher headlights, and an increasingly elderly driver population.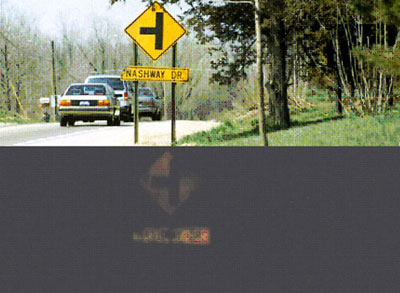 Some signs that are easy to read in daylight, such as the signs in the top photo, may be difficult to read under headlight illumination, such as the signs in the bottom photo.
The notice of proposed rulemaking outlines two groups of methods for maintaining sign retroreflectivity: assessment and management. Assessment methods involve evaluating individual signs by periodic inspection or measurements. Management methods involve tracking and predicting the retroreflectivity life of signs using databases, date labeling, control signs, and blanket replacement programs.
In developing the rulemaking, FHWA held workshops to explain minimum retroreflectivity levels to stakeholders and demonstrate the implications for nighttime visibility. In addition, FHWA analyzed the fiscal issues identified during the workshops and determined that although sign face materials are likely to cost more under the proposed new rule, the financial impact is reduced by allowing a long compliance period, which enables agencies to integrate upgrades into preplanned maintenance cycles. Under the proposed rulemaking, highway agencies would have 7 years after the final rule's publication to bring regulatory, warning, and post-mounted guide signs into compliance and 10 years for overhead guide signs and street name signs.
Comments on the proposed rulemaking are due by February 1, 2005. To view the Federal Register notice, visit http://mutcd.fhwa.dot.gov/texts/2003-15149FR.htm.
Greg Schertz 720-963-3764 greg.schertz@fhwa.dot.gov
Peter Hatzi 202-366-8036 peter.hatzi@fhwa.dot.gov
Ken Opiela 202-493-3371 kenneth.opiela@fhwa.dot.gov
FHWA Evaluates Safety for Visually Impaired Pedestrians at Roundabouts
Roundabouts offer significant operational and safety improvements for vehicles when compared to four-way signalized intersections and are one solution to the Nation's growing congestion problems and unsafe conditions at intersections. Traffic planners can find it difficult, however, to design roundabouts that are safe for pedestrians. In fact, the American Disability Association has raised numerous issues concerning the safety of visually impaired pedestrians at roundabouts. For example, visually impaired pedestrians need to listen for safe gaps in traffic before crossing at a roundabout. However, gaps large enough to be detected by visually impaired pedestrians may be infrequent during periods of peak traffic and may be masked when the noise from circulating traffic is continuous.
To address some of these problems, the Federal Highway Administration (FHWA) initiated a study at the Turner-Fairbank Highway Research Center (TFHRC) in McLean, VA, to evaluate the effectiveness of placing noise-generating rumble strips adjacent to crosswalks at roundabouts. Researchers recently conducted an initial experiment at a mock roundabout at TFHRC and are scheduled to conduct a second experiment in the field at an existing double-lane roundabout in Prince George's County, MD, in October 2004. The researchers are trying to determine if rumble strips that cause an audible noise will help visually impaired pedestrians detect when a vehicle has yielded in the roundabout, leaving a gap in traffic so that the pedestrian can cross safely.
In the closed-course experiment, visually impaired participants were asked to identify when a car had yielded in the far lane, the near lane, or in both lanes of the roundabout, first with and then without the rumble strips. During the experiment, participants generally gave three types of response. Some participants responded with a correct identification, successfully detecting two yielding vehicles, one in each lane. In this type of situation, the pedestrian can cross the street safely. Other participants gave a "false positive" response and indicated that two cars had yielded, when in actuality only one lane remained open. This response is considered the most dangerous because the potential exists for the visually impaired pedestrian to be struck by a moving vehicle. The third response was a "miss," where participants failed to detect that two vehicles-one in each lane-had yielded in the roundabout. Although a miss is not considered a safety issue, drivers encountering this situation can become frustrated while they wait for the pedestrian to cross. A miss also can lead to an increased delay for the pedestrian who misses an opportunity to cross.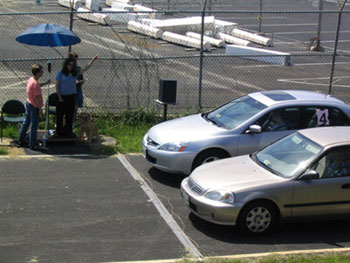 During FHWA's closed-course study of roundabouts, a visually impaired participant is shown raising her hand to indicate that two cars have yielded and that is safe to cross.
In the field study, the researchers will conduct the same kind of analysis and will evaluate the feasibility of adding signs for motorists: in particular, the effectiveness of a sign that reads "State Law Yield to Pedestrians in Crosswalk." Researchers expect that the presence of the sign will improve the yielding behavior of drivers.
Although final results from both studies will not be available until 2005, preliminary results from the closed-course study indicate that visually impaired pedestrians achieve more correct identifications with the auditory rumble strips in place than without them.
Gregory Davis 202-493-3367 gregory.davis@fhwa.dot.gov
INTELLIGENT TRANSPORTATION SYSTEMS
---
FHWA Releases Case Study of ITS Applications
Construction zones and the delays they cause can frustrate travelers, increase air pollution, and pose safety hazards. The Federal Highway Administration (FHWA) estimates that work zones account for nearly 24 percent of nonrecurring delay. As a means to improve mobility and safety in work zones, many transportation agencies are turning to intelligent transportation systems (ITS).
FHWA's Office of Operations and the Intelligent Transportation Systems (ITS) Joint Program Office recently released the latest report in a special series on the benefits and uses of ITS technologies. The report, Work Zone Traffic and Incident Management System: Keeping Traffic Moving During Reconstruction of the Big I, a Major Interstate-Interstate Interchange in Albuquerque (FHWA-OP-04-072), documents the design, selection, implementation, and operation of an ITS that officials deployed to facilitate traffic flow and incident management during the "Big I" reconstruction in Albuquerque, NM.
In 2000, the New Mexico Department of Transportation (NMDOT) undertook a project to rebuild the "Big I" interchange, located at the intersection of the Coronado Interstate (I-4) and the Pan American Freeway (I-25). The goal of the project was to increase the capacity of the interchange to improve safety and meet the region's increasing travel demand. The project involved 70 lane kilometers (111 lane miles) of construction, plus 45 new and 10 rehabilitated bridges, and took 2 years to complete.
To keep traffic moving, NMDOT relied heavily on ITS technologies. The agency used a mobile traffic monitoring and management system to help move vehicles through the construction area. The system used electronics and communications equipment to monitor traffic, identify incidents, determine an appropriate response, and provide delay and routing information to drivers and agency personnel. NMDOT deployed the ITS components prior to construction and then incorporated portions of the system as part of a permanent ITS application following completion of the project.
NMDOT implemented the ITS technologies during construction to minimize capacity restrictions, enhance traveler safety, and provide traffic management capabilities and traveler information on routing, detours, and significant incidents. NMDOT achieved these goals by installing a series of cameras and sensors to monitor traffic conditions, displaying information on electronic road signs, and using highway advisory radio, a Web site, and other media to transmit information to travelers. NMDOT also staffed a temporary traffic management center where the camera images were monitored during daytime hours to identify traffic incidents quickly and call for assistance.
Electronic versions of the "Big I" report are available at www.itsdocs.fhwa.dot.gov/jpodocs/repts_te/13941.html and www.ops.fhwa.dot.gov/wz/technologies/albuquerque/its_albuquerque.pdf. To receive free printed copies, send a request to workzonepubs@fhwa.dot.gov.
Tracy Scriba 202-366-0855 tracy.scriba@fhwa.dot.gov
STRUCTURES
---
Bridge Conference Highlights New Technologies
As the Nation's aging bridges are subjected to increasing traffic volumes, replacements and rehabilitation projects need to be completed quickly to minimize congestion and enhance safety. Specifically, the Nation needs new bridge systems that will enable components to be fabricated offsite and moved into place for quick assembly while maintaining traffic flow.
To discuss bridge technologies that will help meet these challenges, representatives from the Federal Highway Administration (FHWA) recently participated in the 21st annual International Bridge Conference in Pittsburgh, PA. More than 1,100 professionals attended the 3-day event, which was organized by the Engineers' Society of Western Pennsylvania.
In one session, members of an international scanning team sponsored by FHWA and the American Association of State Highway and Transportation Officials (AASHTO) discussed their trip to learn about prefabricated bridge technologies used in Europe and Japan. During the scan, the team identified nine prefabricated bridge technologies that have potential for use in the United States. A system used in Germany, for example, involves casting partial-depth concrete decks on steel or concrete beams before the beams are erected. Once the beams are put in place, the edges of each deck unit abut the adjacent member, eliminating the need to place additional formwork for cast-in-place concrete. This process speeds construction and reduces the danger of equipment falling onto the roadway below because a safe working surface becomes available immediately after he beam is erected. For a summary of the scanning team's study, visit www.fhwa.dot.gov/bridge/prefab/pbesscan.htm.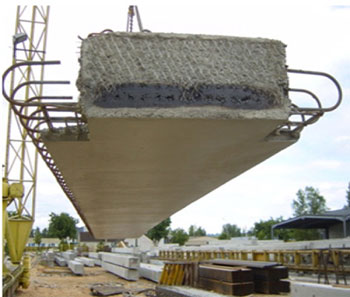 In this prefabricated bridge component used in Germany, a partial-depth concrete deck is cast on the beam before the beam is erected at the construction site. This is one of the prefabricated bridge technologies that have the potential for use in the United States.
In another presentation, FHWA engineers summarized their experience with using fiber-reinforced polymer (FRP) composites for highway bridge decks. Across the country, transportation agencies have built or rehabilitated more than 80 bridges using FRP decks. Bridge decks made of FRP composites weigh less than conventional concrete decks and thus can increase a bridge's load capacity. Being prefabricated, FRP decks can be installed more quickly, thus reducing traffic disruption and environmental impacts. In addition, using FRP composites to rehabilitate a deteriorated deck can be less costly than replacing the bridge.
The FHWA engineers discussed several case studies, including installation of an FRP deck on a bridge in Chemung County, NY. Using FRP to replace the deteriorated deck enabled the New York State Department of Transportation to remove load restrictions on the bridge and potentially prolong its service life. The rehabilitation project cost $750,000, significantly less than the estimated $2.3 million to replace the bridge. For more information on FRP technology, visit www.fhwa.dot.gov/bridge/frp/index.htm.
The conference also featured three workshops related to the use of load and resistance factor design (LRFD) on concrete and steel bridges and curved steel girders. These workshops provided background information and design examples on the applications of the newly published third edition of the LRFD specifications. Representatives from FHWA, industry, and consulting firms provided overviews of the application of the AASHTO-LRFD Bridge Design Specifications for both steel and prestressed concrete bridges and discussed field and research performance of curved steel girders.
For more information on the 2004 conference, visit www.eswp.com/bridge/index.htm.
William Williams 717-221-4542 william.williams@fhwa.dot.gov
M. Myint Lwin 202-366-4589 myint.lwin@fhwa.dot.gov
OUTREACH
---
Transportation Communicators Swap Strategies
Always on the front lines alongside emergency and rescue crews during a crisis or catastrophe, the public affairs officers of transportation agencies navigate through a barrage of press questions and sort through a minefield of political sensitivities. Part of their job is to help build a relationship between the transportation community and the public, 24 hours a day, 7 days a week. Transportation public affairs officers are among the first people called during an emergency, but to whom do they turn to for support?
Public affairs officers turn to one another for problem solving and assistance, and one venue for learning and networking is the National Transportation Public Affairs Workshop (NTPAW), an annual meeting of the American Association of State Highway and Transportation Officials' (AASHTO) Administrative Subcommittee on Public Affairs. Supported by Federal and State participants, NTPAW features workshops and sessions to address the specific concerns of transportation communicators. The event also provides public affairs specialists with opportunities to interact and discuss solutions and best practices.
Representatives from more than 33 States attended the 2004 NTPAW, which was hosted in August by the Colorado Department of Transportation in Denver, CO. Guest speakers included the Lieutenant Governor of the State of Colorado, The Honorable Jane Norton; AASHTO's President John Njord; and NTPAW's President Gary Ridley. In addition to the annual meeting of the AASHTO subcommittee, the program agenda included several breakout sessions, such as "Communication Programs for Design-Build Projects," "Crisis Management and Preventing Crisis through Communication," and "Developing Campaigns on a Low Budget."
One feature of the annual meeting is a "roll call," which enables attendees to vocalize-within 2 minutes-the challenges that they are tackling in their States. Although moderator Rod Mead asked participants not to mention the budget problems faced by most State transportation agencies, many participants noted that it was, indeed, their most critical challenge. Other issues mentioned by the State public affairs representatives included:
Increasing the gas tax
Maintaining the current infrastructure while meeting the infrastructure needs that result from exponential growth
Increasing safety
Building public trust and relationships
Persuading transportation employees to follow public relations policies
Finding solutions to the challenges posed by aging drivers
Accommodating electric scooters legally
Decreasing congestion in urban areas
Working on plans for controlled growth
Meeting expectations with reduced funding
Reducing rail crashes
Persuading the public to use commuter options such as transit and high-occupancy toll lanes
A common challenge for every communicator and employee is capturing the attention of extremely busy managers and chief executive officers (CEO) and convincing them to listen to and focus on the information or solution being conveyed. Transportation management consultant James Lukaszewski provided a methodology for "developing the mind of a strategist, getting inside the mind of a CEO, and becoming a trusted advisor." Lukaszewski indicated that a person who wants to communicate a specific plan, solution, or decision up the organizational chain should incorporate these action items: meet a specific goal of the manager; help the organization achieve its goals; make sure the action is really necessary; and check that some aspect of the organization will fail if a plan or solution is not adopted.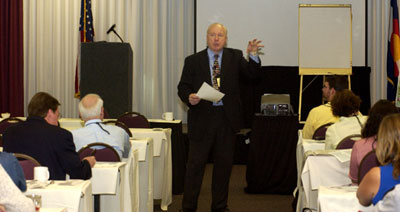 At the recent National Transportation Public Affairs Workshop, keynote speaker James Lukaszewski shares the secrets of becoming a trusted advisor to transportation managers.
In the session, Lukaszewski provided steps for an "executive decisionmaking process" model. Calling the model the "2-minute drill," Lukaszewski advised attendees to adhere to the following steps and execute them within a 2-minute session with the CEO or manager:
Situation description. Introduce the topic-every time-by explaining the reason for the meeting and describing a specific topic. Use management language. (50 words or less)
Analysis/explanation/interpretation. Describe the situation and the implications, threats, opportunities, and dangers. (50 words or less)
Options. Provide at least three options: Do nothing, do something, or do something more. Include possible effects on issues, goals, budget, management, or legislation. Focus on the outcome of a decision, solution, or plan, such as eliminating waste or saving money. (100 words)
Recommendation. Make a recommendation and discuss why it was selected. (50 words or less)
Negative consequences. Offer justification or a rationale for the recommendation and identify problems that could arise from the options suggested or by doing nothing. (50 words or less)
For more information on Lukaszewski's methods of reaching management, visit www.e911.com.
The NTPAW meeting ended with an award ceremony that recognized some of the most successful public affairs solutions and campaigns across the Nation. Winners included transportation agencies in Colorado, Florida, Idaho, Iowa, Maryland, Mississippi, Missouri, New Hampshire, New Mexico, North Carolina, Oklahoma, Oregon, Rhode Island, Tennessee, Virginia, Washington, and Wisconsin.
Next year's NTPAW will be held in Rehoboth Beach, DE, in late summer. For more information, visit www.deldot.net.
Dawn Vanlandingham 202-493-3198 dawn.vanlandingham@fhwa.dot.gov
INFRASTRUCTURE
---
North Carolina and FHWA Host First National Hydraulics Conference
To design roadways, bridges, and highway drainage structures, transportation engineers must understand the role of hydraulics and hydrology in highway systems. Engineers need to know about the effects of water flow to develop highway systems that can withstand extreme events such as floods and washouts.
To showcase developments in hydraulic engineering, the Federal Highway Administration (FHWA) National Hydraulics Team and the North Carolina Department of Transportation (DOT) recently sponsored the first National Hydraulic Engineering Conference, held in Asheville, NC. In past years, FHWA convened regional hydraulic conferences, but this year chose to host a national conference featuring speakers on culverts, computer modeling, coastal engineering environmental issues, and stream stability.
In one session, Texas DOT representatives discussed a research program that they are conducting with Texas Tech University aimed at providing the agency with improved techniques for hydrologic estimation of the potential for flooding on streams of all sizes. Several factors, including large variations in geography, topography, and climate, make reliable prediction of flood flows unusually difficult in Texas.
To acquire improved methods of measuring the potential for flooding, the Texas DOT researchers already have evaluated existing rainfall-runoff models and determined that none are adequate for highway hydrology. As a result, the researchers now are developing a procedure specifically for modeling runoff from rainfall in Texas.
In another session, conference participants observed demonstrations of Surface-Water Modeling System (SMS) software, which is used to model complex surface-water flows, and Watershed Modeling System (WMS) software, which is used to develop hydrologic models for drainage studies. Both tools are designed to make hydrologic analysis easier and more efficient.
Representatives from State highway agencies in New Mexico, Pennsylvania, and Utah described their experiences using the systems. For example, drainage engineers from the New Mexico DOT, who have used WMS software since it was developed in the 1990s, described how they have customized the software to meet their needs by including local hydrology equations and soils and land use maps.
To download presentations from the conference, visit https://www.fhwa.dot.gov/engineering/hydraulics/.
Cynthia Nurmi 404-562-3908 cynthia.nurmi@fhwa.dot.gov
TRAFFIC OPERATIONS
---
Infrastructure Consortium Prepares for New Challenge
In 1998, the U.S. Department of Transportation's (USDOT) Intelligent Vehicle Initiative convened the Federal Highway Administration's (FHWA) Infrastructure Consortium. Since then, the consortium has represented the interests of transportation agencies in the development and deployment of advanced highway safety technologies, many of which improve intersection safety. In fall 2004, consortium members will take on the role of advancing USDOT's new Cooperative Intersection Collision Avoidance Systems (CICAS) initiative.
In partnership with automotive manufacturers and State and local DOTs, the CICAS initiative will attempt to determine the optimal combination of infrastructure and in-vehicle systems needed to address intersection crash problems. The initiative will culminate in a series of coordinated field operational tests. If these tests prove successful, the next phase would be to support the deployment of these systems.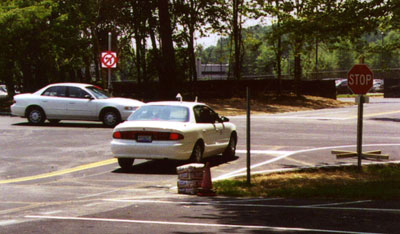 Illuminated signs such as the one shown here warn drivers that it is unsafe to make a left-turn into the cross path of vehicles traveling in the opposite direction.
At a recent meeting, the consortium discussed how it will help USDOT meet its goals by integrating two types of intersection collision avoidance systems-infrastructure-only and vehicle-based. Infrastructure-only systems use roadside sensors and processors to warn drivers of intersection hazards by sending critical information via signals or road signage. Vehicle-based systems warn drivers using sensors and processors within the vehicle. Infrastructure-vehicle cooperative systems unify the two systems.
Prior to taking on these new responsibilities, consortium members in California, Minnesota, and Virginia will finalize several projects, including:
California-Intersection Decision Support Project: For this study, the team at California Partners for Advanced Transit and Highways (PATH) and California DOT aim to assist drivers attempting to make left turns that cross the path of vehicles traveling in the opposite direction. The team developed prototypes for a driver infrastructure interface (DII), an electronic sign that uses sensors to detect vehicles in the roadway and signals to drivers to either proceed with or abort the turn. In preparation for building the DII prototypes, the researchers collected data to quantify driver behavior, investigated the feasibility of wireless data exchanges, and developed and evaluated potential DII designs and installation locations.
Minnesota-Rural Intersection Decision Support Project: To improve rural intersection safety, the Minnesota DOT and the University of Minnesota are conducting research that will help drivers choose a proper gap in traffic to proceed safely from a stop sign. The researchers are deploying a prototype intersection collision avoidance system on a rural Minnesota highway. The system will collect and send data on the speed and location of approaching vehicles to a central processing unit, which identifies unsafe gaps in the approaching traffic. When the system detects an unsafe gap, it will trigger an illuminated roadside sign to warn the waiting traffic.
Virginia-Smart Road Project: The Virginia DOT and its research partners at the Virginia Tech Transportation Institute (VTTI) are focusing on crashes at crossroads, the intersection of two straight roads. Researchers at VTTI are using the Smart Road, a highly instrumented 4-kilometer (2.5-mile) section of limited-access highway that has been outfitted with special testing equipment. VTTI's numerous experiments have assessed drivers' stopping behavior, and engineers are developing algorithms that use vehicle location, speed, and acceleration to predict whether a vehicle will stop or proceed at an intersection.
Each of these projects, along with several others, is expected to be complete by spring 2005.
Gene McHale 202-493-3275 gene.mchale@fhwa.dot.gov
TRAINING
---
New NHI Course Integrates Pavement Preservation and Management
Pavement preservation, which includes strategies as diverse as overlays, chip seals, crack treatments, and microsurfacing, constitutes more than just maintenance; it is a practical application of asset management and a new way of doing business for many highway agencies. Guided by a network-level, long-term strategy to enhance the functional performance of pavement, programs to preserve pavement use an integrated, cost-effective set of practices to extend the life of materials, improve the safety of the Nation's roadways, and meet motorists' expectations.
Preservation practitioners need to think not only about the engineering of pavements and specific maintenance techniques, but also about how to preserve pavements in a cost-effective manner while staying focused on the needs of roadway users. To help practitioners address these multiple needs, the National Highway Institute (NHI) has introduced a course titled Pavement Preservation: Integrating Pavement Preservation Practices and Pavement Management (#131104A).
The goal of this 2-day course is to teach participants, including planning and programming personnel and pavement and maintenance engineers who manage preservation programs, how to integrate those programs into the overall pavement management process. The course provides basic information about the decisions made within agencies and the pavement data needed to support those decisions, including size, type, condition, traffic volume, classification, and load. The course explains how tools, such as inventory-based pavement management systems, are used to support decisionmaking and how pavement preservation techniques can facilitate that process.
In addition, the course emphasizes how to identify and overcome obstacles to integration that may exist within agencies and how to develop a useful integration plan that can be adopted by the participant's agency. As a one-of-a-kind training opportunity not offered by other organizations, the course is especially useful to agencies making the transition from preserving pavements using basic maintenance programs to using asset management programs.
The course has no prerequisites, although it is the final course in a series of four complementary classes. The other courses in the series are The Preventive Maintenance Concept (#131054A), Selecting Pavements for Preventive Maintenance (#131058A), and Design and Construction of Quality Preventive Maintenance Treatments (#131103A).
NHI currently is accepting requests for the new course. For more information about the content, contact John Taylor at 703-235-0524 or john.taylor@fhwa.dot.gov, or Steve Mueller at 720-963-3213 or steve.mueller@fhwa.dot.gov. To schedule a class, contact Danielle Mathis-Lee at 703-235-0528 or danielle.mathis-lee@fhwa.dot.gov.
Nancy Stout 703-235-1260 nancy.stout@fhwa.dot.gov