Table of Contents
Pavement and Materials Team Hosts Technology Transfer Workshop
New NHI Course Offers Latest on Pavement Preservation
New NHI Course For Bridge Construction Inspectors
Colorado Students Participate in Construction Career Days
International Specialists Share Insights on Reducing Roadway Injuries And Fatalities
New CD-ROM Helps Agencies Develop Traffic Management Workshops
FHWA Engineer Shares Corrosion Expertise With Korea
PAVEMENTS/TECHNOLOGY
---
Pavement and Materials Team Hosts Technology Transfer Workshop
To ensure that the Nation's transportation system provides the safest and smoothest ride possible, materials engineers and other transportation specialists need information about the latest research and development in pavement design, maintenance, and preservation. In this fast-paced world, however, busy professionals often find it difficult to stay informed about the most recent trends, technologies, and innovations. To help them stay up to date on the latest developments in pavements and materials, the Pavement and Materials Team at the Federal Highway Administration (FHWA) Resource Center hosted an annual technology transfer workshop in Ocean City, MD, in September 2005. The 2.5-day event provided an opportunity for team members to share information on pavement- and materials-related technologies and innovations.
During the workshop, a presentation by Steve Mills of FHWA's Alabama Division Office and Greg Schiess from the Florida Division Office focused on detecting fraud, waste, and abuse in construction contracts. Mills and Schiess described their efforts to pursue such cases in Alabama and Florida and to determine the appropriate corrective actions, which in some cases included pressing criminal charges through the U.S. Department of Transportation's Office of Inspector General (OIG). In one fraud case, for example, Mills and Schiess explained that a contractor deliberately programmed testing equipment to read falsely high numbers. The contractor also recorded data in pencil, which made it possible to change the data to ensure that the numbers would fall within a specific range. This fraudulent action was discovered and reported to the OIG.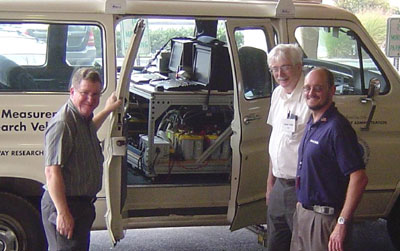 Jim Mekemson, Pete Mills, and Brian Schleppi, participants in the recent technology transfer workshop hosted by the FHWA Resource Center Pavement and Materials Team, stand beside the Digital Highway Measurement Vehicle.
In another presentation, Matt Corrigan, an asphalt pavement engineer in FHWA's Office of Pavement Technology discussed warm mix asphalt (WMA), which can be produced and placed at a much lower temperature than traditional hot mix asphalt. According to Corrigan, production of WMA differs from production of traditional asphalt because WMA does not require the high temperatures needed to reduce the viscosity of the asphalt binder to completely coat the aggregate. WMA also does not need high temperatures to be workable during laying and compaction and appears durable enough to withstand heavy traffic loads. Another benefit of using WMA is that it takes less energy to produce and releases fewer air pollutants than traditional asphalt. WMA also emits fewer odors than hot mix asphalt, both during production and at paving sites.
In addition to attending the presentations, workshop participants took part in a half-day session on the percent within limits (PWL) quality measure. PWL is one of the ways that engineers determine how well construction materials meet specifications. During the session, which was presented by Dennis Dvorak, Michael Smith, and Jim Walls from the FHWA Pavement and Materials Team and Ewa Flom from FHWA's Office of Pavement Technology, instructors demonstrated why PWL should be the method of choice for ensuring the quality of materials.
The workshop also featured representatives from FHWA's Turner-Fairbank Highway Research Center demonstrating their Digital Highway Measurement Vehicle. The vehicle can collect real-time, three-dimensional data on highway geometry at speeds up to 97 kilometers (60 miles) per hour using a high-resolution inertial navigation unit and high-accuracy differential global positioning system.
Michael M. Moravec 410-962-5623 mike.moravec@fhwa.dot.gov
TRAINING
---
New NHI Course Offers Latest on Pavement Preservation
Facing budget cuts and limited financial resources, many State departments of transportation are spending an increasing portion of their budgets on preserving the existing transportation system, rather than building new infrastructure. According to the U.S. Department of Transportation, the share of capital funds used for system preservation rose from 47.6 percent to 52.0 percent between 1997 and 2002. To help save money and extend their system's service life, many transportation agencies are implementing preventive maintenance programs for pavements. These programs use a variety of preventive maintenance techniques, such as diamond grinding or dowel bar retrofit of portland cement concrete pavements or thin asphalt overlays, chip seals, crack treatments, and microsurfacing of hot mix asphalt pavements. Such strategies can enhance pavement performance in a cost-effective and efficient manner and reduce the frequency with which pavements need to be replaced.
To help staff at transportation agencies learn how to select and construct the most appropriate preventive maintenance techniques, the National Highway Institute is offering the latest installment in its series on pavement preservation. The new course, Pavement Preservation: Design and Construction of Quality Preventive Maintenance Treatments (#131103), focuses on increasing the return on investment in pavement technologies through preventive maintenance.
Divided into a series of modules, the new course covers all of the categories of preventive maintenance treatments currently in general use. Participants will learn about the best practices for designing and building those treatments. In addition, they will learn how to troubleshoot typical construction problems and easily identify the results of poor construction. After completing the course, participants should be able to:
Describe the benefits provided by preventive maintenance treatments
Describe critical design factors for preventive maintenance techniques
Describe recommended procedures for construction of the techniques
Identify critical postconstruction/preopening (before/after construction) inspection objectives
The course is aimed at field personnel involved in constructing preventive maintenance treatments, up to and including middle managers. Attendees may include, for example, foremen and field crews with construction contractors, plus inspectors with the purchasing agencies. Although most attendees may have some familiarity with the equipment and material used in preventive maintenance, personnel just starting in the field can benefit from the course as well.
This is the third in a series of four courses on pavement preservation. Other courses in the series introduce the preventive maintenance concept (#131054), teach practitioners to select the right pavement for various preservation treatments (#131058), and show practitioners how to integrate preservation practices with pavement management (#131104). To schedule any of these courses, visit www.nhi.fhwa.dot.gov, or contact the NHI Training Team at 703-235-0534 or nhitraining@fhwa.dot.gov. For additional information, contact:
Tom Deddens 202-366-1557 tom.deddens@fhwa.dot.gov
New NHI Course for Bridge Construction Inspectors
As the Nation's transportation infrastructure continues to age, many bridges will need to be repaired or replaced. It is the job of bridge construction inspectors to ensure bridges are being built in accordance to the required specifications and performance standards necessary to ensure safety and longer lasting service.
To help train bridge construction inspectors, FHWA's National Highway Institute (NHI) and the agency's Office of Infrastructure are offering a new course, Bridge Construction Inspection (#130088). The goals of the course are to improve the quality of inspections, ensure uniformity in inspector training, and establish minimum personnel competencies. FHWA designed the course to provide participants with the requisite knowledge of construction to make them effective inspectors who are aware of the problems and consequences that may arise during construction and how those factors can affect a bridge's safety and service life.
After completing the course, participants will be able to:
Explain the role of the construction inspector as part of the overall project team
Interpret drawings and specifications
Anticipate possible construction and materials problems
Describe construction sequences for various bridge systems, bridge types, and materials
Conduct regular, systematic inspections of materials and apply construction standards
Explain and perform basic inspection and testing of materials
Perform accurate surveys and checking of dimensions
Develop and maintain acceptable records
The course is geared toward construction supervisors; transportation department field inspectors; resident, structural, materials, and field engineers; and other technical personnel involved in the inspection of bridges during construction. The course has no prerequisites, and participants do not need an extensive engineering background, but those who are more knowledgeable may benefit from the course as well.
To schedule this course, visit www.nhi.fhwa.dot.gov, or contact the NHI training coordinator at 703-235-0534 or nhitraining@fhwa.dot.gov. For additional information, contact:
Christopher Newman 202-366-2023 christopher.newman@fhwa.dot.gov
WORKFORCE DEVELOPMENT
---
Colorado Students Participate in Construction Career Days
According to the Bureau of Labor Statistics, the number of wage and salary jobs in the construction industry is expected to grow approximately 15 percent through the year 2012. At the same time, however, large numbers of skilled workers will begin to retire, as the baby boom generation continues to age. Recognizing that many high school students never have the opportunity to learn about careers in the transportation construction industry, the Colorado Department of Transportation (CDOT), along with the Colorado Contractors Association and other construction and educational partners in Colorado, initiated an annual Construction Career Days event in 2003 to help encourage young men and women to consider a career in this industry.
In October 2005, CDOT held its third Construction Career Days at the Adams County Fairgrounds in Brighton, CO. More than 1,600 people participated in the 2-day event, including students, teachers, administrators, and counselors from 36 school districts throughout Colorado. In addition, more than 250 volunteers, including representatives from the Federal Highway Administration's Colorado Division Office, contributed their firsthand knowledge of careers in the transportation design, engineering, and construction trades.
The volunteers greeted students arriving at the fairgrounds and provided them with hardhats, safety vests, and safety glasses to wear during the event and to take home as souvenirs. The students then were ready to explore construction careers, starting with the opportunity to learn about the various materials and pieces of equipment typically used on highway maintenance and construction projects. For example, the students learned about the use of pavers, compactors, excavators, and snowplows. Students also received hands-on masonry instruction and were shown how to use prepared mortar to place several bricks along a stringline. Students also had the opportunity to use a backhoe to place a soccer ball in a basket and to try to pick up and place one traffic cone on top of another cone.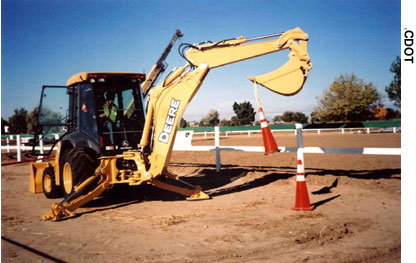 Participating in one of the many demonstrations at the 2005 Colorado Construction Career Days event, a student operates a backhoe to pick up and place one traffic cone on top of another cone. (Photo Credit: CDOT)
During the event, apprentices and instructors from the sheet metal workers' union helped some students construct metal toolboxes from kits provided by the union, while volunteers helped other students build wooden cases for carrying compact discs using material donated by The Home Depot®. In addition, several companies held simulations of soil compaction testing and landscape design. In the simulations, students used state-of-the-art equipment, such as global positioning systems and hand-held computers, to measure distances and elevations, along with other operations used in civil engineering.
During the Construction Career Days, students also had the opportunity to meet with and hear industry experts discuss the myriad opportunities and career paths in the engineering and construction industry. As the students left the event, they were given a bag containing information on construction careers, including brochures, bookmarks, and several other items provided by Federal, State, and local agencies and industry partners.
Since its inception, Colorado's Construction Career Days has led to several positive developments that encourage young people to enter construction careers. For example, the Bowman Occupational Center in Thornton, CO, added a construction vocational program to its curriculum. In addition, Colorado School District 27J in Brighton is building a new high school that will be designated as a construction career academy. The new school is scheduled to open in September 2006.
For more information, contact:
Joe Duran 720-963-3006 joseph.duran@fhwa.dot.gov
INTERNATIONAL TECHNOLOGY TRANSFER
---
International Specialists Share Insights on Reducing Roadway Injuries and Fatalities
Traffic crashes are a growing global problem. According to a 2004 report by the World Health Organization (WHO) and the World Bank, "Road traffic injuries are a major but neglected public health challenge that requires concerted efforts for effective and sustainable prevention." Around the world, an estimated 1.2 million people are killed and 50 million people are injured in crashes each year. Unless dramatic steps are taken, these figures are expected to increase by approximately 65 percent over the next 20 years.
Many nations, including the United States, have implemented programs and policies that are improving safety. France, for example, cut traffic fatalities by 20 percent from 2002 to 2003, primarily by mobilizing the government and other institutions, especially civic groups, and adopting a strong policy for crash prevention and monitoring. In Vietnam, the government implemented the National Policy on Accidents and Injury Prevention in 2001, which led to a 27-percent decline in crashes, an 8-percent reduction in death rates, and a 35-percent reduction in injury rates.
Because each nation differs in its approach to improving safety, there is much to be learned by sharing best practices and results. In August 2005, Australia hosted the Institute of Transportation Engineers' (ITE) Annual Meeting and Exhibit, providing an opportunity for international information sharing. During the event, the Federal Highway Administration's (FHWA) Office of Safety and the American Association of State Highway and Transportation Officials (AASHTO) sponsored two forums on roadway safety. Held in the cities of Melbourne and Sydney, the two 1-day forums featured representatives from FHWA, AASHTO, and transportation agencies from around the world who shared their successful strategies for improving road safety.
During the forums, FHWA's acting Associate Administrator for Safety Michael Halladay and AASHTO's Director of Engineering and Technical Services Anthony Kane presented a collective view of the status of U.S. safety initiatives and what States are doing to reduce fatalities. Halladay and Kane explained that although the annual fatality rate in the United States is unacceptably high at 1.46 deaths per 100 million vehicle miles traveled, the U.S. Department of Transportation is taking several steps to reduce this number:
Involving all agencies with a safety mission, such as law enforcement and emergency medical services, in helping to improve safety
Expanding the use of a data-driven, comprehensive approach to safety programs
Concentrating on significant safety problems
Taking a coordinated approach that addresses the role that vehicles, emergency medical service personnel, drivers, and other road users play in the safety problem and solution
Kane also discussed AASHTO's Self-Assessment Tool for the Strategic Highway Safety Plan. AASHTO designed the tool to help agencies determine the extent to which they have implemented AASHTO's Strategic Highway Safety Plans. In addition to being quick, easy, and inexpensive to use, the self-assessment tool may be adapted for different types of agencies, promotes cooperative assessments of problems, and helps agencies determine how to focus or redirect safety activities to increase their impact.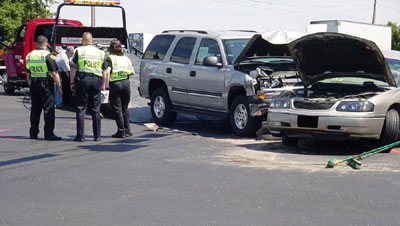 During the recent ITE Annual Meeting and Exhibit, FHWA and AASHTO sponsored two road safety forums that enabled transportation specialists from around the world to share their successful strategies for improving road safety and preventing crashes such as the own shown above.
Eric Howard, general manager of road safety for VicRoads, the transportation agency for the Australian State of Victoria, discussed Victoria's efforts to reduce crashes and fatalities. In particular, Howard shared the details of the Victorian government's official strategy for road safety, known as Arrive Alive! The 5-year strategy, which was implemented in 2002, provides a framework for reaching the State's goal of a 20-percent reduction in death and serious injury by 2007. A range of initiatives are designed to improve the safety of both the road system and vehicles and to change the attitudes and behaviors of road users. Many of the methods included in the strategy are similar to those used by FHWA and State DOTs in the United States, including efforts relating to the four E's-engineering, education, enforcement, and emergency services.
Specific components of the Arrive Alive! strategy include the following: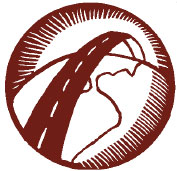 Speed limit reductions, such as the introduction of a default speed limit of 50 kilometers per hour (31 miles per hour) for roads in built-up areas and rural and outer metropolitan town centers, and a speed limit of 40 kilometer per hour (25 miles per hour) in metropolitan shopping strip centers.

The use of alcohol interlocks as a condition of relicensing for repeat and serious first-time, drunk-driving offenders returning to driving. An alcohol interlock is a small breath-testing device fitted to a vehicle's ignition. Before attempting to start the vehicle, the driver must blow into the device, which will prevent the vehicle from starting if the driver's blood-alcohol content is higher than an allowable level.

Efforts to improve vehicle safety, such as the launch of Victoria's Vehicle Safety Strategy 2004-2007, which includes actions to increase consumer demand for safer vehicles.

Road infrastructure programs, including the Safer Roads Program, designed to address run-off-the-road crashes, which account for 41 percent of traffic fatalities in rural Victoria and 32 percent of urban fatalities.
Another key participant in the forums was a representative from the Roads and Traffic Authority (RTA) in the Australian State of New South Wales. RTA is the agency responsible for improving road safety, testing and licensing drivers, registering vehicles, managing the road network, and providing road capacity and maintenance solutions. Although RTA has embarked on many activities to improve safety, one of its strongest efforts has been its media and communications outreach program, which contributes to the way the public receives and uses safety information. For more details about the program and RTA's role in reducing highway incidents, visit www.rta.nsw.gov.au.
By the end, participants in the two FHWA-AASHTO forums agreed that although they have dedicated their careers to saving lives, a tremendous amount of work remains to be done. The forums left attendees with a renewed awareness of the importance of involving multiple stakeholders and enabling key organizations take ownership of specific strategies and programs.
Timothy Barkley 202-366-6836 timothy.barkley@fhwa.dot.gov
TRAFFIC OPERATIONS
---
New CD-ROM Helps Agencies Develop Traffic Management Workshops
Stalled vehicles, highway debris, spilled loads, and vehicle crashes are the types of traffic incidents that account for approximately one-third of all delays resulting from traffic congestion on the Nation's highways. Traffic incident management is a planned and coordinated process to detect and respond to incidents and restore traffic capacity as safely and quickly as possible. This process involves both public and private sector parties, such as transportation and law enforcement agencies, fire and rescue squads, emergency medical services, and towing and recovery companies. It also involves the media, which provide information to the public on traffic conditions that may affect travel.
To help transportation agencies stage workshops to educate and communicate with media representatives, the I-95 [Interstate 95] Corridor Coalition recently developed the "Transportation Incident Management Media Workshop Toolbox." The I-95 Corridor Coalition is an alliance of organizations, including the Federal Highway Administration and other transportation and law enforcement agencies and toll authorities, that works to enhance transportation mobility, safety, and efficiency along the I-95 corridor from Maine to Florida.
Available on CD-ROM, the new toolbox includes everything needed to plan and run a traffic incident management workshop for the media, including a planning handbook, checklist, and sample materials that can be adapted to meet individual agency needs. The goal of the workshops should be to provide an overview of an agency's incident management program, its partners and their roles, and the coordination that occurs at the site of an incident. The workshops also provide an opportunity for agencies to communicate with television, radio, and newspaper representatives about the media's role in reporting to the public on traffic incidents in an accurate and timely manner.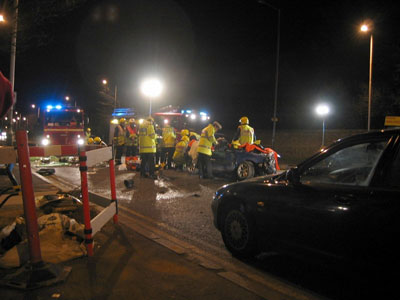 A new CD-ROM available from the I-95 Corridor Coalition helps agencies design workshops to educate the media about how public and private organizations cooperate to manage traffic incidents, such as the one shown here.
To help agencies prepare for a workshop, the toolbox includes a handbook that provides a detailed outline of workshop activities, organized according to a time line starting 6 months before the event. The activities include developing a budget, participants' list, and agenda; planning the workshop presentations; and evaluating the session. The handbook includes information gathered from traffic operations, law enforcement, emergency response, towing services, and media personnel who have participated in similar events, and it is filled with practical tips.
Sample documents included with the toolbox provide timesaving templates that agencies can use when developing a workshop. The documents include a worksheet for developing an invitation list and participant roles; sample agendas, invitation letters, and registration sheets; and a survey for evaluating the workshop. Also included is an audiovisual presentation on transportation incident management that can be tailored to an agency's own activities and needs.
For more information or to order copies of the CD-ROM, contact Cpt. Henry de Vries, operations coordinator for the I-95 Corridor Coalition, at hdevries@dot.state.ny.us.
Martha Soneira 202-493-3468 martha.soneira@fhwa.dot.gov
INFRASTRUCTURE
---
FHWA Engineer Shares Corrosion Expertise With Korea
Through a program designed to share ideas about ways to protect concrete structures from corrosion, Seung-Kyoung Lee, a research corrosion engineer at the Federal Highway Administration's (FHWA) Turner-Fairbank Highway Research Center (TFHRC), recently spent 6 months at the Korea Highway Corporation's (KHC) Highway & Transportation Technology Institute (HTTI) participating in a technical exchange program sponsored by FHWA and the Ministry of Construction and Transportation of the Republic of Korea. While abroad, Lee provided technical assistance at HTTI by demonstrating techniques for measuring corrosion activities on bridge decks. He also reviewed KHC technical reports on metalized coatings applicable to steel bridges, corrosion of reinforcing steel in concrete, and cathodic protection. In addition, Lee assisted in development of a long-term durability research plan for a new cable-stayed bridge near Seoul.
During his time in the Republic of Korea, Lee also made presentations to engineers and other transportation specialists on corrosion protection of reinforced concrete structures exposed to a marine environment and on the performance of epoxy-coated reinforcing steel in the United States. In addition, Lee conducted a scanning tour of four major highway bridges in coastal areas, collected useful information on KHC's bridge management, and learned about its digitized bridge maintenance system, Korean and European bridge management manuals, operation of a KHC test road, and structural health monitoring systems installed on major cable-stayed bridges.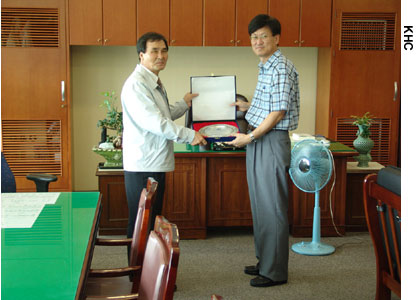 Moon-Ki Park (left), HTTI's director general, presents an award to FHWA engineer Seung-Kyoung Lee for his work during a technical exchange program. (Photo Credit: KHC)
While working with the KHC engineers, Lee learned that KHC, with an annual budget of more than US$400 million, spends $43 million per year repairing bridges in a highway system that includes 5,473 bridges. Lee also learned that the bridge deterioration rate is expected to increase because KHC recently started using prewetted deicing salts. In addition, KHC has been investing in bridge monitoring technology since the mid-1990s and is evaluating the use of personal digital assistants to record concrete cracks and other abnormalities. Based on what he learned at HTTI, Lee is preparing a proposal on how FHWA can help KHC address its problems with bridge deck deterioration. In return, FHWA hopes to learn from KHC's extensive research experience related to structural monitoring of long-span bridges.
To continue the exchange program, HTTI engineer Jin-Won Suh currently is working at TFHRC, where he is focusing on high-performance concrete, epoxy-coated reinforcing steel, and bridge deck construction practices in the United States.
For more information on the technical exchange program, contact:
Seung-Kyoung Lee 202-493-3077 seung-kyoung.lee@fhwa.dot.gov