Table of Contents
International Forum on Traffic Records Set for Summer 2005
FHWA Plans for 2005 Testing of Safety Analyst Software
FHWA Helps Make Travel Safer for Visually Impaired Pedestrians
Talking Operations Seminars Focus on Transportation Management
FHWA Partners with Local DOT to Achieve Successful Growth
Call for Abstracts for Bridge Maintenance Conference
New NHI Freight Course Highlights Forecasting Techniques
SAFETY
---
International Forum on Traffic Records Set for Summer 2005
State and local government agencies need accurate traffic records to develop safety programs, plan roadway improvements, and allocate transportation resources. Traffic records include data on crashes, emergency services, traffic law enforcement, motor vehicle inspection, driver licensing, and vehicle registration. The Association of Transportation Safety Information Professionals (ATSIP) helps meet this need by promoting improvement of traffic records systems, providing training on the collection and analysis of records, and educating leaders on the value of highway safety information systems.
To focus attention on the importance of traffic records and advances in information systems, ATSIP is organizing the 31st International Forum on Traffic Records and Highway Information Systems, scheduled for July 31 to August 4, 2005, in Buffalo, NY. The National Safety Council, ATSIP's parent organization, is the main sponsor of the forum, but the U.S. Department of Transportation, Federal Highway Administration, National Highway Traffic Safety Administration, Federal Motor Carrier Safety Administration, and Bureau of Transportation Statistics have joined forces with the council to cosponsor the 5-day event.
The traffic records forum will bring together professionals involved in all aspects of collecting, managing, and using highway safety data. The sponsors expect that attendees will include State and local law enforcement officials, transportation engineers, motor vehicle officials, emergency services officials, judicial administrators, and highway safety personnel from around the world.
The forum will feature sessions on using traffic records to address traffic safety and related security issues at the national, State, and local levels. Sessions also are being planned to disseminate information on applications now available in the areas of traffic engineering, law enforcement systems, communications and data collection technology, traffic safety, electronic citations, motor vehicle crashes, driver licensing, judiciary systems, and public health.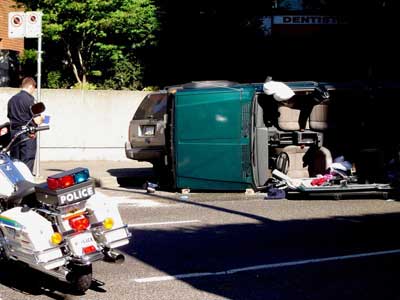 A member of a law enforcement agency collects data at the scene of an incident. The 2005 traffic records forum will promote improvements in the collection of this type of data.
In addition, government agencies with outstanding traffic records programs will be honored at the forum. The Best Practices Challenge will showcase state-of-the-art projects developed by agencies to improve the collection, quality, and application of safety data. ATSIP also will recognize the Web site that presents traffic safety data to the public most effectively. Entries in the Best Practices and Best Web Site competitions must be submitted to ATSIP by February 28, 2005.
For more information on the forum and competitions, visit the 2005 Forum section of the ATSIP Web site at www.atsip.org, or contact Nicole Pappas at pappasn@nsc.org.
David Smith 202-366-6614 david.smith@fhwa.dot.gov
FHWA Plans for 2005 Testing of SafetyAnalyst Software
The U.S. Department of Transportation has set a goal of reducing the national highway fatality rate from 1.5 fatalities per 161 million vehicle-kilometers (100 million vehicle-miles) traveled to 1.0 by 2008. Improving roadway safety also is a priority for State and local highway agencies across the Nation. But to achieve safety goals, agencies need tools that can help them identify highways in need of safety improvements and choose the most appropriate mitigation measures.
To help highway agencies manage their safety programs, the Federal Highway Administration's (FHWA) SafetyAnalyst project is developing software tools with capabilities that go beyond those now available. The new software will help agencies make better decisions on where to install safety improvements and which improvements to make. In addition, the tools will help transportation professionals to better evaluate the effectiveness of the improvements they choose. At a November 2004 meeting, the technical working group for the SafetyAnalyst project reviewed plans to test the software tools and provide training on their use in 2005. Results of the tests will be used to develop the first complete version of the software for delivery in 2006.
SafetyAnalyst is being developed through a transportation pooled fund program comprising 17 States: Colorado, Florida, Georgia, Illinois, Indiana, Iowa, Kansas, Maryland, Massachusetts, Minnesota, Nevada, New York, North Carolina, Ohio, Virginia, Washington, and Wisconsin. Representatives from the 17 States, FHWA, the Delaware Valley Regional Planning Commission, the North Jersey Transportation Planning Authority, and the Traffic Improvement Association of Oakland County, MI, serve on the project's technical working group.
Several safety management tools are being developed in the SafetyAnalyst project. The network screening tool, for example, will identify potential sites for safety improvements, the diagnosis tool will determine the nature of safety problems at sites, and the economic appraisal tool will perform an economic analysis of potential countermeasures for a site. The priority ranking tool will rank proposed improvements at sites based on the benefit and cost estimates determined by the economic appraisal tool.
According to Charles Reider, principal safety engineer for the Nevada Department of Transportation (NDOT), SafetyAnalyst will provide the agency with a comprehensive analytical tool for locating areas of concern, identifying mitigation measures, prioritizing projects, and evaluating their effectiveness. He says that the new network screening tool will yield more informed decisions. "Our goal is to integrate SafetyAnalyst into our safety management system toolbox and provide these tools to metropolitan planning organizations and public works agencies throughout the State," Reider commented. "Nevada is one of the fastest-growing States, and improving the safety of our roads is one of NDOT's highest priorities."
For more information, visit www.safetyanalyst.org.
Michael Griffith
FHWA Helps Make Travel Safer for Visually Impaired Pedestrians
Construction zones that encroach on sidewalks or crosswalks can lead to complicated detours for pedestrians. Alternate routes can be especially dangerous for those who are visually impaired and rely on well-maintained and well-delineated sidewalks for safe mobility. Widespread use of pedestrian channelizing devices for the visually impaired by the transportation community may be impeded by considerations such as cost, information regarding appropriate design features, installation issues, and even availability of devices.
To ensure the safety of all pedestrians, the U.S. Access Board and the Federal Highway Administration (FHWA) are working together to develop specific design features for pedestrian channelizing devices that will help guide pedestrians with visual impairments through work zones. The U.S. Access Board is the Federal agency that develops and maintains design guidance for compliance with the Americans with Disabilities Act.
Barricade manufacturers and FHWA recognize the importance of developing effective and affordable pedestrian channelizing devices that will be useful for all pedestrians, including those that are visually impaired. To address this requirement, FHWA, the American Traffic Safety Services Association (ATSSA), and the U.S. Access Board recently cosponsored an evaluation of pedestrian delineation devices at FHWA's Turner-Fairbank Highway Research Center in McLean, VA. The event drew manufacturers who demonstrated their devices and obtained feedback; people with visual impairments who evaluated the devices; and representatives from FHWA, the U.S. Access Board, State departments of transportation (DOTs), and other agencies who facilitated the evaluations and collected information.
Following the opening remarks at this first-of-its-kind event, manufacturers demonstrated 19 devices, some of which were prototype designs and some of which were traditional designs that had been modified to meet the needs of the visually impaired. Two-person teams evaluated the devices. Each team consisted of an individual who is visually impaired to test the device and a representative from FHWA or the U.S. Access Board to ask survey questions. At the end of the day, all parties reconvened to discuss the findings and potential next steps.
During the evaluations, the individuals with visual impairments listened to detailed descriptions of device components and then responded to a series of statements involving safety, mobility, and stability. For each survey item, evaluators gave ratings of "good" or "not acceptable," and then added more specific remarks. Based on the findings, manufacturers may modify some devices by changing the height, weight, stability, edge roughness, and other features.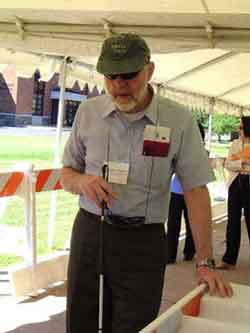 Kenneth L. Stewart from the Council of Citizens with Low Vision International manually examines a barrier.
According to Sydney Chase with ArmorcastTM Products Company (one of the manufacturer representatives at the event), "This event is special because it enables manufacturers, consumers, and agency officials to constructively criticize and praise devices, with the manufacturer ultimately receiving feedback on each of its displayed products consolidated into a single sheet."
According to some of the manufacturers represented at the "show-and-tell," many of the suggested changes are easy, low-cost improvements that can be helpful to those with visual impairments. For example, participants suggested that wording used in an audible device should be changed from "sidewalk closed, 100 feet" to "sidewalk closed, 100 feet ahead." The company representative for the device confirmed that the change could be made within minutes through simple reprogramming.
Results from this event have great potential not only to help industry create improved versions of their products, but also to provide input and address concerns that could arise during the rulemaking process for the U.S. Access Board's forthcoming Guidelines for Accessible Rights-of-Way, and when future changes are made to the Manual on Uniform Traffic Control Devices (MUTCD). For example, Richard Sesny from the Pennsylvania DOT expressed concerns that could impact decisions during any rulemaking on auditory signals. "Using [an auditory signal] is fine, but I'm also concerned about the impact of such a device on the surrounding community," he explained. "If the device is disruptive, we run the risk of vandalism—that the device won't be there the next morning."
Ken Kobetsky, P.E., program director for engineering with the American Association of State Highway and Transportation Officials (AASHTO) also stressed the role of this event—and hopefully future such events—in the rulemaking process. "Since AASHTO represents all 50 States, plus the District of Columbia and Puerto Rico, our main concern is that devices exist that will allow States to comply with any rulemaking designed to improve access for visually impaired pedestrians-essentially, ensuring that the devices needed to support implementation actually exist."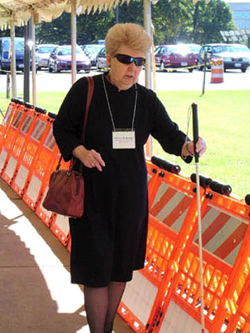 Patricia M. Beattie from the National Industries for the Blind taps her cane against the bottom of a barrier to evaluate its effectiveness.
At the conclusion of the day's events, all participants convened for a joint discussion where they received positive feedback and learned about areas for improvement and items to pursue in the future. For example, barricade bottoms must be high enough not to snag a cane and wide enough not to tip over if bumped into; and devices must be easy to assemble.
Although attendees agreed that the event was an important first step, most also acknowledged that private companies and agencies need to cooperate to improve the detectability of devices both on- and off-sidewalk ramps and the accessibility of alternate routes. To address these concerns and others, the attendees discussed plans for the future, including extending the evaluations to senior citizens who have developed vision problems and creating a dialogue between the construction industry and the organizations representing visually impaired pedestrians.
All agreed, however, that the devices showed great improvement over existing delineation systems. "When we first started talking about using these types of barricades, instead of the combination of cones and tape, the devices that we saw here today did not even exist," says Barbara McMillen with FHWA's Office of Civil Rights. "This event is a testament to an attitude that says, 'Yes, we can.'"
For more information on the event, contact:
Hari Kalla 202-366-5915 hari.kalla@fhwa.dot.gov
OPERATIONS
---
Talking Operations Seminars Focus on Transportation Management
Growing traffic congestion in U.S. metropolitan areas contributes to travel delays that affect the national economy and the public's quality of life. Vehicle crashes, weather conditions, and work zones cause many of these travel delays. In the 21st century, managing and maintaining safe and reliable transportation systems requires a proactive approach based on up-to-date knowledge of operations practices and intelligent transportation systems (ITS).
To provide professionals with the information and skills needed to manage transportation systems effectively, the National Transportation Operations Coalition (NTOC) is partnering with the Federal Highway Administration to present Talking Operations seminars. This monthly series, conducted via the Internet, is designed to educate transportation professionals on trends, tools, and noteworthy practices in management, operations, and ITS. An October 2004 seminar, the first in the series, highlighted best practices in transportation operations by practitioners and decisionmakers at the State, regional, and local levels.
In one presentation, Michigan Department of Transportation (DOT) Director Gloria Jeff discussed the agency's focus on integrated multimodal transportation operations. She explained that integrated operations require collaboration among all stakeholders, optimization of transportation dollars, a focus on safety and efficiency, and preservation of the existing transportation system. As part of the integrated effort, Michigan DOT developed a strategic highway safety plan that addresses such issues as intersection safety, hazard elimination, and seatbelt use. The agency also has created a plan to guide its future ITS investments.
In another presentation, Sarath Joshua of the Maricopa Association of Governments-the metropolitan planning organization for the Phoenix, AZ, area-discussed the organization's regional approach to transportation operations. The group developed several regional operations initiatives to address gaps identified by local leaders. One initiative is to create a traffic signal optimization program that will develop consistent traffic signal timing plans throughout the region, coordinate cross-border signal timing, and adjust the timing of Phoenix's signals to better respond to conditions.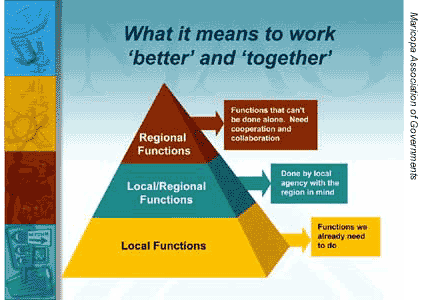 This illustrated pyramid shows the planning process that the Maricopa Association of Governments uses to develop regional initiatives on transportation operations.
Topics planned for discussion during seminars in 2005 include handling traffic at special events, managing work zones, and optimizing traffic signals. Participation is free, but limited to the first 100 registrants, so multiple participants from a single organization are encouraged to participate from one location.
For more information or to register for a seminar, visit http://talkingoperations.webex.com, or contact Jennifer Seplow at 703-676-6849 or jennifer.e.seplow@saic.com. To learn more about NTOC, visit www.ntoctalks.com.
Zia Burleigh 202-366-1896 zia.burleigh@fhwa.dot.gov
PARTNERHIPS
---
FHWA Partners with Local DOT to Achieve Successful Growth
The Federal Highway Administration's (FHWA) DC Division Office and the District of Columbia's Department of Transportation (DDOT), which was created with the 2002 reorganization of the District of Columbia's Department of Public Works, recently received the 2004 FHWA Administrator's Strive for Excellence Team Award for their partnership in developing and implementing the first-ever Joint Performance Plan between the two partners. This multiyear, goal-oriented agreement includes approximately 170 activities, covering all major Federal-aid highway program areas, to be jointly accomplished during Federal fiscal years 2004 and 2005.
The commitment to this joint performance plan clearly represents the rapidly growing strength of this partnership. Another example of the partnership's strength and one of the program areas to benefit from this joint performance plan is the District of Columbia's Transportation Technology and Research Program. The partnership between the two agencies has enabled DDOT to realize greater efficiency in the utilization of resources available to the research program to tackle transportation issues. For example, DDOT staff embarked on the Pontis Bridge Management Research Project to investigate the use of Pontis Bridge management and planning software to determine the future bridge needs of Washington, DC, based on the city's budgets and policies. In addition, the agency's research efforts have enhanced the visibility of DDOT throughout the transportation community. The increased visibility has enabled DDOT staff to take part in national research-related activities, such as participating in meetings of the American Association of State and Highway Transportation Officials' Research Advisory Committee and National Cooperative Highway Research Program panels.
The added efficiencies that the partnership provides to DDOT also enables the agency to solve previously unaddressed problems and conduct policy research to determine the best practices on Federal-aid projects within the District of Columbia. In addition, enhanced research has benefited FHWA's DC Division Office because successful local research programs and cost-effective policy decisions enhance the overall Federal-aid program, which provides resources for the construction and preservation of the National Highway System and the improvement of other Federal-aid roads.
The recent advances in DDOT's research program build upon the 2003 restructuring of the program to enhance its effectiveness in responding to the agency's needs and addressed concerns that FHWA had with the future direction of the research program. FHWA noted these concerns during a peer review that focused on DDOT's research operating procedures, its partnership with the Howard University Transportation and Research Center (HUTRC), and HUTRC's activities and operating policy. The peer review led to several improvements in DDOT's research program, such as developing a strategic plan for the program that is clearly linked to DDOT's strategic plan for the entire agency.
In addition to providing resources for DDOT, FHWA is charged with approving DDOT's annual research work program. For fiscal year 2004, DDOT's work program included a broad range of research topics, such as exploring methods to evaluate the land use benefits of transportation assets, analyzing the effectiveness of red light-running cameras, evaluating bridge management systems, and examining curb pricing methodologies. Because of its increasing confidence in DDOT resulting from the partnership, FHWA approved the work program even though it was a very aggressive plan. The 2004 research work program eventually proved to be overly optimistic, but the agency established more consistent and achievable goals by the beginning of fiscal year 2005. DDOT has been able to implement a timely start on the 2005 program, and all research projects currently have principal investigators and are underway. In addition, the DDOT research program now includes an intern component to help foster interest in transportation issues and possible careers within transportation. To help fulfill its commitment as a partner, FHWA representatives serve throughout DDOT's selection of research projects and work program approval processes.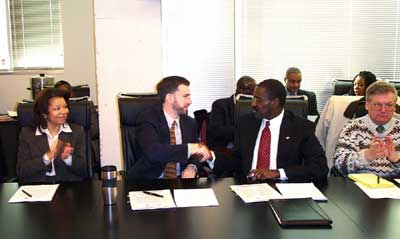 Representatives from DDOT and FHWA's DC Division Office are shown at the signing ceremony for the Joint Performance Plan. From left to right: Michelle Pourciau, DDOT deputy director; Dan Tangherlini, DDOT director; Gary Henderson, FHWA-DC division administrator; and Edward Sheldahl, FHWA-DC division project delivery team leader.
The strengthened FHWA and DDOT partnership, as exhibited through its joint performance plan, has already yielded benefits in many program areas. The continued evolution of DDOT's research program is an indication of the strength this partnership.
Bob Mihalek 202-219-3515 bob.mihalek@fhwa.dot.gov
Mark Kehrli 202-219-3520 mark.kehrli@fhwa.dot.gov
INFRASTRUCTURE
---
Call for Abstracts for Bridge Maintenance Conference
In spring 2006, the Transportation Research Board's (TRB) Structures Maintenance and Bridge Management Systems Committees, the Bridge Task Force of the American Association of State Highway and Transportation Officials' Highway Subcommittee on Maintenance, and the Federal Highway Administration will conduct the Bridge Maintenance Summit 2006 in Washington, DC. The sponsors currently are soliciting research abstracts for consideration as potential presentations at the summit. The event will showcase research from several subject areas. Potential paper topics include the following:
Preservation or preventive maintenance issues, such as the best and most cost-effective preventive maintenance procedures, and how an agency can transition from reactive to proactive bridge maintenance
Innovative repairs of damaged bridge components with an emphasis on methods that reduce construction time, costs, and inconvenience to users
Performance of products marketed for bridge preservation or repair, with emphasis on the applicability of the products for addressing structural conditions, construction quality, and environmental influences
Characteristics of bridge maintenance programs, including policies, priorities, funding, and implementation
Contracting issues, including accommodating different types of contracts, documents, administration procedures, bid items, and units of measurement
Safety issues relating to bridge maintenance, including traffic control in work zones, methods to protect workers from falls, rigging, trenching, confined spaces, hazardous materials, and environmental pollution
Use of bridge management systems in maintenance operations to identify needs, set priorities, evaluate alternative procedures, and identify cost-effective strategies
Research findings on bridge maintenance activities, with an emphasis on new technologies and future research
This list of topics is not all-inclusive, and the program committee will consider papers on other subjects.
Practitioners, administrators, and researchers interested in presenting a paper should submit an abstract of no more than 500 words and a 100-word biographical sketch to TRB at BM@nas.edu by April 1, 2005. Authors will be advised of the program committee's decision by June 1, 2005, and authors of accepted abstracts will be invited to prepare a paper and make a presentation at the conference. The committee will require that full manuscripts be submitted by October 15, 2005, to accommodate distribution of the conference proceedings.
Tom Everett 202-366-4675 thomas.everett@fhwa.dot.gov
TRAINING
---
New NHI Freight Course Highlights Forecasting Techniques
Forecasting freight involves many factors and different data sources and analytical tools than those used for forecasting passenger travel. Today, few training resources are available for freight forecasting. As congestion and the amount of freight moved on the Nation's highways increase, the transportation community is acknowledging the need to consider freight in the transportation planning process.
In response, the National Highway Institute (NHI) has issued a course, Multimodal Freight Forecasting in Transportation Planning (#139002). The new class will provide an overview of freight forecasting and describe forecasting techniques. The course is geared toward State and metropolitan planning organization officials involved in planning and forecasting; staff at State and local agencies who are involved in the development and management of freight projects; and staff at Federal agencies that assist State and local agencies with transportation and freight planning and funding.
The new course will be offered at the request of hosting agencies. After completing the course, participants will better understand how freight forecasting differs from passenger transportation forecasting, how to identify the most appropriate freight forecasting methods for a variety of problems, and how to interpret forecasting results. In addition, participants will be able to identify public and private sources of freight data. They also will be able to discuss the roles of different freight transportation modes, the economic trends that influence freight growth, the role and impact of intermodal terminals, and the impacts of freight on travel demand forecasts.
Although there are no official prerequisites for this course, NHI recommends that participants first take Integrating Freight in the Transportation Planning Process (#139001). For those unable to participate in the new 3-day freight forecasting course, FHWA also offers a 30- to 60-minute executive seminar, which can be tailored to a State or region's needs and may be used to educate elected officials and other stakeholders.
For more information on these courses, visit www.nhi.fhwa.dot.gov. To schedule the new course or any other NHI course, contact Danielle Mathis-Lee at 703-235-0528 or danielle.mathis-lee@fhwa.dot.gov.
Robert Gorman 202-366-5001 robert.gorman@fhwa.dot.gov
Supin Yoder 708-283-3554 supin.yoder@fhwa.dot.gov