Table of Contents
New FHWA Report Evaluates Effectiveness of Red-Light Cameras
Guidebook and Workshops Help Engineers Improve Signalized Intersections
Geotechnical Experts Discuss Earth-Retaining Structures
FHWA Helps Evaluate State Pavement Preservation Programs
Seminar Links Freight with Context Sensitive Solutions
Workshops Review ITS Technologies to Reduce Pedestrian Fatalities
Library of Access Management Resources Available on Two-Disk Set
SAFETY
---
New FHWA Report Evaluates Effectiveness of Red-Light Cameras
Intersection safety and red-light running (RLR) are serious issues in the United States. During the 6-year period from 1997 to 2002, nearly 6,000 people died in RLR crashes in the United States. Another 1.2 million people were injured. The traditional way of enforcing this violation is to station a patrol vehicle near an intersection. This method, however, is dangerous for police officers, expensive for localities, and inefficient for police departments.
Due to these drawbacks, an alternative enforcement method has emerged. Red-light camera (RLC) technologies can make intersections safer by detecting motor vehicles that pass over pavement sensors after a traffic signal has turned red, eliminating the need for a police officer to stand watch at the intersection. The sensors are connected to computers in high-speed cameras, which take two photographs of the violation. The first photo is taken of the front of the vehicle when it enters the intersection, and the second is taken when the vehicle is in the intersection. Law enforcement officials then review the photograph, and in many localities, a citation is mailed to the registered owner of the vehicle. To evaluate the safety and economic effectiveness of RLC systems, the Federal Highway Administration (FHWA) recently completed a research study, Safety Evaluation of Red-Light Cameras (FHWA-HRT-05-048).
Compiling data from seven participating jurisdictions, including El Cajon, San Diego, and San Francisco, CA; Howard County, Montgomery County, and Baltimore, MD; and Charlotte, NC, FHWA researchers analyzed the total number of right-angle and rear-end crashes at 132 signalized intersections, both before and after the installation of RLCs. In addition, the researchers analyzed crashes at 296 unsignalized intersections to serve as a comparison group. A rear-end crash occurs when one vehicle positioned directly behind another crashes into the front vehicle. Right-angle crashes occur when a vehicle enters the intersection after the red light and hits a vehicle entering the intersection during the green light from the perpendicular angle.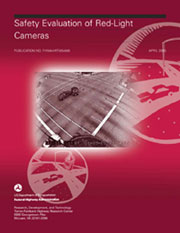 FHWA's new report, Safety Evaluation of Red-Light Cameras, demonstrates the effectiveness of red-light camera technologies in reducing right-angle crashes.
The study results showed that RLCs reduced the total number of right-angle crashes by nearly 25 percent, decreased the number of injuries resulting from right-angle crashes by 16 percent, increased the total number of rear-end crashes by 15 percent, and increased the number of injuries resulting from rear-end crashes by 24 percent.
The study also included an economic cost analysis of right-angle and rear-end crashes to determine whether the increase in rear-end crashes at intersections with RLCs negates the economic benefits of fewer right-angle crashes occurring at these intersections. The combined results from the seven jurisdictions indicated a positive aggregate economic benefit of approximately $39,000 to $50,000 per site per year. Therefore, the increase in rear-end crashes does not appear to negate the benefits derived from the decrease in right-angle crashes.
Based on the data, the study also revealed that the use of RLC technology is especially advantageous when combined with site selection strategies, such as placing RLCs at locations with a high ratio of right-angle to rear-end crashes, and through program design measures, such as ensuring that intersections with RLC technologies receive publicity and have appropriate signage.
The final report is available at www.tfhrc.gov/safety/pubs/05048/index.htm. To obtain hard copies, contact the FHWA Report Center at report.center@fhwa.dot.gov.
Michael Griffith
Guidebook and Workshops Help Engineers Improve Signalized Intersections
Like pipes carrying water, roadways have a carrying capacity and can move only a limited number of vehicles at any given time. Also like a pipe, a road can become clogged when something impedes the flow of traffic. To prevent roads from becoming congested, especially at intersections, transportation agencies frequently rely on traffic signals. One ill-timed signal, however, can block traffic on that road and surrounding ones. In addition, some signalized intersections experience more crashes than others, and selection of appropriate signal design and signal head placement has been shown to reduce crashes. Transportation engineers, therefore, must ensure that they install the appropriate type of signal to meet the requirements of a particular intersection and that the timing of the signals ensures that vehicles keep moving.
Because traffic signals play an important role in traffic flow and traffic safety, the Federal Highway Administration (FHWA) has produced a comprehensive guide, Signalized Intersections: Informational Guide (FHWA-HRT-04-091). Based on the latest research, the guide offers suggestions on how to make intersection assessments and understand the tradeoffs involved in implementing potential improvements.
The guide suggests intersection improvements ranging from low-cost measures, such as signal timing and signage enhancements, to high-cost measures, such as intersection reconstruction or grade separation. The 350-page guide also addresses the measures' safety and operational implications for system users, including motorists, pedestrians, bicyclists, and transit riders. In addition, the guide covers the geometric design of signalized intersections.
To introduce the guide and provide an overview of the complex technologies it describes, the Safety and Design Technical Service Team at the FHWA Resource Center has developed a 1-day workshop for design and traffic engineers and other transportation specialists. Since the introduction of the guide in October 2004, resource center representatives have conducted several workshops with approximately 250 participants from around the Nation. FHWA anticipates holding the following workshops in 2005:
August 17 in Raleigh-Durham, NC
August 18 in Winston-Salem, NC
August 23 in Austin, TX
August 25 in Corpus Christi, TX
October 11, 12, 13, and 14 in Alabama (location to be determined)
The workshops cover specific tasks such as setting the length of signal cycles so that they provide adequate crossing time for pedestrians without being excessively long, using intersection tools to reduce rear-end crashes, and quantifying the safety and operational impacts of specific geometric features. The instructors present the workshops in an open framework so that they can tailor each one to focus on specific issues of interest.
Fred Ranck 708-283-3545 fred.ranck@fhwa.dot.gov
INFRASTRUCTURE
---
Geotechnical Experts Discuss Earth-Retaining Structures
One of the many challenges faced by geotechnical and highway engineers when working on today's transportation projects is choosing the most appropriate earth-retaining structure (ERS), commonly known as a retaining wall. Selection of an inappropriate system may result in significant time, cost, safety, and performance issues. With approximately 50 different types of retaining walls to choose from, specialists need indepth knowledge of a number of systems.
At the 13th Annual Great Lakes Geotechnical and Geoenvironmental Conference organized by the University of Wisconsin-Milwaukee, Wisconsin Department of Transportation (WisDOT), and the Wisconsin Highway Research Program, geotechnical experts discussed ways to meet the challenges of selecting, designing, constructing, and testing ERS systems. Approximately 150 engineers and technical experts from the Federal Highway Administration (FHWA), State DOTs, industry, and academia attended the May 2005 conference in Milwaukee, WI, and additional participants took part by live Webcast.
WisDOT Secretary Frank Busalacchi opened the conference with a progress report on the Marquette Interchange, an $810-million project to reconstruct the interchange and its approaches in downtown Milwaukee to relieve traffic congestion and replace deteriorating bridges and pavement. He discussed the project's geotechnical challenges, including construction of more than 5,713 square meters (61,500 square feet) of new retaining walls. The project also requires construction of a 334.4-square-meter (3,600-square-foot) soil-nail retaining wall. Soil nailing, a process that involves strengthening an excavated slope by installing closely spaced steel bars, enables engineers to build steeper walls in more constricted areas.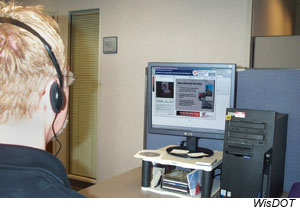 A Webcast arranged by WisDOT enabled geotechnical experts from around the country to participate by computer in the 13th Annual Great Lakes Geotechnical and Geoenvironmental Conference. A Webcast participant sitting at a computer is viewing a presenter in one window on the screen and the presenter's slides in another. (Photo Credit: WisDOT)
Also during the conference, FHWA principal geotechnical engineer Jerry DiMaggio presented a detailed process for selecting appropriate ERS systems to meet the needs of transportation projects. DiMaggio noted that each of the approximately 50 types of geotechnical systems has distinct advantages and disadvantages related to how much time is required to build the wall and whether skilled labor is required. The first step in the selection process involves identifying the requirements of the project and any constraints produced by the site, such as space limitations or environmental issues. The second step is conducting an initial screening of wall alternatives that might meet the project criteria. The final step is ranking the most suitable alternatives by factors such as cost, construction time, environmental issues, durability, and maintenance requirements.
Joining the conference attendees were engineers from around the country who viewed the day's presentations via a live Webcast arranged by WisDOT Research Administrator Nina McLawhorn. "We wanted our regional office staff as well as other States to be able to see and hear these experts," McLawhorn said. "It's a cost-effective way to share new ideas."
According to a followup survey conducted by WisDOT after the Webcast, all participants thought the video and audio quality was clear. Archived presentations can be viewed at www.dot.wisconsin.gov/library/research/reports/whrp.htm. More information on the Webcast technology is available from McLawhorn at 608-266-3199 or nina.mclawhorn@dot.state.wi.us.
Jerry DiMaggio 202-366-1569 jerry.dimaggio@fhwa.dot.gov
FHWA Helps Evaluate State Pavement Preservation Programs
In the past, many highway agencies allowed the ride quality and structural condition of their pavements to deteriorate to fair or poor condition before taking steps to rehabilitate them. The goal of pavement rehabilitation was to repair structural damage and restore smoothness, a process that could be costly and time consuming. Many agencies now have established pavement preservation programs in which they apply preventive maintenance treatments to extend service life and improve ride quality. As the implementation of pavement preservation programs becomes increasingly common, however, highway agencies face the challenges of applying appropriate preservation treatments and establishing an effective program.
To help State highway agencies improve their pavement preservation efforts, the Federal Highway Administration's (FHWA) Office of Asset Management has launched a Pavement Preservation Technical Assistance Program. Under the program, the National Center for Pavement Preservation (NCPP) at Michigan State University in East Lansing, MI, will work with State departments of transportation (DOTs) and FHWA division offices to evaluate each State's procedures, policies, and programs for preserving pavements. The goal is to help States assess the progress of their efforts and to provide recommendations on how to enhance their programs.
Pavement preservation is a proactive, long-term strategy to improve pavement performance through a variety of cost-effective, thin-surface treatments that extend the life of a road, such as crack and joint sealing, chip seals, slurry seals, microsurfacing and thin and ultrathin hot-mix asphalt overlays for flexible pavements and partial- and full-depth repairs, dowel-bar retrofits, and surface grinding of rigid pavements. To be effective, these treatments must be selected carefully and applied before the pavement sustains any structural damage.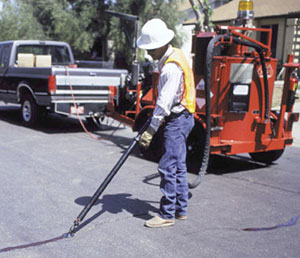 A worker is shown sealing a pavement crack. Crack sealing is one of a variety of cost-effective, thin-surface treatments that can help preserve and extend the service life of pavement.
FHWA's technical assistance program is designed to help agencies assess their particular pavement preservation needs and address specific challenges on their roadways. For each review, NCPP staff will spend approximately 80 hours assessing the State DOT's program and interviewing key personnel involved in developing, implementing, and managing the State's pavement maintenance, evaluation, and preservation programs.
NCPP will tailor its review to the highway agency's existing programs, policies, specifications, and organizational structure to identify sound engineering practices and to pinpoint practices that could be refined or improved to provide a more effective program. At the end of each review, NCPP staff will meet with the participants to discuss observations and make recommendations.
FHWA and NCPP will use information gathered during the reviews to create a database of preservation practices and trends. The database will serve as a long-term tool for sharing best practices and assessing the success of the preservation program throughout the Nation. This tool also will help FHWA and NCPP examine variables that can adversely affect pavement preservation treatments, such as application timing, environmental factors, and traffic loads. In addition, the database may be useful in determining the degree to which various treatments will increase a pavement's service life.
For more information on the program or to schedule a review, contact:
Tom Deddens 202-366-1557 tom.deddens@fhwa.dot.gov
FREIGHT AND THE ENVIRONMENT
---
Seminar Links Freight with Context Sensitive Solutions
When a community receives a proposal for a new freight project, residents and business owners typically are concerned that the increased volume of freight trucks or railcars moving through their vicinity will cause traffic delays, reduce the safety and security of the community, degrade air quality, and produce excessive noise and light. Opposition stemming from such concerns can delay the development of much-needed freight projects. In an effort to address these concerns, The Federal Highway Administration (FHWA) recently presented a seminar titled Linking Freight with Context Sensitive Design: Notable Practices.
The May 2005 seminar, part of the agency's Talking Freight Seminar series, provided a forum for participants to hear from experts who have successfully implemented freight projects that were sensitive to the human and natural environments and that resulted in community support instead of opposition. The presentations highlighted how distribution centers and freight villages can be built without disrupting communities, and how such projects can be linked effectively with context sensitive solutions (CSS) to make freight a good neighbor.
FHWA defines CSS as "a collaborative interdisciplinary approach that involves all stakeholders to develop a transportation facility that fits the physical setting and preserves scenic, aesthetic, historic, and environmental resources, while maintaining safety and mobility." This interdisciplinary approach relies on input from a variety of public and private stakeholders, such as representatives from State departments of transportation, metropolitan planning organizations, the freight industry, and the public.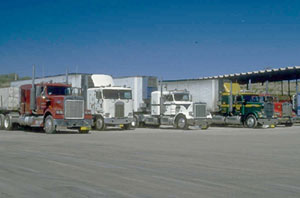 FHWA's recent Talking Freight seminar provided a forum for participants to hear from experts who have successfully implemented freight projects that were sensitive to the human and natural environments. The presentations, for example, addressed the concerns that communities typically have regarding the increased volume of freight trucks, such as the trucks shown above, that can accompany some freight projects.
During one presentation at the seminar, Roberta Weisbrod, principal for the Partnership for Sustainable Ports and a member of a team that performed a feasibility study of freight villages for the Union County Department of Economic Development in New Jersey, described 40 freight villages in Europe and their use of CSS to reduce high job turnover rates among truck drivers. A concept developed more than 30 years ago in response to the energy crisis, a freight village is an area where at least 50 businesses are located together within a secure perimeter and are managed by one authority. These villages generally have direct access to major highways and are located near rail routes and within approximately 16 kilometers (10 miles) of an urban area. The European freight villages, which were planned using the principles of CSS, feature a variety of driver support services, such as job training facilities, restaurants, jogging trails, and other recreational opportunities that help reduce driver turnover rates.
Weisbrod also stressed that urban areas benefit from freight villages designed using CSS because the resulting villages tend to be more aesthetically pleasing, leading to increased land values in surrounding areas. The proximity of the villages to urban areas also means that trucks do not have to travel as far to load and unload freight, resulting in less traffic congestion. In addition, freight villages designed using CSS tend to create new jobs in urban areas.
Dick Gordon, transportation planning manager for Cansult Engineering-a Canadian consulting firm, explained in his presentation how the Ontario Ministry of Transportation plans freight movements and creates designs that benefit communities. To prevent increased traffic congestion on artery roads, for example, the ministry typically constructs bypass routes around communities. In addition, the ministry promotes the construction of buildings that have rear entrance delivery doors, helping delivery vehicle drivers avoid the need to double-park their vehicles and cause traffic congestion. Accord-ing to Gordon, the key to implementing such actions is communities coordinating their freight movement planning with adjacent municipalities.
Finally, Allison C. de Cerreño, executive director of the National Association of City Transportation Officials and codirector of the Rudin Center for Transportation Policy and Management at New York University, made a presentation on the link between CSS and freight movement during the Look Up, Toledo project in Toledo, OH. Currently the largest single project ever undertaken by the Ohio Department of Transportation (ODOT), Look Up, Toledo encompasses the design and construction of a new cable-stayed bridge crossing the Maumee River along I-280. "With a project of this scale and impact, it is imperative that community members voice their ideas and concerns," says ODOT Director Gordon Proctor.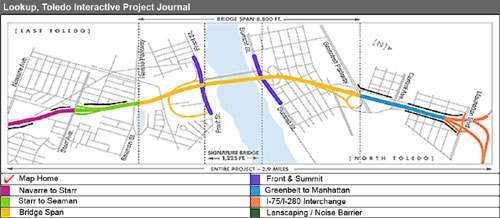 During the The Look Up, Toledo project, which encompasses the design and construction of a new cable-stayed bridge crossing the Maumee River along I-280, the Ohio Department of Transportation used context sensitive solutions to strike a balance between freight needs and community concerns. As shown in the map above, the entire project spans 6.3 kilometers (3.9 miles), with several miles of construction occurring on the roads leading to and from the bridge. (Photo Credit: Look Up, Toledo)
In keeping with this commitment, ODOT developed a community involvement program that used CSS to strike a balance between freight needs and community concerns. The program featured more than 30 public meetings, 99 community presentations, visual displays, and solicitation of thousands of comments through the project Web site, newsletter, and newspaper advertisements. The program helped ODOT make several key decisions, including a determination on what type of bridge to construct and which elements to include in the design.
Talking Freight is a series of monthly FHWA-sponsored, Web-based seminars designed to provide a convenient and no-cost venue for transportation practitioners from the public and private sectors to develop new skills and broaden their knowledge of freight. For more information on this seminar and the Talking Freight series, visit www.fhwa.dot.gov/freightplanning/talking.htm or contact:
Eloise Freeman-Powell 202-366-2068 eloise.freeman-powell@fhwa.dot.gov
Carol Keenan 202-366-6993 carol.keenan@fhwa.dot.gov
INTELLIGENT TRANSPORTATION SYSTEMS
---
Workshops Review ITS Technologies to Reduce Pedestrian Fatalities
In 2003, 4,749 pedestrians were killed in traffic crashes in the United States, accounting for approximately 11 percent of all roadway fatalities. Experience with various intelligent transportation systems (ITS) designed to improve pedestrian safety, such as lighted crosswalks, pedestrian-detection devices, and countdown pedestrian signals, has shown that these technologies can improve pedestrian safety. Although transportation agencies across the Nation already have deployed many technology-based countermeasures, the U.S. Department of Transportation (USDOT) is exploring the feasibility of developing and testing a wider range of pedestrian-detection and warning systems and incorporating them into one comprehensive system.
As part of the USDOT effort, the Federal Highway Administration's (FHWA) Office of Safety Research & Development conducted three workshops in April 2005 on ITS technologies to reduce pedestrian injuries and fatalities. Held at FHWA's Turner-Fairbank Highway Research Center in McLean, VA, the workshops included discussions of potential operational concepts and features to enhance pedestrian safety. The purpose was to solicit ideas for improvements, identify research needs, and obtain feedback from various groups of pedestrian safety experts.
Participants in the first FHWA workshop comprised representatives from State and local jurisdictions that have implemented pedestrian-detection technologies. Participants provided generally positive feedback on the nine ITS-based operations technologies discussed at the workshop but gave their highest ratings to three: automatic pedestrian-detection technologies to replace or complement the pushbutton callboxes pedestrians use today, countdown signal timers that tell pedestrians how much time they have to cross the street, and headstart signals at street corners that allow pedestrians time to cross the street before traffic making right or left turns move into the crosswalk. In addition to giving favorable ratings to these technologies, participants agreed that the accuracy and reliability of pedestrian-detection systems need to be improved before the systems can be deployed widely.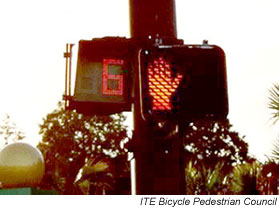 Countdown signals like the one shown above enhance safety by letting pedestrians know how many seconds they have left until the light changes. (Photo Credit: ITE Bicycle Pedestrian Council)
At the second FHWA workshop, pedestrian safety advocates offered additional feedback, including a preference for the concept of automatically extending a red light when pedestrians are still in the crosswalk at the end of the pedestrian phase. They also liked countdown signal timers but said that signals should also have audible cues for the visually impaired. In addition, the participants thought that transportation agencies need to better enforce the standards that specify sufficient crossing times. Workshop participants generally agreed that pedestrians need feedback from both new and existing systems to let them know that the system is working and that they have been detected.
Participants in the third workshop were experts conducting research on technologies for potential use in pedestrian-detection systems. The experts discussed a range of technologies used for pedestrian detection, including far infrared, near infrared, radar, and video image processing. Most of the experts agreed that video image processing, a procedure in which images are captured by a video camera and analyzed by computer, holds the most promise for pedestrian detection. Because every technology has limitations, the experts also agreed that using a combination of sensing technologies will likely be the best approach for pedestrian detection.
Ann Do 202-493-3319 ann.do@fhwa.dot.gov
OPERATIONS
---
Library of Access Management Resources Available on Two-Disk Set
With traffic congestion growing and fewer new arterials being built, the need to manage roadway access effectively is increasingly important. Access management is the systematic control of the location, spacing, design, and operation of driveways, median openings, interchanges, and street connections to direct where motorists enter and exit from roadways. It also encompasses design treatments of medians and auxiliary lanes, and the appropriate spacing of traffic signals. By managing roadway access, government agencies can reduce traffic congestion, increase safety, extend the lives of major roadways, and support alternative transportation modes such as bicycling.
To help transportation specialists obtain the latest resources on access management, the Federal Highway Administration (FHWA) is offering free copies of the new Access Management DVD/CD-ROM Library. The two-disk set, which includes one DVD and one CD, is a 28,000-page compendium of all of the resources presented at the six National Access Management Conferences held since 1993. FHWA, which helps fund the biennial meetings, compiled the DVD/CD library after the most recent conference in August 2004 in Kansas City, MO, and is distributing the set in partnership with the conference host, the Transportation Research Board (TRB) Committee ADA70 on Access Management.
The DVD and CD each contain the proceedings from the Sixth National Conference on Access Management in 2004, including 11 audiovisual presentations given at the conference. The DVD and CD also contain a variety of brochures, handbooks, and reports, including eight National Cooperative Highway Research Program reports on access management topics.
In addition to the resources included on both disks, the DVD also features the proceedings from the first five TRB access management conferences and eight short videos on access management topics produced by FHWA, the Missouri and Florida Departments of Transportation, and other organizations. Both disks feature interactive search menus that enable users to look for resources by title, author, and subject.
For information on the Seventh National Conference on Access Management, scheduled for August 13-16, 2006, in Park City, UT, visit www.accessmanagement.gov. For free copies of the Access Management DVD/CD-ROM Library and the 2003 TRB Access Management Manual (limited number of free manuals available), contact:
Neil Spiller 202-366-2188neil.spiller@fhwa.dot.gov