Table of Contents
Upcoming Conference Focuses on Road Ecology
Conference Promotes Awareness of Highway-Rail Safety
New Scenario Planning Tool Helps Transportation Specialists Prepare for the Future
New Guide Provides Siting Criteria for Road Weather Sensors
Innovative Technologies and Proactive Research Win FHWA Environmental Excellence Awards
Making Environmental Impact Statements More Reader Friendly
New Course Targets Highway Runoff
SAFETY
---
Upcoming Conference Focuses on Road Ecology
"Road ecology," a term coined by Harvard University landscape architect Richard T. T. Forman, refers to the dynamic relationship between the natural environment and surface transportation systems. To accommodate transportation projects that cut across wildlife habitats, forcing animals to cross roads and rails, the study of road ecology seeks ways to improve the safety of surface transportation and ecological conditions for both humans and wildlife.
To help improve crossings of divided wildlife habitats, the Federal Highway Administration (FHWA) sponsors several conferences each year that keep practitioners up to date on road ecology research and innovations. One such conference is the upcoming International Conference on Ecology and Transportation (ICOET), scheduled for August 29, 2005, to September 2, 2005, in San Diego, CA. During the event, engineers, ecologists, and professionals from diverse disciplines will share more than 100 research papers and presentations that address the broad range of ecological issues related to surface transportation and the challenge of making road systems friendlier to wildlife and their habitats.
ICOET is the only interagency event addressing a broad range of ecological issues related to surface transportation. Conducted every 2 years, ICOET showcases research results, applications, and best practices that foster consideration of ecological concerns in surface transportation programs. Conference participants will include representatives from more than a dozen countries, including Australia, Canada, India, the Netherlands, and the United States.
The ICOET 2005 theme is "On the Road to Stewardship!" The theme is designed to encourage the dissemination of information on projects and best practices that show how research and policy are moving beyond regulatory requirements to respond to broader scientific and community-based ecological concerns in transportation planning, project development, construction, operations, and maintenance.
For 2005, the California Department of Transportation (Caltrans) and the University of California-Davis Road Ecology Center will serve as conference hosts, with the Center for Transportation and the Environment at North Carolina State University providing administrative services for the event. Primary funding for ICOET comes from FHWA, along with the U.S. Environmental Protection Agency, United States Department of Agriculture Forest Service, U.S. Fish and Wildlife Service, and State agencies, universities, and nongovernmental organizations.
The deadline for registration is August 12, 2005. The registration fee for general participants is $186; for paper and poster presenters, $136; and for students, $99. The fee covers access to all technical and poster sessions, exhibits, field trips, continental breakfasts Monday through Friday, a welcome reception on Monday, and a keynote luncheon on Thursday. The fee also includes a CD-ROM of the conference proceedings, which will be published in March 2006. For more information, visit www.icoet.net.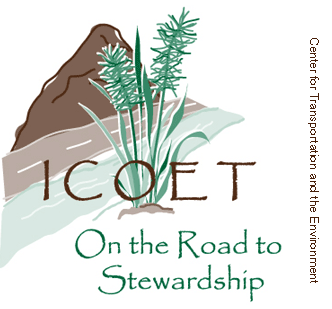 This logo depicts the theme for the upcoming International Conference on Ecology and Transportation, "On the Road to Stewardship!"
Fred Bank 202-366-5004 fred.bank@fhwa.dot.gov
Conference Promotes Awareness of Highway-Rail Safety
In 2003,approximately 96 percent of the Nation's rail-related fatalities involved highway-rail crossing collisions or railroad trespassing incidents. Nearly every 2 hours in the United States, a collision occurs between a train and a vehicle or pedestrian. Nearly 50 percent of vehicle-train collisions occur at crossings with automatic warning devices, such as gates, lights, and bells.
The reduction of highway-rail fatalities and injuries was a key topic at the 2005 Kansas-Missouri Highway-Railroad Safety Conference, held in March 2005 in Overland Park, KS. Nearly 140 representatives of Federal, State, and local agencies; railroads and related industries; and safety and law enforcement organizations attended the 2-day event, which was sponsored by the Kansas and Missouri Departments of Transportation. During the conference, several presenters discussed the efforts of Operation Lifesaver, a national education and awareness program dedicated to ending collisions, fatalities, and injuries at highway-rail grade crossings and on railroad rights-of-way. The Federal Highway Administration, the Federal Railroad Administration, the Federal Transit Administration, and other organizations provide funding to Operation Lifesaver.
Operation Lifesaver President Gerri Hall described her organization's public awareness program, which aims to teach pedestrians and drivers to make safe decisions at railroad crossings and avoid trespassing on railroad tracks. Operation Lifesaver also promotes the enforcement of traffic laws relating to crossing signs and signals, and encourages continued engineering research and innovation to improve the safety of railroad crossings. Hall reported that between 1972-when Operation Lifesaver began-and 2000, collisions at highway-rail intersections dropped from 12,000 to 3,502 and fatalities decreased from 1,200 to 425.
Hall also discussed Operation Lifesaver's efforts in 49 States and its grassroots network of 4,000 volunteer presenters, including railroad employees, teachers, and law enforcement officers, all of whom are trained to deliver safety messages to various types of audiences. The presenters reach about 3 million people every year, including driver education students, business leaders, firefighters and other emergency responders, and professional bus and truck drivers.
Darlene Osterhaus, Operation Lifesaver coordinator for Kansas, told conference participants that the State's 50 certified presenters gave 937 presentations to 61,000 people in 2004. The presenters also distributed videos, brochures, and calendars on railroad safety, and participated in events such as the Kansas Joint Law Enforcement Conference and the Kansas State Fair.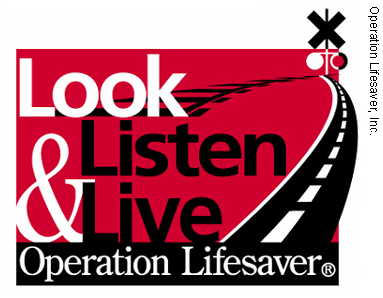 As this logo shows, "Look, Listen, and Live" is the slogan for Operation Lifesaver, a program that strives to increase public awareness about highway-rail safety.
Missouri coordinator Rick Mooney reported that the State's 66 Operation Lifesaver volunteers gave 1,040 presentations to 28,000 people in 2004. According to Mooney, eight people died in highway-rail crashes in Missouri last year. One of his group's goals for 2005 is to increase the number of presentations given in counties that had three or more highway-rail crashes in 2003 and 2004.
For more information on Operation Lifesaver, visit www.oli.org. For more information on the conference, contact:
David LaRoche 785-267-7229, ext. 327 david.laroche@fhwa.dot.gov
PLANNING TOOLS
---
New Scenario Planning Tool Helps Transportation Specialists Prepare for the Future
Planning for the future can be a challenging task for transportation specialists. Population growth, changing demographics, environmental considerations, and fiscal pressures are among the forces that converge to create demanding challenges for planners and engineers. To overcome these challenges, transportation planners increasingly are turning to scenario planning, an analytical tool that helps them develop a comprehensive future vision.
Participants in scenario planning assess trends in key factors that affect growth and use the factors to develop alternative future scenarios, each reflecting different trend assumptions and tradeoffs. As a result of the process, all members of the region, including the public, business leaders, and elected officials, strive to agree on a preferred scenario. This scenario becomes the long-term policy framework for the community's evolution, is used to guide decisionmaking, and can be embodied in the long-range transportation plan.
Effective scenario planning requires coordination and cooperation among various government agencies and officials. To help facilitate partnerships, the Federal Highway Administration (FHWA)and the Federal Transit Administration brought transportation leaders and other specialists together for a 1-day roundtable exchange on scenario planning. To illustrate scenario-planning applications and discuss the presentations and outcomes of the roundtable, FHWA developed and recently released a report, Scenario Planning: A Framework for Developing a Shared Vision for the Future (FHWA-HEP-04-027).
Designed for professionals tasked with making decisions about future transportation plans and projects, the report contains information from several roundtable sessions on planners' decisionmaking challenges, such as the need for extensive investment in transportation to keep pace with the projected size of the population.
The FHWA report also highlights public involvement, which is critical to the success of scenario planning. For example, the report features information from a roundtable presentation by Mayor Pro Tem Sharon Richardson of Federal Heights, CO, which focused on effective practices for involving the public in scenario planning, such as recruiting specific population sectors to participate and finding ways to ensure that particular messages resonate with targeted population groups. To illustrate these practices, Richardson explained how planners in the Denver area increased public involvement in the decisionmaking process by developing different scenarios and publicizing them in fliers and public displays. Using the public's feedback, task forces and committees comprised of representatives from local governments in the metropolitan area, business interests, and environmental groups cooperatively developed Metro Vision 2020, the Denver region's long-range growth and development plan.
The FHWA report on scenario planning concludes with recommendations from participants in the roundtable. Suggestions include the establishment of a dialogue with research centers on scenario planning and adding discussions of how to properly execute scenario planning.
Jody McCullough 202-366-2825 jody.mccullough@fhwa.dot.gov
OPERATIONS
---
New Guide Provides Siting Criteria for Road Weather Sensors
Road Weather Information Systems (RWIS) are composed of the hardware, software, and communications equipment used by transportation managers to collect weather observations along highways and transfer the data to a central location. Originally developed to address winter weather, these systems now operate year-round. Most systems include several monitoring stations, known as environmental sensor stations (ESS), that are strategically located to help transportation managers identify appropriate maintenance and traffic management strategies during adverse weather conditions. Although established guidelines are available for locating atmospheric weather observing equipment, siting information geared specifically to roadways, or surface transportation in general, has been limited.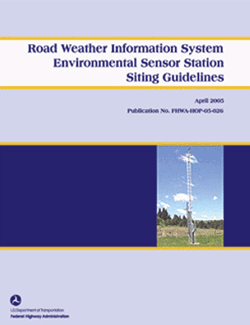 The cover of FHWA's new guide for siting road weather monitoring stations is shown above.
To fill that gap, the Federal Highway Administration (FHWA), in partnership with the American Association of State Highway and Transportation Officials and the Aurora RWIS Pooled Fund Program-an international program focused on research, development, and deployment of RWIS technologies has published Road Weather Information System Environmental Sensor Station Siting Guidelines (FHWA-HOP-05-026), available at www.ops.fhwa.dot.gov/publications/ess05/index.htm. By providing siting criteria for ESS and its associated sensors, the FHWA publication will help establish uniformity in placing ESS equipment and improve the usefulness of data obtained from ESS observations.
Section 1 of the guide highlights the benefits of ESS data, such as supporting road maintenance activities and providing traveler information and other essential information on roadway conditions for traffic management. ESS data also are used by weather service providers to develop short- and long-range forecasts, by disaster response agencies to manage emergencies, by forensic meteorologists to reconstruct roadway crashes, and by insurance companies to determine risks of potential impacts of future weather events.
In Section 2, the guide recommends that a team of transportation operations, road maintenance, and weather experts work together to evaluate road weather information requirements and plan the ESS network. Section 2 also encourages State departments of transportation to form partnerships with other agencies and organizations to reduce the number of weather stations required and the cost of gathering road weather information.
Section 3 includes guidelines for selecting ESS sites and suggests tools to help make siting decisions. Thermal mapping with vehicle-mounted infrared radiometers, for example, can be used to map warm and cold spots along a roadway to determine the best location for siting equipment to monitor icing conditions.
Section 4 recommends criteria for siting ESS towers and individual sensors. Many of the recommended siting criteria include a range of values, reflecting both the complexity of the roadway environment and the need for additional research. The appendices to the guide include a list of references pertaining to road weather metadata and sensor siting, a summary of road weather data requirements, and a detailed checklist that captures the document's recommendations for uniform siting of ESS networks.
Roemer Alfelor 202-366-9242 roemer.alfelor@fhwa.dot.gov
ENVIRONMENTAL EXCELLENCE
---
Innovative Technologies and Proactive Research Win FHWA Environmental Excellence Awards
There are many ways that transportation and planning agencies can account for and mitigate the environmental impacts of transportation. The Federal Highway Administration (FHWA) recently recognized the best methods for mitigating environmental impacts with the Environmental Excellence Awards for 2005. Awards went to projects, processes, and people from around the Nation, including winter snow-and sand-removal basins in Colorado, an environmental research program in North Carolina funded primarily with State funds, and a "bubble curtain" that protects fish from pile-driving noise in California. The annual awards highlight federally funded transportation initiatives that surpass environmental compliance guidelines to achieve noteworthy natural resource preservation goals.
An independent panel of expert judges selected this year's 11 award winners from 238 entries submitted by 38 States and the District of Columbia. The judges named winners in the following categories: environmental streamlining; scenic byways; air quality improvement; cultural and historic resources; ecosystems, habitats, and wildlife; environmental research; livable and sustainable communities; wetlands, watersheds, and water quality; nonmotorized transportation; roadside resource management and maintenance; and environmental leadership.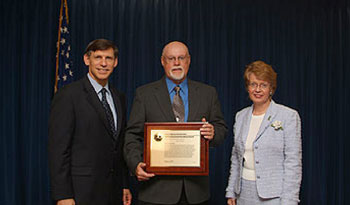 William Ruediger of Montana, the first ecology program leader for highways for the United States Department of Agriculture Forest Service, won the 2005 FHWA Environmental Leadership Award. Ruediger (center) is shown above accepting his award from FHWA Deputy Administrator J. Richard Capka and Associate Administrator for Planning, Environment and Realty Cynthia J. Burbank.
FHWA honored the winners in April at an Earth Day ceremony in Washington, DC. "The award winners provided fresh and innovative ideas that can lead to greater environmental excellence in the future," said FHWA Deputy Adminstrator J. Richard Capka, who presented the awards. Highlights of the 2005 awards included:
In the environmental streamlining category, the judges honored the Oregon Bridge Replacement Environmental Stewardship Program. The Oregon Department of Transportation used environmental streamlining to shorten the permitting process for replacing or repairing more than 350 bridges, shaving 1 to 2 years off construction time and saving Oregon taxpayers up to $55 million.
The scenic byways excellence award went to North Carolina's Scenic Byways Program. To teach North Carolina students about scenic byways, fourth grade teachers in some 1,500 classrooms across the State are using the innovative Scenic Byways Teacher's Guide created by the North Carolina Department of Transportation (NCDOT) and the North Carolina Department of Public Instruction. North Carolina's Scenic Byways Program includes 48 roadways, ranging in length from approximately 5 to 278 kilometers (3 to 173 miles), chosen for their unique scenic, cultural, or historic features.
The SouthWest Station Project in Eden Prairie, MN, won the award for excellence in air quality improvement. The SouthWest Metro Transit Commission placed a suburban bus terminal near two major highways southwest of Minneapolis, MN. Every day, use of the station by commuters results in 1,630 fewer single-occupant-vehicle trips and reduces carbon monoxide emissions by 474 kilograms (1,045 pounds). The project also has increased ridership to the University of Minnesota by 86 percent. Buses run every few minutes and are seldom late,and the station's park-and-ride lot has spaces for more than 900 vehicles.
The New Jersey Route 29 Tunnel and South River Walk Project earned recognition in the cultural and historic resources category. During this highway and tunnel reconstruction project in Trenton, NJ, archaeological crews from the New Jersey Department of Transportation found and preserved numerous hard-to-reach historic and prehistoric artifacts. In addition, a newly constructed tunnel between a historic community and the Delaware River protects nearby neighborhoods from the sounds and sights of traffic. A park above the tunnel commemorates the history of the Delaware Valley and enables community residents to walk to the Delaware River.
The Fisheries Protection Program for the San Francisco-Oakland Bay Bridge won in the ecosystems, habitat, and wildlife category. To protect fish from pile-driving noise during construction of the bridge's east span, the California Department of Transportation used a highly effective bubble curtain system in which air bubbles are pumped into a device surrounding the pile. A multiagency working group on bioacoustics, an outgrowth of the project,recently published a landmark report on the effects of underwater sound on fish.
FHWA recognized the Central Artery/Tunnel Project in Boston, MA, in the livable and sustainable communities category. Unlike construction of the first Central Artery in Boston, the Massachusetts Turnpike Authority's "Big Dig," as the project is known, did not displace a single resident or tear down a single home. The largest urban transportation project in U.S. history made thousands of community improvements, from removing an elevated highway to creating pedestrian paths to building a bridge uniting Boston with communities across the Charles River.
The Route 25 Reconstruction Project in Greenport, NY, won the award for wetlands and water quality. Cans, bottles,and other highway runoff used to empty into the harbor next to the village of Greenport on Long Island. The New York State Department of Transportation solved the problem by overhauling Greenport's stormwater drainage system, installing modern stormwater treatment structures, cleaning up a brownfield, and making other improvements.
In the environmental research category,the NCDOT Environmental Research Program surpassed all other entries. North Carolina is one of only seven States that use their own funds to supplement FHWA dollars for environmental research. NCDOT's program covers such environmental research areas as wetland mitigation, freshwater mussels, and wildlife passages. The program currently supports 36 projects, many of which involve extensive interagency cooperation and partnerships.
The Reedy Creek Greenway System in Raleigh, NC, took top honors in the nonmotorized transportation category. NCDOT and the city of Raleigh built a bicycle-pedestrian bridge across the city's Interstate 440 Beltline, connecting Meredith College and western Raleigh neighborhoods with cultural attractions and William B. Umstead State Park. The bridge is the final link in the city's greenway system and alternative transportation corridor.
Colorado's Berthoud Pass Mountain Access Project won the excellence award for roadside resource management and maintenance. When the Colorado Department of Transportation made safety improvements at Berthoud Pass, crews installed innovative winter snow-and sand-removal basins along the shoulders of the highway to prevent deicing runoff from reaching the forest floor. They also planted vegetation to control erosion on cut slopes and restore them to their natural state and turned a deteriorated campground into a wetland habitat for wildlife.
William Ruediger of Montana, the first ecology program leader for highways for the United States Department of Agriculture Forest Service, won the 2005 FHWA Environmental Leadership Award. Ruediger, recently retired from the Forest Service, has long been an advocate of habitat protection in road development. Ruediger consistently brought people together to protect wildlife and promote habitat linkages. He participated in a study of European wildlife crossings sponsored by the FHWA International Technology Scanning Program, led the development of the International Conference on Ecology and Transportation, and facilitated the completion of a model statewide habitat connectivity plan.
In addition to these 11 awards,the judges gave honorable mentions to four projects, including the White River Bridge repair project in Cotter, AR; the New York Avenue Metrorail Station construction project in Washington, DC; the Indian Street Bridge study in Martin County, FL; and the Mill Ruins Park project in Minneapolis, MN.
For more information on the awards, visit www.fhwa.dot.gov/environment/eea2005/index.htm.
Ginny Finch 202-366-4258 ginny.finch@fhwa.dot.gov
ENVIRONMENTAL DOCUMENTATION
---
Making Environmental Impact Statements More Reader Friendly
Several years ago, when staff members from the Washington State Department of Transportation (WSDOT) completed the final environmental impact statement (EIS) for a congestion relief project along Interstate 405 (I-405), they considered the document a great success. Washington State Secretary of Transportation Douglas B. MacDonald, however, was dissatisfied with the EIS, saying that it was impossible to read, too long, and incomprehensible to both decisionmakers and the public.
Transportation agencies have produced EISs since the 1970s. The early documents generally were much simpler and shorter than today's reports because there were fewer environmental laws and regulations to be addressed. For example, one final EIS that WSDOT developed for the Federal Highway Administration (FHWA) in the early 1970s was 22 pages long, including public comments and responses. By 2001, WSDOT and FHWA were publishing environmental assessments approaching 1,000 pages in length.
After reviewing the final I-405 EIS and recognizing the increasing length and complexity of the agency's impact assessments, Secretary MacDonald announced that it was time for WSDOT to significantly change its process and requested that the agency implement changes when developing the next document.
The opportunity for WSDOT to show its progress came soon after the I-405 project, with the draft EIS (DEIS) for the Alaskan Way viaduct and seawall replacement (AWV) project, a multibillion-dollar urban highway project located in downtown Seattle. To ensure that the DEIS for this project was an improvement over past efforts, a team comprised of representatives from multiple environmental and transportation agencies, including WSDOT and FHWA, adhered to four basic principles:
Tell a story.
Engage the reader.
Create a visually appealing document.
Keep the document relatively brief.
By following these principles, the team created a DEIS that differed notably from the agency's typical environmental assessment and met Secretary MacDonald's requests and expectations. The DEIS for the AWV project is a visually appealing document that could easily be read and understood by average citizens.
The WSDOT/FHWA authors told a story by beginning new sections with questions such as, "How would [the proposed project] affect travel times and traffic flow? " rather than using less interesting and less descriptive headings, such as "Impacts and mitigation-transportation." In addition,the authors engaged readers by using familiar language, minimizing acronyms, and explaining complex concepts clearly. The DEIS also was more aesthetically pleasing because it included fewer engineering drawings and more photos and easily understood graphic illustrations. Finally,the draft document was brief, less than 200 pages in length.
Since the completion of that draft assessment, FHWA has commended WSDOT for its efforts to create engaging and brief environmental assessments. WSDOT and FHWA also recently received the National Association of Environmental Professionals' prestigious 2005 Presidents National Environmental Excellence Award for the AWV draft assessment during the organization's 30th annual conference in Washington, DC. The award letter states, "We found your NEPA EIS approach and the manner in which environmental alternative analyses were portrayed to be truly unique and a very creative model. The environmental decisions to be made were clearly and distinctively communicated for the public and [decisionmakers] ...." Starting in July 2005, WSDOT will prepare all environmental documents in its new reader-friendly style. For more information, visit www.wsdot.wa.gov/environment/compliance/ReaderFriendly.htm. To download a copy of the DEIS for the AWV project,visit www.wsdot.wa.gov/projects/Viaduct/DEIS.htm.
Mary Gray 360-753-9487 mary.gray@fhwa.dot.gov
Training
---
New Course Targets Highway Runoff
Stormwater runoff represents a significant source of pollutants that can adversely affect nearby bodies of water and ecosystems. Highway surfaces and adjoining areas collect a variety of contaminants that contribute to runoff, including heavy metals and inorganic salts, as a result of highway operation and maintenance activities, such as deicing and herbicide applications. In 1972 the United States passed the Federal Water Pollution Control Act, the first national legislation to control pollution and manage the quality of water in the Nation's waterways. As amended in 1977, the law became commonly known as the Clean Water Act.
The Clean Water Act regulates discharges into waterways through a permit program known as the National Pollution Discharge Elimination System (NPDES). Stormwater discharges associated with transportation facilities fall under the purview of the NPDES permitting program. Therefore, transportation officials and environmental specialists need to understand the legal responsibilities, terminology, and general roles of players in the regulatory process to properly plan, budget, and implement measures to manage water quality. To help transportation engineers, natural resource agencies, and others understand, identify, and mitigate the impacts of highway runoff, the Federal Highway Administration's (FHWA) National Highway Institute (NHI) recently developed a new course called Water Quality Management of Highway Runoff (#142047).
Developed in concert with representatives from FHWA, the U.S. Environmental Protection Agency, and State departments of transportation, this introductory course provides a basic understanding of how highway runoff affects ecosystems and outlines Federal requirements for maintaining water quality. In addition, the course highlights best management practices that the transportation community can implement during project development to mitigate the impacts of highway construction and maintenance on water quality.
After completing the course, participants will be able to identify and characterize the quantity and quality of highway runoff, select appropriate mitigation strategies from a watershed perspective, and describe design objectives and considerations to use when selecting and locating best management practices for controlling runoff. Attendees also will learn the value of inspecting,monitoring, and evaluating the performance of mitigation strategies. To host a session of this course, visit the NHI Web site at www.nhi.fhwa.dot.gov.
Patricia Cazenas 202-366-4085 patricia.cazenas@fhwa.dot.gov