Table of Contents
Road Map Developed to Guide Concrete Pavement Research
Web Cast Outlines Freight Implications of SAFETEA-LU
FHWA to Test New Electronic Freight Manifest System
Washington State Program Aims to Reduce Car-Truck Collisions
DC's South Capitol Gateway Project Wins AASHTO Smart Growth Award
U.S./Mexico Border Conference Examines Transportation Options
FHWA Communities of Practice Selected as Model Organization
FHWA Uploads Latest ITS Deployment Data
PAVEMENTS
---
Road Map Developed to Guide Concrete Pavement Research
Over the past 15 years, the highway industry has experienced more changes than occurred in the previous 80 years. These changes include compatibility issues resulting from concrete mix designs that use new and sometimes marginal materials, increasing demands from motorists who tolerate only minimal construction-related road closures and delays, a shift in the focus of highway agencies from building new roads to rehabilitating and maintaining existing pavements, environmental pressures that affect mix design and construction practices, and highway budgets that are squeezed at every level. Because these changes are occurring so rapidly, members of the concrete pavement community recognized that they cannot continue with business as usual and need to change their methods to keep meeting the growing demands on highway construction and rehabilitation.
To help the pavement community better serve the public, the Federal Highway Administration (FHWA), in partnership with State and industry stakeholders, developed The Concrete Pavement Road Map (FHWA-HRT-05-047) to serve as a comprehensive, innovative, and strategic plan to guide investment of research dollars, maximizing technologies and systems to meet the paving needs of today and the challenges of tomorrow. The Road Map will result in a new generation of concrete pavements for the 21ST century, creating a new standard for the highway community.
To ensure the plan's adoption and success, FHWA and the stakeholders developed the document through a cooperative process. More than 400 stakeholders provided input at 20 professional conferences and workshops. The unifying vision is that "by 2015, the highway community will have a comprehensive, integrated, fully functional system of concrete pavement technologies that provides innovative solutions for customer-driven performance requirements." Grounded in collaboration, this vision is not limited by cost or time, and it is not tied to one agency or funding stream.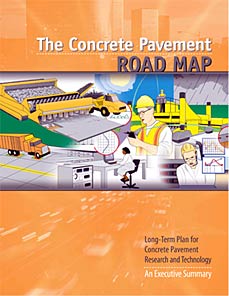 Shown is the cover of The Concrete Pavement Road Map, a document developed by FHWA and other stakeholders to guide the concrete pavement industry into the future.
The Road Map features 12 clearly defined research tracks, which were derived from research and project statements detailing upcoming research, budgets, and timelines. To begin implementing the document's recommendations, members of the pavement community from all levels of government, in partnership with representatives from industry and academia, are focusing on the first and fourth research tracks.
Richard Meininger, a highway research engineer in FHWA's Office of Infrastructure Research and Development, is leading efforts under the first track, which will focus on performance-based design systems for concrete pavement mixes. With the full support of industry and FHWA management, this team will develop practical and innovative design procedures for mixtures that use new equipment, performance-based consensus standards, and common laboratory procedures. Mark Swanlund, senior pavement design engineer in FHWA's Office of Pavement Technology, is working with Iowa State University and the American Concrete Pavement Association to leverage resources in the fourth research track, which will focus on optimized surface characteristics for safe, quiet, and smooth pavements.
To download a copy of the Road Map, visit www.fhwa.dot.gov/pavement/pccp/pubs/05047/05047.pdf. More information is available in the publications, Long-Term Plan for Concrete Pavement Research and technology-The Concrete Pavement Road Map: Volume 1 Background and Summary (FHWA-HRT-05-052) and Long-Term Plan for concrete Pavement Research and Technology-The Concrete Pavement Road Map: Volume 2 Tracks (FHWA-HRT-05-053).
Tom Harman 202-493-3072 tom.harman@fhwa.dot.gov
OPERATIONS
---
Web Cast Outlines Freight Implications of SAFETEA-LU
The recently enacted Federal transportation legislation-the Safe, Accountable, Flexible, Efficient transportation Equity Act: A Legacy for Users (SAFETEA-LU)-provides more than $286 billion from 2005 to 2009 for the Nation's roads and highways. The largest surface transportation investment in U.S. history, SAFETEA-LU addresses numerous issues, from improving safety to expediting environmental reviews. Because the law covers such a wide range of topics and runs to more than 800 pages, many transportation specialists are seeking help in interpreting its provisions and in answering questions about specific topics, including the impact of the law on freight movement.
To help freight specialists find the information they need, the Federal Highway Administration (FHWA) recently offered two interactive Web casts on SAFETEA-LU. Tony Furst, director of FHWA's Office of Freight Management and Operations, presented an overview of the legislation on September 7, 2005. FHWA's Rolf Schmitt repeated the presentation a few days later.
Both Furst and Schmitt began their presentations by explaining that SAFETEA-LU builds on the strong foundation created by the previous two transportation bills, the Intermodal Surface transportation Efficiency Act of 1991 and the Transportation Equity Act for the 21st Century (TEA-21), passed in 1998. Furst and Schmitt then explained the process that the U.S. Department of Transportation (USDOT) will take to implement SAFETEA-LU. In the first step, staff from the Office of the secretary of Transportation (OST) will draft a legislative implementation plan (LIP). After the LIP has been developed, staff from agencies within USDOT, including FHWA, will analyze the plan and submit comments to OST. Based on those comments, staff at OST will develop a final LIP.
Furst and Schmitt also discussed the specific freight programs included in SAFETEA-LU. The new law, for example, establishes three programs-Projects of National and Regional Significance, the National Corridor Infrastructure Improvement Program and the Freight Intermodal Distribution Pilot Grant Program-that provide grants to States for specific projects, some of which help facilitate freight movement.
SAFETEA-LU also provides for the continuation of several existing programs. For example, under the transportation Infrastructure Finance and Innovation Act (TIFIA), USDOT provides credit assistance to sponsors of large transportation projects to help stimulate private capital investment in transportation infrastructure. SAFETEA-LU enhances TIFIA by expanding the project eligibility requirements. In addition, SAFETEA-LU enables smaller projects to participate in the TIFIA financing program. Whereas only projects costing $100 million or more were eligible to participate prior to SAFETEA-LU, those costing $50 million or more now are eligible under the new law.
To download the slide presentation from the Web casts, visit http://talkingopsandfreight.webex.com.
Rolf Schmitt 202-366-9258 rolf.schmitt@fhwa.dot.gov
FHWA to Test New Electronic Freight Manifest System
Current economic forecasts indicate that freight volumes will be 70 percent greater by 2020 than they were in 1998. Also, the volume of freight passing through primary gateway ports in the United States is expected to more than double by 2020. This type of growth could greatly challenge the ability of the existing and planned transportation network to move freight. In addition, growing traffic congestion may exacerbate this problem. Between 1980 and 1999, route miles of highways increased 1.5 percent while vehicle miles of travel increased 76 percent. According to the Texas Transportation Institute's 2005 Urban Mobility Report, traffic congestion caused more than 3.5 billion hours of travel delay and 2.3 billion gallons (7.6 billion liters) of wasted fuel in 2003, an increase of 79 million hours and 69 million gallons (261 million liters) over 2002.
To help solve these problems, the U.S. Department of Transportation's (USDOT) Intelligent Transportation Systems (ITS) program is launching a new generation of initiatives aimed at improving freight movement, relieving congestion, and increasing transportation safety. As part of these initiatives, USDOT's ITS Joint Program Office and the Federal Highway Administration's (FHWA) Office of Freight Management and Operations is working with private industry to test an electronic freight manifest (EFM) system to replace the paper-based system currently used to process freight movements through international ports of entry and around the Nation. The goal of the electronic paperless system is to streamline the shipping process and improve the operational efficiency, productivity, and security of the transportation system by enabling all partners in the supply chain, including manufacturers, shippers, freight forwarders, and air carriers, to access shipment business information in real time.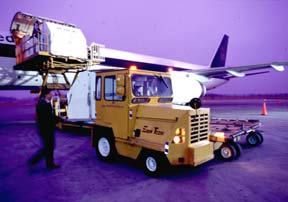 FHWA is working with private industry to test an EFM system to improve the security and efficiency of moving freight, such as the air cargo shown above.
Using the internet and ITS technologies, the EFM system will enable supply chain partners to exchange information electronically in a standardized format. Starting in March 2006 and running for approximately 1 year, FHWA will conduct a deployment test to evaluate the use of an EFM system on freight moved from manufacturing plants to distribution centers, including trucking and aviation movements through airports in China and the United States. Pending the results, researchers may conduct further tests to evaluate the performance of an EFM system on freight moved via other modes of transportation.
Researchers at FHWA, along with industry partners, have previously conducted domestic tests demonstrating that an EFM system could significantly improve shipping efficiency. In 2002, for example, FHWA researchers, working with industry and other government partners, used a fully electronic process to monitor air freight shipments for approximately 1 year as the freight moved from the manufacturers to trucks and eventually to receivers at two major airports. The researchers designed the EFM system to facilitate handoffs between supply chain partners and allow cargo shipment and security information to automatically move with the load from origin to destination. The system included several security features, including smart card devices and biometrics, such as fingerprinting or retinal scanning, to prevent unauthorized access to the cargo documentation.
Before-and-after test results from the study showed that the EFM system led to a 57- to 100-percent reduction in the amount of time spent by participants on manifesting and processing cargo transfers. In particular, participants spent less time completing paperwork, entering data, verifying driver identities, and arranging, confirming, and monitoring the movement of the shipments. As part of the study, researchers also found that an EFM system helped manufacturers save $1.52 per shipment, motor carriers $3.61 per shipment, and airlines $2.72. The results of this study are available at www.itsdocs.fhwa.dot.gov//JPODOCS/REPTS_TE//13769.html and in the report Improving Cargo Security and Efficiency Through the Development and Testing of an Electronic Supply Chain Manifest. A copy of the report is available at www.atri-online.org/research/results/escm_final_report.pdf.
The benefits of an EFM system were recognized recently on the U.S. Department of transportation's "Benefit of the Month" Web site at www.benefitcost.its.dot.gov/its/benecost.nsf/ByLink/BOTM-August2005.
For more information about the EFM system or the tests scheduled for next year, contact:
Mike Onder 202-366-2639 michael.onder@fhwa.dot.gov
SAFETY
---
Washington State Program Aims to Reduce Car-Truck Collisions
According to the National Highway Traffic Safety Administration (NHTSA), drivers of passenger cars are the cause of 62 percent of collisions involving cars and semitrailer trucks. In addition, approximately 5,000 people each year die in car-semitrailer truck crashes. To help reduce these numbers and improve safety, the Washington Traffic Safety Commission (WTSC) recently participated in a federally funded pilot program, the Ticketing Aggressive Cars and Trucks (TACT) project.
TACT combined enhanced enforcement, a media campaign, and technical research to reduce the aggressive driving that often leads to crashes. Although the project was designed by WTSC, additional assistance was provided by the Federal Highway Administration's (FHWA) Washington Division Office, NHTSA's Northwest Regional Office, Federal Motor Carrier safety Administration's Washington Division Office, Washington State Department of transportation, Washington Association of Sheriffs and Police Chiefs, Washington State Patrol (WSP), and Washington Trucking Associations.
For the enforcement portion of TACT, State and local police stationed along two interstate highway corridors near Olympia and Bellingham stepped up efforts to ticket drivers who were speeding, changing lanes repeatedly, driving aggressively, or cutting off or tailgating trucks. Officers increased enforcement using an innovative technique developed by WSP: They rode in the passenger seats of decoy semitrailer trucks and radioed ahead to police chase vehicles, relaying information about traffic violators. In addition to the two corridors where enforcement and public education were enhanced, officials selected two highways near Spokane and Longview to serve as control corridors. In the control corridors, researchers measured aggressive driver behaviors, but there was no stepped up enforcement or publicity.
To increase public awareness about TACT, officials launched a media campaign in the corridors selected for enhanced enforcement. They used road signs, banners, posters, and radio commercials to promote the message, "Leave more space." The signs, for example, featured an illustration of a passenger vehicle changing lanes to merge in front of a semi-trailer truck.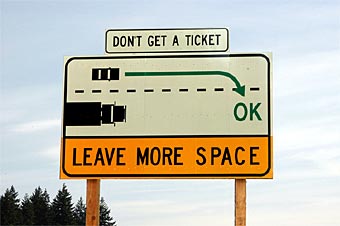 To raise public awareness of TACT, signs such as this one were posted along two highway corridors in Washington State. The sign features an illustration of a passenger vehicle changing lanes while leaving adequate space for merging in front of a semitrailer truck. (Photo Credit: WTSC)
Organizations from the trucking industry involved in the media campaign included Gordon Trucking inc., Interstate Distributor Co., Selland Auto Transport, and Bates Technical college. These organizations displayed the "Leave more space for trucks" message on their trucks and allowed their drivers to be interviewed by the media. Many other trucking companies donated trucks and drivers for the enforcement work.
Although the enforcement and media portions of the project were completed several months ago, officials are continuing work on the research component to determine the effectiveness of TACT. They began their research earlier in 2005 by distributing surveys about the project at Washington State Department of Licensing offices. The survey featured questions designed to determine whether TACT successfully raised awareness about the dangers of reckless driving around semitrailer trucks and whether it positively changed driver behavior.
To collect additional data, WSP commercial vehicle enforcement officers currently are conducting observational surveys in the selected enforcement and control corridors to identify the number of cars violating laws around semitrailers. In addition, officials plan to use counters embedded in the roadways to collect data on the number and speed of vehicles traveling in the corridors and to determine how much space drivers are leaving between trucks and their cars and between other cars. WTSC plans to publish the results in February 2006.
Don Petersen 360-534-9323 don.petersen@fhwa.dot.gov
Jonna VanDyk 360-586-0297 jvandyk@wtsc.wa.gov
PLANNING
---
DC's South capitol Gateway Project Wins AASHTO Smart Growth Award
In response to concerns over urban sprawl, many communities are implementing the concept of "smart growth," which describes a variety of approaches aimed at balancing the needs of communities, the economy, and the environment to promote livability, economic growth, and mobility. A key element of smart growth strategies is a well-integrated transportation network that provides a variety of transportation choices.
In August 2005, the American Association of State Highway and Transportation Officials (AASHTO) recognized the District [of Columbia] Department of Transportation (DDOT) with an award in its Best Practices in Smart Growth and Transportation Competition for the agency's South Capitol Gateway project. The award recognizes DDOT in the category of Revitalizing Communities and Corridors for the smart growth features planned for the South Capitol Street transportation corridor and for a design that makes the street the main southern entrance to the U.S. Capitol.
The South Capitol Gateway project is part of the Anacostia Waterfront Initiative, a program involving the Washington, DC, government, U.S. Department of Transportation, and other Federal, State, and local agencies to renew the Anacostia River waterfront and surrounding jurisdictions. The Federal Highway Administration's District of columbia Division has been working with DDOT on the South Capitol Gateway project on a daily basis, reviewing plans and overseeing portions of the project funded through the Federal-aid highway program.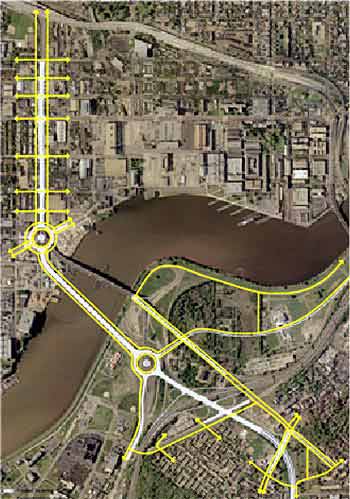 This aerial photo shows proposed bicycle and pedestrian routes for the Washington, DC, South Capitol Gateway project, which won an award in AASHTO's Best Practices in Smart Growth and Transportation Competition.
South Capitol Street, a primary corridor in the Washington street plan, has been envisioned as a gateway to the city ever since architect Pierre L'Enfant planned the Nation's capital. Instead, much of the street has been converted to an urban freeway for through traffic at the expense of serving the needs of residents and businesses in the corridor. The South Capitol Gateway project is designed to turn the freeway into an urban boulevard and make corridor improvements that support economic development and quality of life in the city.
Planned improvements include replacing the South Capitol/Frederick Douglass Bridge with a new bridge that will better connect travelers and neighborhoods on both sides of the Anacostia River. The plan also calls for a multimodal transportation center to connect Metrorail, light rail, and bus transit facilities with bicycle and pedestrian access to the waterfront and surrounding communities. The project is designed to encourage development of housing, retail, and other amenities to draw people into the area to live, work, and enjoy the waterfront.
Sandra Jackson 202-219-3521 sandra.jackson@fhwa.dot.gov
INTERNATIONAL
---
U.S./Mexico Border Conference Examines transportation Options
Mexico and Canada are the United states' top two trading partners. In 2004, the United States traded $711 billion in goods and services with Canada and Mexico-or almost $2 billion per day, more trade than that of any other three nations in the world. Since 1990 the value of freight shipments between Canada, Mexico, and the United States has grown 170 percent-rising an average of 8 percent per year. Given the high volume of trade, cooperation is essential to reach common solutions to transportation and infrastructure problems.
To facilitate cooperation on these issues, representatives from the three countries participated in the Border Finance Conference held August 18-20, 2005, in San Antonio, TX. The conference was sponsored by the Federal Highway Administration (FHWA)-through a partnership between FHWA's Office of Planning, Environment, and Realty and the FHWA Resource Center Finance Team-and the Mexican secretariat of Communication and Transportation, under the auspices of the U.S./Mexico Joint Working Committee (JWC) on Transportation Planning. The JWC is a binational group whose primary focus is to cooperate on land transportation planning and the facilitation of efficient, safe, and economical cross-border transportation movements. During the conference, participants attended sessions conducted by industry experts and project managers who described innovative financing options for funding border region projects.
Jeffrey N. Shane, the U.S. Department of Transportation's (USDOT) Under Secretary for Policy, kicked off the conference with a speech on the goals of the conference and emphasized the need to advance as many projects as possible, get stalled projects moving again, promote innovative financing, and share best practices and case studies. It was noted that the recently enacted multiyear transportation reauthorization law, known as the Safe, Accountable, Flexible, Efficient Transportation Equity Act: A Legacy for Users (SAFETEA-LU), establishes the Coordinated Border Infrastructure Program. The new program builds on similar grant programs included in SAFETEA-LU's predecessor, the transportation Equity Act for the 21st Century, and focuses on providing funds for the planning, design, and construction of transportation infrastructure in States at the U.S./Mexico border.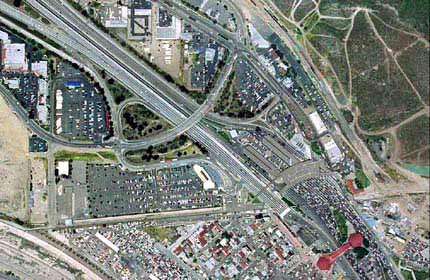 San Ysidro, CA, (shown here from above) is one of the world's busiest land border crossings, where U.S. Interstate 5 crosses into Mexico at Tijuana, Mexico. Transportation infrastructure projects at border crossings such as this were the topic of discussion at the recent Border Finance Conference. (Photo Credit: California Department of Transportation)
The results of recent efforts to identify necessary border projects were discussed to emphasize the importance of developing innovative programs to finance border infrastructure. For example, the U.S./Mexico Joint Working Committee on transportation Planning completed an assessment of transportation infrastructure needs along the border and identified a funding gap for border projects of $10.5 billion in the United States and $860 million in Mexico.
The assessment provided further documentation on 311 transportation projects that states in the border region have identified as necessary. These projects were described in the Joint Working Committee's 2004 report Binational transportation Infrastructure: Needs Assessments. Similar funding gaps are evident at the U.S./Canada border. The U.S./Canada Transportation Border Working Group, for example, has identified 224 projects with an estimated total cost of $13.4 billion to improve infrastructure and inspection operations at or near the border. The assessment also led to the creation of a database and a tool to help evaluate the projects.
More than 180 people attended the Border Finance Conference, including representatives from several binational and multilateral agencies; Federal, State, and local governments; and the public finance and project development sectors.
Sylvia Grijalva 602-510-7986 sylvia.grijalva@fhwa.dot.gov
Fred Werner 404-562-3680 frederick.werner@fhwa.dot.gov
QUALITY
---
FHWA Communities of Practice Selected as Model Organization
The Federal Highway Administration's (FHWA) Knowledge Sharing Initiative was selected earlier this year to serve as a benchmark, or model organization for an American Productivity and Quality Consortium (APQC) research study that resulted in the report, Using Communities of Practice to Drive Organizational Performance and Innovation. Communities of Practice (CoPs) bring together people with common interests to build or maintain virtual networks for a variety of purposes, such as sharing best practices, expediting application of innovative technologies and approaches, improving efficiency or speeding people along the learning curve, and increasing technical competencies.
The APQC study focused on determining where CoPs have the greatest relevance to business goals, how different business methods can create and sustain communities across an enterprise, and how to integrate CoPs within existing organizational processes and structures. FHWA was among four other organizations selected to serve as benchmarks: Air Products and Chemicals, Inc., Arup Group Ltd., Ernst & Young L.L.P., and Fluor Corp. The selection process for receiving the award involved an indepth questionnaire and interview.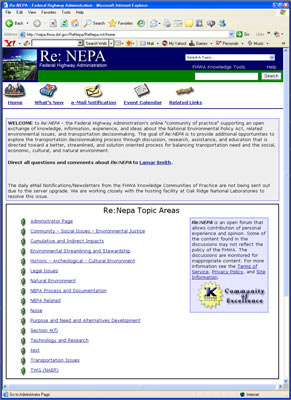 The Web site for the National Environmental Policy Act CoP is shown here. FHWA's CoPs were selected to serve as a benchmark or model organization in APQC's recent research study.
In March 2005, FHWA hosted a benchmarking site visit that offered a day of knowledge exchange to representatives from private and public sector organizations who wanted to learn from FHWA's successes and experiences. Presentations during the visit covered topics such as designing a strategy for CoP implementation, determining the roles and responsibilities of CoP members, launching a new CoP, performance measures, and lessons learned. CoP leaders from several FHWA offices shared their insights and experiences in a panel discussion. FHWA Executive Director Frederick G. (Bud) Wright, for example, said, "Exchanging knowledge is a core part of what we do. FHWA has adopted knowledge sharing tools and practices to help us work efficiently, develop staff, and serve customers."
Organizations attending the FHWA site visit included the Aerospace Corp., Anadarko Petroleum Corp., Baker Hughes inc., Capital One Financial Corp., Deere & Co., ExxonMobil, Fluor Corp., GlaxoSmithKline, IBM Corp., Lucent Technologies, Northrop Grumman, Procter & Gamble, SAP America, the U.S. Air Force, and U.S. Department of State.
FHWA sponsors more than 25 online coPs covering 200 business issues, from high-performance concrete and the Manual on Uniform Traffic Control Devices to transportation asset management and the National Environmental Policy Act. FHWA sponsors and participates in the coPs as a way to strengthen relationships with its public and private partners and achieve more effective programs. To visit any of the CoPs or to join one, go to http://knowledge.fhwa.dot.gov. For more information, contact:
Mike Burk 202-366-9393 mike.burk@fhwa.dot.gov
Debbie Gwaltney 202-366-9379 debbie.gwaltney@fhwa.dot.gov
INTELLIGENT TRANSPORTATION SYSTEMS
---
FHWA Uploads Latest ITS Deployment Data
In 1996, the U.S. Department of transportation (USDOT) set a goal to deploy the infrastructure for intelligent transportation systems (ITS) in 75 of the largest metropolitan areas by 2005. At that time, however, a standard methodology did not exist for States and localities to report to USDOT on the status of the deployments. Therefore, shortly after the goal was announced, USDOT tasked the ITS Joint Program Office with monitoring progress by conducting biennial surveys to identify locations with ITS infrastructure. Since that time, the ITS office has posted the results from the surveys on the "ITS Deployment Statistics" Web site at www.itsdeployment.its.dot.gov.
Recently, the Federal Highway Administration (FHWA) updated the Web site. The site features the results from the 2004 deployment survey, which explored a number of topics related to ITS technologies, including their use for arterial, freeway, and transit management and safety. The data from the 2004 survey represent responses from transportation specialists in 108 metropolitan areas, including 78 of the largest and 30 medium-sized cities, and statewide and rural ITS programs.
The site has been revamped to make navigation easier for users. For example, it now affords, with just a click of the mouse, quick access to the survey results broken out by three perspectives: national, metropolitan, and individual agency. Users also can conduct a keyword search or choose individual items from an interactive outline of the survey to glean specific data. In addition, the Web site offers information on national trends in ITS deployment and access to the previous surveys.
Users who are likely to benefit from the updated Web site include Federal transportation specialists interested in ITS deployments; Federal, State, and local officials with authority to allocate funds for ITS deployments; State and local transportation officials interested in how other agencies have adopted ITS technologies; ITS vendors conducting market analyses; and researchers looking for empirical data. FHWA staff members plan to test the target audiences in November 2005 by uploading a short online survey to gather more information on the users and how well the site meets their needs.
Joe Peters 202-366-2202 joe.peters@fhwa.dot.gov