Table of Contents
Continuous-Flow Intersection Reduces Baton Rouge Congestion
Upcoming Workshop to Focus on Pavement Design Guide
Investment in Bridge Research Saving Millions of Dollars in Oregon
NHI Launches Improved Web Site and New Courses
FHWA Initiative Seeks to Modernize Bridge Modeling
Interstate's 50th Marked in Myriad Celebrations
Workshops Focus on Applying Traffic Analysis Tools
SAFETY
---
Continuous-Flow Intersection Reduces Baton Rouge Congestion
A study published in ITE Journal showed that conventional methods of increasing intersection capacity, such as adding left-turn lanes, can have diminishing returns. Building larger intersections does not simply increase capacity but instead can increase traveler delays due to longer clearance times for vehicles and potential queue blockages caused by longer traffic lights.
Now, imagine if there was a way to increase intersection capacity without increasing the size of the intersection. Or, imagine a busy intersection where drivers are more likely to get a green light than a red light or an intersection that enables drivers to head left without turning left. This type of intersection might sound like a fantasy from a science fiction movie, but facilities such as this exist and are being studied by researchers at the Federal Highway Administration's (FHWA) Turner-Fairbank Highway Research Center (TFHRC) in McLean, VA. Known as a continuous-flow intersection (CFI) or a crossover displaced left-turn, this alternative type of intersection, which diverts left-turn flows from the main intersection, has been shown to increase capacity by 15 to 30 percent and reduce delays by 20 to 90 percent.
So far, CFIs have been built at three locations in the United States. The Louisiana Department of Transportation and Development and the East Baton Rouge City-Parish government opened the third and most recent CFI in March 2006, in Baton Rouge, LA, using a design evaluated by FHWA. The other CFIs are located at Dowling College in Oakdale, NY, and the junction of Maryland Routes 210 and 228 near Washington, DC.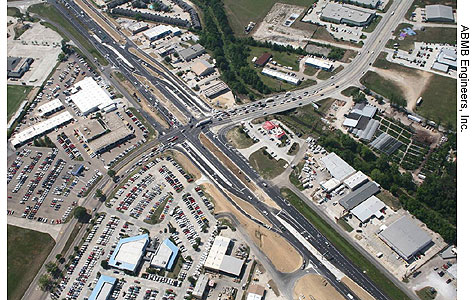 CFIs, such as the one in Baton Rouge, LA, shown here, eliminate potential conflicts between left-turning vehicles and oncoming traffic by adding a left-turn bay to the left of oncoming traffic.
Located on Airline Highway at its junction with Sherwood Forest Boulevard and Siegen Lane, the Baton Rouge CFI reduces the time it takes for vehicles to cross the intersection by removing the left-turn movements and placing them approximately 91 meters (300 feet) before the intersection. Prior to the opening of the CFI, the average delay for each car crossing the intersection during evening rush-hour traffic was 225 seconds, or nearly 4 minutes. Since the CFI opened, the delay is estimated at 30 seconds per car, an improvement of nearly 90 percent.
The CFI's design improves efficiency and alleviates congestion by removing the left-turn conflict from the intersection, changing the signal timing, and devoting more time to the green signal. Motorists turning left from Airline Highway complete the turn in a two-step process. First, they are routed into a left-turn bay before the main intersection. When the Sherwood-Siegen cross-traffic light turns green, so does the left-turn bay light, bringing motorists waiting in the bay forward to a second signal. Then, when Sherwood-Siegen cross traffic stops on red and Airline through traffic has a green signal, motorists on Airline complete the left turn.
In addition to increasing capacity and decreasing delays at intersections, the CFI design addresses FHWA's goal of implementing context sensitive solutions by avoiding grade-separated interchanges, thereby reducing construction and right-of-way costs. The design also may generate safety benefits, and FHWA plans a field evaluation in Baton Rouge to validate the safety and operational impacts. FHWA also plans to use the driving simulator at TFHRC to assess driver behavior at CFIs and to develop recommendations for road features and design at such intersections. For more information, contact:
Joe Bared 202-493-3314 joe.bared@fhwa.dot.gov
Susanna H. Reck 202-493-3313 susanna.hughesreck@fhwa.dot.gov
PAVEMENTS
---
Upcoming Workshop to Focus on Pavement Design Guide
Nearly 50 years ago, the American Association of State Highway Officials (AASHO), as it was known at the time, held tests in Ottawa, IL, that laid the foundation for most pavement designs in the United States. That initial work became known as the AASHO Road Test, and many updates of pavement design procedures evolved from it over the decades. Since the Road Test, however, many factors that affect pavement performance have changed, such as traffic loads, tire and material types, and construction procedures and equipment, and are not accounted for in the design procedures that resulted from the Road Test.
In recent years, the Federal Highway Administration (FHWA) has conducted annual workshops to educate its pavement engineers on the latest pavement developments. FHWA will hold its next such meeting, the Seventh FHWA Annual Pavement/Materials Workshop for FHWA Field Engineers, in December 2006, in Washington, DC. The focus of the meeting will be the new Guide for Mechanistic-Empirical Design of New and Rehabilitated Pavement Structures, which was developed through a joint effort between the American Association of State Highway and Transportation Officials and the National Cooperative Highway Research Program. The new design guide will lead the transition from existing empirical pavement design procedures to mechanistic-empirical procedures that combine the strengths of advanced analytical modeling with observation of the real-world performance of pavements in the field.
In addition to concentrating on the new guide, the upcoming workshop also will include the following presentations: "2006 Long-Life Concrete Pavement Scan," which will describe implementation of products and technologies observed during the 2006 visit by Federal, State, and industry officials to various European countries; "Warm Asphalt," on the state of the practice regarding warm-mix asphalt; and "Precast/Prefabricated Pavements," dealing with innovative approaches for rapid rehabilitation and long-life performance.
FHWA's annual workshop series was created as a capacity-building program. Organizers recommend that FHWA Division Offices, Federal Lands Highway Division Offices, and Resource Center send pavement and materials engineers to participate in the event.
Learning about the new design guide and attending the technical presentations meets the requirements for professional development hours (PDHs) per the Continuing Professional Competency Guidelines issued by the National Council of Examiners for Engineering and Surveying. Once the agenda is finalized, the workshop coordinator will determine the number of PDHs that workshop participants can earn. Each participant will receive a certificate of attendance with the hours cited.
Gene Clark 202-366-4597 gene.clark@fhwa.dot.gov
STRUCTURES
---
Investment in Bridge Research Saving Millions of Dollars in Oregon
The Federal Highway Administration (FHWA) requires owners of structurally deficient bridges to repair, replace, or restrict the loads on these bridges or conduct analysis and testing to verify the integrity of the spans. In most cases, owners test bridge integrity using the American Association of State Highway and Transportation Officials' (AASHTO) methodology for rating loads on bridges. Oregon has several hundred reinforced concrete deck girder bridges built in the late 1940s to the early 1960s that show signs of deterioration. In some cases, the Oregon Department of Transportation (ODOT) has strengthened these historic structures based on the very conservative assumptions in the AASHTO methodology.
In 2003, the Oregon State Legislature passed legislation providing funds for replacing and repairing structurally deficient bridges on State highways. In response, ODOT, with assistance from the FHWA Oregon Division Office, initiated an indepth statewide bridge assessment to help set funding priorities. The goals of the assessment included estimating the remaining life of approximately 500 bridges built some 50 years ago that showed signs of cracking.
ODOT began with a study that replaced the AASHTO assumptions on bridge loads with data on local traffic and truck loads. ODOT commissioned Oregon State University (OSU) to conduct the study, which included data collection on four Oregon bridges and laboratory testing of full-size girders built to 1950s specifications. As a safety precaution, ODOT limited loads on cracked bridges until they received the results of the study.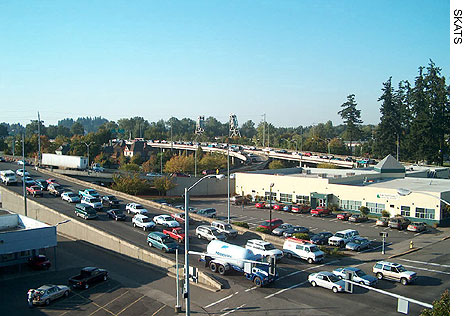 Replacement of the Center/Marion Street bridges in Salem, OR, shown here during evening rush hour, was canceled after research showed that repairs would be sufficient to maintain the integrity of the two bridges.
The ODOT/OSU study provided significant insights into the remaining life of the cracked bridges. First, it showed that under repeated actual traffic loading, the concrete reinforcement in the cracked bridges would not gradually deteriorate. Instead, the concrete beams would continue to perform as originally designed without risk of fatigue failure. Second, the research successfully demonstrated that a significant amount of capacity remained in the cracked bridges that AASHTO's traditional load rating methodologies did not account for.
As a result of the study, some bridges originally considered for replacement may need only specific elements strengthened or, in some cases, no action other than routine maintenance. For example, a major bridge replacement project in Salem, OR, has been changed to a maintenance project. In June 2006 the Salem-Keizer Area Transportation Study (SKATS), the region's metropolitan planning organization, recommended to eliminate from its program of improvements a $6.4-million project to replace the Center/Marion Street Bridge complex, an important connection over the Willamette River that carries about 42,000 vehicles daily each way. SKATS officials made the decision after ODOT assured them that the integrity of the bridge could be preserved by maintenance-level repairs, which are expected to cost less than $500,000. Similar savings are being realized on other bridge projects, enabling ODOT to earmark its resources for more critical infrastructure improvements.
For more information, visit www.oregon.gov/ODOT/TD/TP_RES or contact:
Satvinder S. Sandhu 503-587-4723 satvinder.sandhu@fhwa.dot.gov
Tim Rogers 503-587-4706 timothy.rogers@fhwa.dot.gov
TRAINING
---
NHI Launches Improved Web Site and New Courses
The National Highway Institute (NHI) launched its much-anticipated improved Web site in June 2006 (www.nhi.fhwa.dot.gov). Revamped to better serve the transportation community, the site has an enhanced look and simplified navigation, with new features such as online course registration and payment.
Users of the improved site can easily browse the NHI training catalog for course information and scheduled sessions. In addition to searching by keyword, title, and course number, users now can find more details with advanced search functions, including location, course level, session dates, and whether a course is instructor-led or Web-based. Users also can visit the new NHI store to purchase course materials.
NHI also added more functions to the site, including improved Web-conferencing capabilities and the ability to receive requests from potential course hosts. In addition, a new resources section enables users to craft course material by drawing on NHI's knowledge and products. Included in the resources section are online presentations, style guides, and templates for presenting NHI courses successfully. Instructors also can register to become part of an online community that facilitates the exchange of ideas and information.
Along with improving the Web site, NHI has added the following new courses to its catalog:
Underwater Bridge Inspection (FHWA-NHI-130091). This course is intended to help all divers who conduct underwater bridge inspections to become versed in best practices, as required under the latest National Bridge Inspection Standards. The course also will be useful to staff responsible for managing inspections. Upon completion of the course, participants will be able to explain the need for and benefits of inspecting underwater portions of bridges, describe typical bridge defects, identify advantages and limitations of various inspection equipment, and assign condition ratings for components and elements of underwater bridge sections.
Managing Travel for Planned Special Events (2-day, FHWA-NHI-133099; 1-day, FHWA-NHI-133099A). These introductory courses present methods for successfully managing traffic to, from, and around planned events. After completing the course, attendees will be able to name the main categories of planned special events, identify goals and key phases of managing traffic, describe the benefits of proactive management, and list the key components of a traffic management action plan.
Integrated Transportation Management for Small- and Medium-Sized Communities (FHWA-NHI-137043). NHI designed this 1-day introductory course to help professionals involved in the planning, design, implementation, and operation of intelligent transportation systems (ITS) in small- and mid-sized communities. By the end of the course, participants will be able to describe the impact of ITS initiatives on such communities, list the steps in the ITS planning and development process, and identify areas in which advanced transportation management systems and advanced traveler information systems can benefit communities.
Improving Highway Safety with ITS (FHWA-NHI-137044). This 2-day course aims to increase awareness of ITS' potential for improving safety. Heightened awareness is expected to further accelerate introduction and evaluation of ITS applications. After completing the course, attendees will be able to identify general uses of ITS, identify and discuss ITS initiatives conducted by the U.S. Department of Transportation, and show how ITS can be especially beneficial in work zones.
For complete course descriptions, visit the NHI Web site. For questions, contact the NHI Training Team at 703-235-0534 or nhitraining@fhwa.dot.gov.
Kevin Monaghan 323-634-1962 kevin.monaghan@fhwa.dot.gov
INFRASTRUCTURE
---
FHWA Initiative Seeks to Modernize Bridge Modeling
For centuries, civil engineers have relied on paper drawings as the primary representations of bridges. In fact, the bridge industry is practically the only major industry that produces three-dimensional (3-D) products without the benefit of digital model representations and electronic data exchange, although some States are starting to transfer information electronically. Currently, information transfer during bridge design, fabrication, construction, and operation involves repeated manual transcription of data, numerous approvals that are time consuming to obtain, and formats that need to be standardized to ease the transfer of information.
To help modernize bridge modeling, the Federal Highway Administration (FHWA) launched the "Integrated Project Delivery and Life Cycle Management" initiative. The scope of the initiative includes developing and presenting a computer-based demonstration project for modeling steel and concrete bridges to achieve integrated project delivery and management objectives. The work entails identifying available technologies and researching and developing integrated engineering software demonstration packages to promote faster and more efficient automated processes through the entire life cycles of bridges.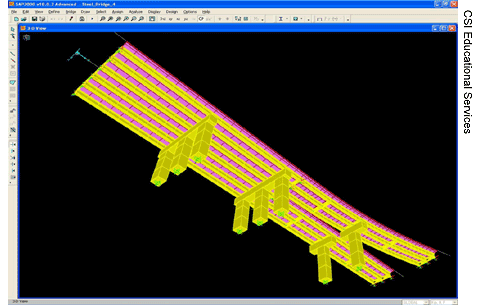 This 3-D computer model of the underside of a steel bridge shows both the substructure and superstructure.
To assist with the initiative, FHWA recently issued a request for proposals (RFP) to prospective bidders. Through this work, FHWA seeks help with the development, through electronic 3-D modeling, of integrated design, fabrication, construction, and preservation technologies for the super- and substructures of both concrete and steel bridges. The goal is complete electronic modeling of bridge information in a standardized format that will facilitate integration of computer-aided design and engineering and computer-integrated manufacturing.
The contract that will result from the RFP may include development and delivery of half-day and 2-day presentations to promote the new technology and demonstrate the utility of integrated processes to owners, designers, and contractors, and creation of an integrated engineering software package that demonstrates the benefits of greater automation and standardization.
As part of the initiative, FHWA will inform staff at State departments of transportation and within the concrete and steel bridge industry about the usefulness and efficiency of electronic modeling technologies. The new technologies combined with the awareness and use of them should result in rapid and higher quality delivery of projects and cost-effective management during entire life cycles.
This new initiative springboards from a resolution, "Comprehensive Integrated Bridge Project Delivery through Automation to Achieve Rapid Construction," recently passed by the American Association of State Highway and Transportation Officials' Subcommittee on Bridges and Structures. The initiative aligns with FHWA's strategic goals, which include greater mobility, safety, economic productivity, protection of the human and natural environments, and national security. The initiative also is in line with FHWA's promotion of accelerated bridge construction, which relies on prefabricated elements and structures so that bridges can be constructed quickly. Although greater automation and standardization at the drawing-board stage should expedite efforts at the front end, the initiative and its technology will grow to become applicable to the entire bridge life cycle.
Krishna Verma 202-366-4601 krishna.verma@fhwa.dot.gov
Interstate's 50th Marked in Myriad Celebrations
The Dwight D. Eisenhower National System of Interstate and Defense Highways is the backbone of the Nation's economy, and it has influenced American culture in many ways. One major contribution is the improvement in travel safety. In 1956, the fatality rate for all roads was more than 6.0 per 100 million vehicle miles traveled (MVMT). With a fatality rate today of 0.8 per 100 MVMT, compared to all roads at 1.44 per 100 MVMT, the interstate system now is the safest road system in the Nation. This is especially impressive given that interstates carry 26 times the traffic per mile as the rest of the road system.
The interstate system also has created significant economic benefits. Bolstered by the interstate system, U.S. highways now carry 71 percent by weight of the Nation's freight, 80 percent by value. Remarkably, but not coincidentally, growth in U.S. gross domestic product has tracked almost exactly with the number of vehicle miles traveled, the capacity for the latter greatly expanded by the interstates.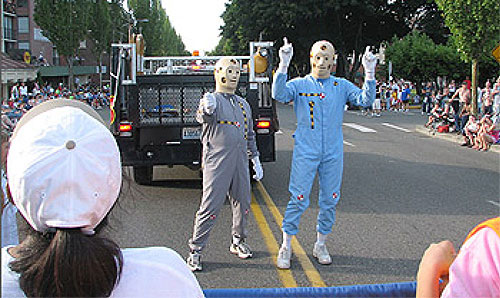 FHWA Washington State Division Administrator Mathis and Assistant Division Administrator Kevin Ward are shown here dressed as crash test dummies as part of Washington State's celebration of the 50th anniversary of the interstate system.
In 2006, the United States celebrated the 50th anniversary of the interstate system, with the Federal Highway Administration (FWHA), State departments of transportation (DOTs), and many others hosting tributes and events. For example, in a historical awakening, "President Eisenhower" strode into FHWA's Illinois Division Office wearing pajamas, slippers, and a bathrobe pinned with five gold stars. A standing ovation greeted him as he explained that he was recovering from surgery at the Walter Reed Army Medical Center in Washington, DC, on June 29, 1956, the day he signed the Federal-Aid Highway Act of 1956-thus the sleepwear.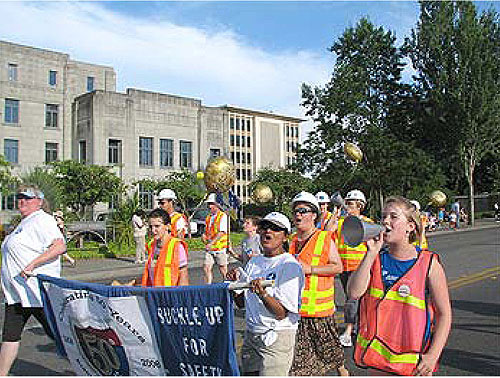 FHWA employees, family, and friends are shown participating in the Lakefair parade in Olympia, WA, as part of WSDOT and FHWA's celebration of the anniversary.
Eisenhower, played by Illinois Division Administrator Norman Stoner, reflected on the day exactly 50 years earlier when he signed the legislation creating the interstate highway system. "I have to tell you," Stoner, as Eisenhower, said, "I am very excited and very proud that what was a dream of mine has become a reality-far more than I could have imagined. Yes, I had a hand in getting it started, but it was you and a whole lot of other folks like you who made my dream a reality."
Across the Nation, FHWA Division Offices and State DOTs have commemorated the 50th anniversary in State capitals and beyond. In Washington State, for example, more than 100 people gathered on the new Broadway Avenue flyover exit ramp on Interstate 5 in Everett on June 26 to celebrate the opening of the ramp and mark the anniversary. President Eisenhower did not attend, but other dignitaries were present, including Governor Christine Gregoire, Washington State Department of Transportation (WSDOT) Secretary Douglas MacDonald, and FHWA Washington Division Administrator Daniel Mathis, who recited poems he had written about the exit ramp and an "Ode to the Interstate."
In Vermont, museum-style displays were set up in rest areas across the State, and Vermont Public Television broadcast an anniversary message from the Governor and State transportation secretary. The University of Missouri-Columbia sponsored a discussion on what could be learned from the first 50 years of the interstate and what the future holds. The National Corvette Museum served as the backdrop for an anniversary celebration in Bowling Green, KY, showcasing American sports cars and celebrating the spirit of the open road. All 50 FHWA Division Offices received anniversary displays from FHWA's Washington, DC, headquarters, which some offices erected in their State capitol rotundas.
In addition to distributing anniversary displays, staff from FHWA's headquarters office held a party of their own, with FHWA Administrator J. Richard Capka serving as the headliner of the festivities. Party attendees enjoyed homemade refreshments, including a cake decorated with FHWA's exclusive 50th anniversary logo, answered trivia questions about the interstate, and viewed interstate photos and road signs. One of the more popular parts of the headquarters celebration was the result of FHWA's request that the United States Postal Service® (USPS) produce a 50th anniversary commemorative cancellation mark. At the party, FHWA staff stood in long lines for the chance to have USPS apply the commemorative mark to their stamped materials.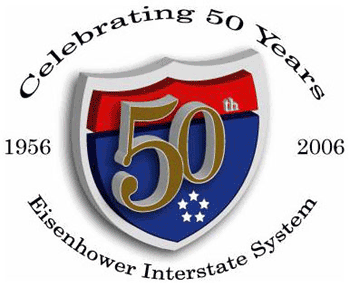 The 50th anniversary logo.
Although the official anniversary date was in June, FHWA will continue to celebrate the anniversary of the system and its importance to the country throughout the year. For more information, visit www.fhwa.dot.gov/interstate/.
Lydia Conrad 202-366-1243 lydia.conrad@fhwa.dot.gov
OPERATIONS
---
Workshops Focus on Applying Traffic Analysis Tools
Transportation professionals use various traffic analysis tools to design, evaluate, and optimize both existing and planned facilities. These tools include software-based analytical procedures and methodologies, such as sketch planning, travel demand modeling, traffic signal optimization, and traffic simulation. Modern transportation systems, however, are becoming increasingly congested and complex, and so is the range of potential solutions to problems. As a result, traffic analysis tools also are becoming more complex.
To help professionals understand all of the tools at their disposal, the Federal Highway Administration (FHWA) launched the Traffic Analysis Tools Program. As part of this effort, FHWA is hosting several peer exchange workshops on traffic analysis tools. So far, FHWA staff from the Offices of Operations, Operations Research & Development, Resource Center, and Federal-aid Divisions have held 12 workshops in 11 States. In addition, FHWA is planning four more workshops for the remainder of fiscal year 2006 and is taking requests for sites for 2007. Most workshops last 1.5 days, although FHWA has customized some to a single day.
The goal of each workshop is to present and discuss FHWA's three-volume Traffic Analysis Toolbox, share experiences and lessons learned from traffic analysis processes and project reviews, and discuss case studies representing both successful and unsuccessful applications of traffic analysis tools. A typical workshop begins with an overview of traffic analysis tools. Subsequent sessions cover each volume in the toolbox—Volume I: Traffic Analysis Tools Primer, Volume II: Decision Support Methodology for Selecting Traffic Analysis Tools, and Volume III: Guidelines for Applying Traffic Microsimulation Modeling Software. In the future, FHWA plans to release Volume IV: Guidelines for Applying CORSIM Microsimulation and Volume V: Traffic Analysis Tools Case Studies: Benefits and Best Practices.
At the workshops, participants learn that the selection of any traffic analysis tool should align the objective of the analysis with the capabilities of the tool. From a project administration perspective, several technical, time requirement, and budget factors come into play when deciding which tool to use. The availability of data also will help determine which tool is the best for the job.
The workshops are most beneficial to professionals responsible for using and applying traffic analysis tools, for reviewing traffic analysis results, and for making transportation investment decisions based on the results of traffic analyses.
For more information, contact:
James Colyar 202-493-3282 james.colyar@fhwa.dot.gov